It was a Father's Day that two Carnival Breeze cruise ship crew members will never forget as they helped a stranger welcome her newborn into the world.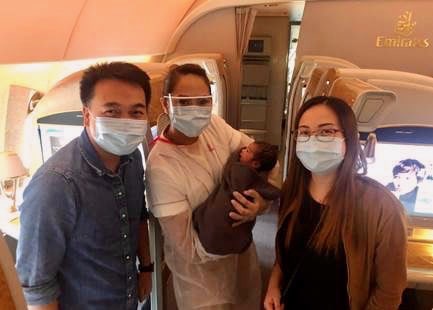 An Unexpected Detour
It turns out that sometimes, things happen for a reason, even if we don't necessarily understand what that reason is at the time. In the case of the events which unfolded high above the planet's surface on Sunday, it was the winds of fate blowing two Carnival Breeze crew members slightly off their originally planned course and directly into the path of a mom-to-be who needed their assistance.
Christine Anne and John, both of whom are nurses, were being repatriated and no doubt looking forward to being reunited with their families. There was, however, a bump in the proverbial road which lead to a delay in their journey home.
As a result, they wound in being in the right place at the right time when a potential crisis arose.
The place? An Emirates Airline flight from London to Manilla.
The time? At exactly the moment a familiar scene, usually played out in movies, began to unspool.
Imagine it: There they sat, midway through a 14-hour flight, when a voice came over the public address system asking if there were any medical personnel on board who could help with a "situation."
It seemed a baby was determined to make her big entrance, ignoring the inconvenient fact that her mom was currently cruising  — so to speak — 37,000 feet above both the ground and the nearest medical facilities!"
All's Well That Ends Well
Thanks to the delay in their original travel plans, Christine Anne and John were able to help welcome the newborn in the world. Perhaps appropriately, the flight's unexpected passenger was named Sky, and we're told she and her mom are doing fine.
Like everyone at Carnival, we here at Cruise Radio want to send a shout-out to Christine Anne, John and the family they helped welcome a new member.
Like you, we've been on the receiving end of the exemplary service offered by the thousands of Carnival Cruise Line crew members who work so hard to make sure we have a perfect vacation. But these two quite went above and beyond, quite literally.