As the industry deals with numerous coronavirus outbreaks on cruise ships around the globe, Carnival Cruise Line has added three questions to their traveler's health declaration questionnaire. It also warns of the consequences associated with providing inaccurate information.
What was added?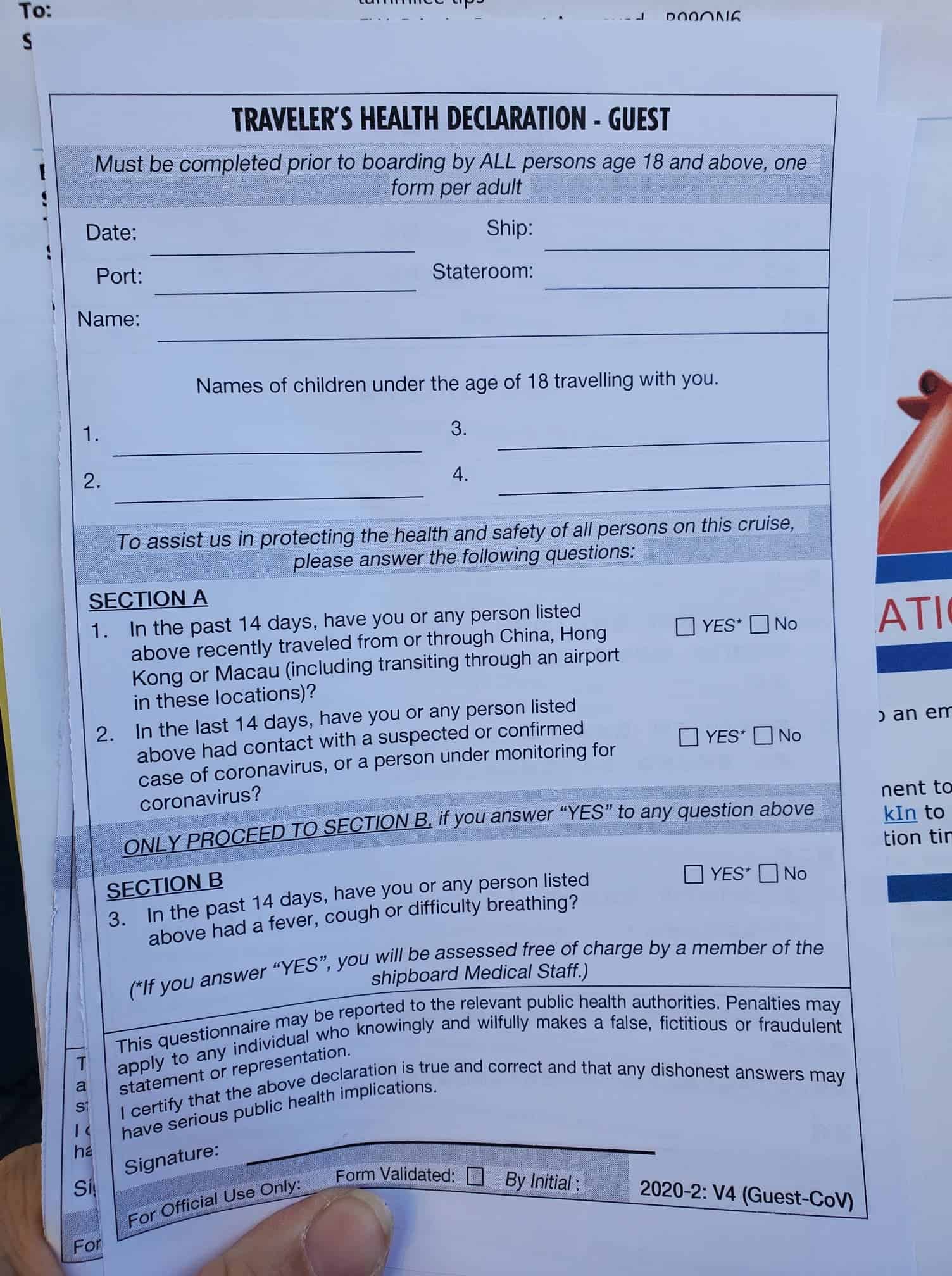 The new form is a variation on the paper questionnaire cruisers have long been familiar with. And while some of the questions are similar to those posed in the past, the new form takes specific aim at coronavirus and the areas associated with the virus' initial outbreak.
Below are the two sections of the form:
Section A 
1. In the past 14 days, have you or any persons listed above recently traveled from or through China, Hong Kong or Macau (including transiting through an airport in these locations).
2. In the last 14 days, have you or any person listed above had contact with a suspected or confirmed case of coronavirus, or a person under monitoring for coronavirus?
Section B
3. In the past 14 days, have you or any person listed above had a fever, cough or difficulty breathing?
The form goes on to say if you answered yes to any of the above questions, you will be accessed free of charge by a member of the ship's Medical Staff. Lest those filling out the form be tempted to fudge their responses, the warning at the bottom makes it clear that there will be consequences to doing so.
READ MORE: How Your Cruise Line is Impacted By Coronavirus
"This questionnaire may be reported to the relevant public health authorities," it reads. "Penalties may apply to any individual who knowingly and willfully makes a false, fictitious or fraudulent statement or representation."
This new health form is in line with the guidelines issued earlier this week by Cruise Lines International Association, a trade association representing approximately 90 percent of the passenger-carrying ships around the world.
As of Saturday evening, cases of coronavirus has surpassed the SARS outbreak from 2003-2004. Several cruise ships have been impacted, most notably the Diamond Princess, which is under quarantine and has, at last count, at least 60 passengers aboard who have tested positive for the coronavirus.