If there's one thing none of us look forward to about our cruise, it's the lines we often encounter on embarkation day. But Carnival Cruise Line has been working to help folks get on board as quickly as possible and, as part of that effort, is expanding a program which has proven successful during its initial testing phase. But we'll let Senior Cruise Director and unofficial Carnival mascot John Heald fill you in on all the details.
How is Carnival Cruise Line Changing Things?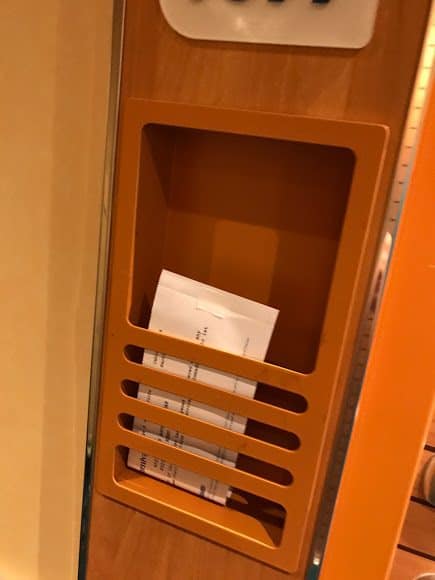 "As you know," Heald explained on his popular Facebook page, "we have been testing having your cabin key placed in a sealed envelope outside your cabin" so that it will be there waiting when the staterooms are ready. "This has proven to be hugely successful," he continued, "and has helped speed up the embarkation system."
How, exactly, does this speed up the boarding process? Well, as anyone who's ever dealt with the check-in process knows, the thing which tends to take the longest is the actual printing of the plastic cards. The new system keeps all the previous steps in place — including your picture being taken and immediately attached to your folio — but allows the keys to be printed and delivered separately.
The Program Right Now
Currently, this is the norm on six Carnival ships, those being the Glory, Sensation, Victory, Vista and Splendor. As they continue to roll out the program, it will be introduced aboard the Carnival Freedom this weekend, with the Valor and Breeze being next, on July 29th and 30th, respectfully.
Why Not Everyone Is Thrilled
Knowing it would immediately come up as a concern, Heald attempted to nip one issue in the bud. "Is it safe?" he asked. "The answer is an absolute yes." Not everyone was so easily convinced, however, with many expressing their concerns in the comment section of the posting. The most common complaint? That leaving the cards outside the room might easily allow others to access the card and, by extension, not only the stateroom but the credit card most passengers use to pay for on-board expenses.
Others however, and perhaps most notably people who have already taken advantage of the new system, voiced few complaints (although many also said they didn't notice the embarkation process being particularly faster).
What About Drinks?
Given that many people make a beeline for a bar upon boarding in order to hoist a celebratory cocktail (or try to be first to the RedFrog Pub!), Heald also addressed how that would now work. While passengers will not have their Sign-And-Sail cards, they'll be issued a boarding pass (with their photo digitally attached) which can be used to make purchases while waiting for the rooms to be ready.
Which method do you prefer when sailing Carnival Cruise Line?