They say that the family the plays together, stays together. But for many cruisers, the best part of a family vacation is carving out a little time away from the loved ones who can sometimes drive you nuts. That's why on many Carnival cruise ships, the adults-only Serenity area has proved so wildly popular. It's also why a whole lot of people seem to hate the idea of spaces previously designated kid-free zones becoming family friendly ones.
Families Welcome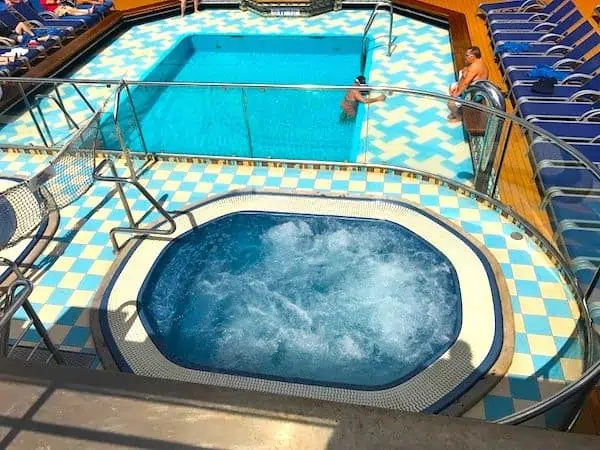 Given Carnival's position as a wildly-popular cruise line with families, it's not surprising that you'll find a boatload of kids — pun intended — on nearly every sailing. But on many of the fleet's ships, aft pools have in the past been designated as adults only, offering a peaceful reprieve for both parents able to carve out a little alone time and passengers traveling without children. But in recent weeks, ships without Serenity areas are seeing the aft pools transformed into family-friendly areas.
When earlier this week Carnival's senior cruise director John Heald broached the topic on his Facebook page, many were not pleased by the change. "Conquest, Glory, Liberty, Freedom, Splendor and Victory all have the aft pools now as family-friendly pools," he posted, adding, Conquest will get a stunning new Serenity deck during her October dry dock.
Ships Include 
Carnival Conquest
Carnival Glory
Carnival Liberty
Carnival Freedom
Carnival Splendor
Carnival Victory
Cruisers Not Impressed!
What followed was a heated debate, with the vast majority of commenters indicating their displeasure at losing an adults only area on the ships. Several hours later, Heald posted a comment he'd received from a cruiser named Robbie who wrote, in part, "Just give us one adults-only ship! You have so many ships that the adult one would sell out [quickly]. We pay good money to cruise and should not have to put up with rude children."
Closing Comments 
Thanks to his closing comment about rude children, the focus wound up being lost as many respondents took Robbie's attitude to task rather than focusing on the question at hand. "Carnival," said Heald in reaction, "is a family cruise line, we are massively proud of that and this will never change." The cruise director then went on to ask, "Would you cruise on an adults-only ship if we had one?"
Responses to this question ran the gauntlet, with many suggesting the real solution was better parenting of unruly children, and others saying that it wouldn't be an issue if some areas remained kid free (and these areas had Carnival staff enforcing the rule). "Thank you for all your comments and posts on the aft pools," Heald posted later in the day, adding that they would be gathered and passed along so that "the right people read your thoughts on both sides of the discussion."
Would you book an adults-only cruise? Is it important to you that a ship has an adults-only pool area?