It's safe to say that Carnival Cruise Line's new flagship, Mardi Gras, has been highly anticipated… and not just by those looking forward to sailing on board her. For weeks, Brand Ambassador John Heald has been anxiously awaiting his chance to take himself (and, by extension, his followers) on a tour… and this weekend, he finally got the opportunity.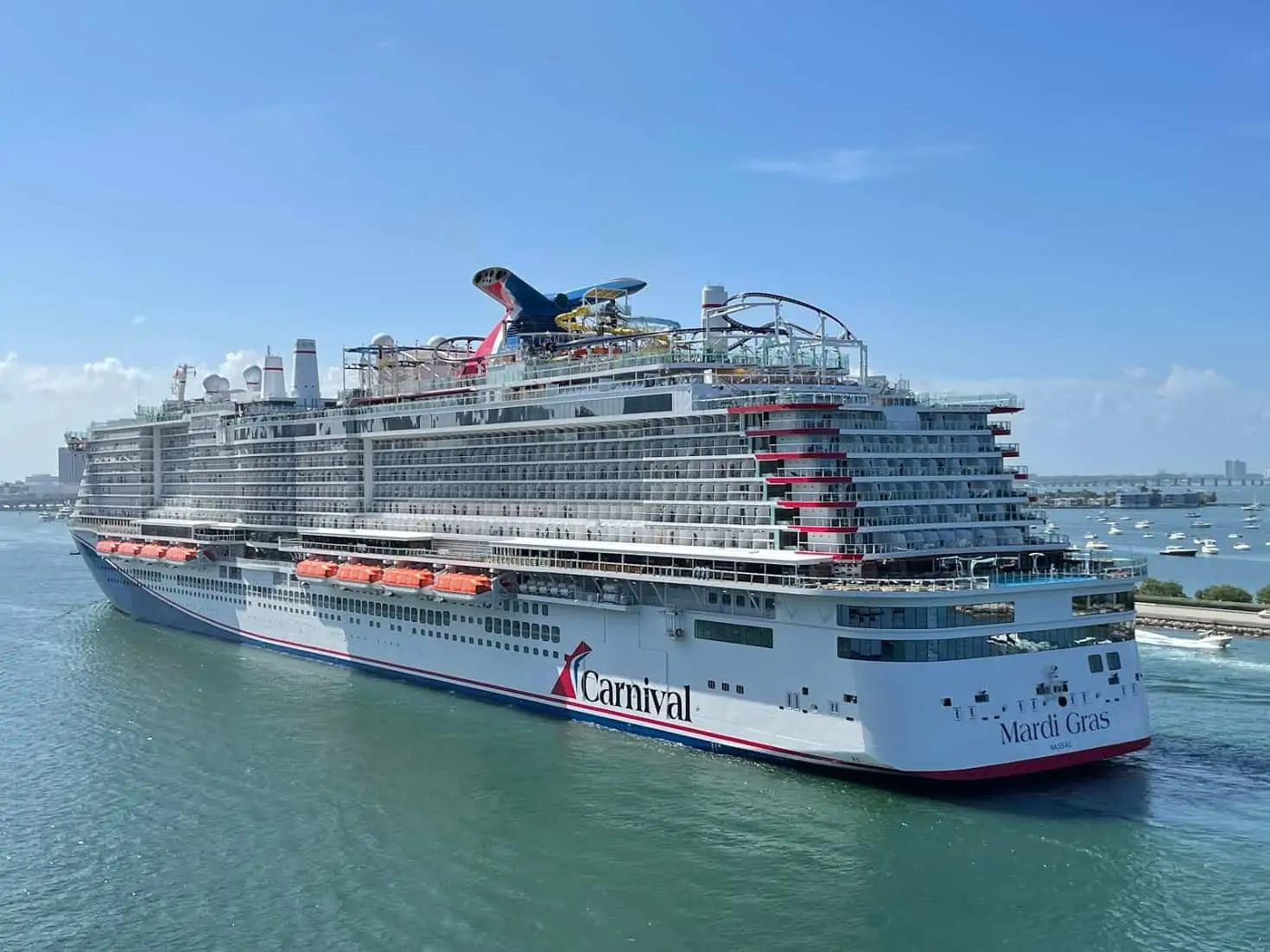 "Wow. Wow, Wow, Wow."
Still fresh from the flight which had brought him to the ship, Heald whipped out his phone and began exploring the ship. Because Mardi Gras is such a departure for the line, even the seasoned vet had to figure out his way around the vessel. Because not only is the ship packed with new venues, but some longtime favorites aren't where you'd expect them to be.
One thing that quickly became clear as Heald explored the ship was just how different it really is… even when things are where you expect them to be. For example, while the gangway does empty guests into the atrium as on most other Carnival ships, the space which serves as the beating heart of the Mardi Gras is completely different from any Carnival atrium in the past.
We've yet to get a view of its three-story windows, but Heald's tour did allow us to see how the space will be utilized at night. Covering the windows which provide awe-inspiring views during the day were gigantic screens on which graphics, designed to accommodate whatever performer or show is scheduled, were flashing. And a wide variety of seating options — from single chairs to comfy couches — fill the space known as Grand Central.
Another area we'd heard much about but were only now getting our first glimpse of was the French Quarter, including the beautiful Brass Magnolia (where jazz bands will play in the evening) and the mysterious Fortune Teller's Bar where, as one bartender told viewers, "Anything can happen."
Heald also took viewers on a tour of various watering holes — both pools and bars — scattered around the ship. Among the highlights was the infinity pool found just past the Tides Bar on Deck 16 aft, the two-story RedFrog Tiki Bar conveniently located near the main pool on the Lido Deck, and the Alchemy Bar which, on Mardi Gras, has a colorful, vibrant, and modern look while still managing to maintain the classic feel the venue has always had.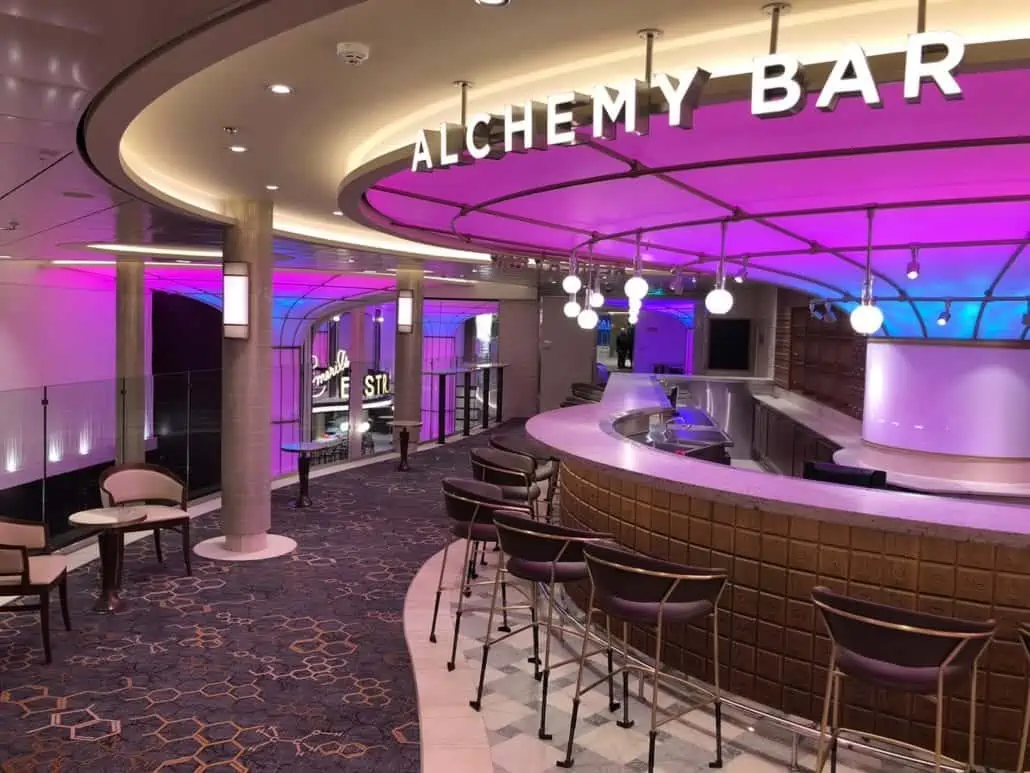 READ MORE: 18 New Cruise Ships Debuting in 2022
As the tour went on, we were given previews of Emeril's Bistro 1396, Shaquille O'Neal's Big Chicken and ChiBang (the last two of which are currently complimentary eateries). Still to come, Heald promised, were menus from various venues as well as tours of the staterooms and Loft 19, the new-to-Carnival exclusive retreat area (and its available-for-rent cabanas).
First impressions? It's hard not to be impressed by Mardi Gras. From her livery to the overall aesthetics, this is clearly a slightly more upscale ship than have been past Carnival vessels. Nearly every space features unusual details and beautiful accessories which will have guests wanting to linger in order to get a closer look.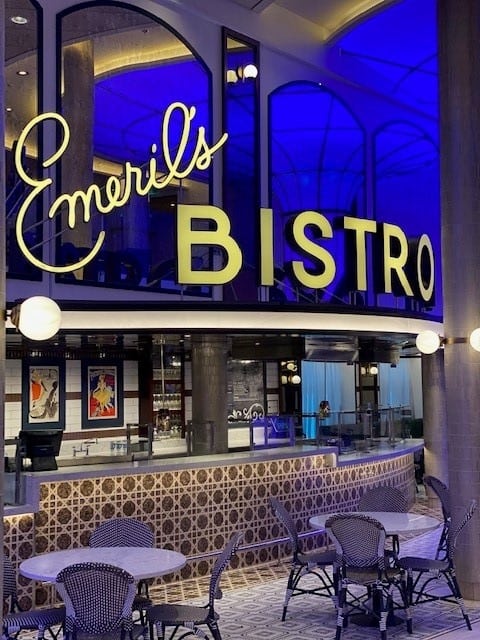 At the same time, the ship is not so different as to alienate the cruise line's core audience. Guy's Burger Joint is still there, just not where you might expect to find it. The Pig & Anchor Smokehouse | Brewhouse expands across the promenade, its seating seeming to blend with that of the Heroes Tribute Bar (a relatively new concept for a line which has long been respectful of veterans).
Despite Heald's extensive tour — which encompasses several videos — one is left with the feeling that there's much yet to explore. And of course, we'll be doing exactly that when our own Doug Parker jumps aboard the ship's maiden voyage, bringing you a boatload (pun intended) of information about the exciting new ship.
In the meantime, head to John Heald's Facebook page for more details as he continues to explore Mardi Gras in the days to come.