For the first time since the industry shut down in 2020, four ships called upon Nassau today, including Carnival Cruise Line's Mardi Gras, which is continuing its inaugural voyage.
Which Ships Visited Nassau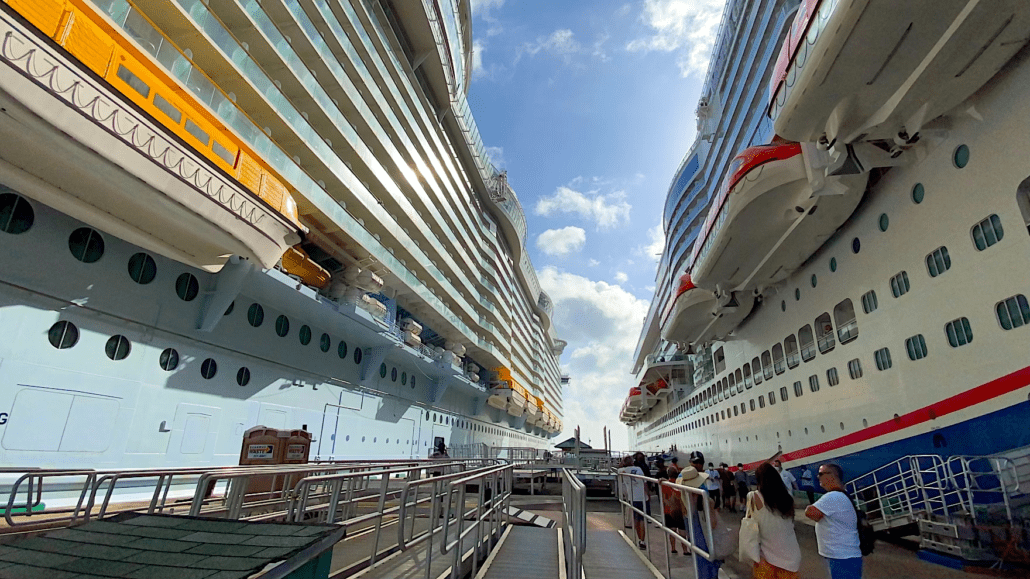 Although Mardi Gras has been sailing since late July, the ship's naming and christening ceremony was last weekend.
On the ship's final sea day before arriving in Nassau, the guests participated in the line's Groove for St. Jude dance party and fundraiser, and raised a record-breaking $21,000 for St. Jude Children's Research Hospital.
Upon arriving in Nassau, they joined three other ships — Celebrity Apex, Royal Caribbean's Allure of the Seas, and the Disney Magic — to bring a post-shutdown record number of guests to the port.
Preliminary numbers are reported to be an estimated 9,100 revenue guests, not including crew.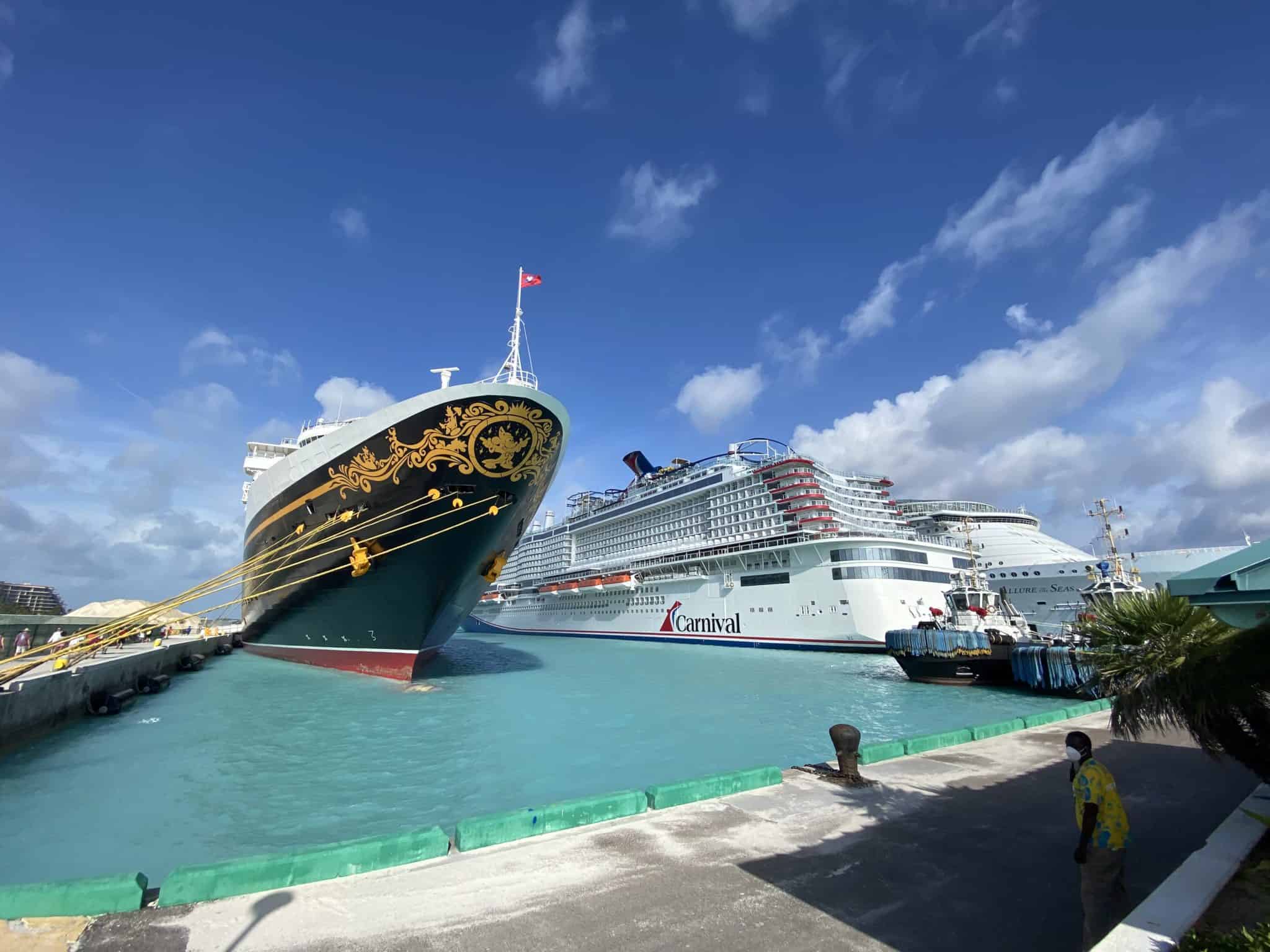 "We are thrilled to be visiting Nassau with our flagship Mardi Gras," said Carnival Cruise Line president Christine Duffy. As part of the special day, the crew welcomed aboard Bahamian Prime Minister Philip Davis and his team.
Carnival also announced that it had reflagged two additional vessels — the Carnival Legend and Carnival Spirit to the Bahamian registry — bringing the company's total number of ships registered there to six.
(Note: The other ships registered to Nassau are Mardi Gras, Sensation, Sunrise, and Sunshine.)
Why The Return Matters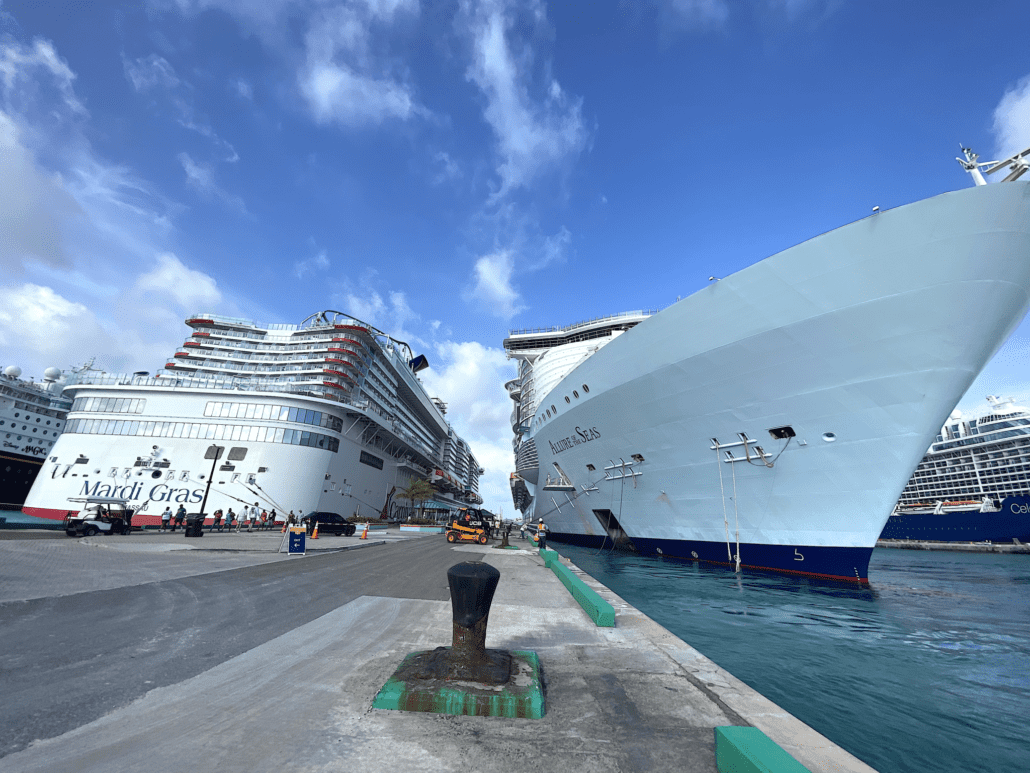 From the beginning of the restart, the Bahamas has played a crucial role given that it is easily reachable from the all-important Floridian cruise market.
While recent years saw passengers develop a certain apathy toward Nassau, going more than a year without cruising has reawakened interest in the port.
What was only a few short years ago a case of "been there, seen that" has changed instead to an attitude of "I couldn't care less about where the ship is going, I'm just glad I'm finally back on one again."
Likewise, citizens of Nassau have been anxious for cruise ships to return given how heavily the local economy depends on tourism. According to Carnival, Mardi Gras' current sailing is playing host to around 4,300 passengers.
READ NEXT: Disney Cruise Line Resumes Voyages From Miami, All Four Ships Back in U.S.