A Carnival Cruise Line ship moved off-course early on Thursday, November 4 to rescue passengers who were adrift in a sailboat.
Carnival Breeze was heading back towards Galveston, Texas around 1 am Thursday morning after a five-night cruise when officers picked up a mayday call and altered the vessel's course to assist.
According to YouTube user Rhonda Brewer, who posted a video of the rescue on her channel (below), the mariners on the sailboat included an injured captain along with two passengers and two dogs.
All were brought onboard without incident and received medical treatment on the cruise ship.
Following the rescue, Carnival Breeze headed towards her homeport of Galveston as planned and arrived there this morning. The ship was sailing back at the end of a five-night itinerary that included stops in Cozumel and Progreso, Mexico.
Now, Carnival Breeze is on a four-night voyage that will call in Cozumel.
MORE: Carnival Cruise Line Rolls Out Limited Pre-Cruise Testing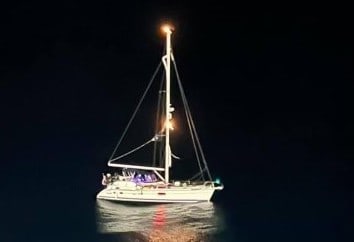 Carnival Breeze resumed passenger cruises on July 15, 2021. She was Carnival Cruise Line's third ship overall to return to sailing following the cruise industry shutdown last year, after Carnival Vista from Galveston on July 3 and Carnival Horizon from Miami on July 4.
Today's rescue follows closely on the heels of another recent cruise ship rescue by Virgin Voyages' Scarlet Lady. 
On October 25, the vessel came across a small boat in need of help between Cuba and the Florida Keys. Crew members were able to bring all eight mariners on board. The ship then headed towards Key West to transfer the unexpected passengers to a U.S. Coast Guard cutter.
After the transfer, Scarlet Lady turned back towards the south and made her to her next port of Cozumel without any interruptions to the itinerary.
WATCH: