This is an overview and summary of the menu of Carnival Cruise Line's Fahrenheit 555 Steakhouse.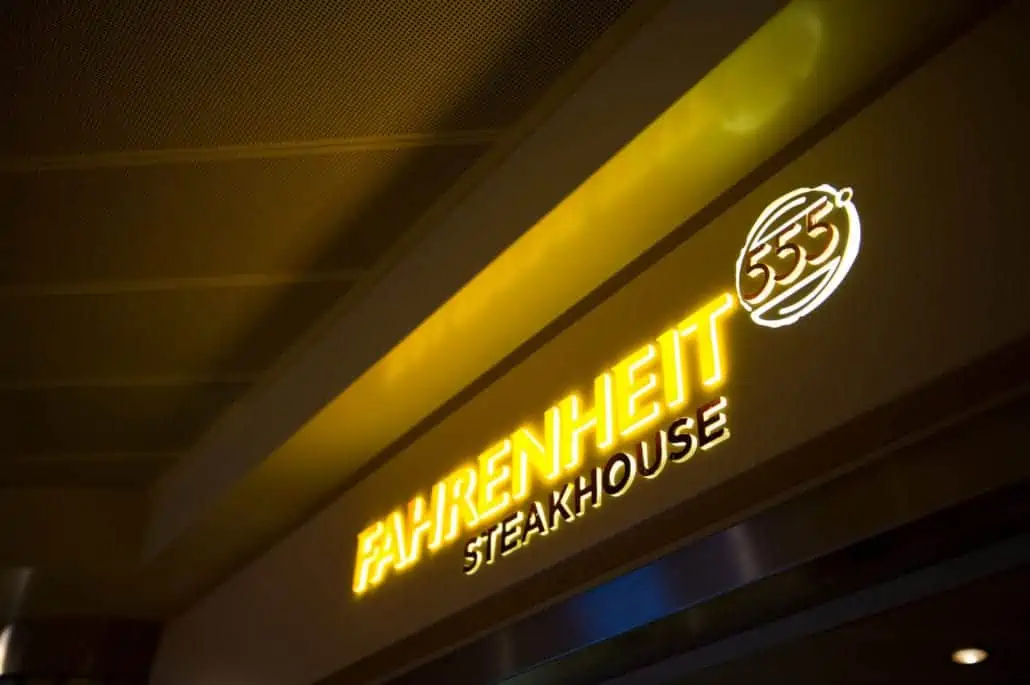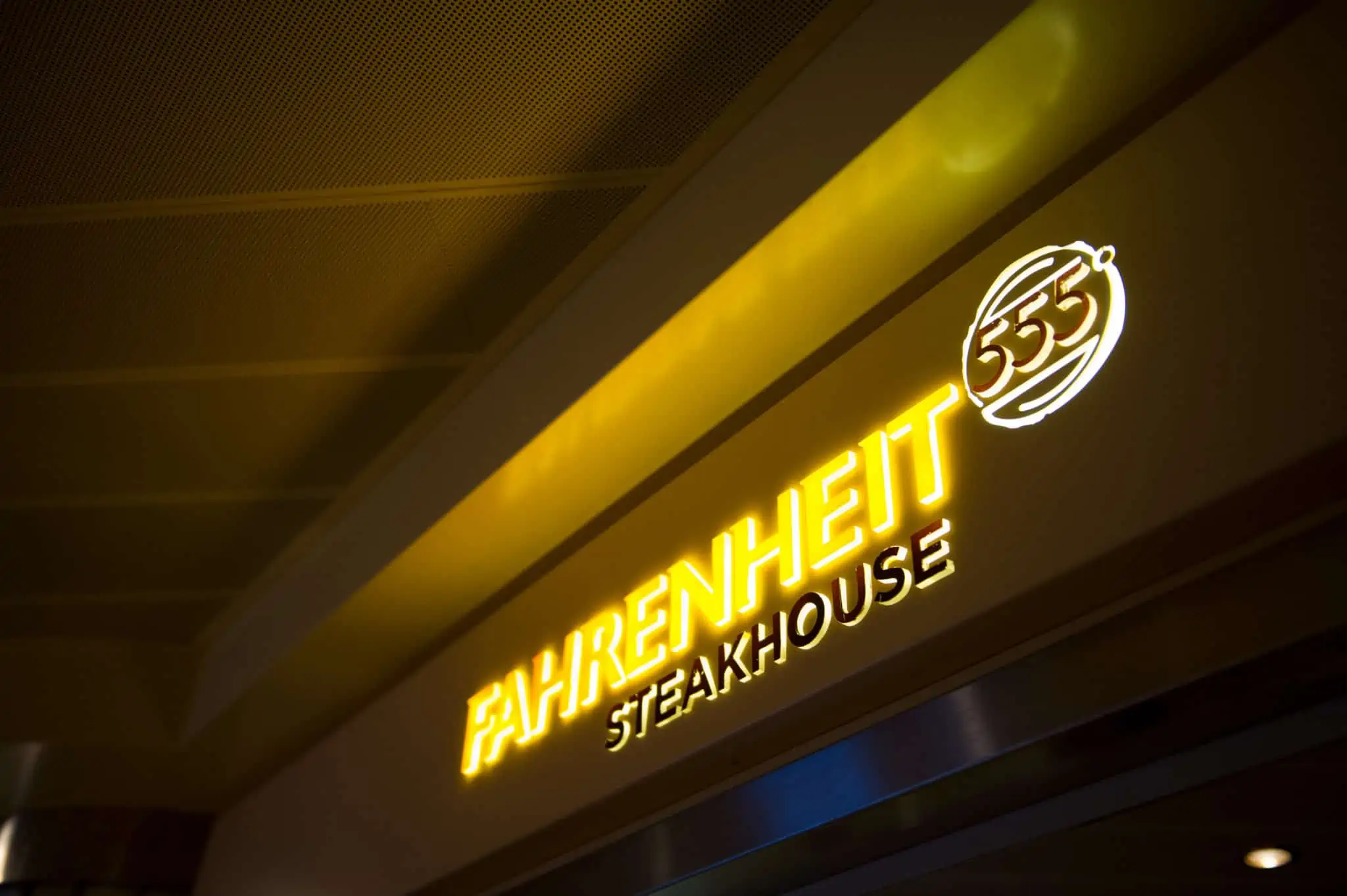 SHIPS: Breeze, Conquest, Dream, Freedom, Glory, Horizon, Legend, Liberty, Magic, Miracle, Pride, Spirit, Splendor, Sunrise, Sunshine, Valor, Vista
– Coming soon to Panorama (December 2019), Radiance (April 2020), and Mardi Gras (August 2020).
PRICE: For $48 per person (gratuities included), you simply cannot beat the value of the Carnival steakhouse, both on land and at sea. The same four-course meal would likely cost at least double on land, and $48 is one of the lowest steakhouse rates in the cruise industry. (The price went from $42 to $48 in November 2022)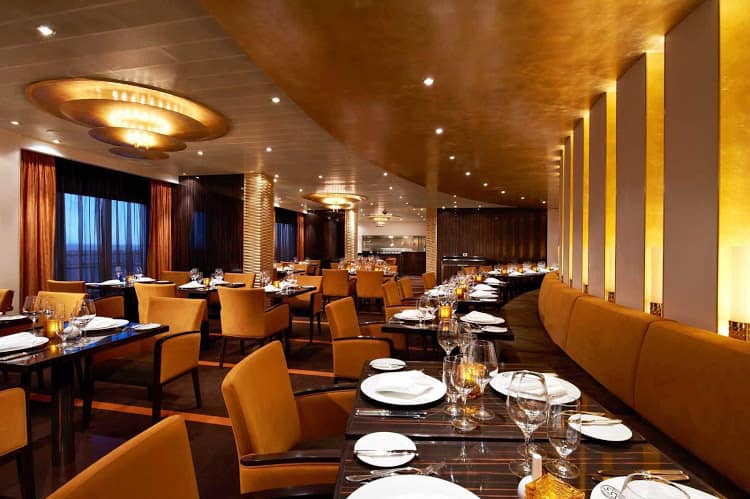 AMBIANCE: The Fahrenheit 555 steakhouse on Carnival Breeze has the best ambiance of any Carnival steakhouse I've dined at. The back-lit walls, faux candles, dark carpeting and light-colored furniture set with custom dinnerware and cutlery, work in harmony to set an intimate, relaxed, and elegant mood.
The lighting makes the restaurant cozy and refined at the same time. Though the room is open and tables are set rather close together, the general chatter is never too loud or overbearing to your own conversation.
SPECIALTY COCKTAILS: If the Carnival steakhouses have their own special cocktail menu, then I couldn't tell you what's on it. In fact, the last time I was presented with a special drink menu at the steakhouse was years ago.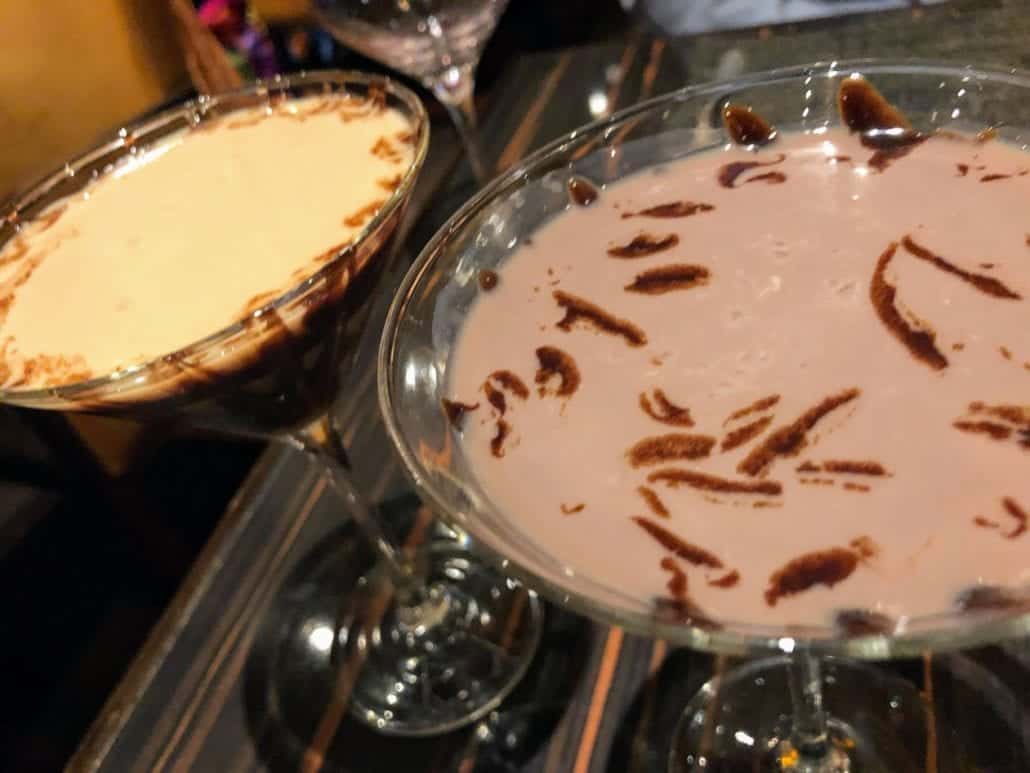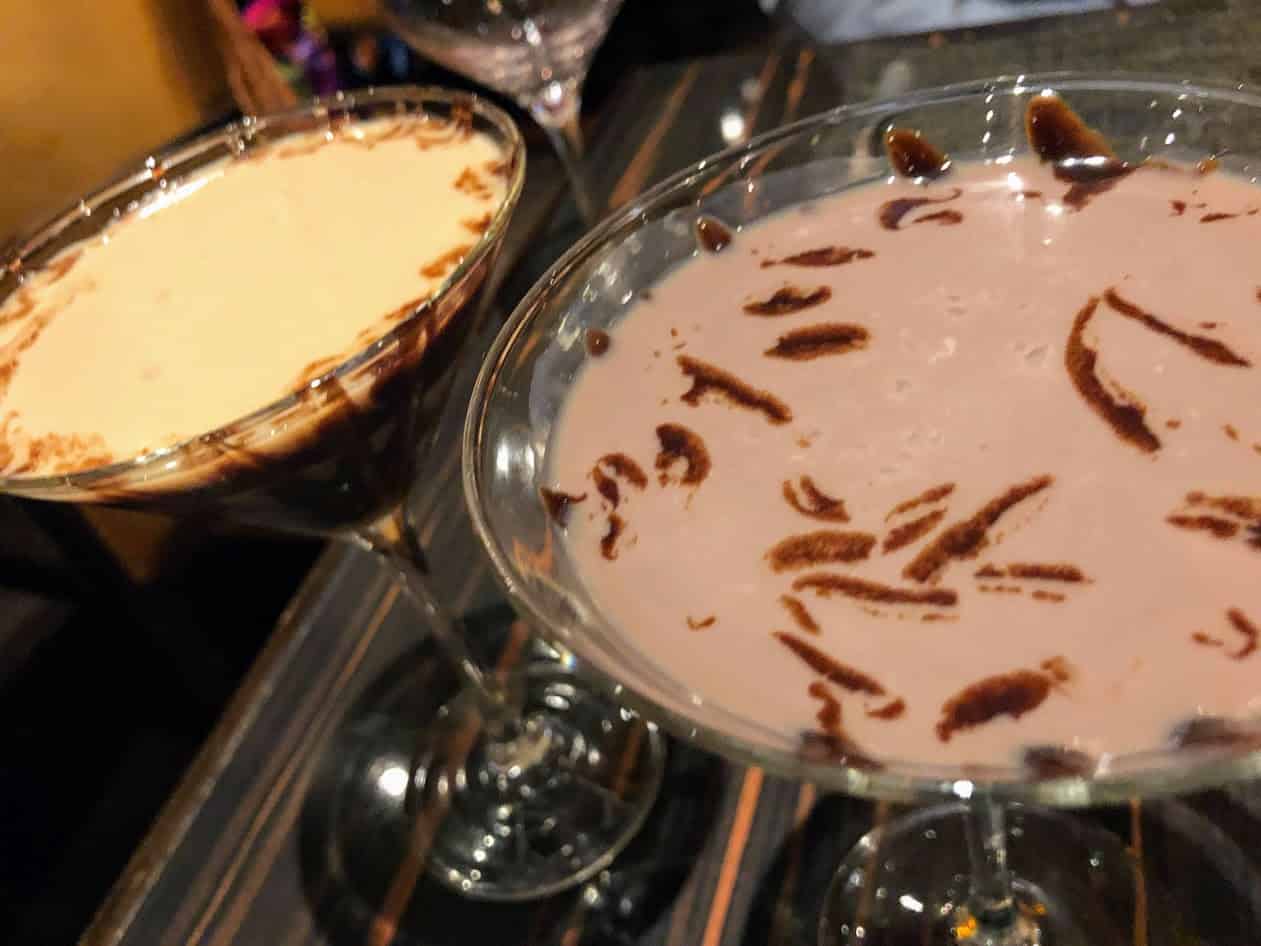 With that said, Carnival has an award-winning selection of wines at their steakhouses and you can receive one bottle of their choosing for free if you dine at the steakhouse on the first night.
Not being a wine person myself, I asked what scotch was available and ordered the most expensive one with my CHEERS! package. I had two glasses of the Chivas Regal 21-year Royal Salute, which costs $18 per pour.
Though incredibly smooth for blended scotch, I tend to prefer single malts and the overall selection wasn't as expansive as I'd been led to believe from fellow cruisers.
VARIETY OF APPETIZERS: To be honest, I had a much harder time choosing among the appetizers than I did the entrees. That's not to say there isn't a good entree selection; it's just that the appetizers all sound so good! From the French onion soup to the juicy Berkshire pork belly and creamy Maine lobster bisque, there's really no wrong choice off this menu.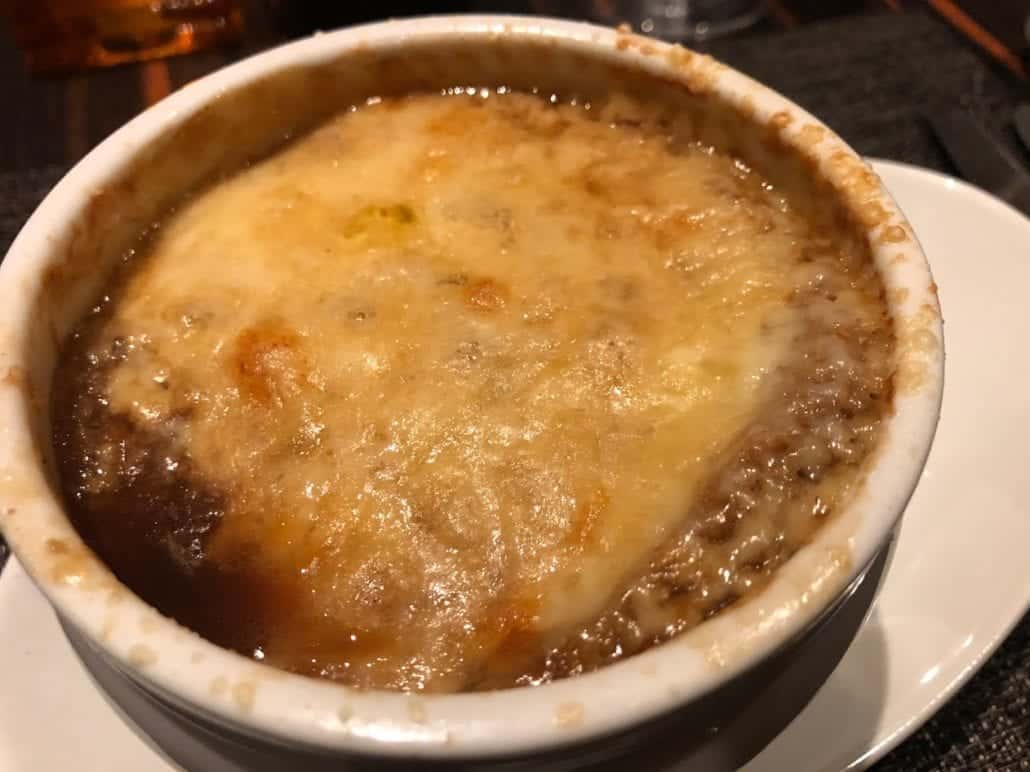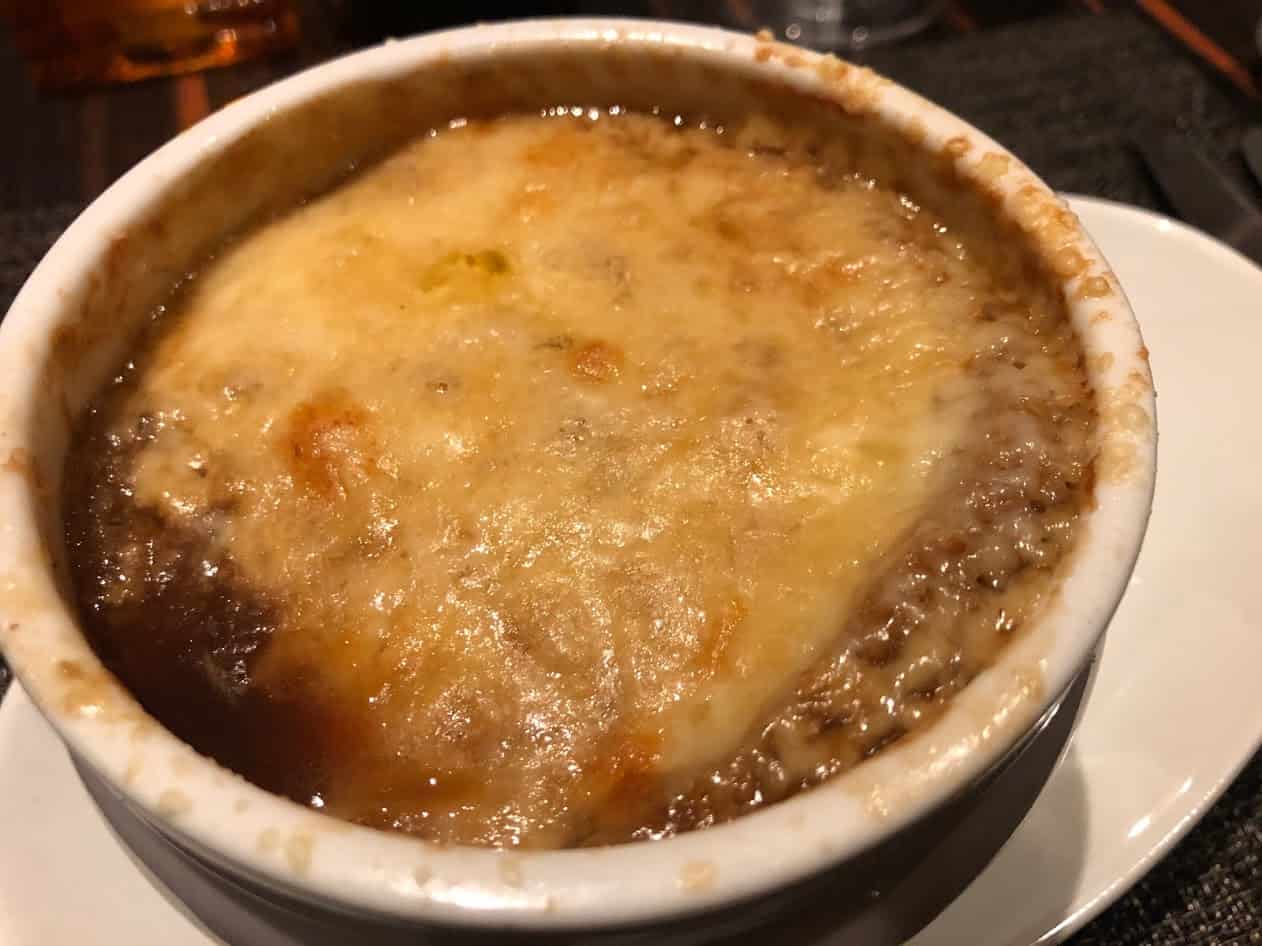 The true favorite in the restaurant however, is definitely the "Smoke and Ice Fresh Oysters." Your plate is served under a glass dome that the waiter removes upon delivery, thus releasing an intoxicating aroma from the smoked oysters into the air.
Be prepared for heads to turn in curiosity as fellow patrons' noses lean your way(then ask their own waiter for the same dish).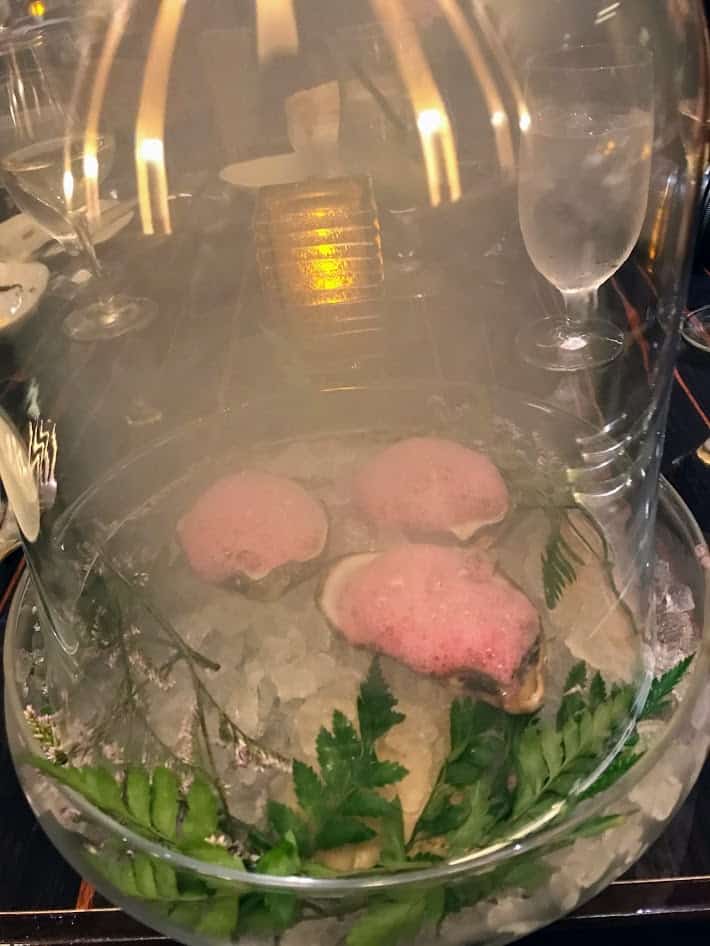 VARIETY OF MAIN COURSES: Fahrenheit 555 features an impressive list of entrees, from the 18 oz. spice-rubbed prime rib eye to the 10 oz. A-5 Wagyu. Though the steaks differ in sizes and cuts, they all share the same level of quality and mouth-watering flavor.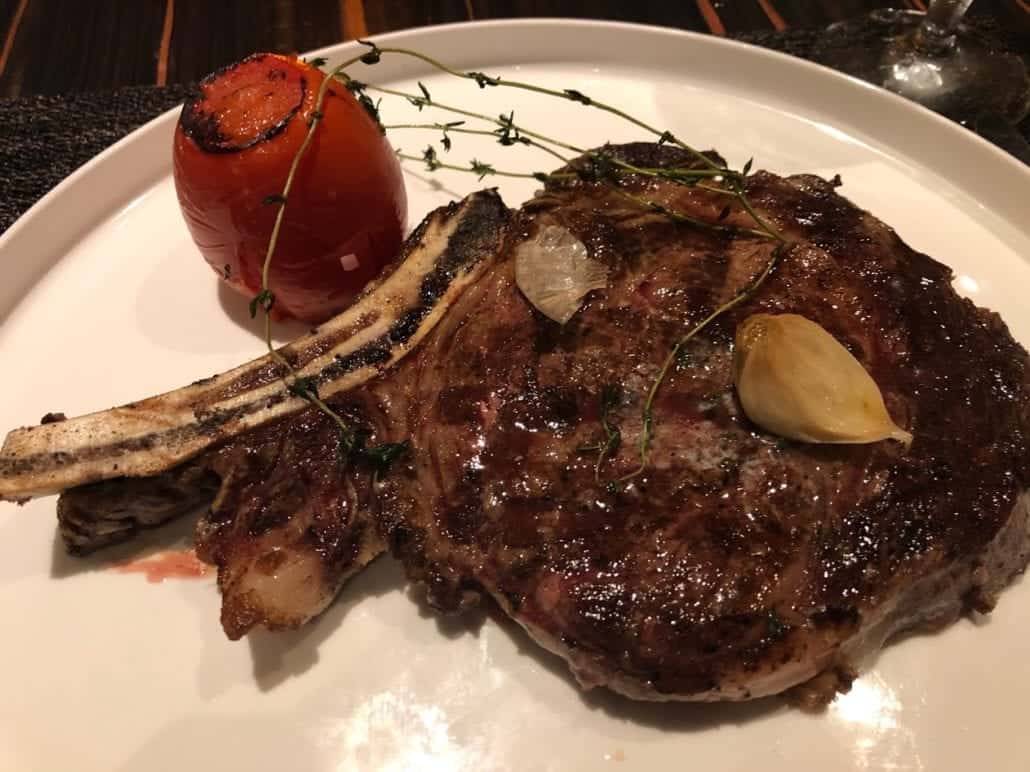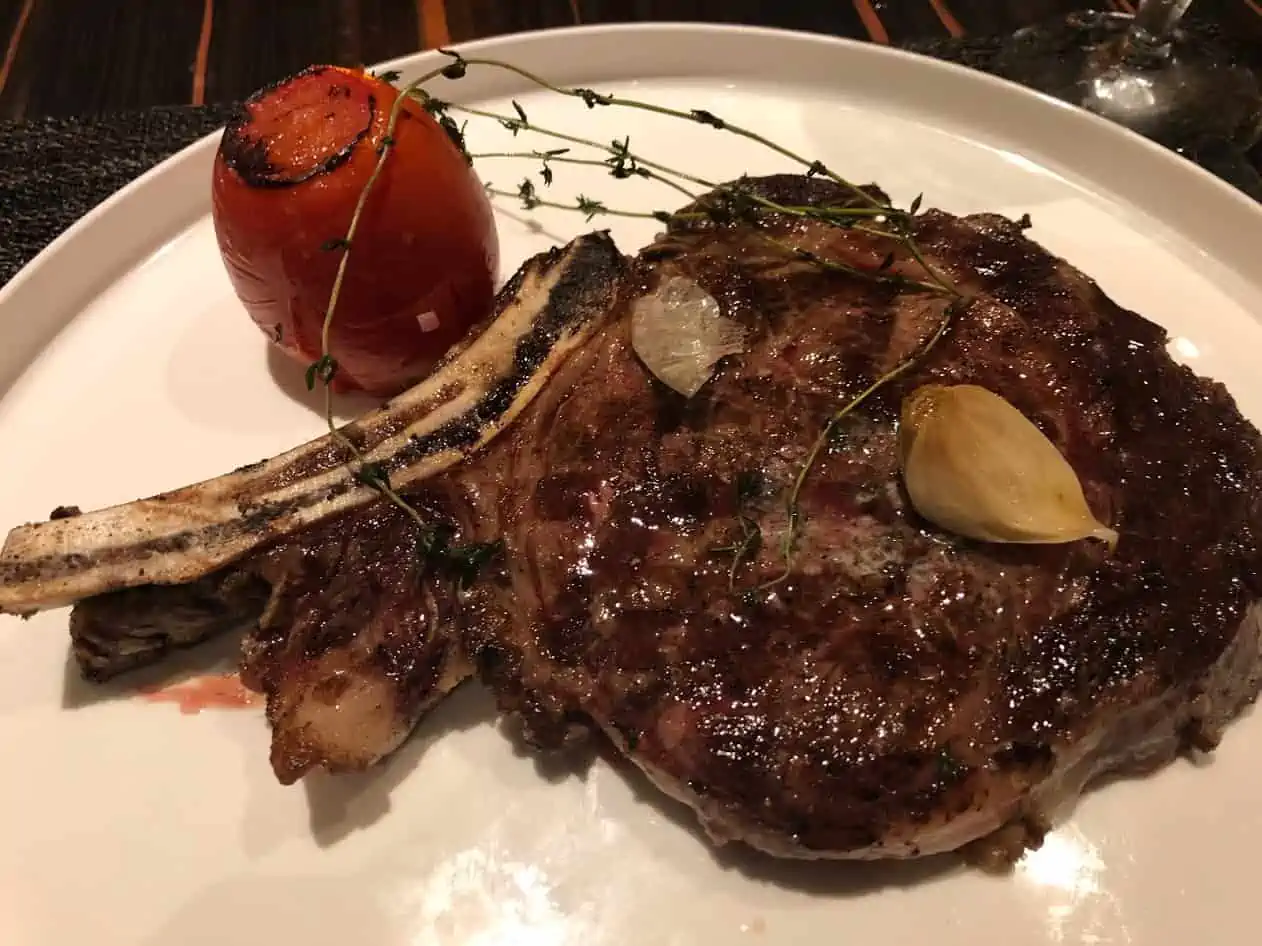 FOR THE NON-STEAK EATER: No steak? No problem. Aside from the beef entrees, Carnival's steakhouse serves lobster tail, roasted chicken, lamb chops, jumbo shrimps and Dover sole. In fact, the chefs are also happy to prepare off-menu vegetarian or vegan meals if you give them advanced notice of your meal preferences.
SIDES: Though tasty, I did find it odd that things like onion rings and French fries were on the menu for a steakhouse. However, I overlooked that thanks to the flavors of the other sides, like the buttery sauteed mushroom medley or the wasabi horseradish mashed potatoes. The mac n' cheese, while also seeming a bit out of place to me for an elegant place like the steakhouse, also earns its spot on the menu thanks to its cheesy goodness and plain, old like-ability.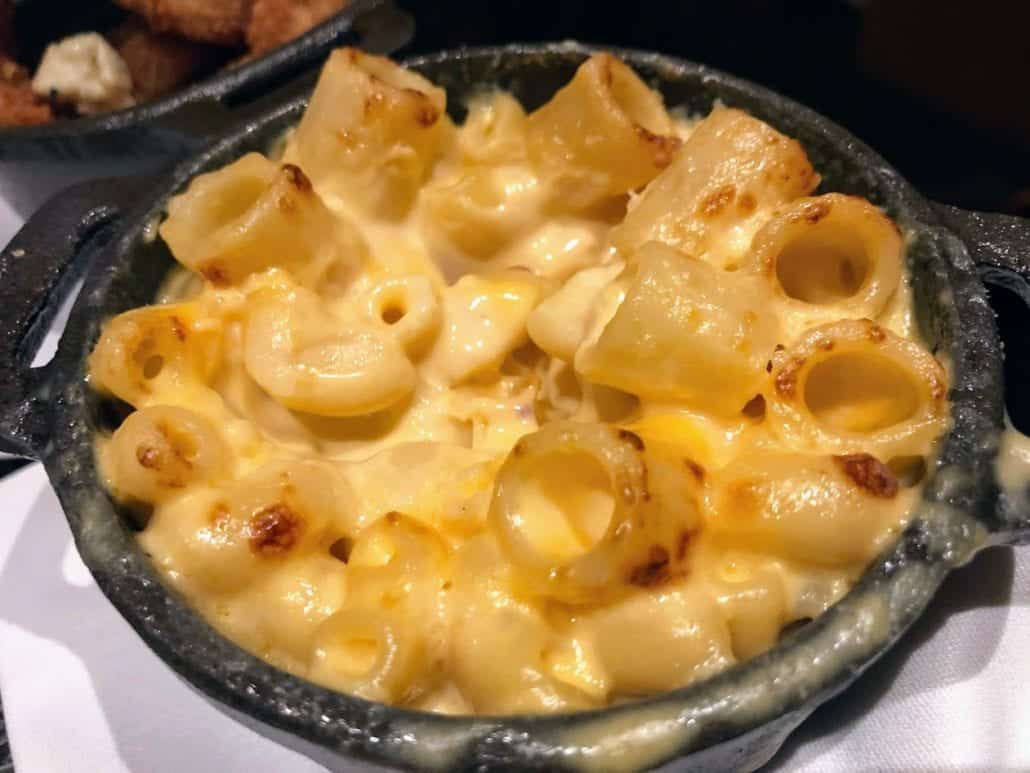 SPECIAL TOUCHES: Every time I've dined in the steakhouse on Carnival, my waiter comes around shortly after taking my order with an amuse-bouche(that is "compliments of the chef"). Although having dined in a Carnival steakhouse before I know it's coming, yet I still feel like royalty when the waiter sets it down – like I'm the only guest in the restaurant who was special enough to receive something directly from the chef. Whether it's true doesn't matter.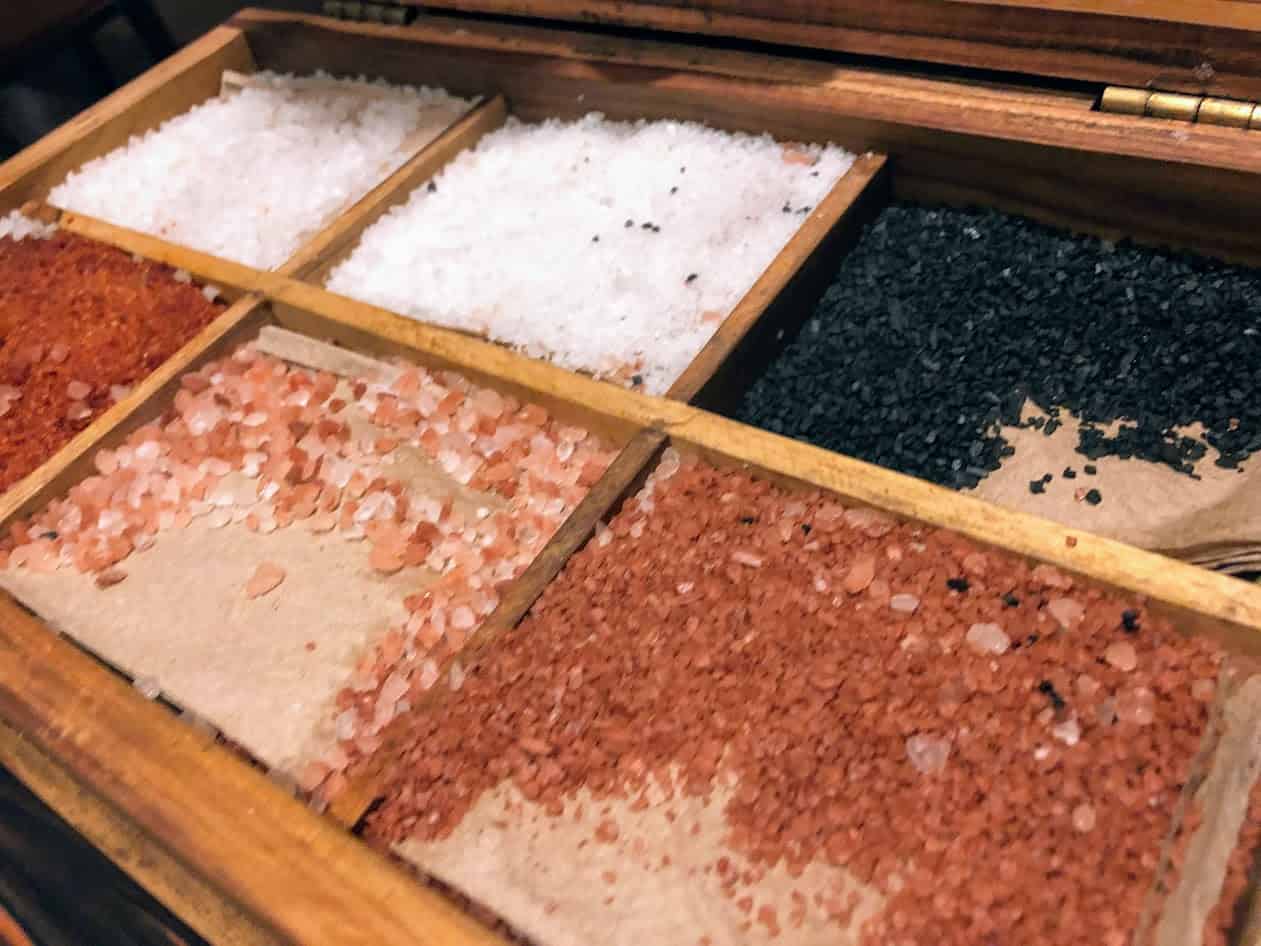 However, our waitress never brought around the box of artisan salts(of your choosing) to salt my filet. To be honest, I didn't know this was a thing until after my cruise anyway, so in the moment it wasn't missed. Had I known, I simply would've asked. But I do think it's a nice, extra touch to "personalize" your steak.
DESSERT OPTIONS: When it comes to dessert, Carnival's steakhouse doesn't offer the largest variety. But for what they do put on the menu, they execute extremely well. The infamous cheesecake is so beloved that Carnival was basically forced by popular demand to bring it back after they removed it for a short time. The apple tart is a delight for anyone who has a taste for apple pie, while the "Chocolate Sphere" combines rich chocolate, nutty flavors and geometry on one plate.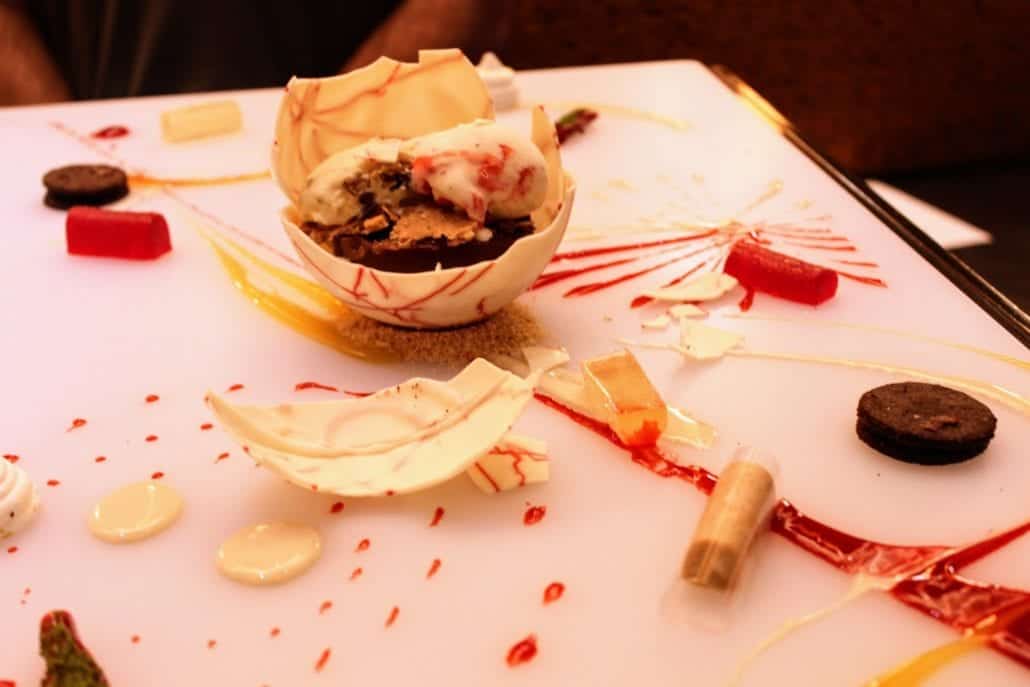 The real star of the restaurant though, is "Art at Your Table". This is the dessert for which the chef comes out from the kitchen to draw on a cold serving surface using sugary treats like ice creams and syrups.
The result is an artistic array of sweets and treats ready to be shared by the table. It's fun, creative and generates buzz around the room whenever someone orders it.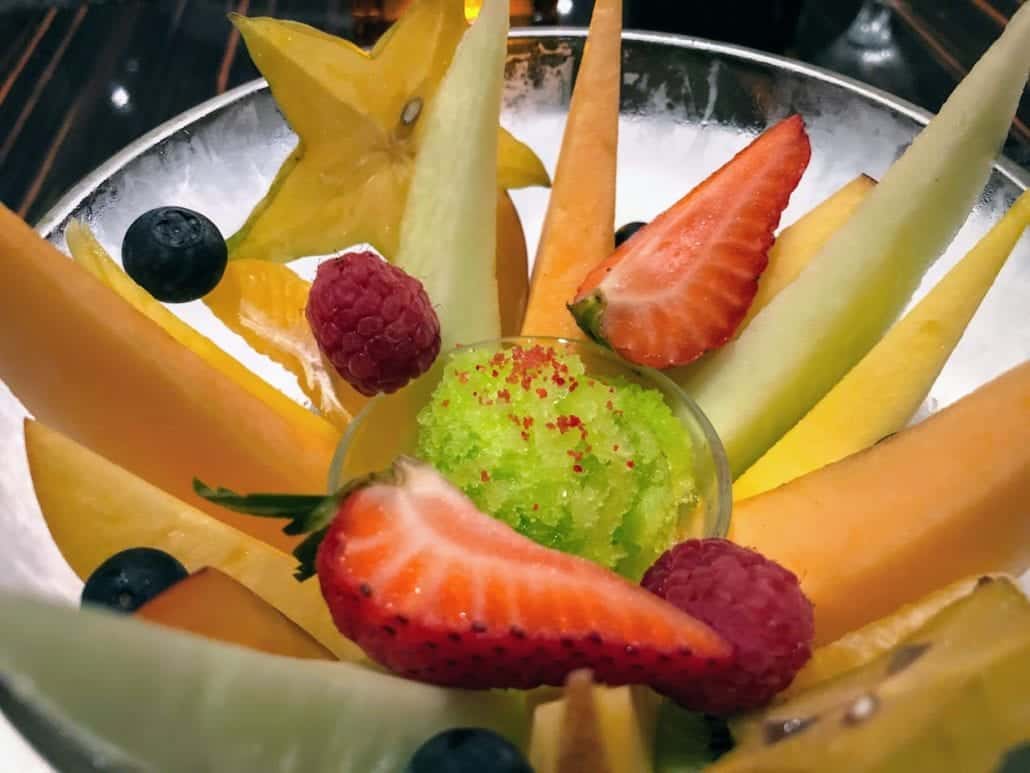 Lastly, Carnival also offers sherbet ice cream, a fresh fruit plate and an assortment of cheese for dessert options. Kudos to anyone choosing fresh fruit as dessert instead of a slice of that infamous cheesecake.
ACTUAL MEAL REVIEW(What was eaten, how it was prepared, etc): I started my meal off with a wild card and ordered the bone marrow and beef tartar appetizer. This was a bold choice for me, considering I am not a big meat eater and bone marrow tends to scare off even the most curious of folks. The bone marrow had an off texture I'll admit, but I expected this. Likewise, the beef tartar was so tasty it didn't spend much time on my plate at all. Still, after a bite of my partner's crab mushroom risotto, I wished I had ordered that.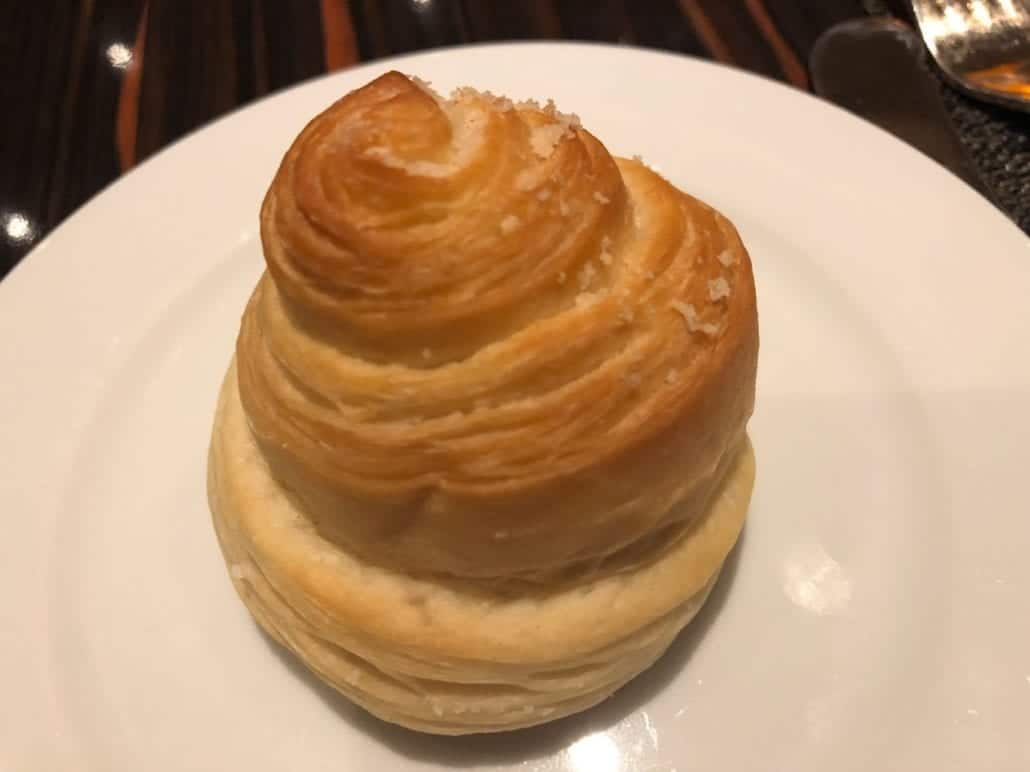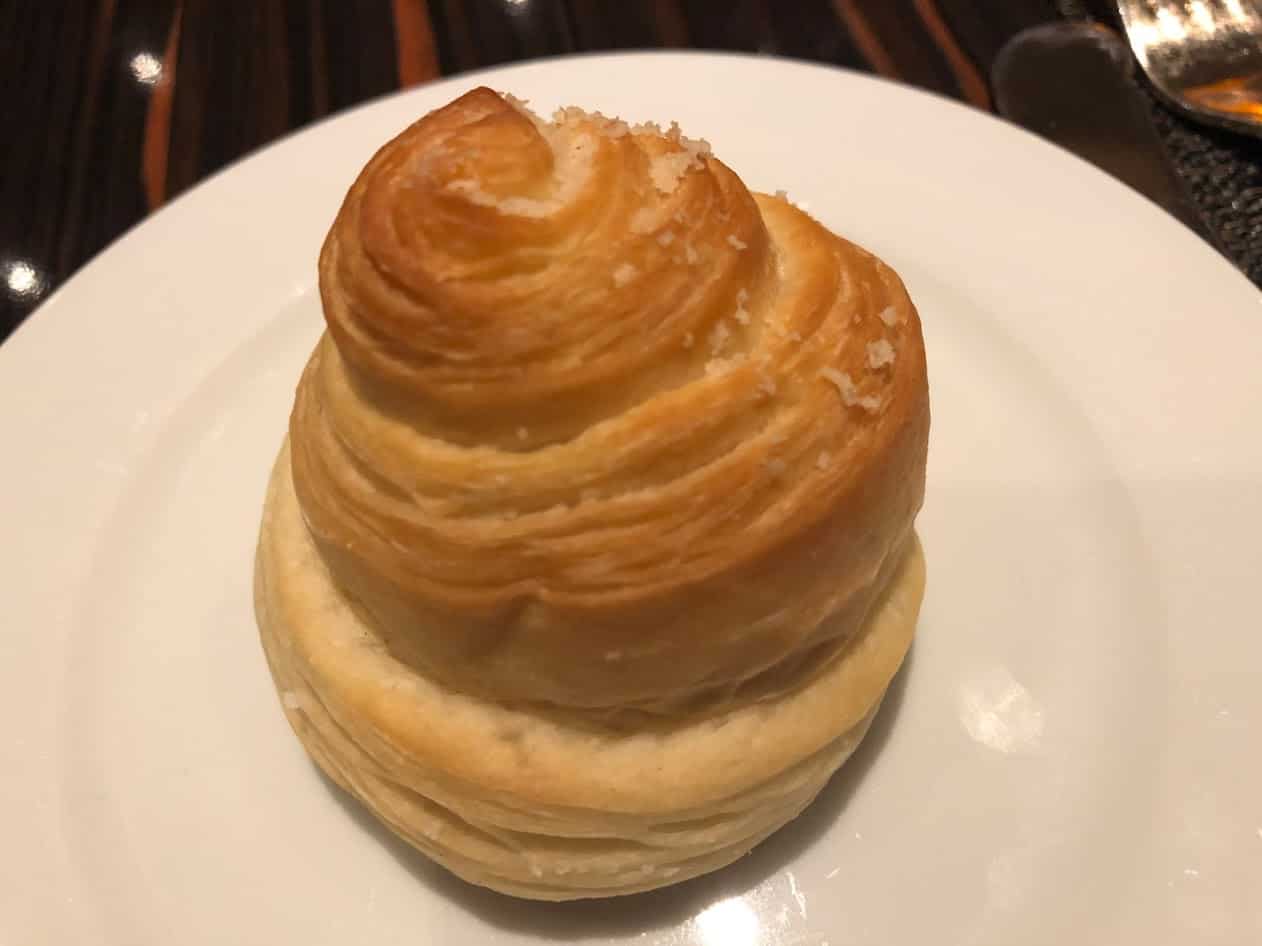 For my salad, I chose the young lettuce salad which comes with an arugula yogurt dressing. Before ordering, I was debating whether it would be rude to ask to skip the salad in favor of a second appetizer.
I just don't like salads and I do my best to avoid them. But I was so glad that I ordered this one. It was so good I finished every last bite, even after my entree arrived. I would consider this a big compliment coming from a salad avoider like myself!
For my entree, I ordered the surf and turf with my steak cooked medium rare. My steak could not have been more perfectly cooked or seasoned than if Gordon Ramsey himself were making it. Prior to this, I had lobster in the main dining room, that was just 'okay'. This lobster, on the other hand, had a flame-grilled flavor that the dining room just could not compete with.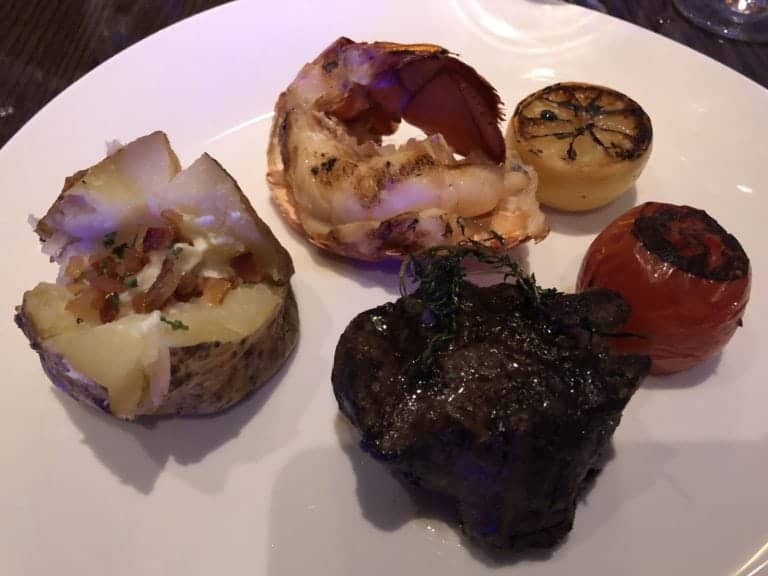 For my side dish, I ordered the wasabi horseradish mashed potatoes. Perhaps it's not correct etiquette for a steakhouse, but I really took my potatoes to a new level when I used a piece of garlic from my steak plate and mixed it into my potatoes.
The night we went to the steakhouse was Valentine's Day. There was a particularly nice touch from the chef, who added a special off-menu dessert for the occasion. The chocolate on chocolate cake, with raspberry piping complimented perfectly, as if celebrating the occasion on a plate.
However, the cheesecake was the obvious choice.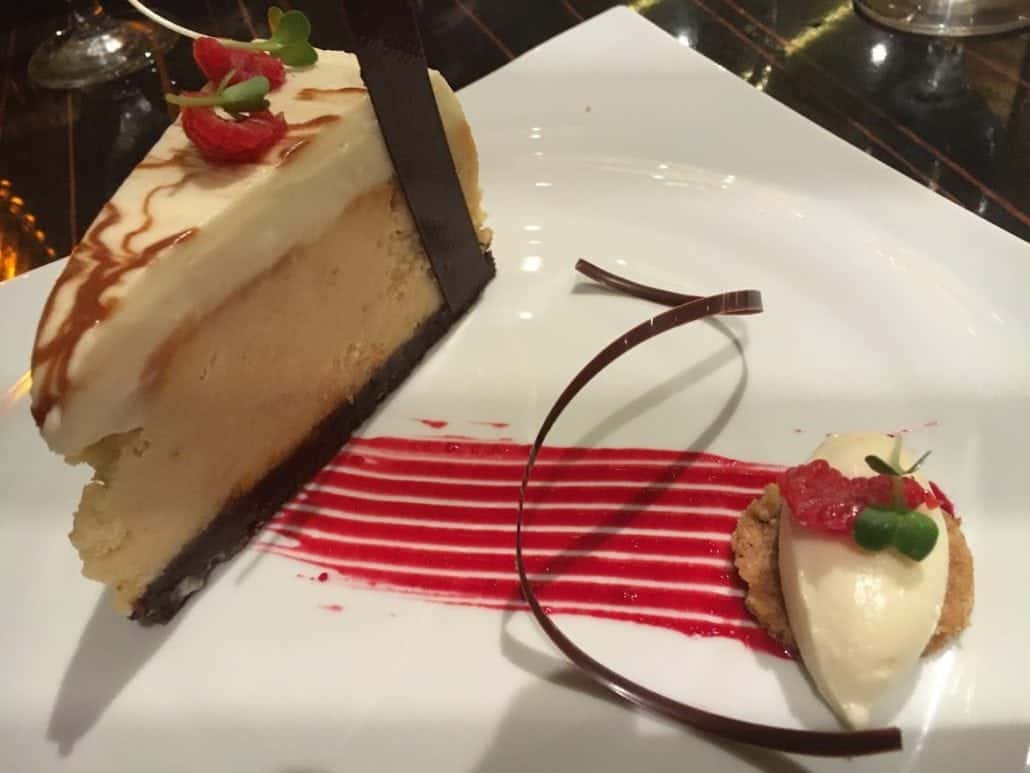 RATING: On a scale of 1-10, I'd give my overall experience a 9. The high mark is due to the entire experience exceeding(not just meeting) all of my expectations. From the quality and variety of food, to the prompt, attentive service and the relaxed, intimate atmosphere. Even making the reservation was easy and painless. Simply put, there was not a single time during my dining experience that I thought, "I like this, but…"
Carnival Steakhouse Menu
View the Steakhouse Menu PDF version here.