While Carnival Venezia has introduced several new concepts to those who regularly sail with Carnival Cruise Line, the dining options and restaurants on board— both complimentary and for a fee —haven't changed.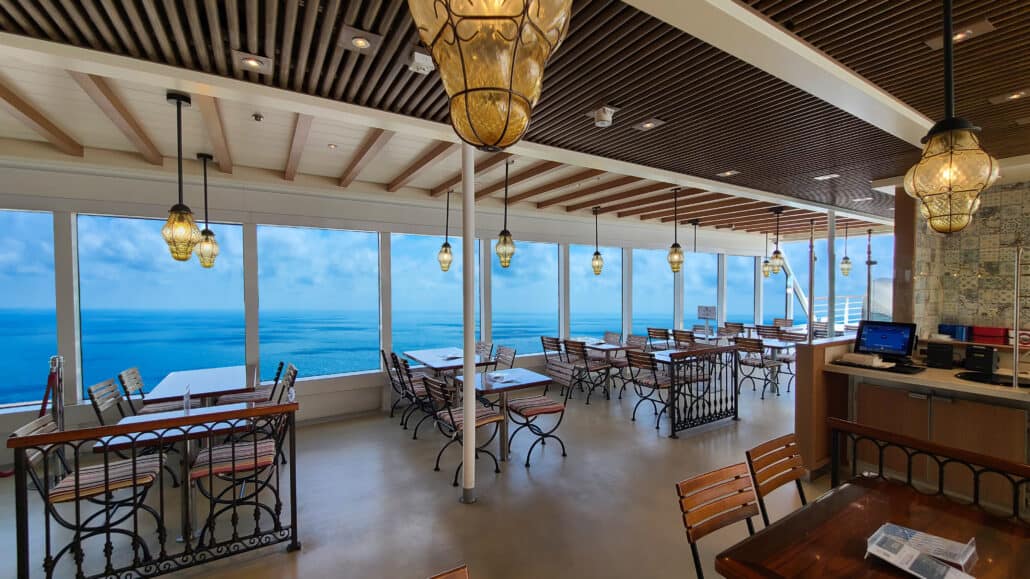 In this article, we've covered onboard food options and costs on Carnival Venezia, as well as the list of restaurants on a deck-by-deck level. We've also included their location, what you'll find on the menu, and whether or not you'll have to pay for them.
Deck 3
Marco Polo Main Dining Room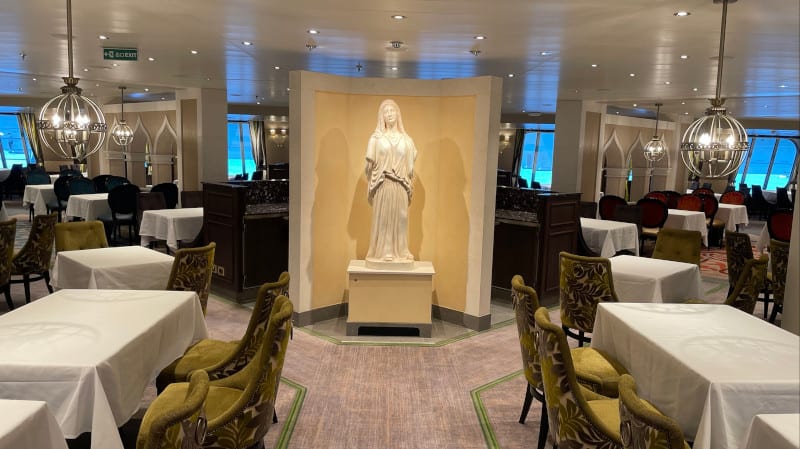 There are two main dining rooms on the Venezia with the same menu at no additional charge to guests. Both of them can be found on Deck 3, which are beautifully themed.
The Marco Polo dining room sits at midship, specifically suitable for guests who opted for set-time dining. You won't have to dine in the main dining room each night, but when you do, your table — and serving staff — will be waiting.
The difference is Marco Polo's dining room is not quite as splashy as her sister venue regarding design aesthetics. However, because of how the space is laid out, it feels more intimate than the Canal Grande.
The midship dining room, the smaller of the two, is also where you will head if you wish to attend the Cat in the Hat Breakfast. The check-in area for this dining experience, which comes with an additional charge, is just off the atrium.
The Canal Grande Restaurant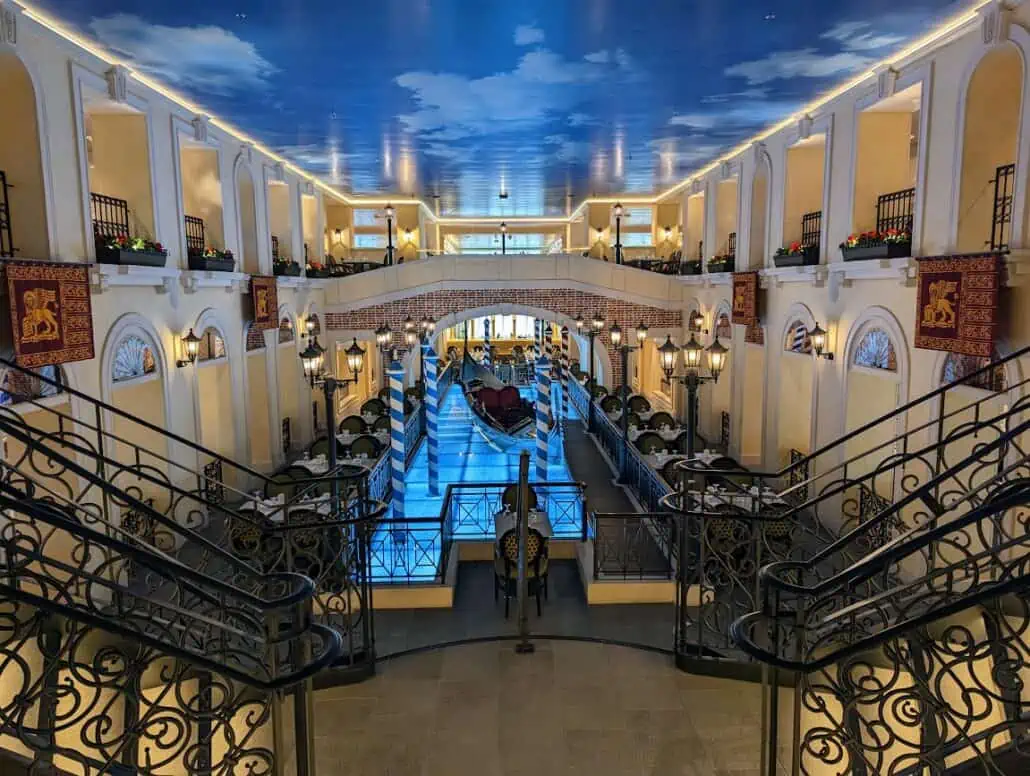 This is the second of the main dining rooms, which spans Decks 3 and 4. The lower level is where the hosts greet guests.
What is the fastest and easiest way to secure your table? Use the Carnival Hub app to reserve a table, and you will be notified within 15 minutes.
If you've seen pictures of the full-sized gondola plopped down into the middle of a restaurant, that would be a photo of this particular restaurant.
Given the popularity of Carnival's sea day brunches, it's no surprise the larger dining room is where you'll be served a preferred meal. The Canal Grande is also open daily for breakfast, while lunch service varies by itinerary.
Check the app to determine whether lunch is served on any given day. It's unlikely, however, that lunch will be available in the main dining room if the ship is in port.
The Chef's Table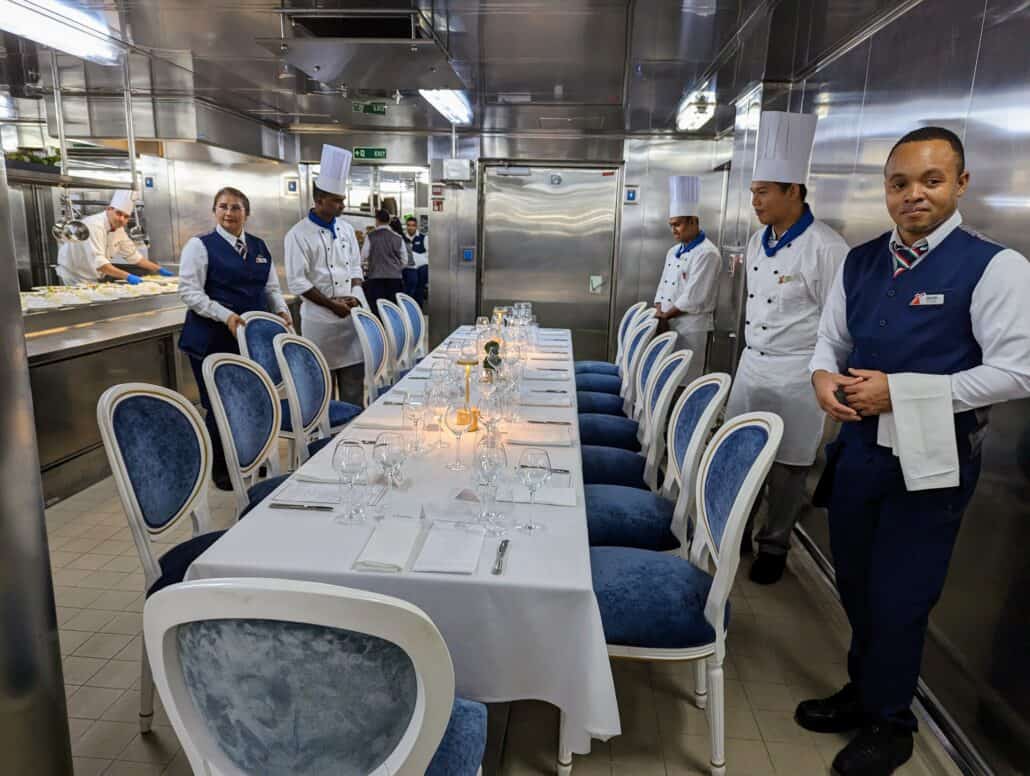 The most memorable meal on the ship is the Chef's Table Experience, which costs $99.
The evening begins with a champagne toast reception, along with your executive chefs, as you are ushered to a table in the galley. Here, you'll witness an in-depth presentation about the prepared dishes, and you can watch the busy kitchen at work.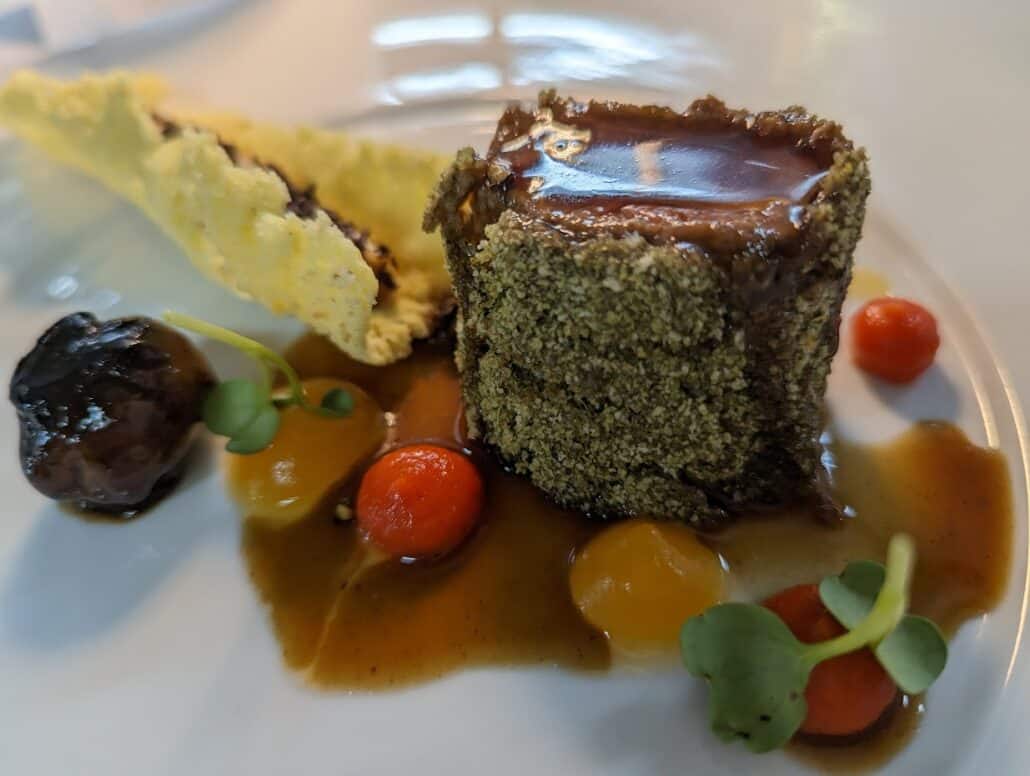 However, this is not necessarily an excellent meal for picky eaters, as the menu is essentially pre-set. Given the limited capacity, it's also the toughest reservation to get, so you may want to book this dining experience in advance.
Deck 5
Bonsai Sushi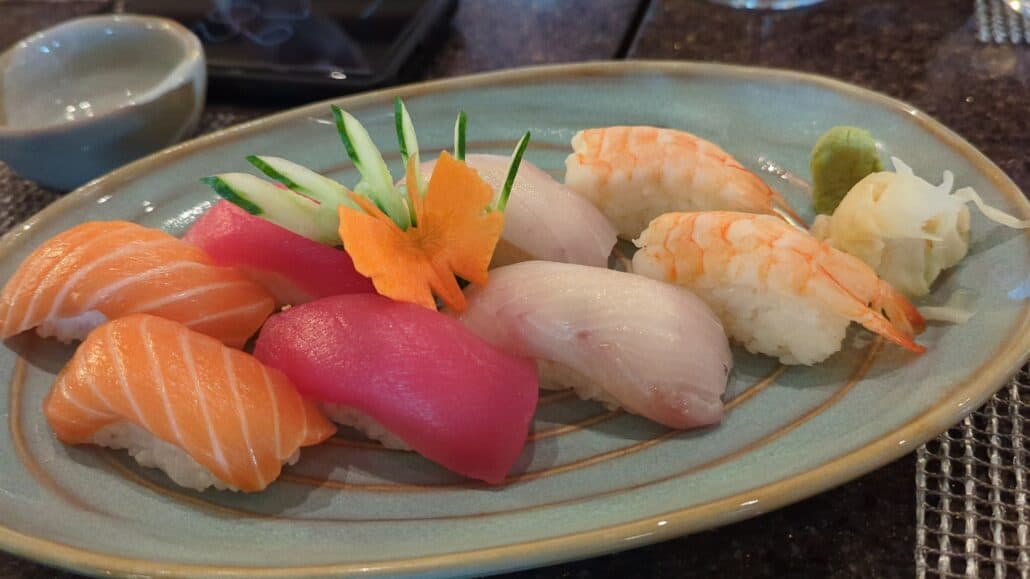 You're probably not paying attention if the name doesn't tell you what's on the menu. While there is more than sushi, the menu doesn't extend far. That being said, sushi fans have made this for-fee spot crazy popular across the Carnival fleet.
Everything here is a la carte, which means dishes will be delivered according to the chef's preparation. In terms of pricing, you can expect to pay between $5 and $7 per roll, with appetizers, soups, and salads, and pieces of sushi/sashimi costing less.
Whether you're in for lunch or dinner, Bonsai Sushi is a fun place to go with friends!
Bonsai Teppanyaki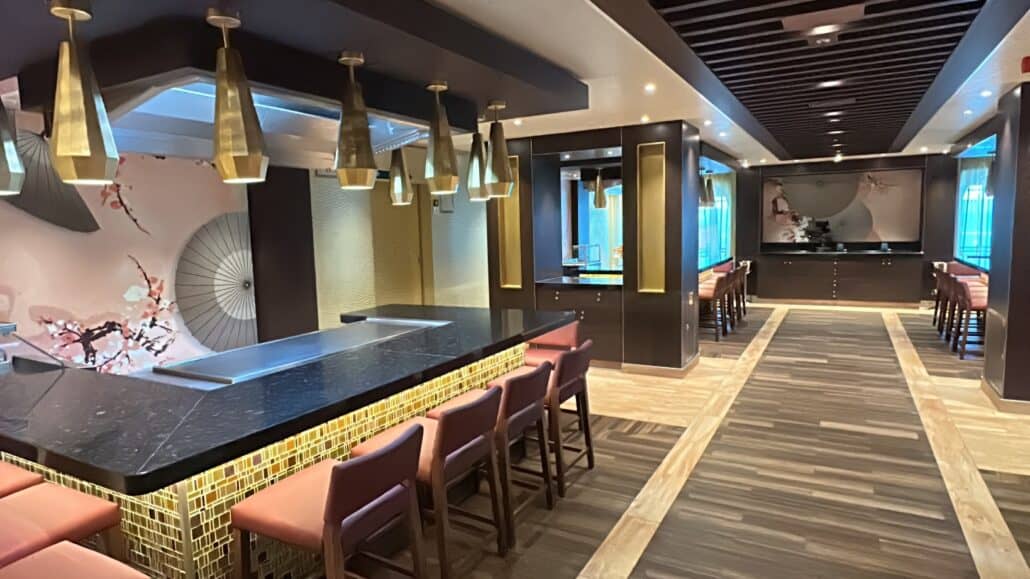 The Teppanyaki Restaurant on Venezia is the largest in the Carnival fleet at four tables. Despite the increased size (Vista-class ships offer two tables, while Excel-class has three), this is still a tough table to get… and nearly impossible without a reservation. Depending on the day, Bonsai Teppanyaki serves lunch (for $35) or dinner (for $38).
Of course, the natural appeal of Bonsai Teppanyaki is the knife-wielding, spatula-whirling, (bad) joke-telling chefs. How much fun things can get depends on the group you're seated with. Our advice? Round up enough people to take over a whole table.
Fahrenheit 555 Steakhouse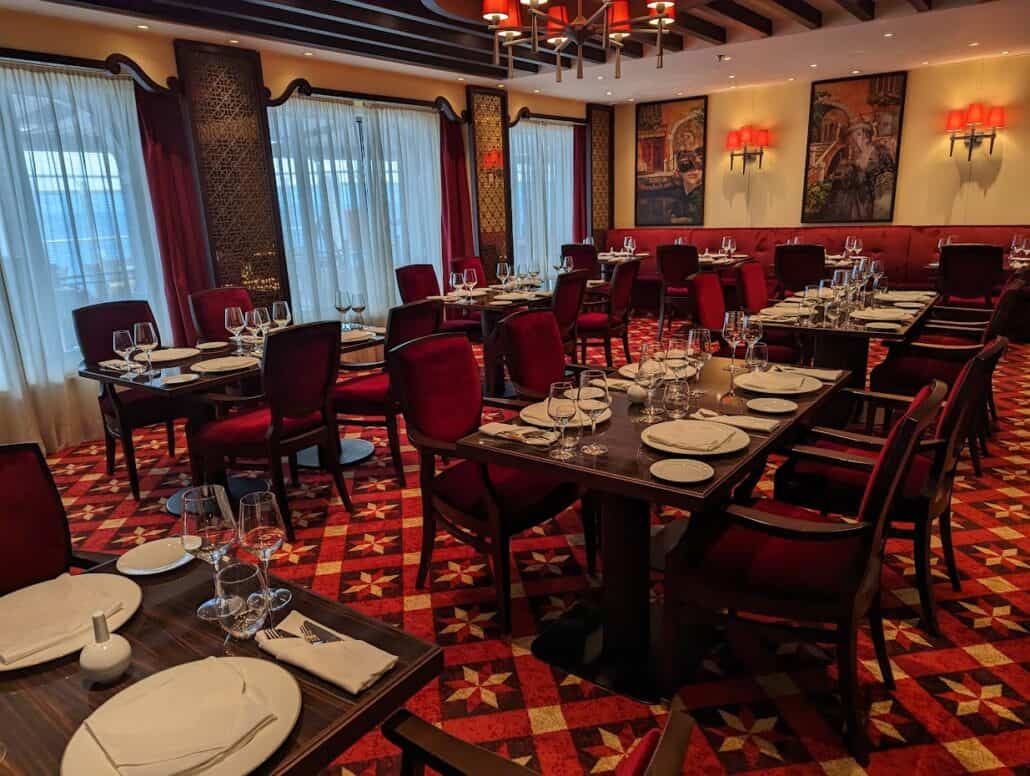 Let's get this right up front: Make a reservation at Fahrenheit 555 Steakhouse in advance, as this is the largest steakhouse in the Carnival fleet, and it only holds 126 guests at max capacity.
One thing that's truly fantastic about the steakhouse? It offers al fresco dining options. What could be nicer than a bottle of wine, a great meal, and a nice ocean breeze?
Dinner here will set you back $48 per person, and in our opinion, the excellent food and stellar service at this restaurant make it worth every penny.
As for the menu… well, it's a steakhouse, so you probably know what to expect. Indeed, it's not a place for vegetarians. Even salads have "warm bacon bits."
Il Viaggio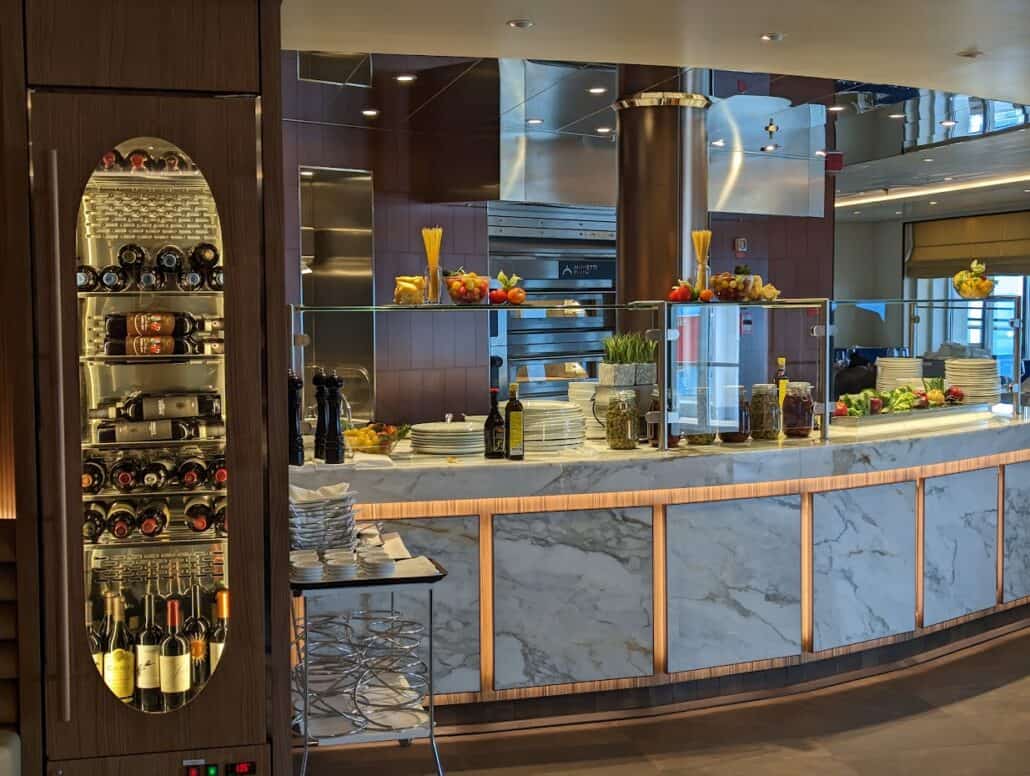 You'll be disappointed if you open the app and start looking for Cucina del Capitano — the Italian restaurant found on most Carnival Cruise Line ships. However, if you're looking for a high-end Italian meal, head to Il Viaggio, which is new to the line.
Il Viaggio means "the journey" in Italian, and the extensive menu will take you on a tour of Italy. Each item's description tells you the ingredients and the dish's origin.
This is a new restaurant we highly recommend a reservation. And if you want an Italian-themed pre-dinner cocktail, swing by Frizzante at the restaurant's entrance.
It's also worth noting that a meal here will set you back $42 per adult, which is only a few dollars less than you'll pay for the steakhouse.
Both are excellent meals, though. But if we have to pick one, we'll go with the steakhouse.
La Strada Grill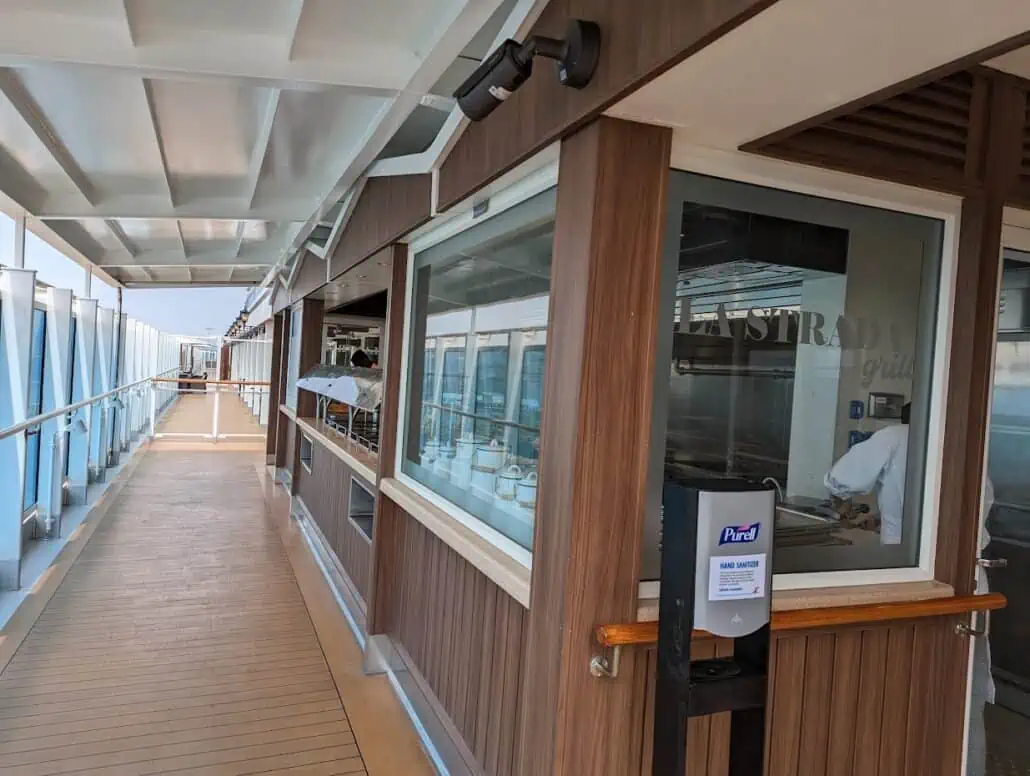 La Strada Grill is another new-to-Carnival venue; as of this writing, it can only be found in Venezia. Located along the promenade of Deck 5 starboard, this takes the place of the outdoor Guy's BBQ joint.
And like Guy's, the La Strada Grill has minimal hours (generally, lunchtime on sea days). So if you want to check it out, keep a close eye on the Hub App or FunTimes for the hours of operation.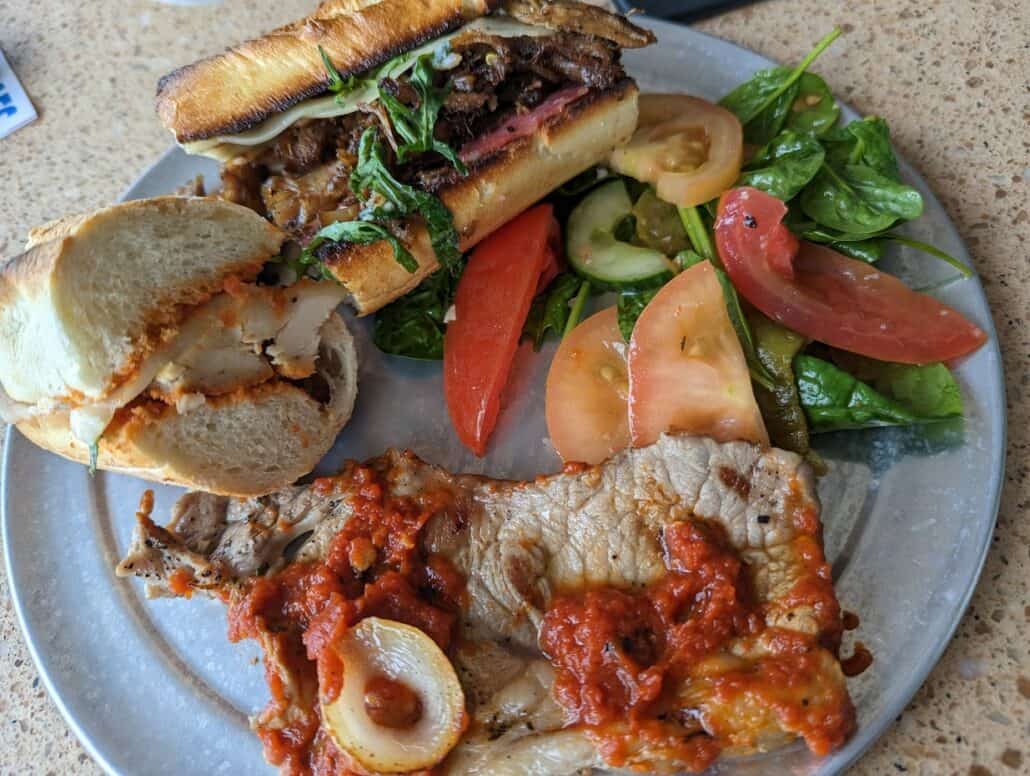 Menu-wise, this complimentary spot offers sandwiches — including a Sicilian chicken hero and smoked pulled pork — and various salads and sides.
Deck 10
Lido Marketplace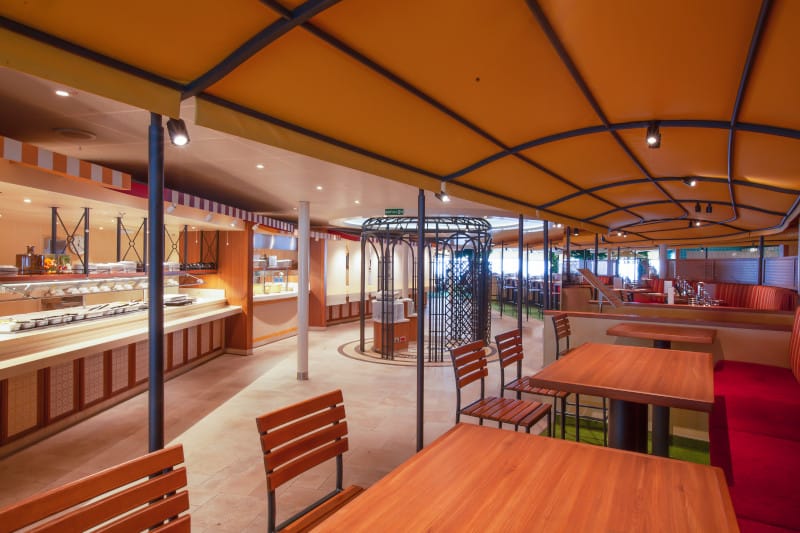 If you've visited a Vista-class buffet, you know exactly what the layout will be. The forward and aft sections mirror one another, with the only difference being that the back section plays host to the Carnival Deli.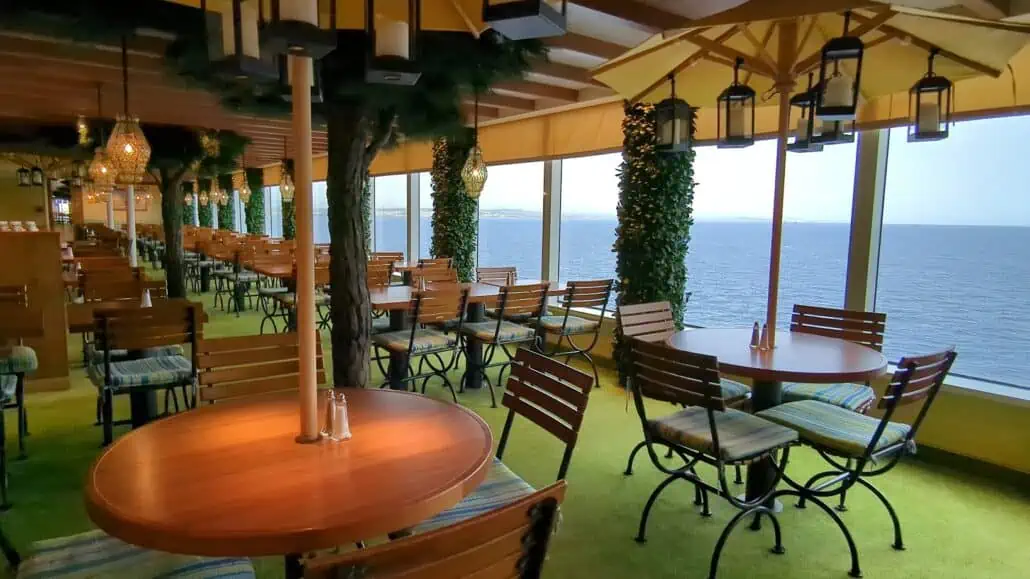 While the hours may vary, Lido Marketplace is generally open for breakfast, lunch, dinner, and late-night snacks. This is also where you'll find Swirls (the soft-serve ice cream and frozen yogurt).
Guy's Burger Joint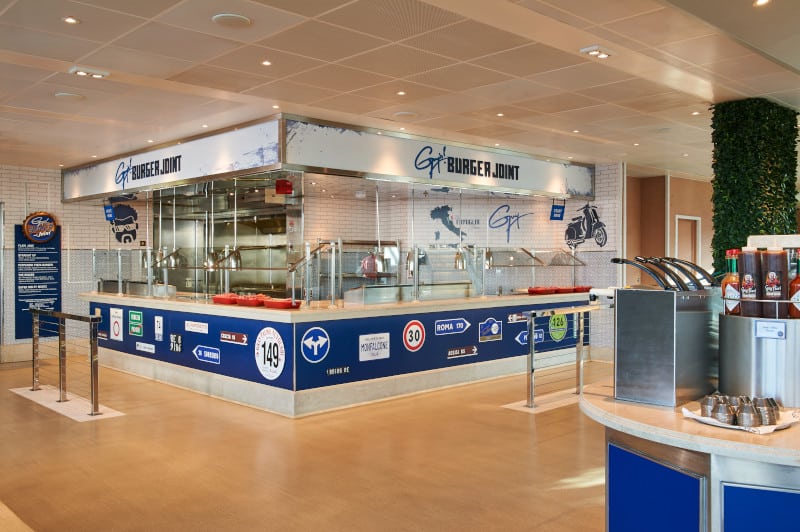 Hard as it may be to believe, there was a time when you couldn't get a Guy's Burger on a Carnival ship. But since Celebrity Chef Guy Fieri and Carnival partnered in 2011, his burgers have become a "must-have" among many cruisers.
With the ship's "Carnival Fun, Italian Style" theme concept, the branch of Guy's on Carnival Venezia offers familiar favorites, as well as two new Italian offerings: The Pepperoni Pizza Burger (a giant slab of mozzarella, pepperoni marinara, super melty cheese, provolone, aged parmesan, and donkey sauce) and the Super Melty Mootz (super melty cheese, diced tomato, balsamic vinegar, fried basil, and donkey sauce.)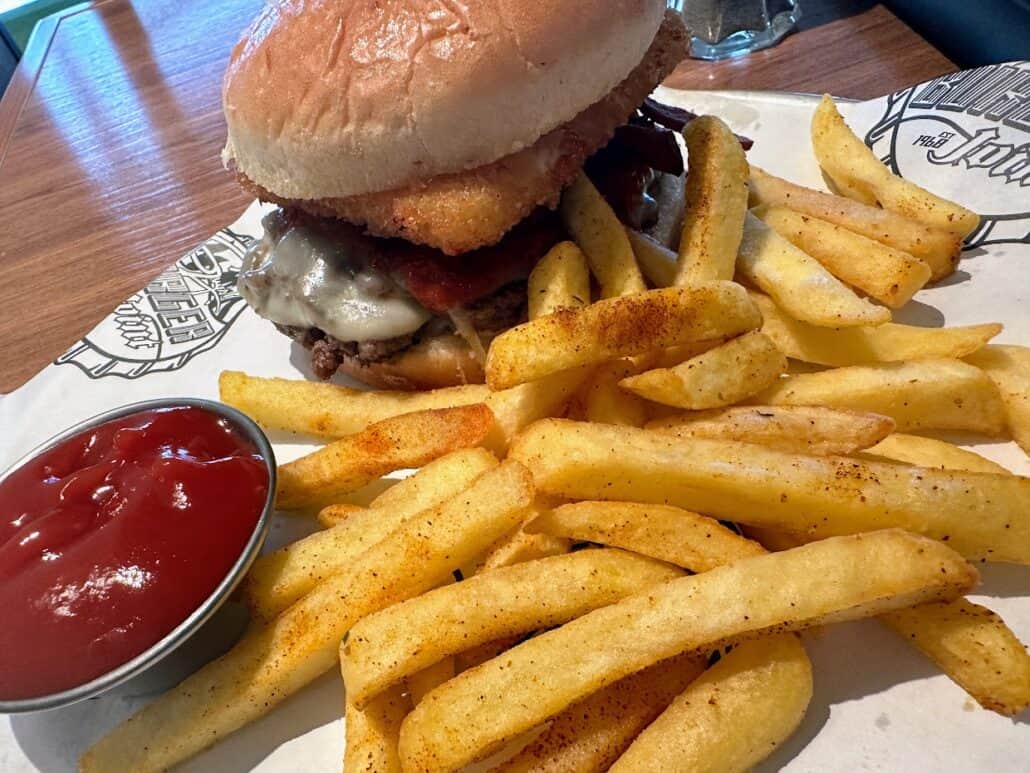 The space is also slightly different; it has a blue-and-white color scheme and Italian road signs. The one thing that remains the same, though, is it's included in the cost of your cruise.
Tomadoro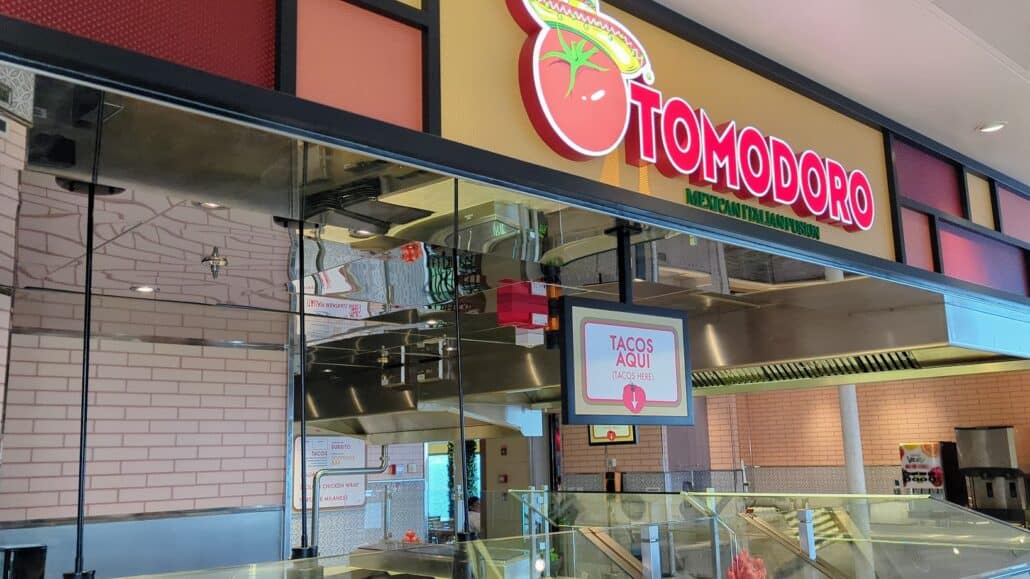 Tomadoro is a complimentary fast-food restaurant with a Mexican/Italian fusion-style menu. Here, you'll find tacos, burritos, a complimentary meatball sub, and Sicilian chicken wrap.
This restaurant kept the signature breakfast items served at BlueIguana Cantina, including the breakfast burritos, huevos rancheros, arepas, and breakfast tacos.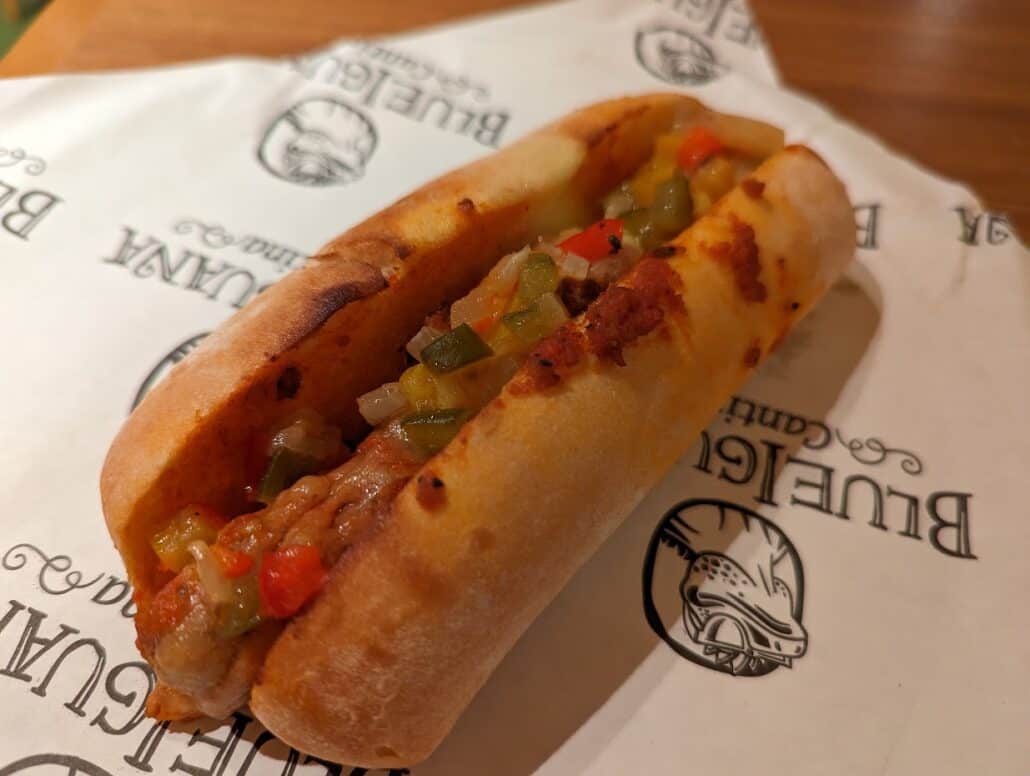 Seafood Shack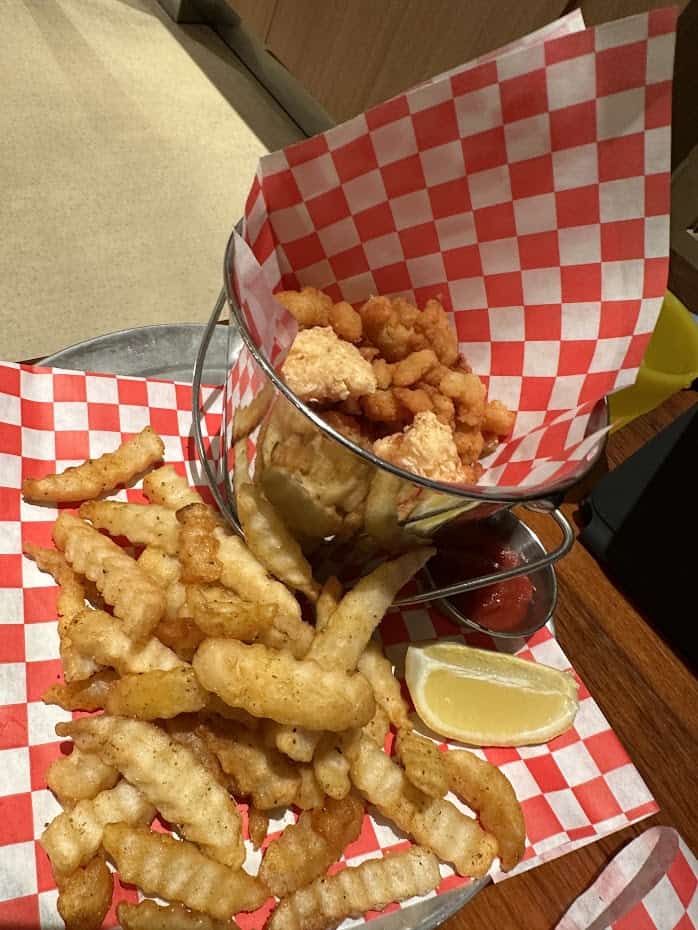 One of the big selling points of the Seafood Shack is its location near the aft pool and the Burano Bar. This for-fee a-la-carte restaurant is modeled after the great little seafood places you find all over New England and serves similar fare.
Think shrimp, lobsters, and the like. What's more, Seafood Shack also serves complimentary Chinese food during the day, with a daily menu.
Pizzeria del Capitano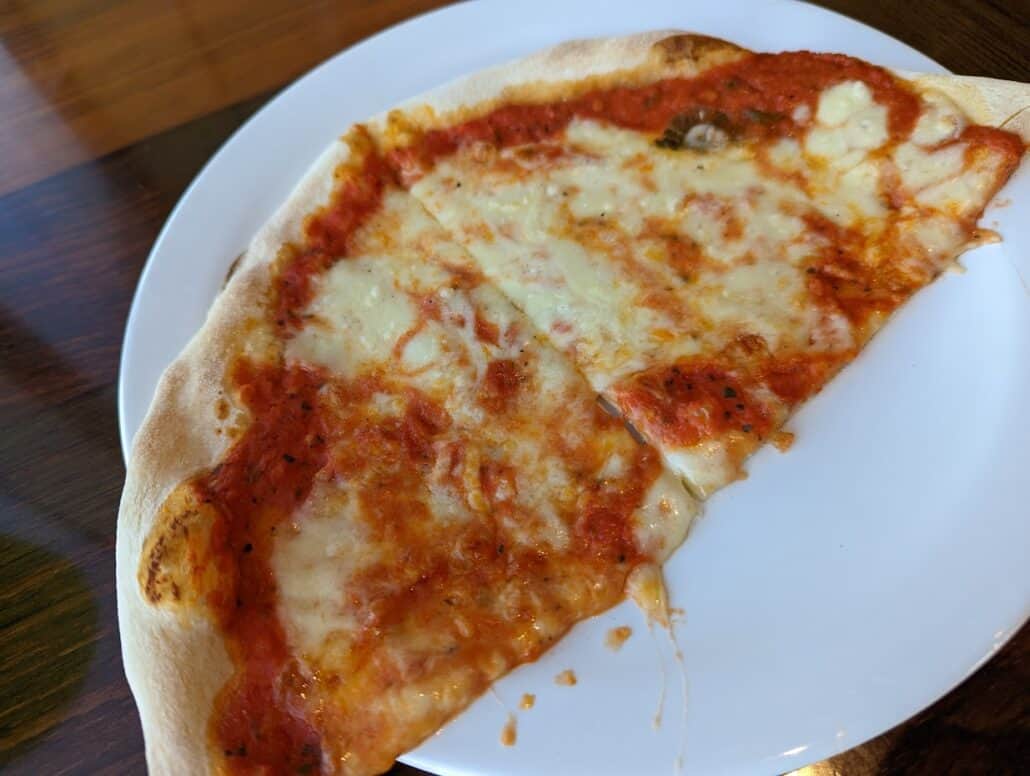 Pizzeria del Capitano has long been a late-night staple. Carnival cruisers usually hit this place after a night in the casino or at one of the clubs.
That said, while the pizzas are still complimentary, this spot is no longer available 24 hours a day; instead, it serves up pies from 11:15 a.m. until 4 a.m.
The busiest time? Right after any Playlist Production or comedy show!
Java Blue Cafe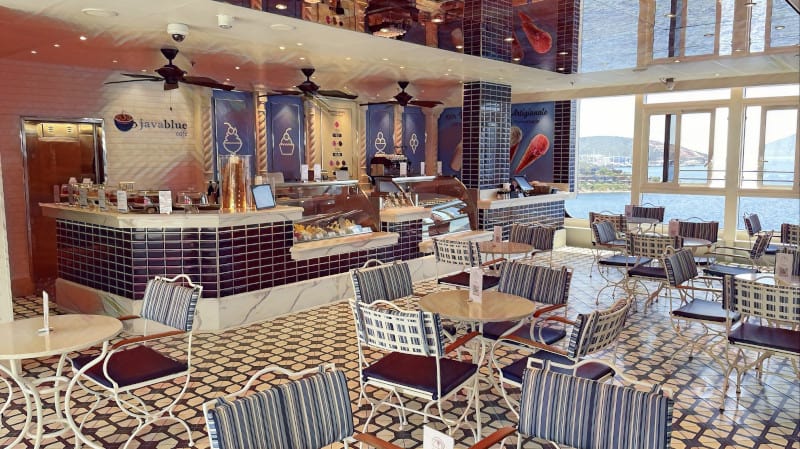 While this is the place to head if you want coffee, it offers much more. Many people are surprised when they find out that donuts, cupcakes, and eight flavors of homemade gelato are also here.
Swirls Ice Cream and Frozen Yogart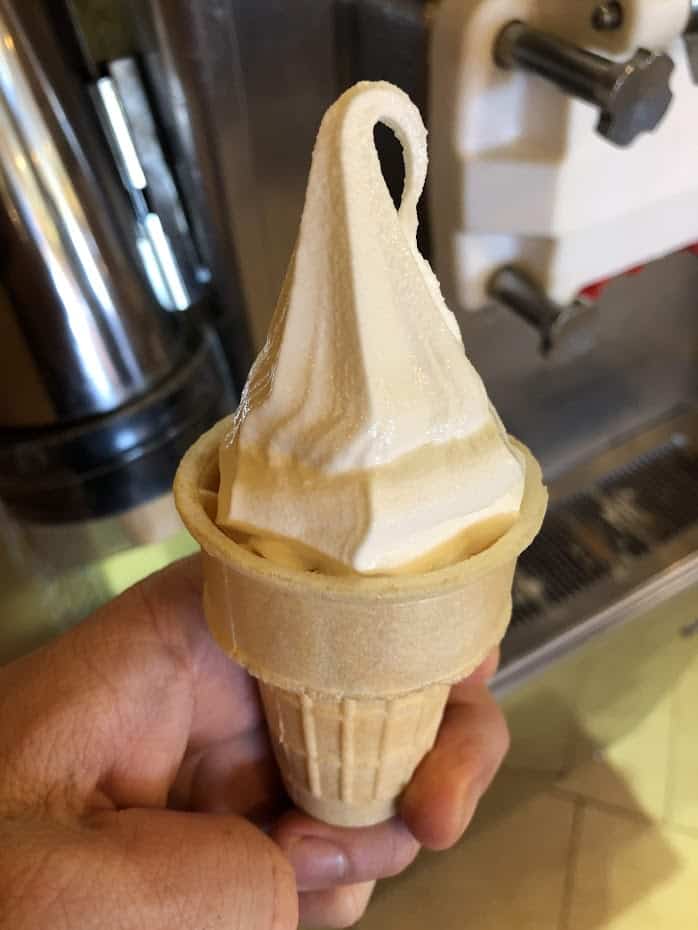 Here's the good news: You can still get free ice creams. The bad? Like Pizzeria del Capitano, the ice cream machines are no longer open 24 hours a day.
So when you get the urge to gorge yourself on ice creams and frozen yogurts, make sure it's between 11 a.m. and midnight.
(Note that the hours of operation and menus of all the venues listed above may change without prior notice.)
Go Deeper: Carnival Venezia Review: Info on Bars, Restaurants, Cabins