Beer lovers, rejoice: Carnival Cruise Line has announced four new brews set to debut onboard the upcoming Carnival Horizon this April.
The new beers will be served in complement to the menu of a brand new venue to Carnival: Guy's Pig & Anchor Bar-B-Que Smokehouse|Brewhouse. The original eatery combines the concept of the RedFrog Pub & Brewery on Carnival Vista with a full-service bar-b-que restaurant sponsored by celebrity chef Guy Fieri. Carnival's Expert Brewmaster Colin Presby and Vice President of Beverage Operations Edward Allen announced the new beers this week at a keg-tapping ceremony onboard Carnival Vista.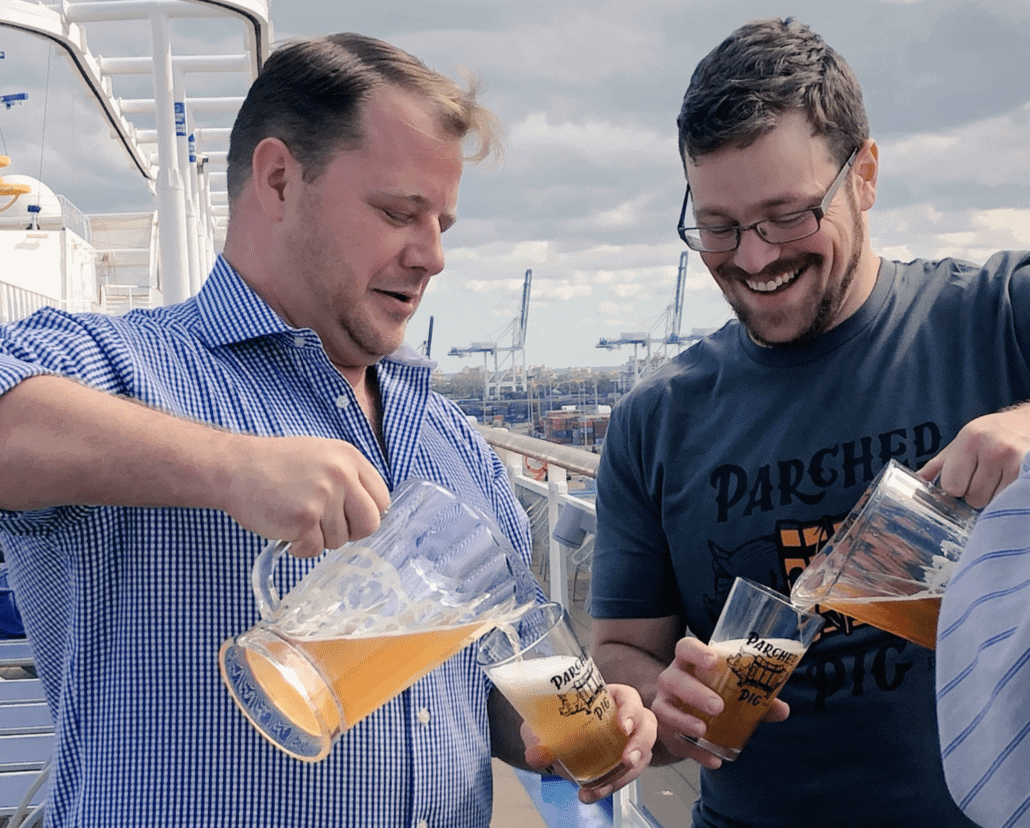 "Smokehouse|Brewhouse is a unique culinary concept and we've created four fantastic brewed-on-board craft beers that not only showcase different tastes and brewing styles but also serve as the ideal accompaniment to the venue's delicious array of barbecue offerings," said Presby.
The names of the beers are a play both on the "ThirstyFrog" craft ales served on Carnival Vista as well as on the Pig & Anchor Bar-B-Que name and menu: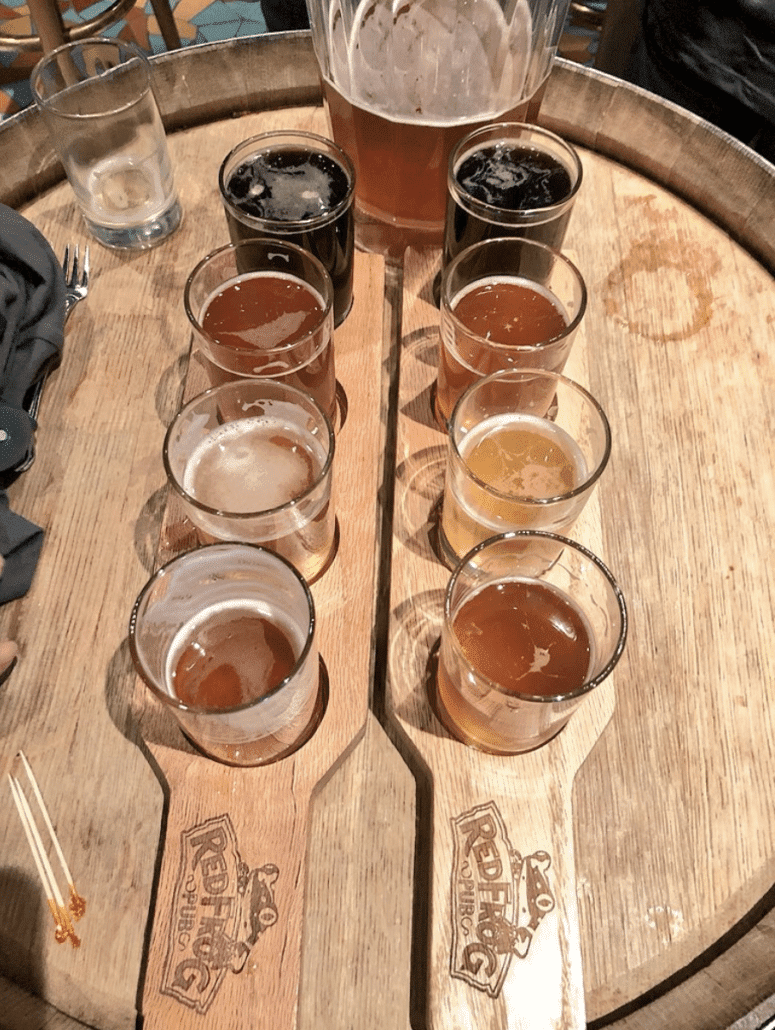 ParchedPig Smoked Porter –

This beer is likely not for the faint of heart. Porters are dark beers with bold profiles of coffee, chocolate, and molasses flavors. This smoked porter, however, which has been brewed with an in-house smoked malt, will incorporate notes of hickory smoke as well. This makes it the absolute perfect complement to the Guy's Pig & Anchor Bar-B-Que Smokehouse|Brewhouse menu. Smoked meats with a smokey beer – it doesn't get much more "bar-b-que" than that.

ParchedPig Farmhouse Ale –

This brew is described as "lightly hopped," blond in color, and having a "fruity and complex character" with a "dry finish." Expect this beer to range between the lightness and drinkability of a hefeweizen and the hoppy bitterness of an IPA. This one is perfect for those who don't typically drink craft beer but want to try something new.

ParchedPig Toasted Amber Ale –

This one is likely to be a crowd favorite. Amber ales are maltier and slightly more bodied in flavor, with a rich amber color. This particular ale will have notes of toasted caramel and biscuit. If you find yourself in the Smokehouse|Brewhouse and are unsure which beer to order, try this one first.

ParchedPig West Coast IPA –

If you've never tasted an IPA (India Pale Ale), these beers are hoppy (a close synonym to "bitter") in flavor. But don't let this turn you away, because the hoppiness in a beer allows for its other flavors to come through in a stronger way. In this particular brew, you'll find citrus and pine.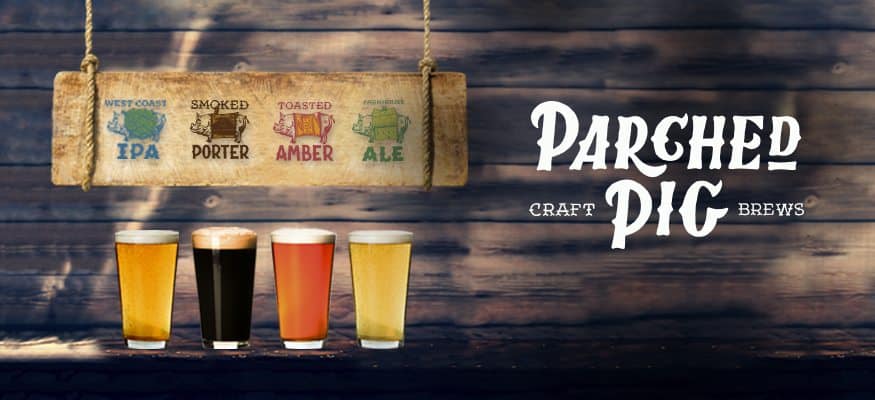 In addition to the new craft brews, the Smokehouse|Brewhouse menu will also offer custom cocktails alongside Guy Fieri's favorite slow smoked meats, including brisket, Memphis-style ribs, chicken, pulled pork, and cedar-smoked salmon. Diners will also be able to enjoy perfectly seasoned meats thanks to Fieri's signature rubs along with Fieri-inspired sides and, of course, his signature sauces as well. While lunch will offer a free self-service buffet, dinner will serve à la carte options.
Read More: Carnival Vista Deck Plans
Carnival Horizon makes its maiden voyage in the Mediterranean on April 2nd before departing Barcelona on May 9th for its trans-Atlantic crossing to New York. It will operate 4- and 8-day itineraries from there to Bermuda and the Caribbean, respectively, before moving to its final scheduled home port of Miami on September 22nd.
Photos via Carnival