I'll admit that after sailing the newer Carnival ships that it was going to be hard to go back to sailing a Fantasy-class ship – and it was – kind of.
I recently had the opportunity to sail Carnival Ecstasy because it was part of the Carnival LIVE concert series at sea. If you want to know more about Carnival LIVE, click here.
For being an older ship sailing out of Miami, it was a perfect four-night getaway.
Here is my Carnival Ecstasy review.
Pre-sailing thoughts
I have sailed Carnival Fantasy and Carnival Fascination before, so I know what I was going to be sailing on. The Las Vegas colors, a smaller ship and not much in the way of food. I did a lot of research on YouTube looking at Carnival Ecstasy videos and it actually got me pretty excited for the sailing.
First impressions
The ship was launched in 1991 so we are talking about a 23 year old ship – but for 23 she looked great (as most 23 year olds do). We embarked in the main atrium where we went up the stairs to go to our balcony stateroom (M-109). The ship was very colorful with tracked neon lighting running all around the ship. The main atrium was a pretty cool sight and made for a great photo opportunity.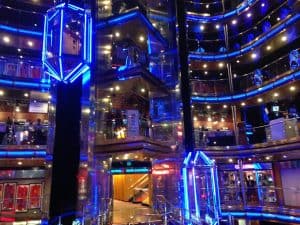 Stateroom
The stateroom was very basic but suited my needs. We were in stateroom M-109. It was a balcony stateroom on deck four. This balcony was added during a refurbishment a few years ago. We had two twin bed configurations in our room with plenty of room to get around. There were three storage closets, so plenty of room for clothes, both shelves and hanging. The only thing it could have used was another outlet. Given the age of the ship I overlooked it but we had to get creative when charging laptops, phones and cameras. We learned how to charge my MacBook, iPhone and my friends Android at one time through USB. We didn't bring a power surge on board but probably should have.
The balcony had two chairs and a table. All in all a great cabin.
Public areas
There were a fair amount of public areas around the ship to keep busy from the atrium bar, the promenade on deck nine, the back lounge hosted the Punchliner Comedy Club Presented by George Lopez, Superstar Karaoke, Piano Bar, an area outside the casino where live music would keep the evening alive, along with the show theater and chill spots on Lido Deck.
I found myself spending a lot of time at the back lounge of the shi
Entertainment
Our sailing was a special Carnival LIVE sailing where country music superstar Martina McBride performed on the ship. The live music around the ship was really good. I was actually surprised when I heard a lot of Top 40 music not only being played by DJ but also by the bands and the acoustic performers throughout the ship. One performer in the main atrium played a John Legend song that gave me goose bumps because it was just that good.
The ship also has the Fun Ship 2.0 programs like Hasbro, The Game Show and Playlist Productions shows that are both held in the main show lounge of the ship.
As mentioned earlier, our sailing was a special Carnival LIVE sailing where Martina McBride performed, if you love music, you must check out Carnival LIVE.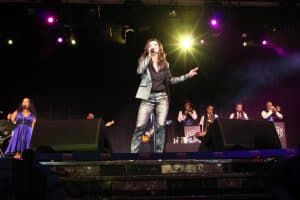 Dining
Being a Fantasy-class ship the dining options on board were quite limited but very good. There are basically two places to eat, the main dining room and the lido deck buffet area called the Panoramic Bar and Grill with a deli and pizza joint aft. Outside on the lido deck you can grab a burger or hotdog off the hot bar by the pool.
I was impressed with the Main Dining Room food. I had steak one night, meatloaf one night and fried chicken. Some of the guests at the table had a seafood pasta dish, snails and shrimp cocktail, all looked amazing! There are two main dining rooms on Carnival Ecstasy, Wind Star and Wind Song, with two different seating times, early and late.
They hold a Sea Day Brunch in one of the main dining rooms during the sailing, stay tuned to your Carnival Fun Times for information on that.
I put the 24 hour room service to the test a couple of times and the late night Pizza joint, both were pretty much to order and efficient.
Serenity
The adults-only area on the ship is located on the aft end, just below the lido deck buffet area. On sea days it gets pretty tight out there but that is a good thing because it showed just how popular the area was. We went out there early one morning and to my surprise there were no deckchair hogs. The attendants in Serenity were in full force.
There are two hot tubs, showers, a covered area and plenty of loungers out there.
Outside
For us sun seekers, it's crucial that we can find a deck char on sea days. Carnival Ecstasy holds just over 2,000 guests and I didn't see any issues on deck for trying to find a place. With that said, I will say that poolside was a little tight but you will find a chair on the upper decks. There are basically three levels of sunning on the lido area.
There was a covered entertainment area midship where they held sea day activities and where the DJ would sometimes set up. I've come to notice that these short cruises draw an active and fun crowd. We had 100 med school graduates from UF on our sailing, they were doing their "last rager before the pager." Basically one last blow out before they start residency in June.
Final thoughts 
Overall I enjoyed my sailing on Carnival Ecstasy.
Tips:
Do the Sea Day Brunch. It's available on one of the sea days from 8:30-1p and offers everything from homemade french toast, steak and eggs, flaming tomato soup to pork chops with sautéed onions.
Bring some $1 bills with you for the late night room service attendants and if you need any over-the-top favors from your room steward.
For more on Carnival Ecstasy you can hear our Carnival LIVE broadcast and our Carnival Ecstasy Broadcast.