It is with heavy hearts that we share the news that a much-loved Carnival Cruise Line employee passed away last week. Over the past 35 years, Harry Soelistijono has worked a variety of positions on various ships, touching the lives of not only his fellow co-workers, but passengers from around the world.
"He Was Quiet and Humble"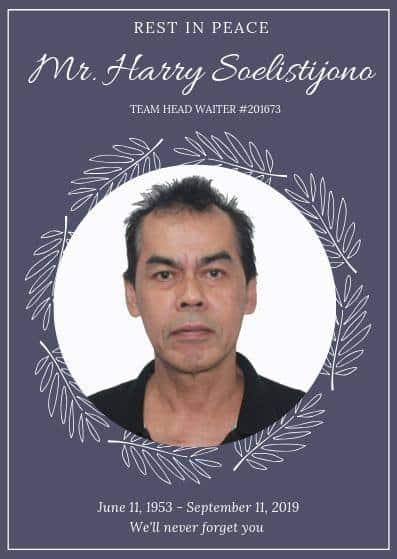 Members of the extended Carnival family found out on the morning of September 12th that one of their own had lost his life the previous day. A letter from Captain Renato Bendinelli of the Carnival Conquest was posted to a Crew Information Board sharing the sad news.
"As some of you may have heard," it read, "one of our team members, headwaiter Harry Soelistijono, passed away this afternoon." It went on to say that he had been with Carnival since 1984, eventually rising through the ranks to the esteemed position of headwaiter in 2002.
"He was quiet and humble," said the Captain, "but he always shared a warm smile and a sense of humor with everyone he met."
A Loss Felt By Many
Working together in close quarters day after day, the staff of a cruise ship becomes family to one another. Many are working and living far away from their loved ones, often in order to provide for them the best possible life. Some work behind the scenes, virtually unnoticed by the passengers who ebb and flow like the oceans the ships sail upon.
Others, such as Soelistijono, work in more public-facing positions. For them, each sailing brings a host of new faces, each of them looking to have the best possible vacation
READ MORE: 7 Ways to Thank A Crew Member
The CTI Group recruiting agency for Carnival Cruise Line posted on Facebook, "Carnival Cruise Line would like to send our deepest condolences for one of Team Member of Carnival onboard [the] Carnival Conquest on 11 Sept 2019. May the whole family stay strong."
Soelistijono leaves behind a wife and two sons.