Carnival Cruise Line's newest ship, the Carnival Horizon, arrived at her new homeport of Miami, Florida early Thursday morning. And in true Carnival style, the party held in her honor gave everyone a chance to #ChooseFun. Afterwards, the ship set off on a two-day adventure, after which she'll settle in and begin regular voyages out of Miami!
Welcome To Miami, Carnival Horizon!
Such an auspicious occasion required the presence of the company's CFO — aka Chief Fun Officer Shaquille O'Neal — as well as other luminaries, including Miami HEAT legends Alonzo Mourning, Shane Battier and Glen Rice. "In my role as CFO," said O'Neal, "I get to tell everyone just how much fun you can have on a Carnival cruise, and I was absolutely thrilled to be a part of the festivities for the new Carnival Horizon, which takes the concept of choosing fun to entirely new level with so much to see and do for guests of all ages."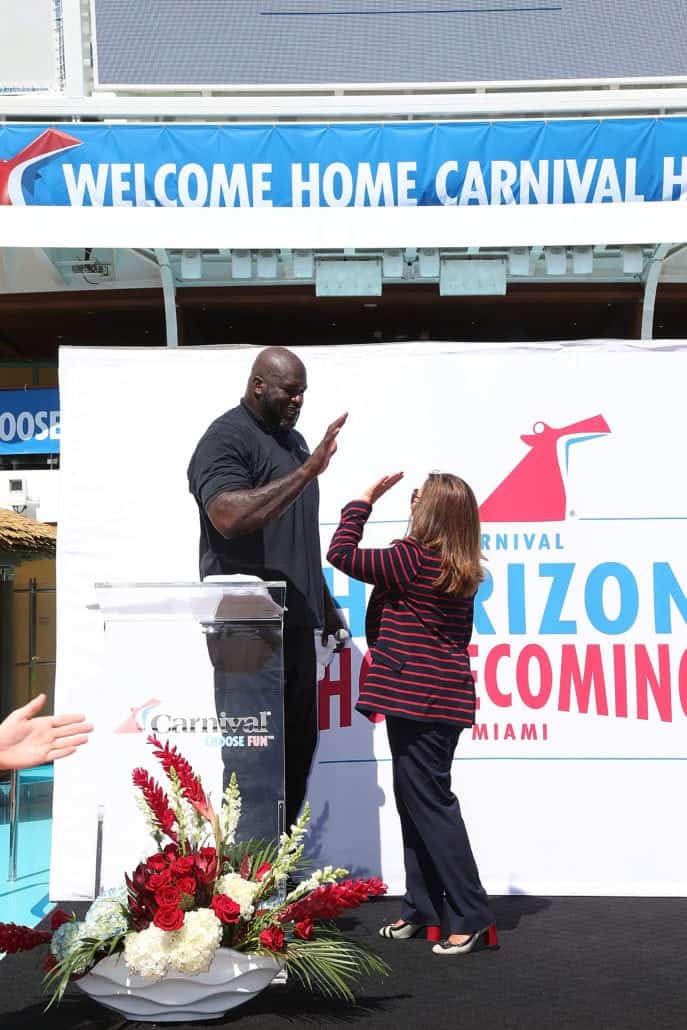 In welcoming everyone to the festivities, Carnival's president, Christine Duffy, pointed out all the amazing amenities on board — including the first-for-the-line Guy's Pig & Anchor Smokehouse/Brewhouse and Bonsai Teppanyaki. But she added that, "the most important thing that every one of our Carnival ships has is the best, most caring crew on board the seas!"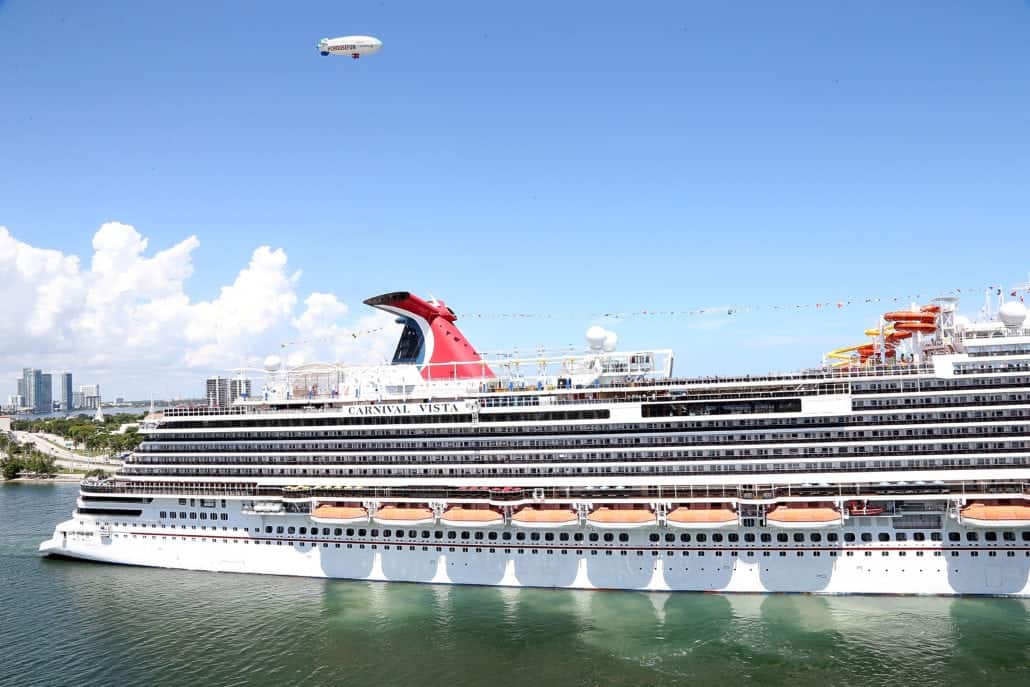 The festivities also featured a flyover of the most unique "ship" in the line's fleet: The Carnival "Airship", which has been traveling around the southeastern part of the country in order to help make folks aware of some of the new ship deployments taking place in ports such as Galveston, New Orleans and Tampa. And things were capped off by an epic horn battle as the Carnival Vista sailed out of Miami on the way to her new homeport of Galveston, Texas. (Vista's first sailing out of Galveston will be on September 23rd.)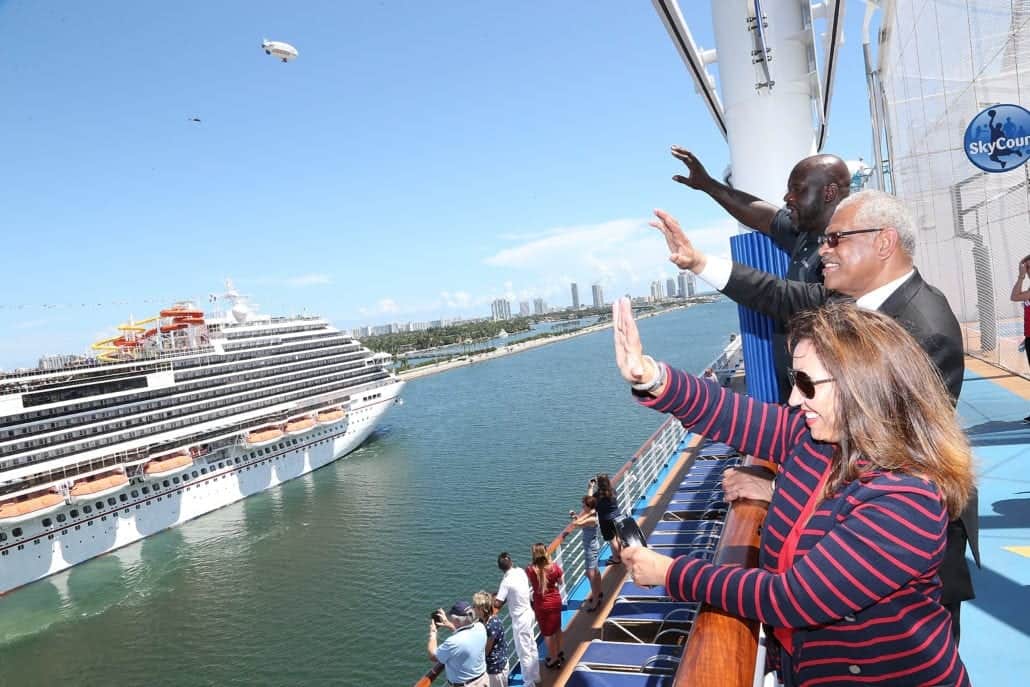 The day wasn't just about fun, however: Carnival also presented a check for $25,000 to St. Jude Children's Research Hospital. The funds were part of the proceeds that resulted from the cruise line's promotion which asked fans to take a picture of the airship and using the hashtag #ChooseFun. Each time one was posted, it triggered an automatic donation to the hospital from Carnival!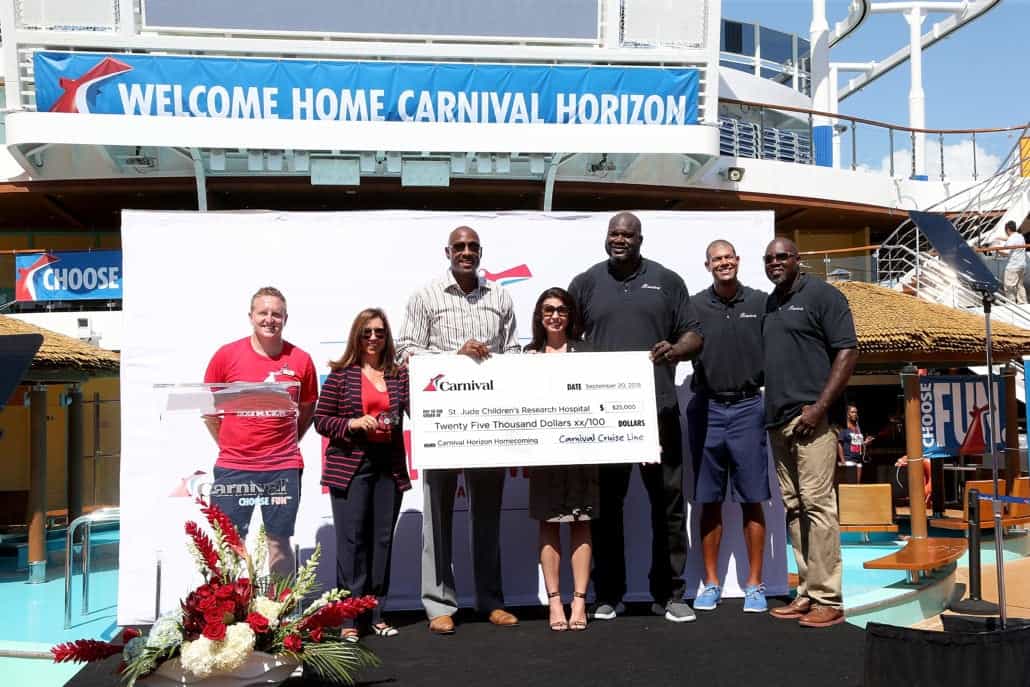 Horizon's New Itineraries
After the two-day cruise she's currently enjoying, Carnival Horizon will begin doing 6- and 8-day cruises out of Miami. The six day sailings will depart on Sundays and make port stops in Ocho Rios, Grand Cayman and Cozumel. As for the 8-night sailings, they will operate on two different itineraries, both of them departing on Saturdays. One will feature stops at Grand Turk, La Romana (the Dominican Republic), Curacao and Aruba. The other will visit Grand Turk, San Juan, St. Kitts and St. Maarten.