If you thought we were going to explore the Carnival Horizon and not spend some time talking about the casino, you don't know us very well! Even if we weren't big fans of casinos in general, we'd still wind up spending time in this one because it's really quite striking. That's thanks in no small part to the Dreamscape funnel found at the central bar. It may not be as big as the one which serves as the central point of the atrium, but it's just as beautiful.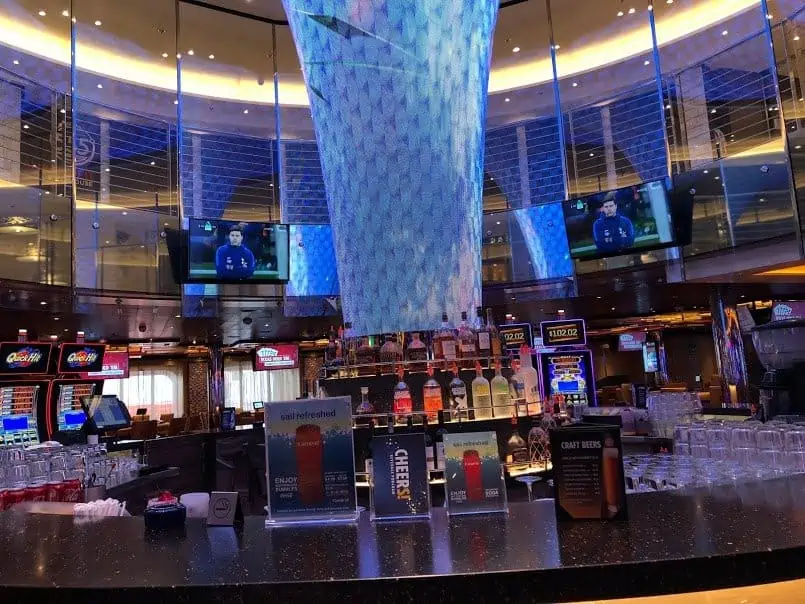 We've spoken quite a bit about these funnel-shaped screens ever since they first were introduced on the Horizon's sister ship, the Vista, and it's with good reason. Their unique ability to change the entire feel of the space they occupy is stunning. You know how whenever something new is rolled out, there's always a group of people who say, "Eh, it's okay but, to quote Shania Twain, that don't impress me much." We have yet to meet anyone who has had a negative thing to say about these babies.
The Casino Basics
If you've been in a cruise ship casino, you know basically what to expect. There's a wide variety of slot machines and table games, there's a smoking section (much to the chagrin of some) and a non-smoking section (not enclosed, much to the chagrin of others). During peak times, the bartenders can seem a little overwhelmed, but that happens at any hot spot around the ship from time to time.
So instead of dwelling on the general, let's drill down on some of the specifics about this casino in particular. First off, for those who've become addicted to the Lock It Links Diamond slot machine that seems to be all the rage of late, yes, they have some. And yes, they are crazy popular, so your best bet for slipping into the seat in front of one is to either hit the casino during slow times or keep an eagle eye on them. When a seat opens up, it's filled pretty quickly.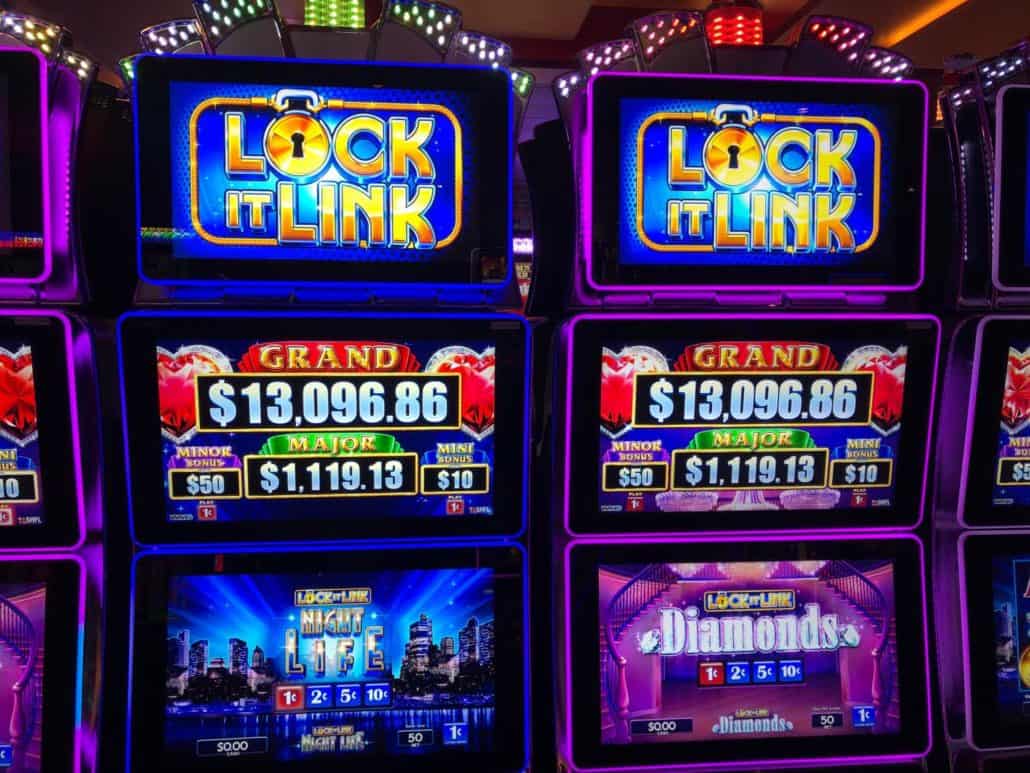 As far as these machines go, the ship has both the Diamonds version and the Night Life version (the biggest difference between them being the way the bonus round is triggered). There are also a wide variety of popular machines like the Quick Hits, 88 Fortunes and (shout it as if Vanna White's life were depending on it… ) Wheel! Of! Fortune!
Compared to some other lines, the table game minimums were on the low side, with most starting at $5. Even the high roller tables weren't outrageous, running around $25 on busy nights, but coming down to $10 during slower times. And yes, there were several tables designated as non-smoking.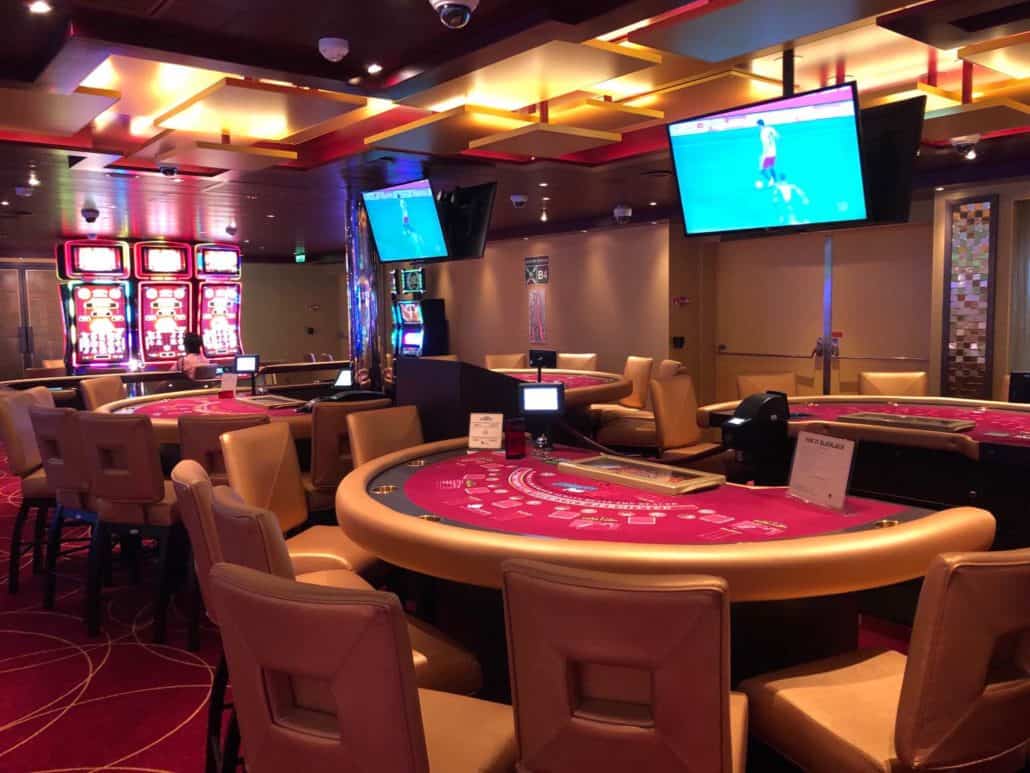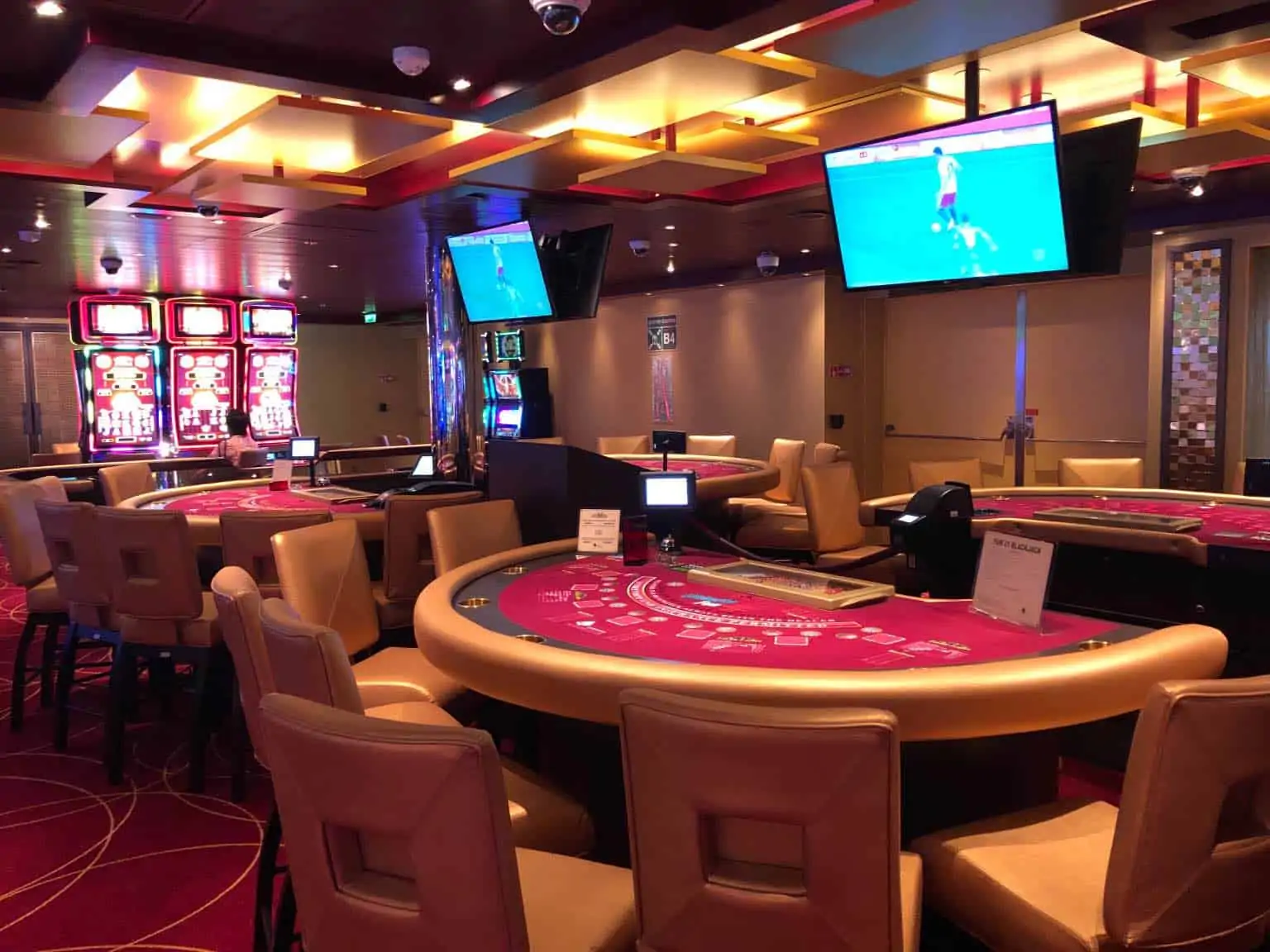 So let's address the elephant in the room… or the cloud of smoke hanging in the air, as it were. One of the things that comes up time and again when people discuss cruise ship casinos is how bad the smoke is, and whether it permeates areas outside the casino itself. (This has been a particular problem on Norwegian Cruise Line's Breakaway class ships, where the casino is located in the middle of the entertainment complex and smoke tends to be fairly pervasive. It's one of the reasons that on their newest ship, Norwegian Bliss, the smoking area is enclosed.) Whether it's because this is a brand new ship or the air filtration system works great, the smoke didn't seem terribly heavy within the casino. And at least during the inaugural cruise, the smell didn't tend to carry too far behind the entrance and exit points of the casino.
Games People Play
The casino also has two types of games that are wildly popular on cruise ships, although some never quite understand the attraction. The first is the sweeper-type into which you drop coins in an attempt to line them up in such a way that a constantly-moving sweeper will push piles of them into your tray (as well as other prizes). And the other, pictured below, are the…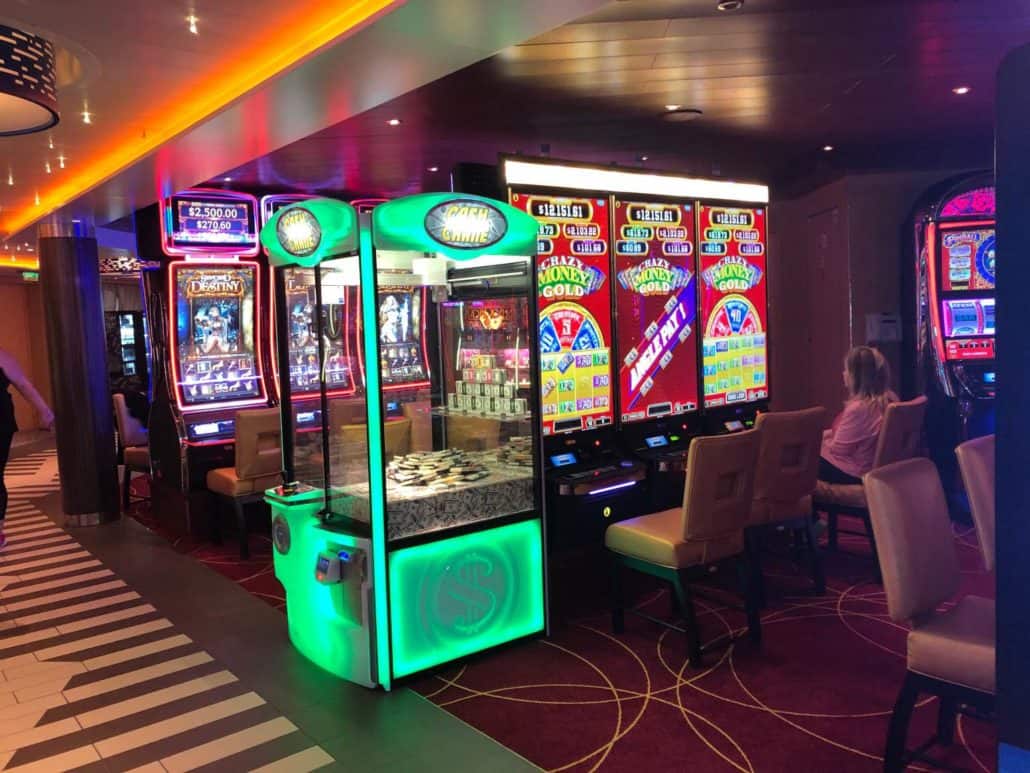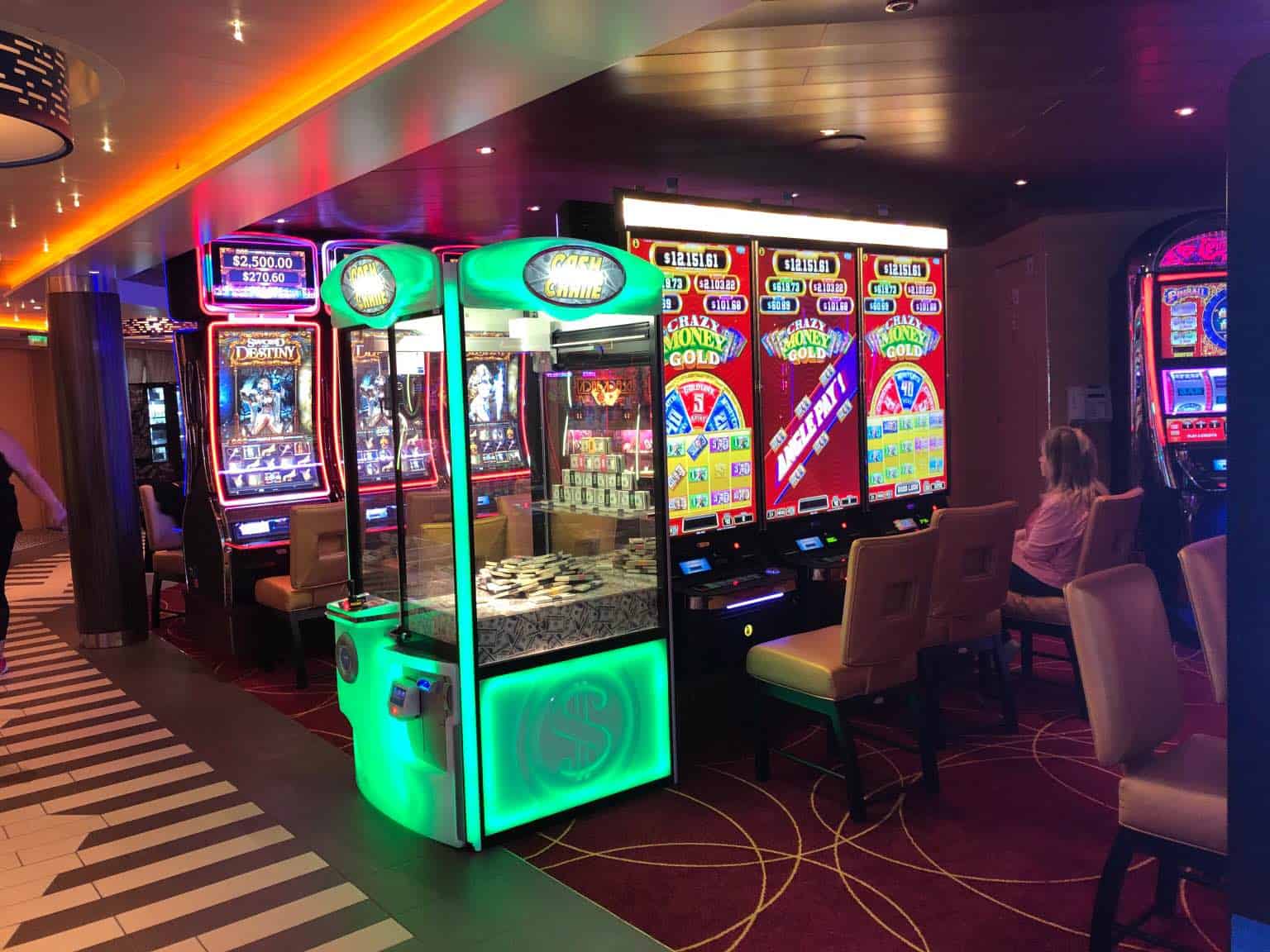 … adult versions of carnival games. One involves dropping a claw down for a chance to grab at some cash, while another challenges players to line up a key and a lock in order to claim a prize, including iPads and cash. Seems simple, right? So many a person has thought… usually wrongly!
Special Events & Competitions
One thing you want to do is keep an eye on the Fun Times, which will usually have a special "Casino" section listing various offers and events going on each night (and, during sea days, often during the day as well). Among some recent events were the Big Loot Draw (every 100 points earned in the casino got players an automatic entry into a raffle for Casino Cash), Hot Seat promotions (in which random people won prizes), and Hi-Low, in which selected contestants competed against a deck of cards for prizes a la the old game show Card Sharks. This was in addition to tournaments for slots, poker, and Texas Hold 'Em players.
There are only two entries left before our time together comes to a close. But there's still so much more to talk about! Up next? Some of the many, many ways you can spend your sea days aboard the Carnival Horizon!
SaveSave