Carnival Cruise Line is shuffling one of their older ships next year.
The line has announced that the 2,124-guest Carnival Legend will reposition to Port Tampa Bay in October 2019. The ship is undergoing a two-week dry dock in Portland, Oregon, where a number of popular Carnival venues are being added. These include Guy's Burger Joint, BlueIguana Cantina, BlueIguana Tequila Bar, and RedFrog Rum Bar. Renovations to transform the kid's clubs into Camp Ocean are also taking place, as well as upgrades to the onboard retail shops.
Following the dry dock, Legend will operate a summer schedule this year of seven-day Alaska cruises from Seattle, then reposition to Australia for the fall and winter. In summer 2019, she will return to Seattle for another series of Alaska cruises before moving to Tampa in the fall.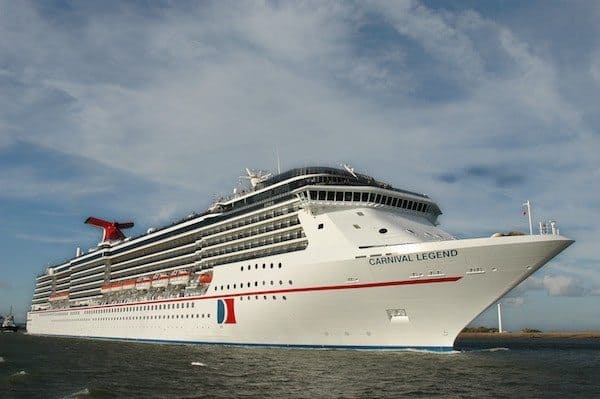 Carnival Journeys
Prior to moving to Tampa, the ship will operate a series of longer Carnival Journeys cruises, where guests can sample local cuisine and enjoy unique activities onboard. The 80's themed "Throwback Sea Day" will also be included, which is a fun themed day that is popular on Carnival Journeys voyages. Other activities on the ship will focus on topics like cooking, photography, crafts, and celestial navigation.
Panama Canal Crossings
Following her 2019 Alaska season, Carnival Legend will embark on a 15-day Panama Canal repositioning cruise that will begin in Los Angeles on October 12 and end in Tampa on October 27. The ship will be replacing Carnival Miracle there, and Miracle's new homeport will be announced soon.
The Panama Canal cruise will stop in Cabo San Lucas, Guatemala, Costa Rica, two ports in Colombia, and Grand Cayman. Legend's seven-day schedule from Tampa will include visits to Grand Cayman, Cozumel, Mahogany Bay, and Belize or Costa Maya. On January 25, 2020, the ship will sail a special eight-day voyage that includes a partial transit of the Panama Canal, as well as port calls in Limon and Grand Cayman. From December 1-15, 2019, the vessel will also operate a roundtrip 14-day Panama Canal cruise from Tampa.
Alaska & Hawaii
Carnival Legend will be operating a nine-day Alaska cruise roundtrip from Vancouver September 17-26, 2019, featuring a day-long call at Icy Strait Point. Following that will be an extended sail of Glacier Bay and stops in Sitka, Skagway, Juneau, and Ketchikan.
On September 26, the ship will operate a 16-day Hawaii voyage from Vancouver to Los Angeles, ending on October 12, 2019. The voyage includes extended visits to four of Hawaii's most popular destinations, including Hilo, Maui, Kona, Kauai, and Honolulu.
Photo: Carnival Cruise Line