Carnival Triumph Review
Itinerary: A 5-night western Caribbean sailing roundtrip from Galveston
Reviewer: Nelson
Traveling with: His wife and three kids, including a baby
Stateroom Type: A grand suite
Embarkation: Since they were staying in a grand suite, they had priority boarding and it took "less than 20 minutes. It went extremely fast."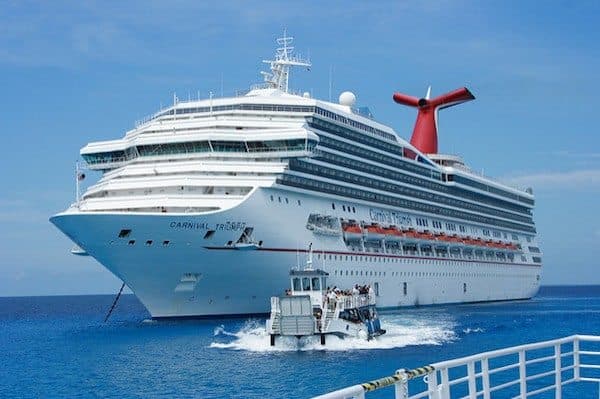 First Impressions of the Ship: Nelson noted that it was similar to Carnival Freedom and Conquest, "not quite as large, but very similar to the same décor…the old style they've had for years; very loud and very brass." He also mentioned that it was neat to see how impressed his kids were when they stepped onto the ship.
Thoughts of the Suite: Both Nelson and his wife were impressed with their suite, and he commented that it was the best decision they made for the family of five, "it's very, very spacious."  He also commented that the room featured a king sized bed, queen pull out bed, and that they brought their own baby bed so the youngest child would feel more at home.  His wife also enjoyed the vanity room, "my wife enjoyed that because she could kind of get away from us and get ready and get dressed."  The balcony was also a notable feature for Nelson, who said that it was about double the size of a regular balcony.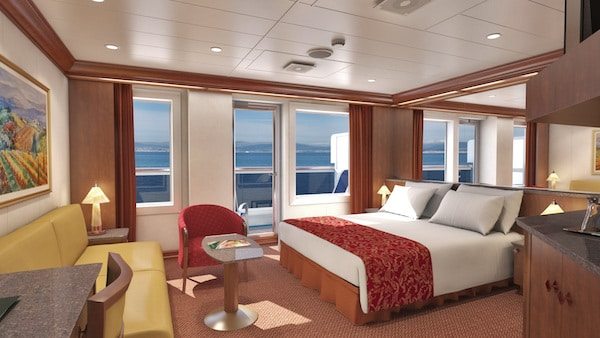 Dining venues and offerings: Nelson mentioned that Guy's Burgers was "obviously my kid's favorite place to eat…and also one of mine." He noted that the lines there tended to be long, but they moved quickly, and the burgers were worth it.  He also enjoyed BlueIguana Cantina, saying "I think it's kind of a hidden gem…so that was one of my favorite places to eat by the end of the cruise."  He also raved about the venue's 'Omelette Your Way' for breakfast, saying that it was fresh and "is my favorite place for breakfast…and I would pass on the dining room." As for the buffet, Nelson didn't try it, but his wife did and she thought it was mediocre.  Not great, but not too disappointing, either.  In the main dining room, Nelson and his family enjoyed their main waiter, but commented that the new American Feast menus were just okay overall.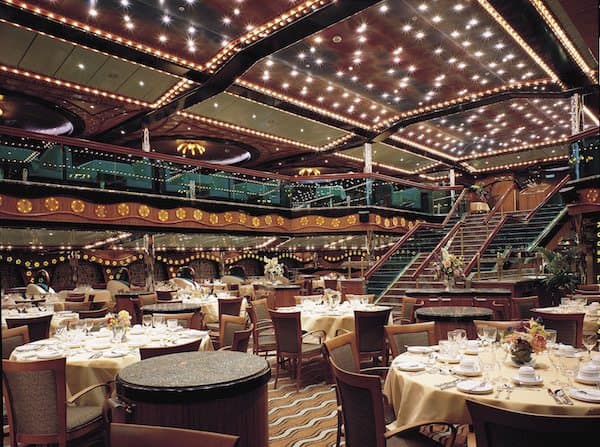 Entertainment Options: Nelson and his family weren't a big fan of the regular evening shows, saying "it's still kind of the old shows, the Broadway type…we went to one…and left after about five minutes."  The kid's shows, on the other hand, the family was impressed with.  Nelson thought the Cat in the Hat reading was entertaining, and they also enjoyed the themed breakfast as well.  One thing that really stood out for the family was the puppet show.  "A very big hit for the kids [was] the most amazing puppet show in the world. We stumbled on it in the main theater and…it was a full out production." Overall, the Nelson and his wife and kids enjoyed the kids shows, but weren't a fan of the adult ones.
Sea Days: Their cruise had two sea days, and Nelson said that the ship handled itself well during those days.  "The buffets went pretty quickly…Guy's Burgers and BlueIguana all went very quickly."  He also mentioned putt-putt and the kid's area, which he said were crowded but not too bad.  Overall, Triumph had smooth sailing as far as passenger flow during their voyage.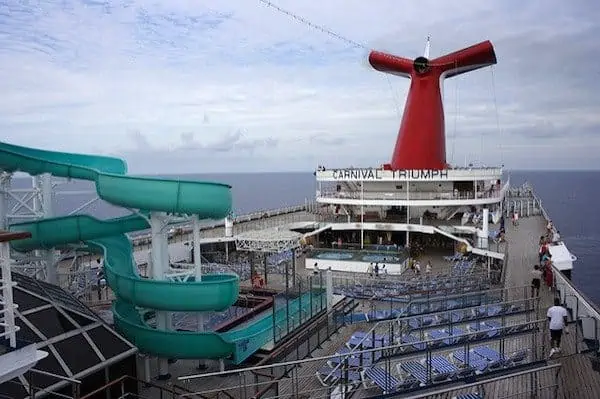 Ports of Call: This sailing stopped in Progreso and Cozumel, but Nelson and his family didn't spend too much time in either port.  "We were just going to do the ship as our vacation." In Progreso, they walked down the four mile-long pier and did some shopping before returning to the ship, and in Cozumel, they walked around for a couple hours and then returned to the ship.  He also added a tip for first-time cruisers who may not care about a certain port: "It's great to stay on the ship and have [it] to yourself. So we enjoyed that and our kids did the slide and they were able to play."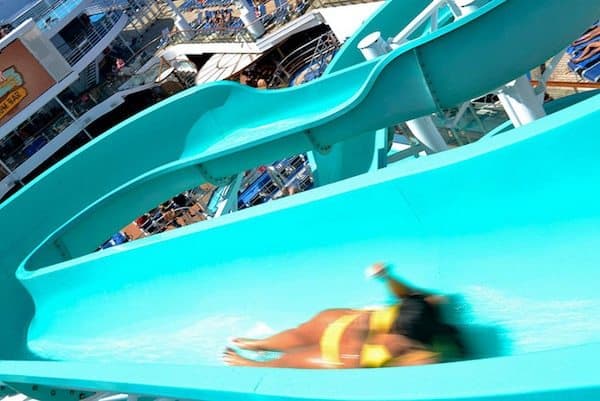 Overall Thoughts: Nelson noted that he was trying to view the cruising experience from his children's eyes this trip, and that they really enjoyed it.  "They're just happy to be on vacation…it was a great experience."  He also added in that for any families traveling with younger kids, it's great to get a bigger room for more space.
[smart_track_player url="https://traffic.libsyn.com/cruiseradioshow/EPI371MAR1016.mp3″ title="Carnival Triumph Review + Cruise News" artist="Cruise Radio" social="true" social_twitter="true" social_facebook="true" social_gplus="true" ]
Pin this!