Visiting Catalina Island by cruise ship is common for short cruises departing from Los Angeles or Long Beach. Located 27 miles off the coast of Southern California, it is a popular vacation destination for cruise passengers and those seeking a quick getaway.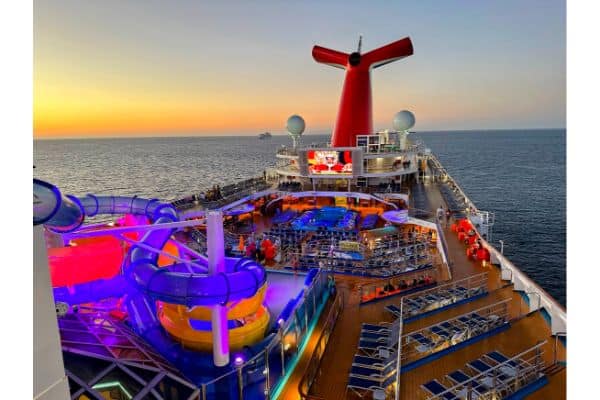 Mainland visitors can reach the island via a quick ferry ride from several different departure points, while cruise ships docked offshore are only a 10-minute water shuttle ride away.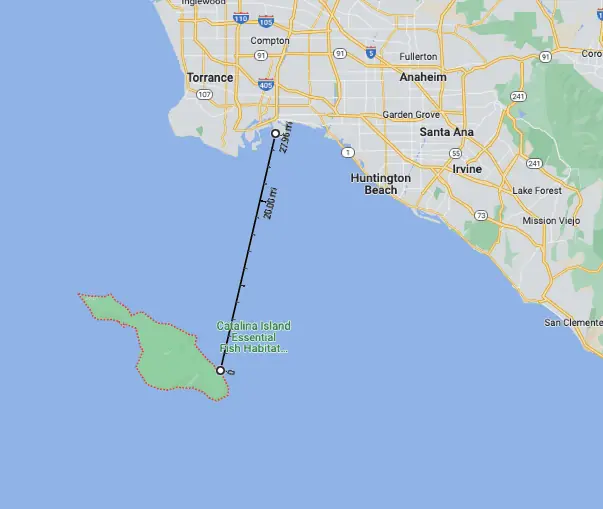 With its warm weather, beautiful beaches, and numerous outdoor activities, it's no surprise that over 280,000 cruisers flock to Catalina Island every year.
Here are seven things to do if you visit Catalina Island by cruise ship.
Rent a Golf Cart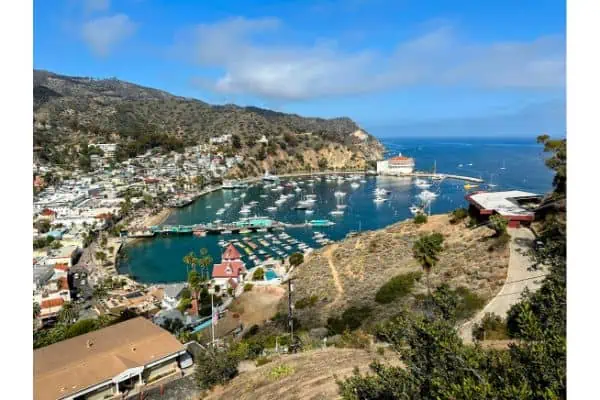 Catalina has limited cars, so consider renting a golf cart to explore and enjoy breathtaking views from higher terrains.
But be careful. Regular vehicles use the roads, but you'll find lots of golf carts cruising around the mountains of Avalon and the streets below, too — visitors and residents.
Two golf cart rental shops are in town, just a short walk from the tender dock. Both companies charge $60 per hour to rent a cart. The company we used without issue was Island Rentals, Inc., a five-minute walk from the water shuttle dock.
We used Catalina Island Golf Cart Rentals because it was the first one we saw and was less crowded.
Take a Hike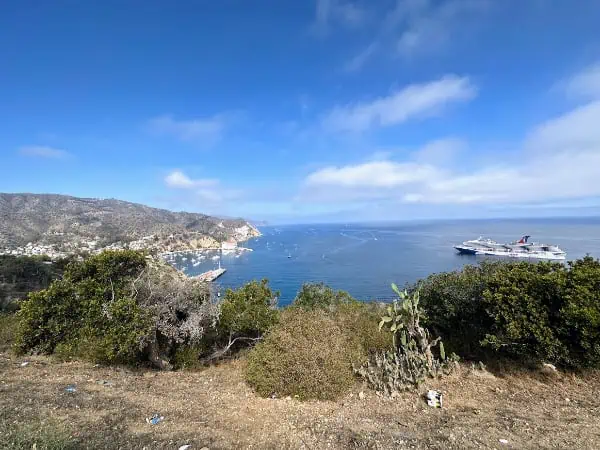 Catalina Island is home to several hiking trails, many of which offer stunning views of the ocean and the surrounding landscape. Whether you're an experienced hiker or just looking for a stroll, there's a trail on Catalina Island.
The Hermit Gulch Trail: This moderate 2.4-mile trail takes you through a beautiful canyon and offers panoramic island views.
The Two Harbors Trail: This easy 2-mile trail takes you through the village and offers beautiful ocean views.
Bring plenty of water and prepare for the weather regardless of your chosen trail. It is also essential to follow Leave No Trace principles while on the paths to help protect the island's natural beauty.
(Note: If you drive the golf cart to the trailhead, remember you're still paying $60 per hour, whether you are driving it or not.)
Go Whale Watching or Take a Glass Bottom Boat Tour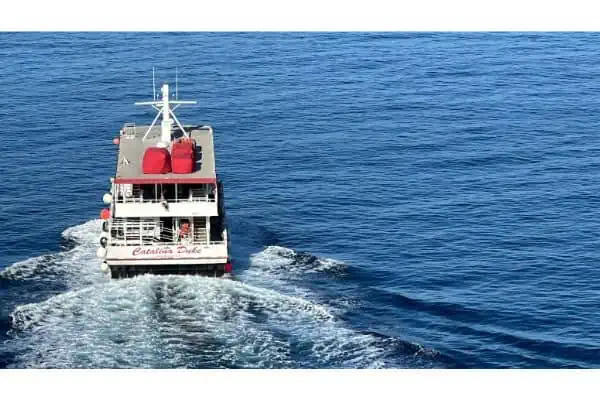 You can go whale watching on Catalina Island during certain times of the year. The island is a great place to see whales as they migrate along the California coast. Grey whales are seen off the coast in the winter months, and blue whales during the summer. The area is also home to various dolphins that can be seen year-round.
If you're a fan of the water, you'll want to check out the snorkeling and diving opportunities on Catalina Island. The clear waters around the island are home to various marine life, including colorful fish, octopuses, and more.
Eat (& Drink!) at Luau Larry's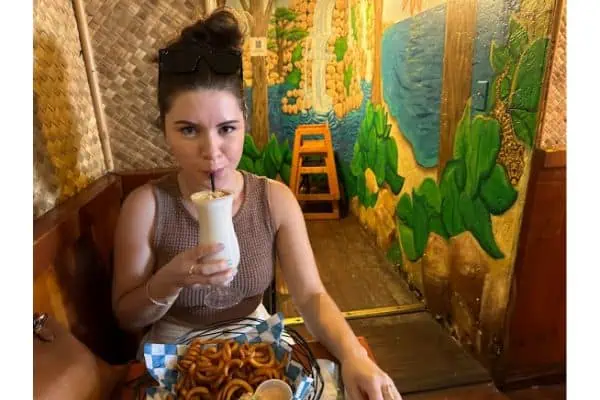 There are plenty of little spots to grab a bite in Avalon, especially along the main drag by the water. But if you love island and tiki-themed venues, we suggest hitting Luau Larry's. The restaurant and bar offer a tropical, laid-back vibe that is full of character.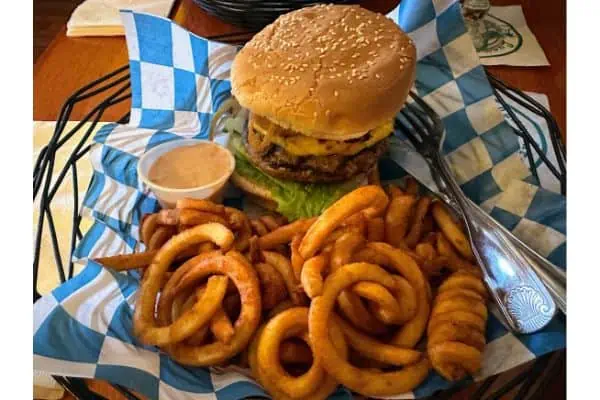 Luau Larry's is known for its famous "Wiki Wacker" cocktail (light rum, brandy, pineapple juice, orange juice, and grenadine), which draws tourists and locals to the bar. Since you're visiting Catalina Island by cruise ship and the bar is walking distance from the ferry terminal, you might as well try one of their signature drinks. Just make sure you drop the golf cart off first!
Visit the Wrigley Memorial and Botanical Gardens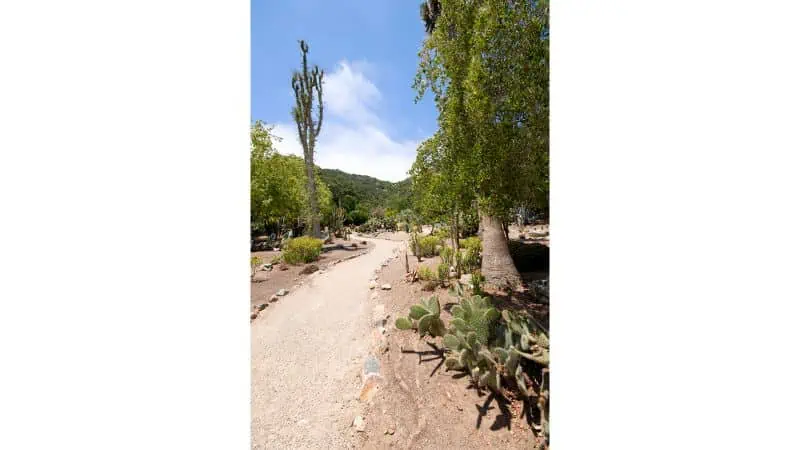 Yes, that Wrigley. The Wrigley Memorial and Botanic Garden on Catalina Island honors William Wrigley Jr., the chewing gum magnate. The 37-acre garden boasts a variety of plant species, including native plants, and provides a serene atmosphere to appreciate the island's beauty. Visitors can enjoy panoramic views of the island and the Pacific Ocean from the memorial's location, a popular spot for photographers.
It's relatively easy to get to the memorial from the town of Avalon, making it a convenient stop for most visitors to the island.
Walk Around Town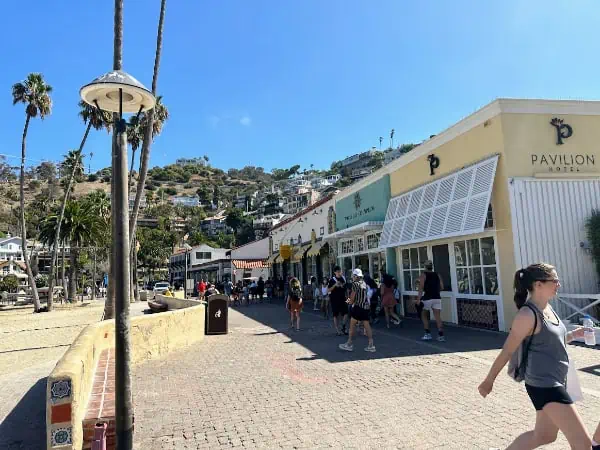 Avalon is the largest town on Catalina Island and is a great place to spend the day shopping and dining. The city is home to a variety of boutiques, restaurants, and other attractions and is an excellent place to
While walking around town, be sure to visit the Catalina Island Museum. The museum is excellent for learning about the island's history, culture, and celebrity ties. The museum features exhibits on the island's indigenous peoples and its history as a popular vacation destination.
Adults are $18, and children 15 and under are free.
Visit the Catalina Island Casino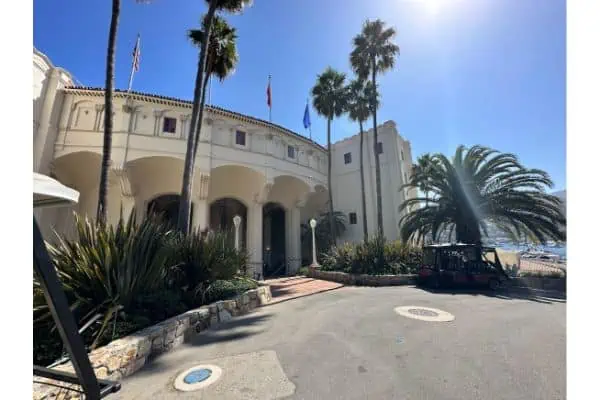 The Catalina Island Casino is a historic building on the island built in the 1920s. But don't let the name fool you. It is not a traditional casino because it does not have slot machines or table games.
Instead, it serves as a multi-purpose entertainment venue, hosting live music, dance performances, and movies. The casino also has a ballroom, a popular venue for weddings and other events. The building itself is an architectural masterpiece featuring a stunning Art Deco design. It is a popular tourist attraction on the island and worth visiting.
The 45-minute tour is $24.95 for adults and $22.95 for children and the military.
Tips for Visiting Catalina Island by Cruise Ship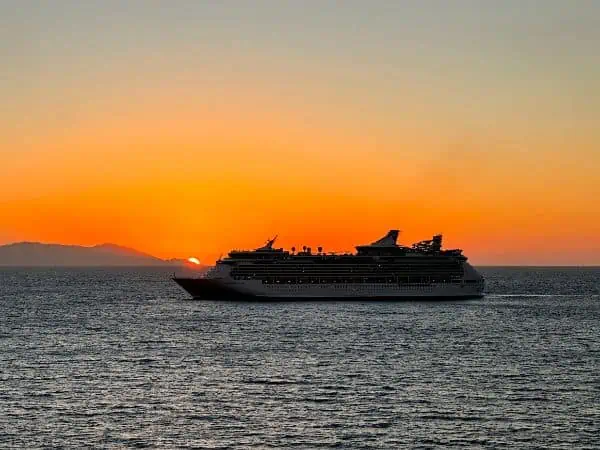 When visiting the island via cruise ship, passengers must take a tender. Be sure to bring essentials like sunscreen, hats, water, and any necessary medications for the day. You can leave your passport on the cruise ship because this is part of the United States, and it's not required.
If you have enough time, an inland tour to see the island's wildlife, including the famous Catalina bison, is worth considering.
Don't forget to pack comfortable walking shoes and layers, as evenings can get cool depending on the season.
Check your itinerary. Not every west coast cruise itinerary stops in Catalina. The stop is more reserved for shorter Mexico voyages or one-off repositioning sailings. If you are going on an Alaska cruise from the west coast, chances are Catalina Island won't be on your itinerary.
F.A.Q.
What cruise lines call to Catalina Island?
Carnival Cruise Line, Royal Caribbean International, Norwegian Cruise Line, Disney Cruise Line, Holland America Line, Princess Cruises, and Celebrity Cruises call at Catalina Island seasonally or year-round.
Where do cruise ships dock at Catalina Island?
Large cruise ships can not dock at Catalina Island. An anchorage is located off the coast of Avalon, where cruise passengers board a ferry. Once you board the water shuttle, the ride is approximately 10 minutes from the cruise ship to the island. The water shuttles dock at Green Pleasure Pier.
Do I need a passport to go to Catalina Island?
No. Catalina Island is part of the state of California. A passport would only be required if you're taking an ocean cruise and the cruise operator has a passport requirement to sail.