Various factors determine whether you'll need a passport to take a cruise. While many assume this is a yes or no question, it all depends on the itinerary.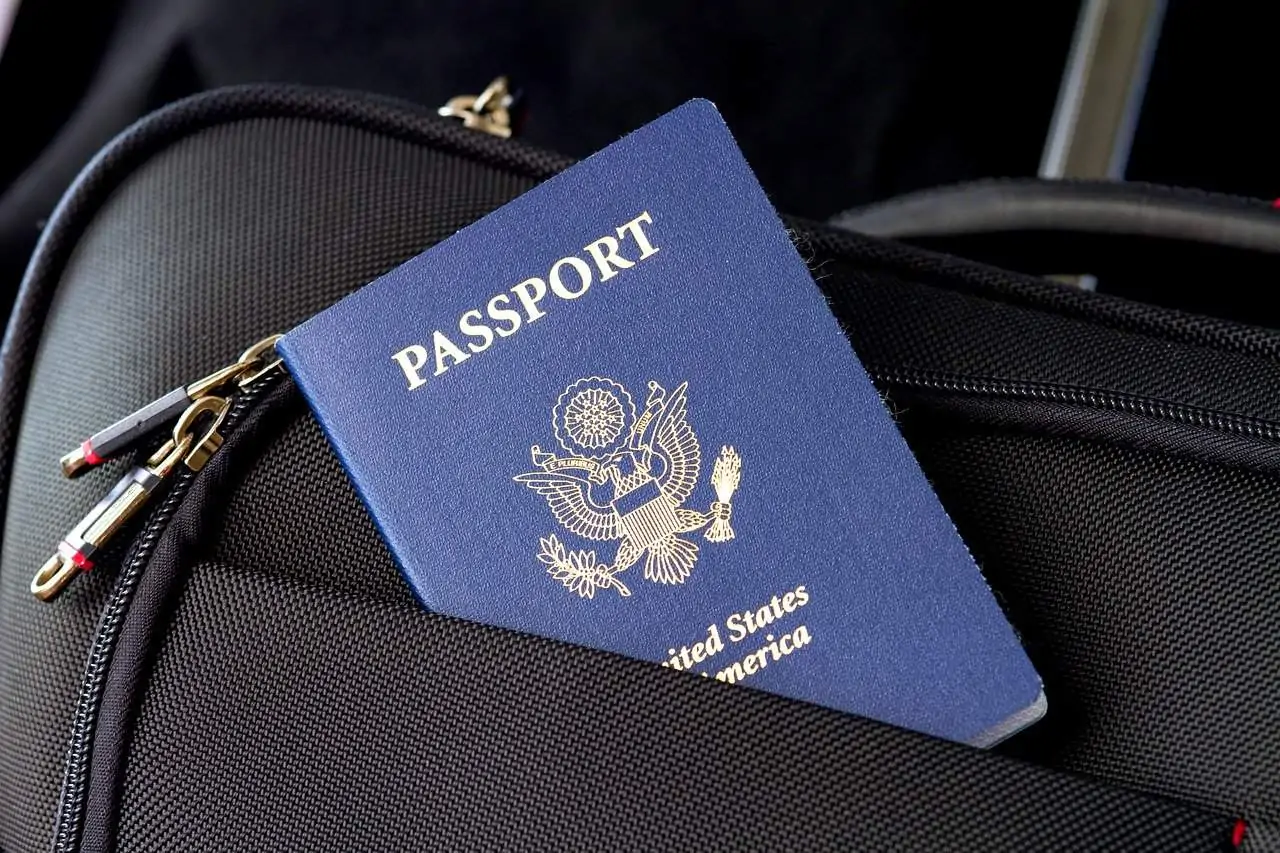 Keep in mind these guidelines apply to U.S. citizens. For citizens of other countries, or those with other immigration statuses living in the United States, a passport is generally required for any cruise, and you'll want to check with your travel agent or cruise line to confirm if any visas are necessary for your itinerary.
Cruises That Require a Passport
Although not every itinerary leaving from North America requires a passport to cruise, there are several cruises that do require you to have a valid U.S. passport to sail. Below we cover the most common that do not require a passport. 
Repositioning or One-way Cruises within the United States
Open-ended or one-way sailings can be voyages that begin and end in different U.S. ports, and voyages that depart from a U.S. port but end in a foreign port or vice versa. This would also include transatlantic, transpacific, and repositioning cruises to and from the United States.
MORE: 7 Reasons To Take a Transatlantic Cruise
For example, a one-way Panama Canal cruise from San Diego to Fort Lauderdale would require a valid U.S Passport. A one-way fall cruise from New York City to Quebec will require a passport because you start in the U.S. and end in another country.

A Passport is Required to Cruise To and From Foreign Ports
Passports are also needed for cruises that embark and debark in foreign ports, including Canada. This means you'll need a passport regardless of whether you plan to fly or drive in or out of the country. The cruise line will require you to enter your passport information during the check-in process, and then the airline will verify your passport to board the flight. 
For example, taking a transatlantic cruise from Barcelona to New York City would require a valid U.S. Passport because you'll have to fly to Europe to board the ship. And then once back in New York, U.S. customs and border protection will require the passport to get back into the United States.
Cruises that Do Not Require a Passport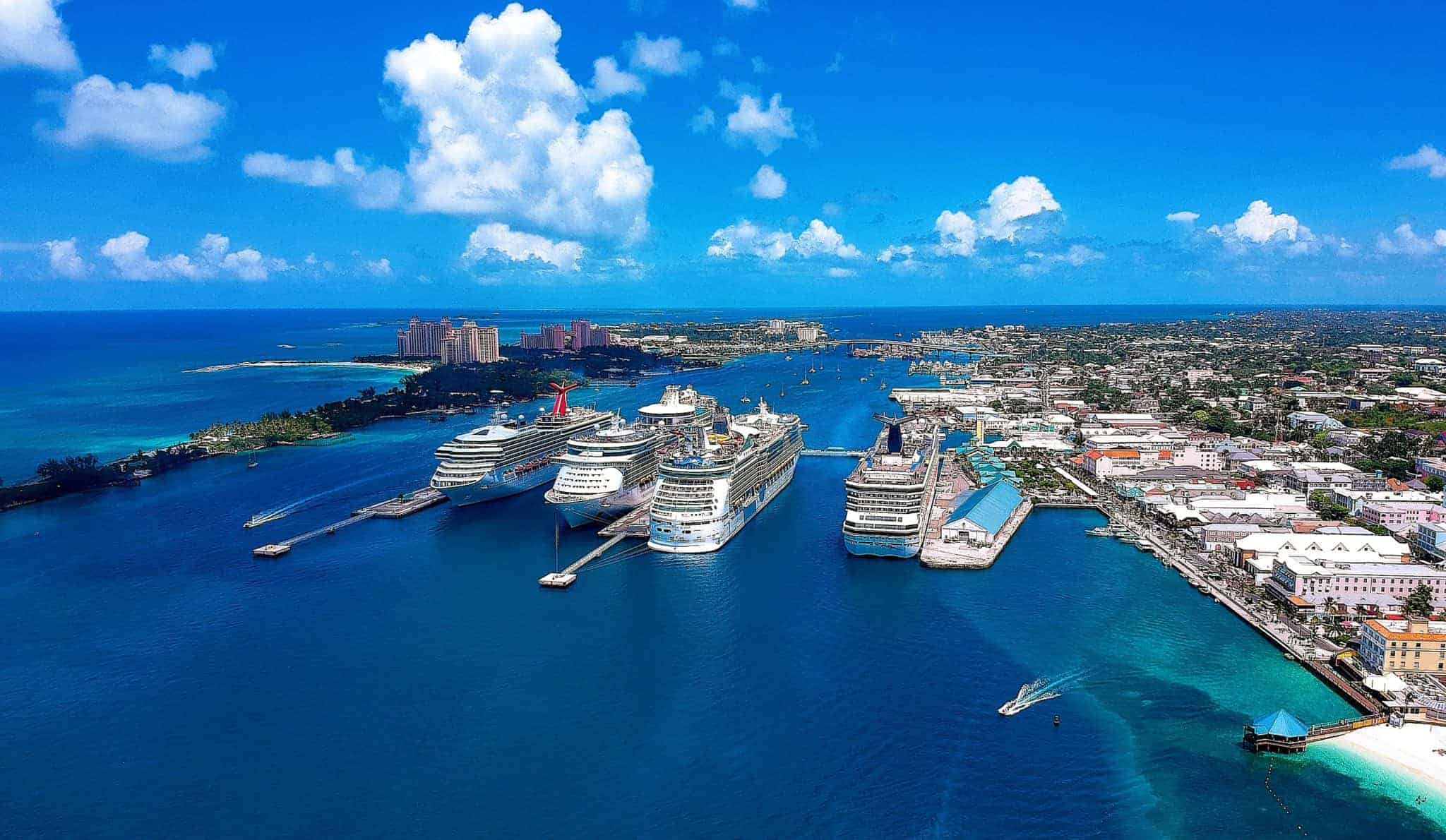 Closed-loop Cruises
A closed-loop cruise is a sailing that starts and ends in the same homeport. Most sailings from North America, with the exception of repositioning cruises or Panama Canal crossings, are closed-loop.
Thanks to the Western Hemisphere Travel Initiative (WHTI), if you're a U.S. citizen taking a closed-loop cruise, you don't need a passport for the voyage.
For example, a seven-night Western Caribbean cruise from Miami would not require a passport because you are beginning and ending the cruise from the same U.S. port.
Even though your cruise will visit a foreign port (because it's required to), passports likely won't be required to go ashore if the voyage meets the closed-loop requirements. Most cruise ports require you to carry a photo ID to verify the name on the ship card matches. 
How To Cruise Without a Passport
Just because you are taking a closed-loop cruise doesn't mean you can walk on board with just your driver's license.
For those who decide to cruise without a passport on a closed-loop sailing, they are still required to bring the following type of documentation — an official state ID, and an original copy of your birth certificate — in order to be able to sail. This will satisfy the proof of citizenship requirement. 
For most people, the official state ID would be their driver's license, state ID card, or learner's permit.
For the birth certificate, it's important to stress that it must be an original or certified copy of the birth certificate, which has the raised seal branded into it. If you arrive at the terminal with a photocopy, you will not be permitted to sail. 
A baptismal certificate or birth record issued by the hospital are not acceptable documents. It must be a birth certificate issued from the office of vital statistics.
(Note: You can get a duplicate copy of your birth certificate from the office by ordering online or going in person. It is on file in the city you were born.)
Some Ports May Still Require a Passport
There are rare instances where a port of call may require passengers to have their passport to go ashore or take an excursion, even if the cruise itself doesn't require it.
The daily planner will tell you if a passport in port is required, as well as an announcement from the cruise director during arrival.
If you get to the gangway and realize you forgot the passport back in your room, security will ask you to go get it. Remember, the cruise lines do not make the rules — they have to follow local regulations to every port they visit. 
In 2019, the Caribbean islands of Martinique and Guadeloupe both require passengers to have a valid passport. If you do not have a valid passport and are on a closed-loop cruise, you will be required to stay on board.
Does Puerto Rico Require a Passport?
Because both are US territories, The Department of State does not require a passport to travel to and from Puerto Rico or the U.S. Virgin Islands.
This does change if you are taking a one-way cruise from San Juan back to the United States. This would fall under the one-way voyage where a passport would be required.
An example of this would be if you were taking a one-way cruise from San Juan, Puerto Rico to Port Canaveral, Florida. A passport would be required to board the ship.
Where Can I Cruise Without a Passport?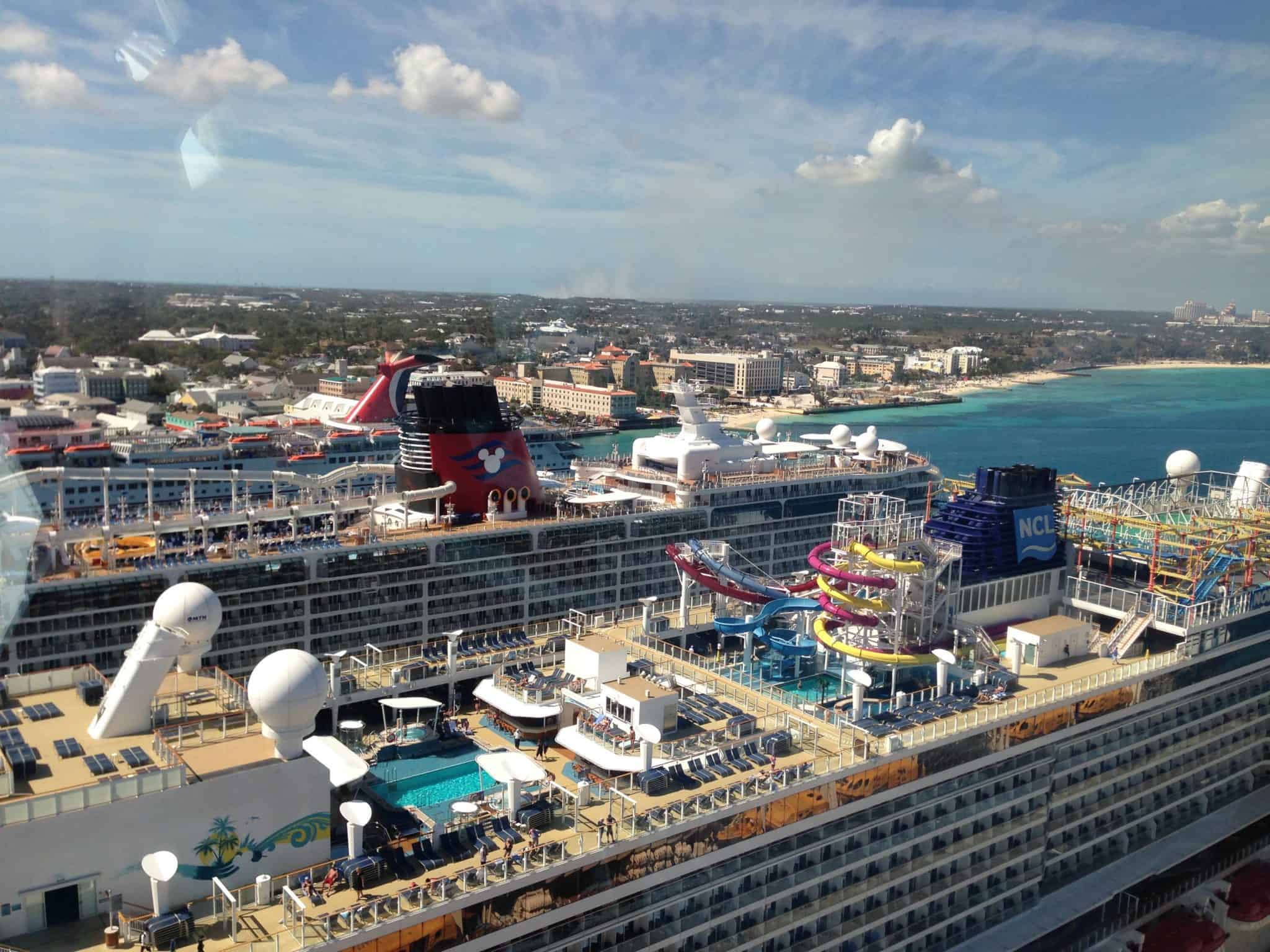 Below are some regions that many closed-loop cruises sail from within the United States and do not require a passport.
Keep in mind that many cruise lines do offer open-ended or one-way voyages in all of these areas, so just make sure to be mindful when selecting an itinerary if you don't plan to get a passport. 
Regions You Won't Need A Passport to Cruise
Caribbean (with the exception of getting off the ship in Martinique or Guadeloupe)


Alaska (with the exception of cruises that travel to or from Vancouver)

Mexican Riviera

Partial-transit Panama Canal

Canada/New England

Bermuda (this varies, check with your cruise line)

Hawaii

San Juan, Puerto Rico or the U.S. Virgin Islands
If you're taking an Alaska cruise that starts or ends in Vancouver, BC, you will need a passport to enter or leave Vancouver.
Guests that do not have passports and want to go on an Alaska cruise should choose to sail roundtrip from Seattle or San Francisco.
Passport Card vs. Passport Book
When you apply for your passport, you will have the option of purchasing a passport card ($30). It's important to know that you can only use the passport card to reenter the United States at cruise ports of entry from Mexico, Canada, Bermuda, and the Caribbean. The passport card will not work if you're trying to take an international cruise or flight.
While the passport cards are cheaper, if you miss the cruise ship departure in a foreign port, you'll still need a passport book to fly back to the United States.
We compare the differences of each here: Passport Card vs Passport Book
Why Do I Need to Get a Passport?
Ask a seasoned cruiser and many will tell you that a passport is absolutely necessary and that no one should travel without one, no matter the cruise. We agree with that sentiment and these are the reasons why. 
In Case of Emergency
Even though a passport isn't required for most sailings offered by cruise lines, unexpected accidents or emergencies occur while traveling. For that reason, it's better to err on the side of caution and get a passport regardless.
There are many scenarios that can play out — usually things that are beyond anyone's control. What if someone you're traveling with gets injured while in port and has to stay in a local hospital? What if you have to unexpectedly fly home from a port of call due to an emergency? 
As previously mentioned, a passport book will be required to return to the United States.
Most emergencies would be covered if you purchased a comprehensive travel insurance policy; some policies even cover the loss or theft of a passport.
(Note: Read the explanation of benefits on your travel insurance policy very carefully.)
If the cruise ends abruptly because of a mechanical issue and you do not have a passport, the cruise line will work with the consulate or embassy to ensure you make it back into the United States without issue.
Getting Back To The Ship
Even something as simple as not getting back to the ship on time and getting left behind could be an issue without having a passport. Whatever the case may be, you'll have to jump through a lot more hoops if you're not traveling with a passport. 
Being left in port will involve visiting the U.S. Embassy and acquiring a passport. On top of that, some embassies are located hours away from the cruise port.
READ MORE: What Happens When A Ship Leaves You In Port? 
This is the main reason why many veteran cruisers and travel agents always advise first-timers to travel with a passport, even if they aren't technically required to. 
Quicker Disembarkation
Another advantage of cruising with a passport is a quicker debarkation experience. In most U.S. ports, simply having a passport to present at Customs may cut your time in half. 
However, this is rapidly changing as facial recognition comes into play at many U.S. cruise ports.
REAL ID Act of 2005 (Enhanced Driver's License)
Lastly, due to the REAL ID Act of 2005, many travelers will find that their driver's license may no longer be compliant with federal travel regulations and soon won't be acceptable forms of ID for domestic air travel. This could be a problem if you plan to fly to your cruise embarkation port.
TSA says that beginning May 3, 2023, every air traveler 18 years of age and older will need a REAL ID-compliant driver's license, state-issued enhanced driver's license, or another acceptable form of ID to fly within the United States. These licenses have a star in the upper right-hand corner.
While it's yet to be seen how this will be resolved and how the cruise lines will address the issue, it can all be avoided by simply getting a passport.
Final Thoughts
Yes, the cost of a passport does add to the overall expense of the trip, especially if you have a family of four, but passports are valid for 10 years.
A passport and a visa should not be confused.
A passport is proving who you are and that you are a permanent resident
A visa is an endorsement saying you're allowed to enter, stay, or leave the country you're visiting
You will want to make sure you have your passport in hand well before your cruise; processing times can take from two to four months for a passport. That time can be cut in half if you pay the extra $60 expediting fee.
For example, in 2019 I took a cruise from Vietnam. To fly internationally from New York City, I had a passport to board the international flight. I was also required to have a visa to enter Vietnam.
The cruise line will make you aware of these requirements during the booking process, and some will handle the visa process for you. However, you are required to obtain your own passport.
Additional resources:
Pin it for later!