Across Celebrity Cruises' entire fleet of ships around the world – and in all of their global offices – the line will "Ring the Bell on the 7 Seas" in honor of International Women's Day, which is on March 8.
The campaign was born in partnership with the Red Shoe Movement in support of their Gender Equality Global Initiative. A special bell-ringing ceremony will be hosted by President and CEO of Celebrity Cruises, Lisa Lutoff-Perlo, aboard Celebrity Summit. The ship's executive team and the founder and CEO of the Red Shoe Movement, Mariela Dabbah, will also be in attendance. Each Celebrity ships and the global offices will then follow with their own ceremonies.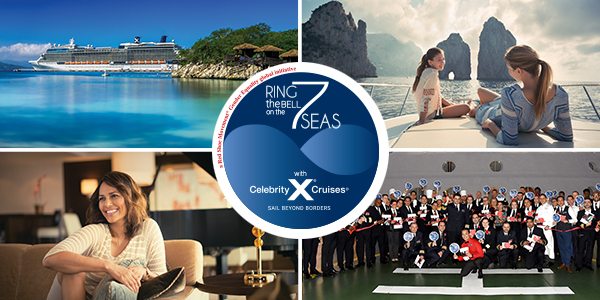 "On International Women's Day millions of people around the world will celebrate the accomplishments of women, and the men who support their efforts," said Lutoff-Perlo. "I'm proud to stand with the Red Shoe Movement as gender equality is an ongoing commitment for all of us at Celebrity."
"I am proud for Red Shoe Movement, whose mission is to accelerate the representation of women at the top, to partner with Celebrity Cruises to 'Ring the Bell on the 7 Seas' especially as Lisa Lutoff-Perlo is a CEO who walks her talk in everything she does," said Dabbah. "The thousands of crew members and guests around the world on a Celebrity ship or in any of their global offices will unite to take a stand on gender equality. This is a historic moment in this industry and for women worldwide."
For more information on the Red Shoe Movement, visit redshoemovement.com.