If you're the type of cruiser who is drawn to new ships, the month of May gave you two biggies to consider: Norwegian Cruise Line introduced the Bliss, while Carnival Cruise Line rolled out the Horizon. But which one is right for you? We recently had a chance to check both out and we drew up a few comparisons which might help you decide, depending on what features are most important to you when cruising!
One thing to note: We aren't taking into consideration the itineraries of the ships, as each will do a variety of different voyages during the next year or so. We're strictly looking at what each has to offer in a variety of areas such as entertainment options, food venues, and the like.
FIRST IMPRESSION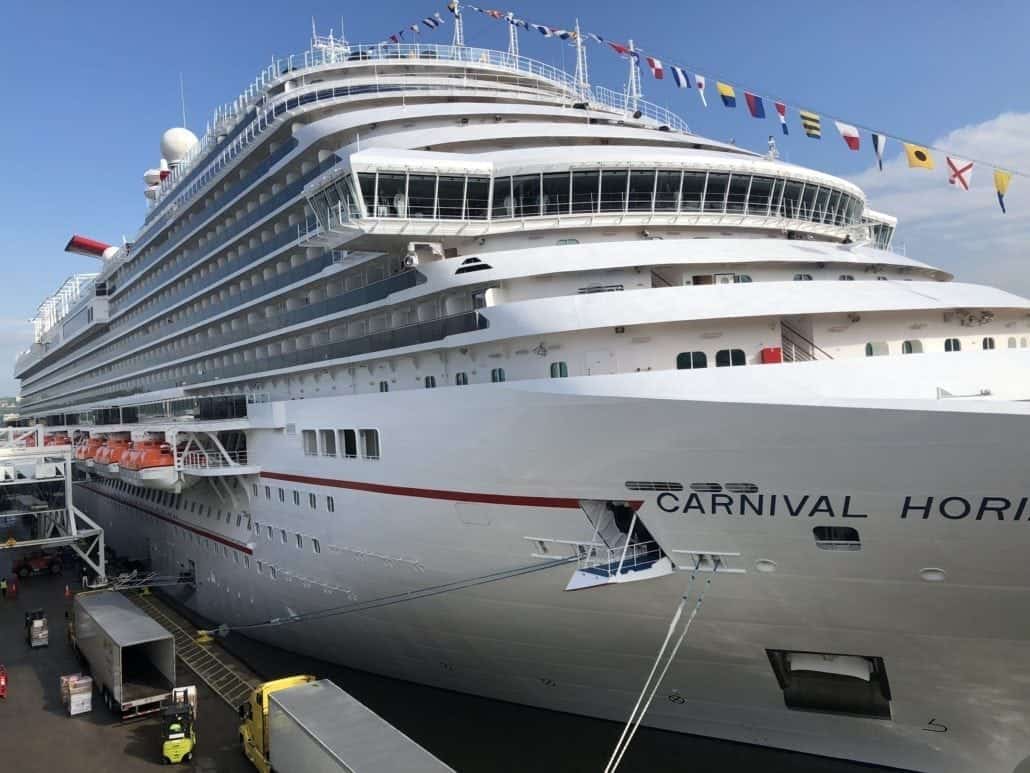 Standing on the pier and looking at these beautiful ships, both are, in a word, big. If you judge a book by the cover, the win here has to go to Bliss, thanks to the beautiful hull art by renowned marine life artist Wyland (appropriately titled "Cruising With The Whales"). If, however, we're talking about the first impression made when you step on board, Horizon wins by a mile. While the Norwegian ship's gangway basically leads to an interior hallway, Carnival's dumps you out into the ship's atrium, meaning that one of the first things you see is the stunning Dreamscape funnel (not to mention a bar!).
Winner: Horizon
STATEROOMS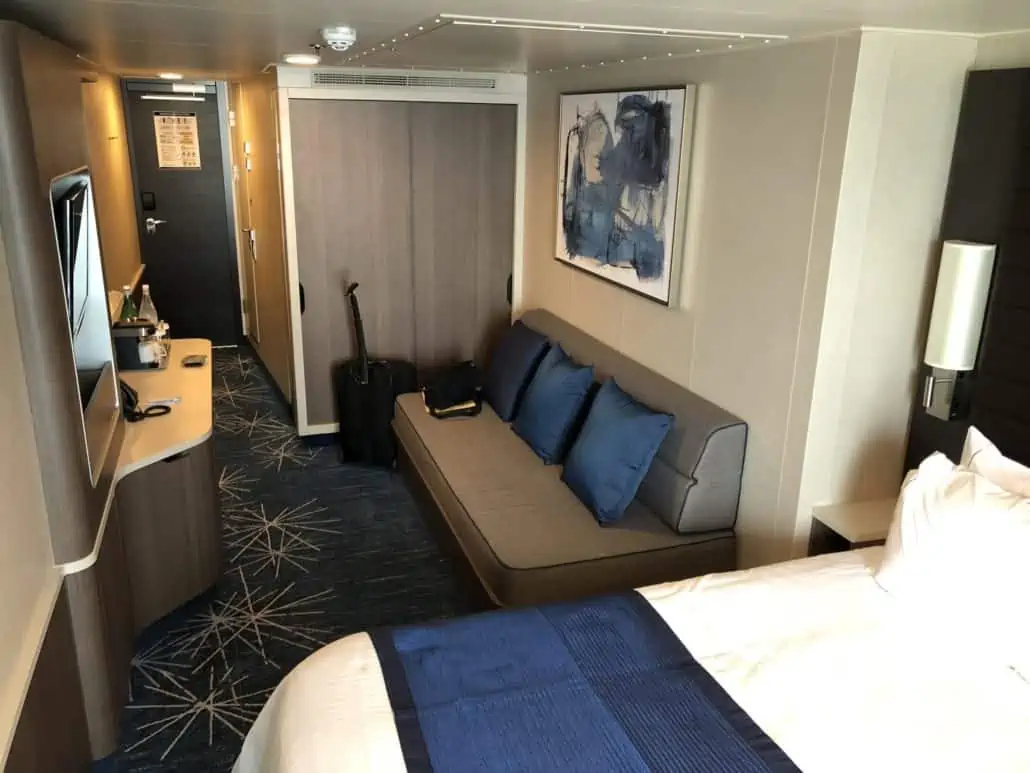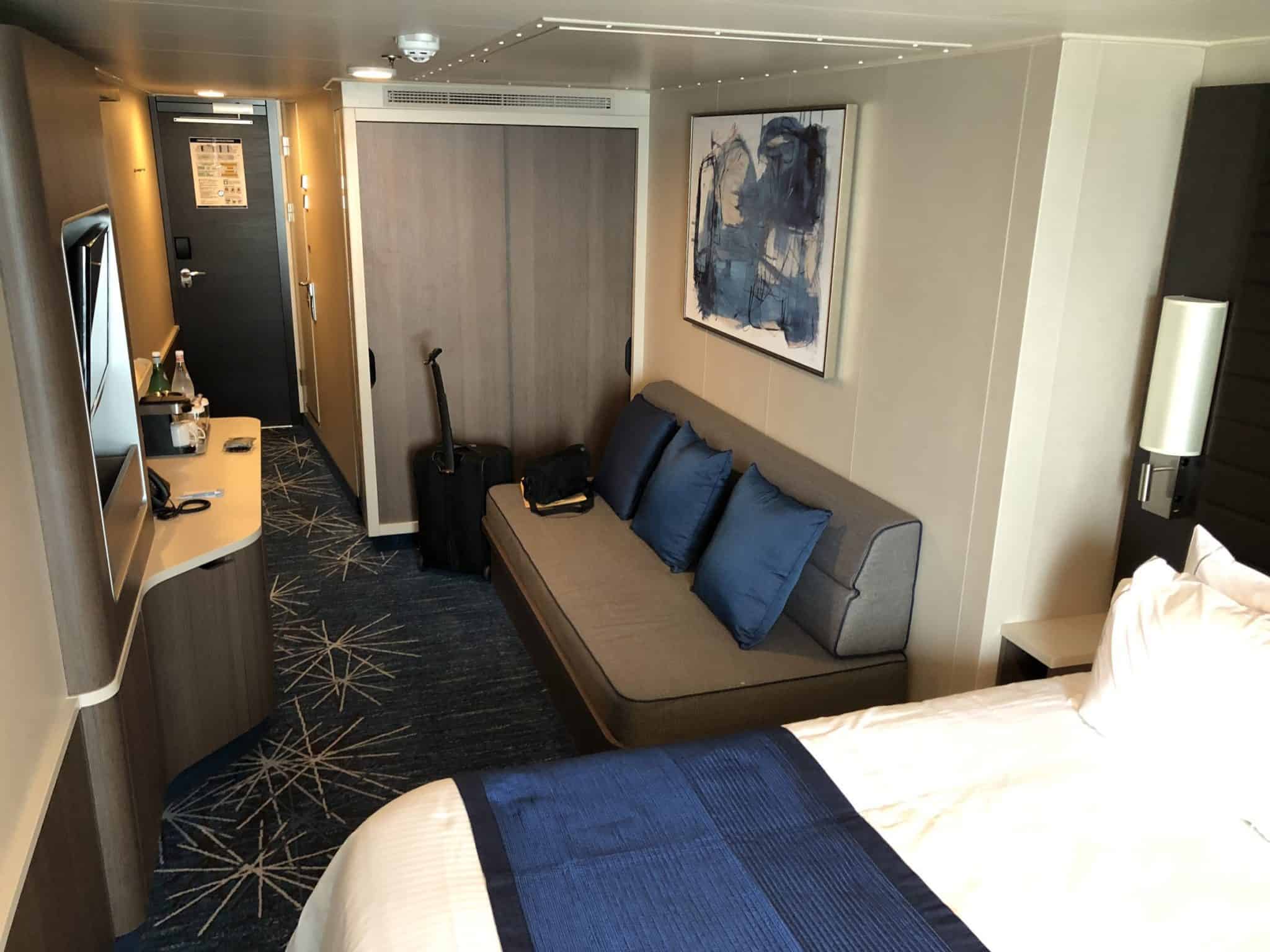 On both ships, we stayed in a balcony stateroom (although on Bliss, the cabin was technically a mini suite… which is almost identical to a balcony stateroom, aside from the bathroom, which is larger and features a fancier shower). The rooms were nearly identical as far as their layout and furnishings were concerned. Even the colors are similar, with both featuring blue accents. The biggest difference – and the deciding factor in this category – is the fact that while Bliss has a glass-enclosed shower, Horizon's designers went with a clingy, unattractive shower curtain.
Winner: Bliss
BARBECUE JOINTS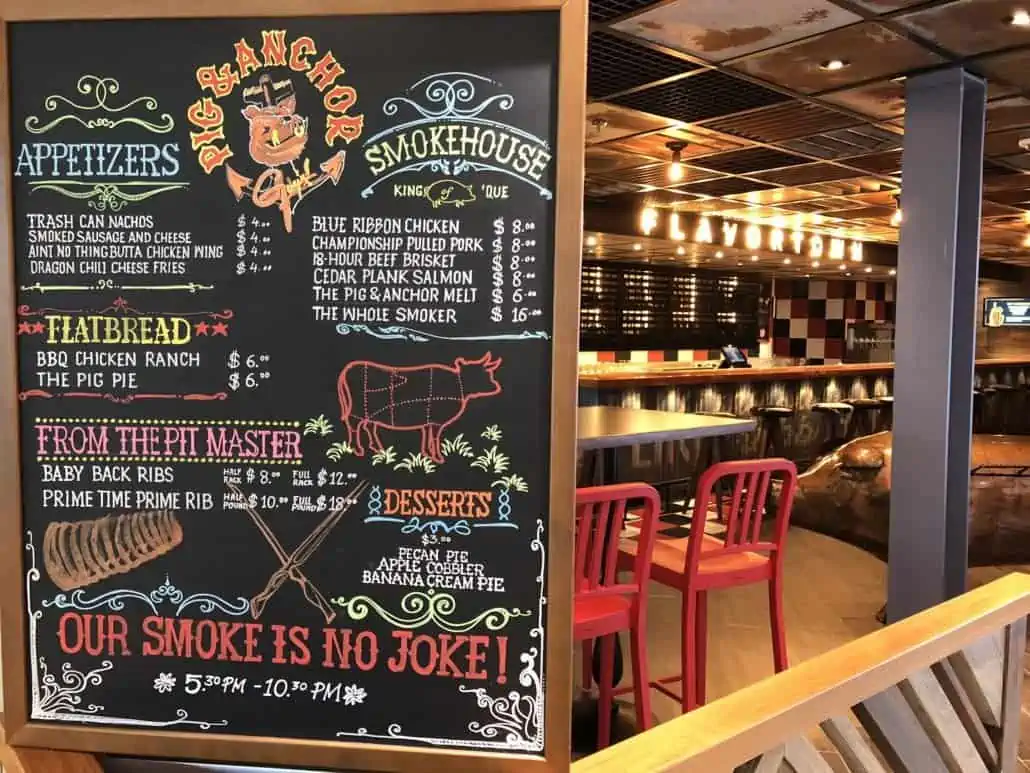 In an unexpected twist, both Carnival and Norwegian introduced ships featuring new-for-the-line barbecue restaurants in the same month! Bliss features Q, while Horizon has the Guy Fieri-branded Pig & Anchor Smokehouse|Brewhouse. In most regards, they are pretty similar. Each has food that isn't just "good for a cruise ship," but would be considered great on land, too. Each turns into a hot spot featuring mostly country music after dark. Food-wise, we felt that the actual meats featured at Q had a slight edge over those of their competitor, while the appetizers at Pig & Anchor were superior. Decor-wise, Pig & Anchor's space takes the prize, given that everything about it feels like a honky-tonk joint, while for the most part, the space on Bliss feels sort of generic. In fact, Q feels as if it was designed in such a way that if cruisers decided they weren't into a BBQ restaurant, it could easily be transformed into something else. Horizon's venue also wins for featuring a free lunch, not to mention a great outdoors space for dining.
Winner: Horizon, by a hair
OTHER SPECIALTY RESTAURANTS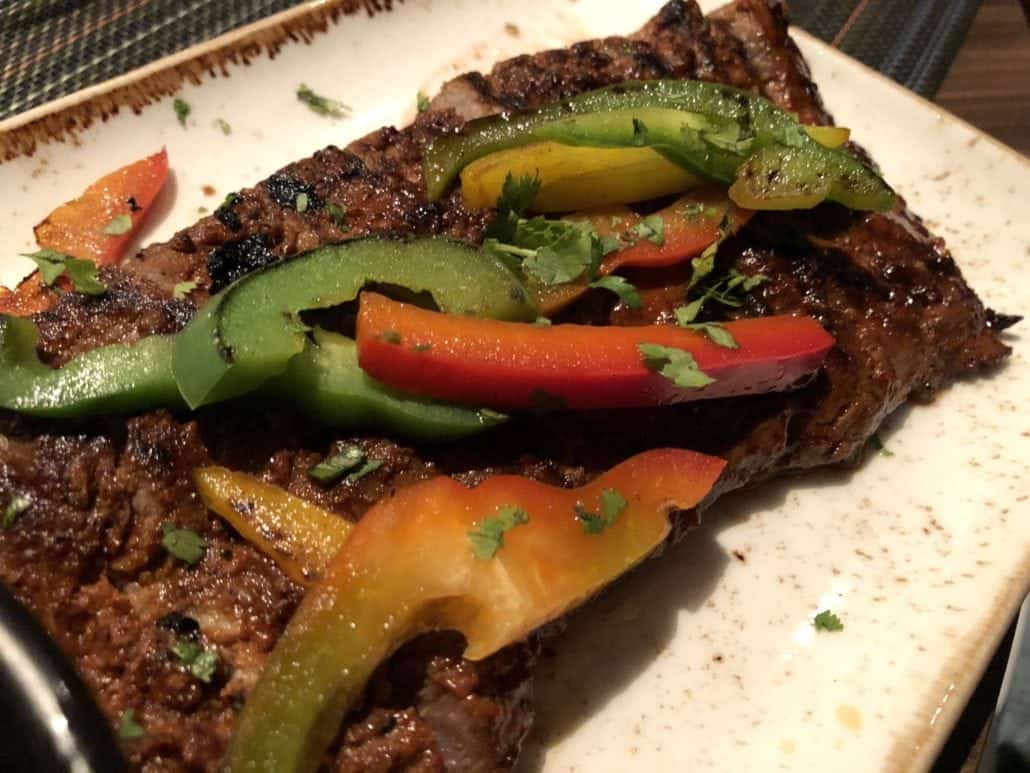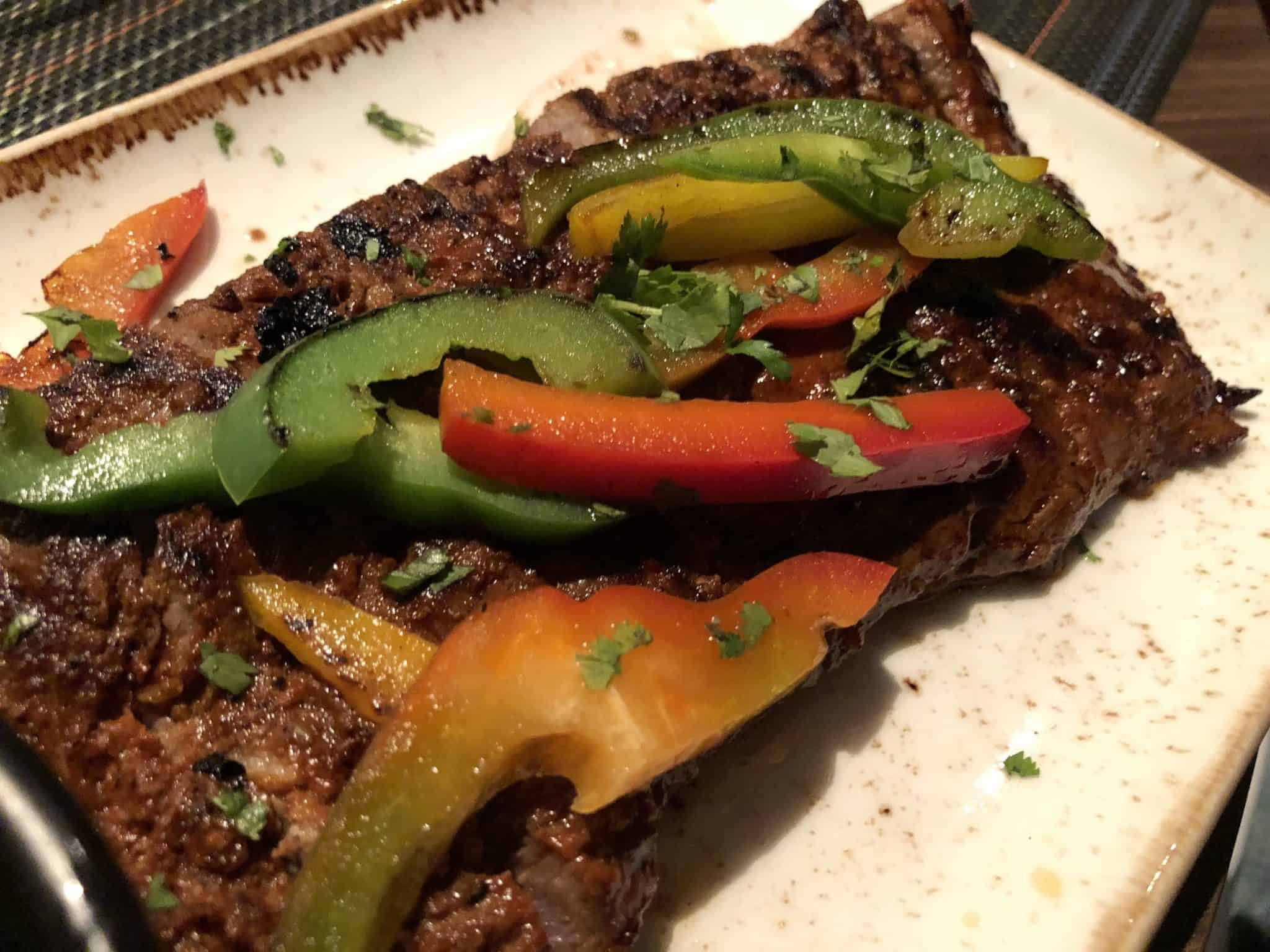 Many of the for-fee venues on the ships are similar. Thanks to a first-for-Carnival addition, both have teppanyaki spaces, as well as Italian eateries and steakhouses. Carnival scores points in that some of the restaurants which charge a fee at dinner offer limited versions of the menu for free at lunchtime. Seafood wise, the ships offer options at the complete opposite of the spectrum, with Carnival featuring a walk-up counter Seafood Shack while Norwegian goes upscale with Ocean Blue. On the whole, Bliss offers a wider selection of up-charge options, including the French-themed Le Bistro and the shareable small plates at Food Republic.
Winner: Bliss 
FREE FOOD OPTIONS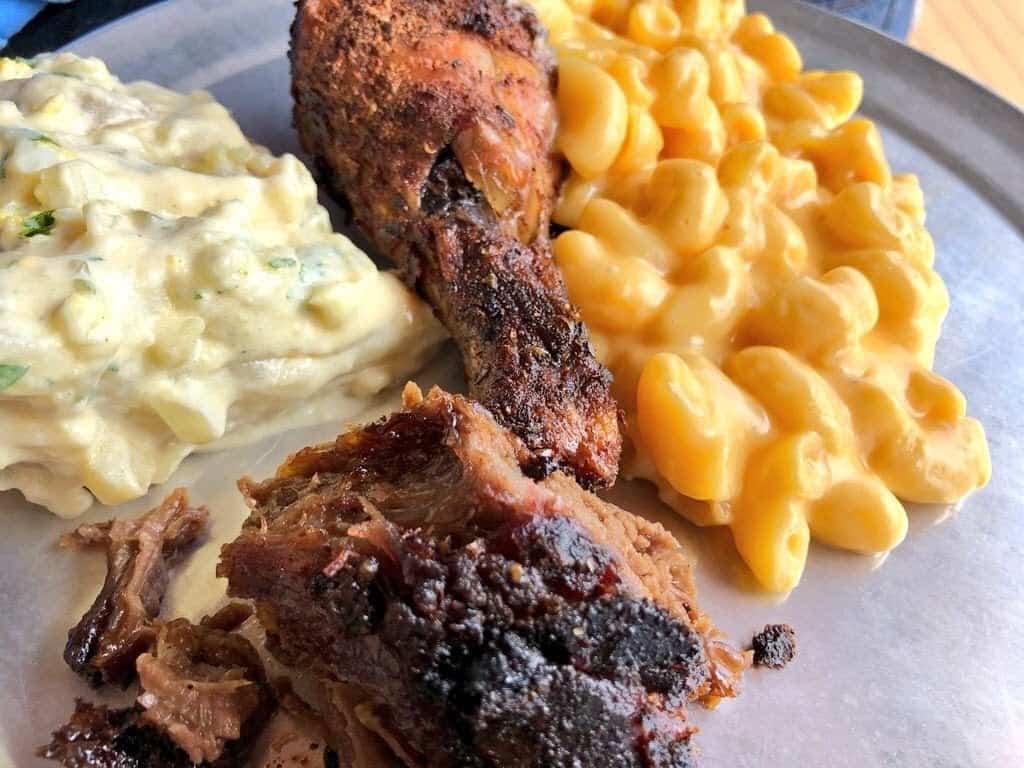 While the buffets on both ships are beyond bountiful, Bliss really got our attention by adding additional, smaller buffets (yes, more than one) in their observation lounges. But for overall variety, Horizon can't be beat thanks in large part to poolside venues Guy's Burger Joint and BlueIguana Cantina. And several of Horizon's popular for-fee restaurants present limited versions of their offerings for free at lunchtime — including the Pig & Anchor Barbecue.
Winner: Horizon
WATER PARKS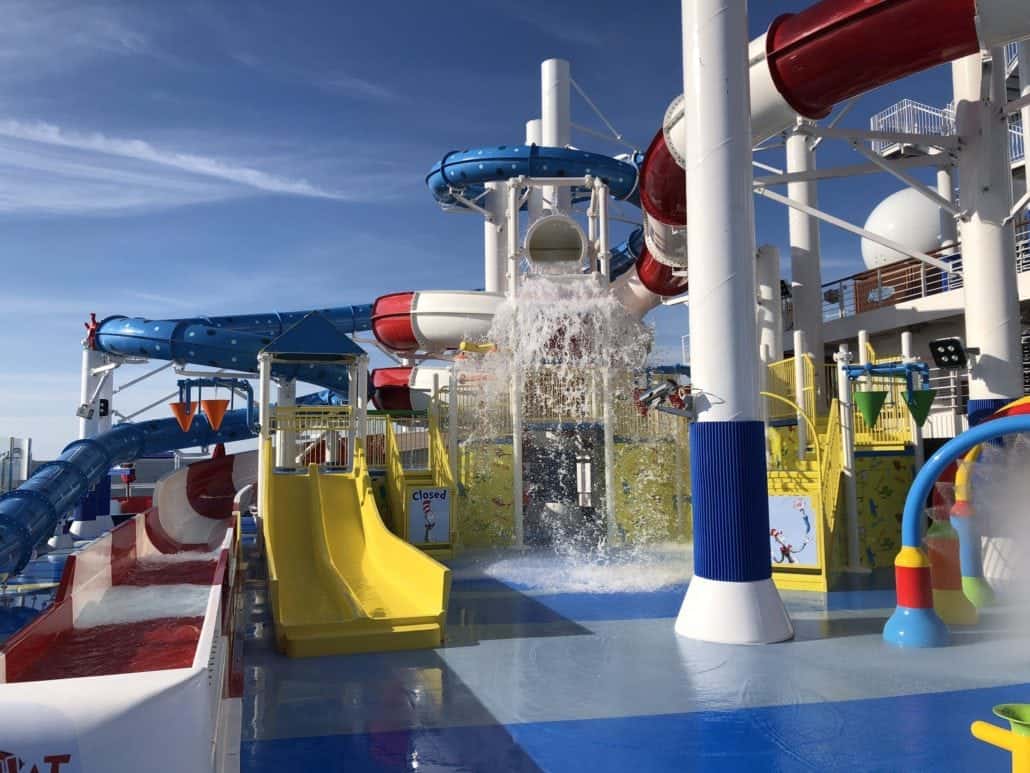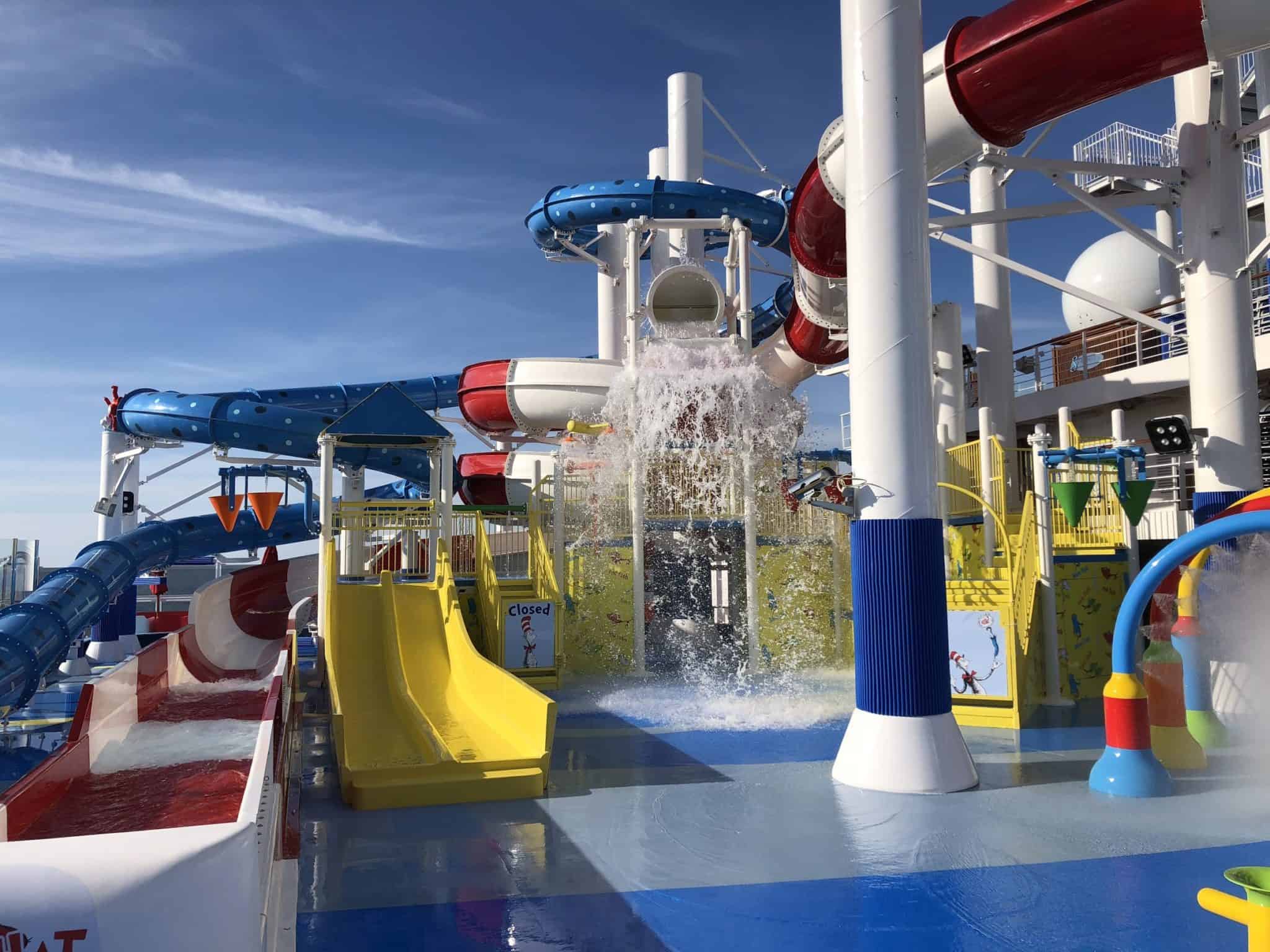 It's hard to beat a Cat in the Hat themed waterpark (complete with  a photo-op-ready Grinch) if you're traveling with kids. Horizon's water park is colorful and fun enough to keep your Things 1 and 2 (or however many you happen to have) occupied, and the water slides are exciting enough that those who are only young at heart will have a pretty darn good time. The children's water park area on Bliss can't even begin to compete. That said, adults will find the waterslides on Norwegian's ship far more thrilling… especially the slides which plunge you down, flip you upside down and spit you out before you even know what happened.
Winner: Tie
PUBLIC SPACES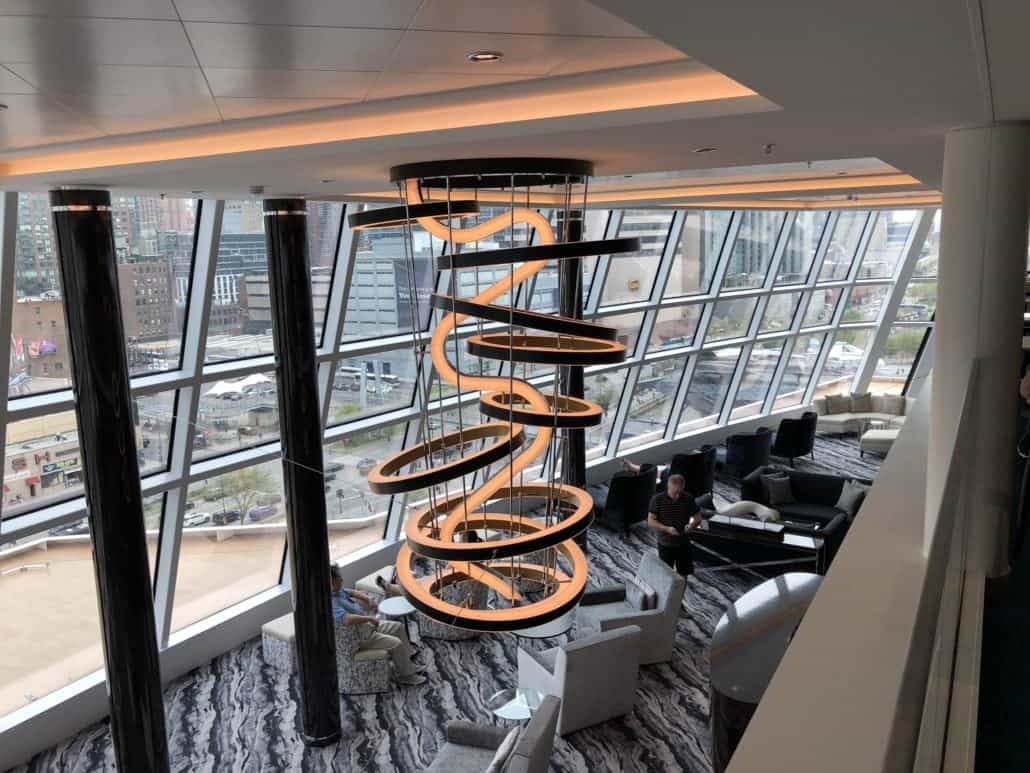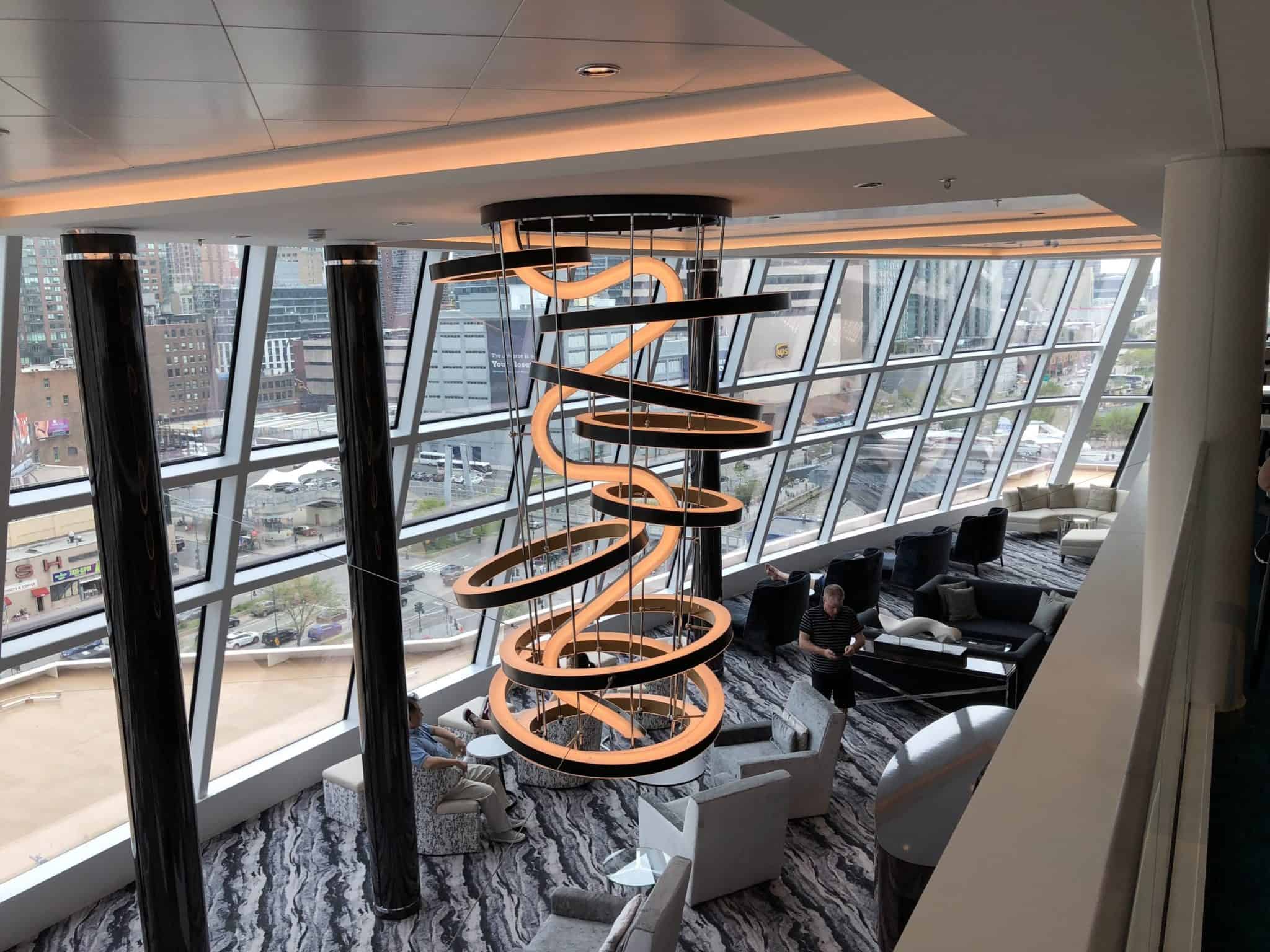 Carnival's newest ship has lots of beautiful spaces, from that stunning atrium we mentioned earlier to the endless little sitting areas you'll find everywhere you look. That said, the two observation lounges aboard the Bliss – one available to all passengers, the other for the exclusive use of Haven guests – are stunning. What's truly surprising here is that the public observation lounge is not only far larger than that of the one set aside for those paying a premium price, but it is, in our opinion, a much more beautiful space, complete with a good-sized bar, multiple miniature buffets, and a range of seating areas filled with the kind of comfy couches and decadent divans that are perfect for catching a catnap while watching the seascape go by… especially on a day when bad weather hampers your ability to go outside.
Winner: Bliss 
ENTERTAINMENT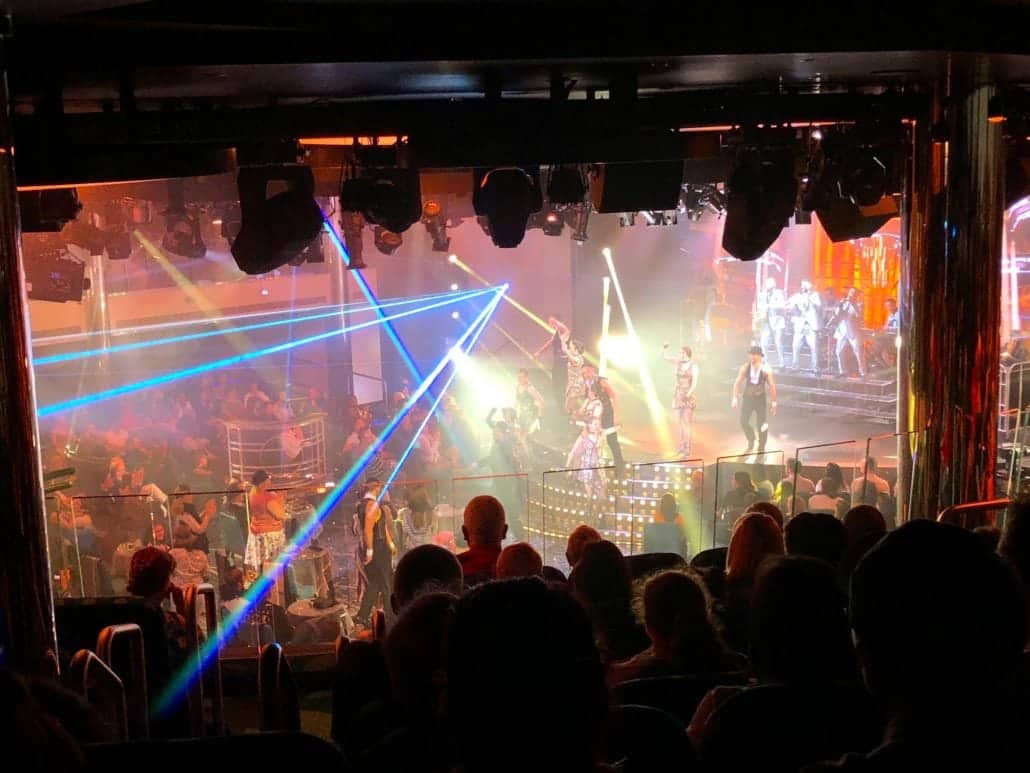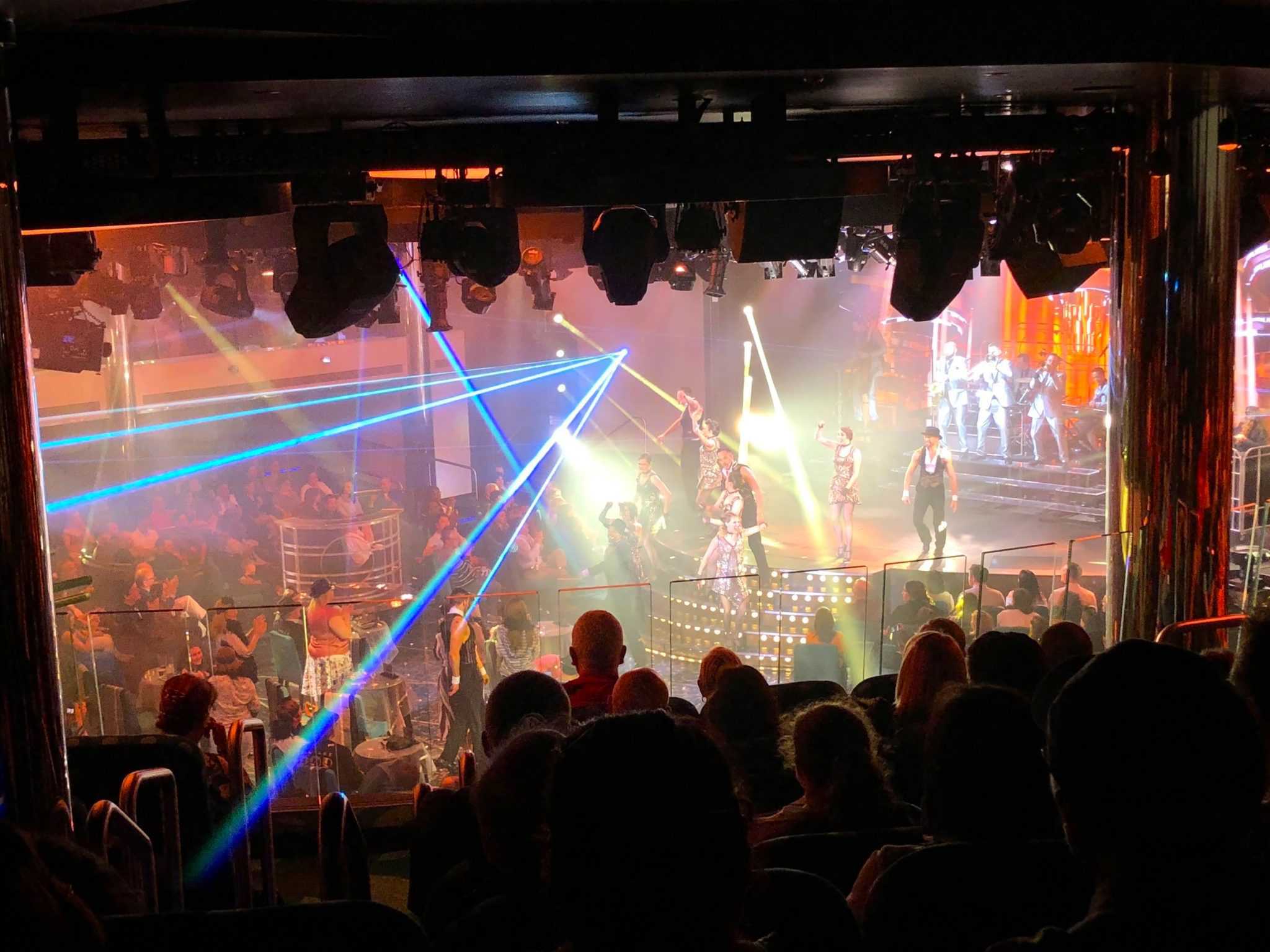 Each ship features big production shows… and the selection on each is a mixed bag. What's interesting is how strikingly similar some of the fare is. For example, both feature a Cuba-themed productions, with Horizon bringing the popular Amor Cubano over from the Carnival Vista while Bliss rolls out the brand new Havana. Of the two, Amor is a much tighter show, with Havana being over-long, over-produced and – despite featuring some fantastic performers – something of a bore. Both lines also have shows set in a speakeasy. On Horizon, it's a Great Gatsby style show which scores big points for having a live band. But Bliss knocked our socks off with Happy Hour: Prohibition, a rollicking good time which also happens to get you liquored-up as the show is going on. (Happy Hour does come with an additional charge, but it's worth every penny.)
The other big production show on Bliss is Jersey Boys and… what can we say? With a jukebox musical, you know what you're going to get. If it's your thing, you'll enjoy it. The big winner on Carnival is the new show Celestial Strings, which combines pop and classical music and dares to do something few cruise ship productions do: be really, truly loud. This won't be for everyone, but the second it was over? We wanted to see it again.
Winner: Horizon 
BELLS AND WHISTLES

As on Vista, the bicycle-through-the-air SkyRide is one of the big attractions on Horizon, while the top-deck go-karts (as well as the pretty sweet laser tag set-up) are what people buzz about on Bliss. Here's the thing about those go-karts, though: While they are a total blast, they come at an added cost and eat up a lot of valuable space (as opposed to the SkyRide, which is both free and elevated above the actual deck). We're not big fans of using such prime real estate for something which, thanks to the associated fee, most will probably only do once or twice during a trip. Were the go-karts free, we'd likely give Bliss the win. But since they're not…
Winner: Horizon 
ADULTS-ONLY SPACES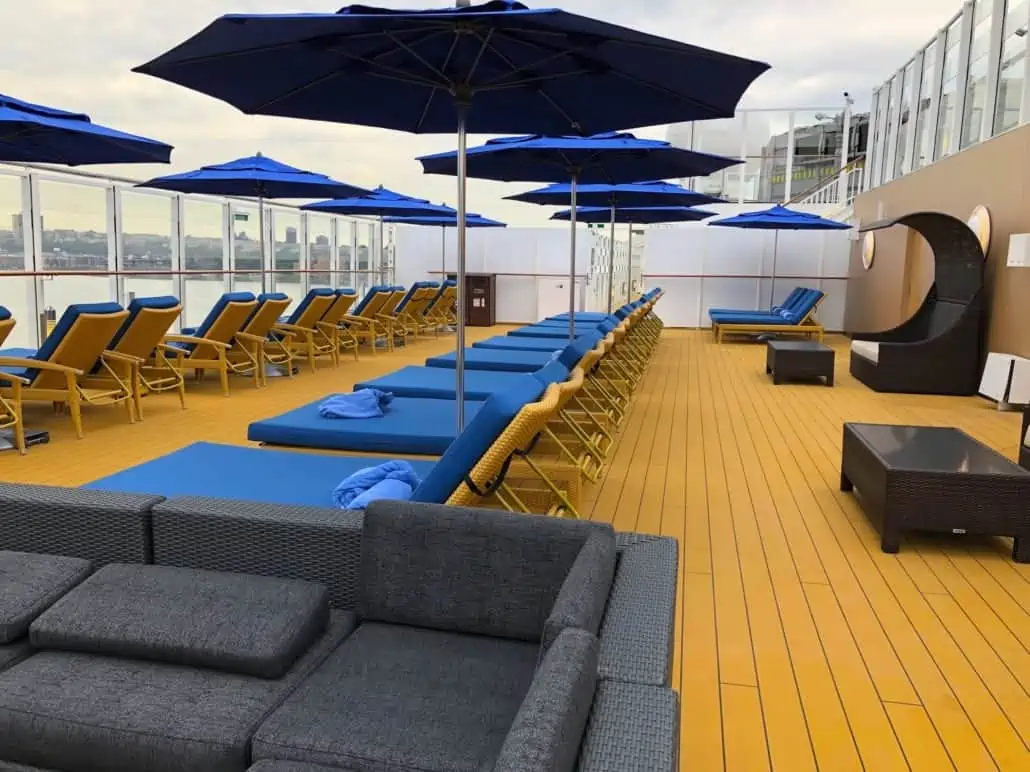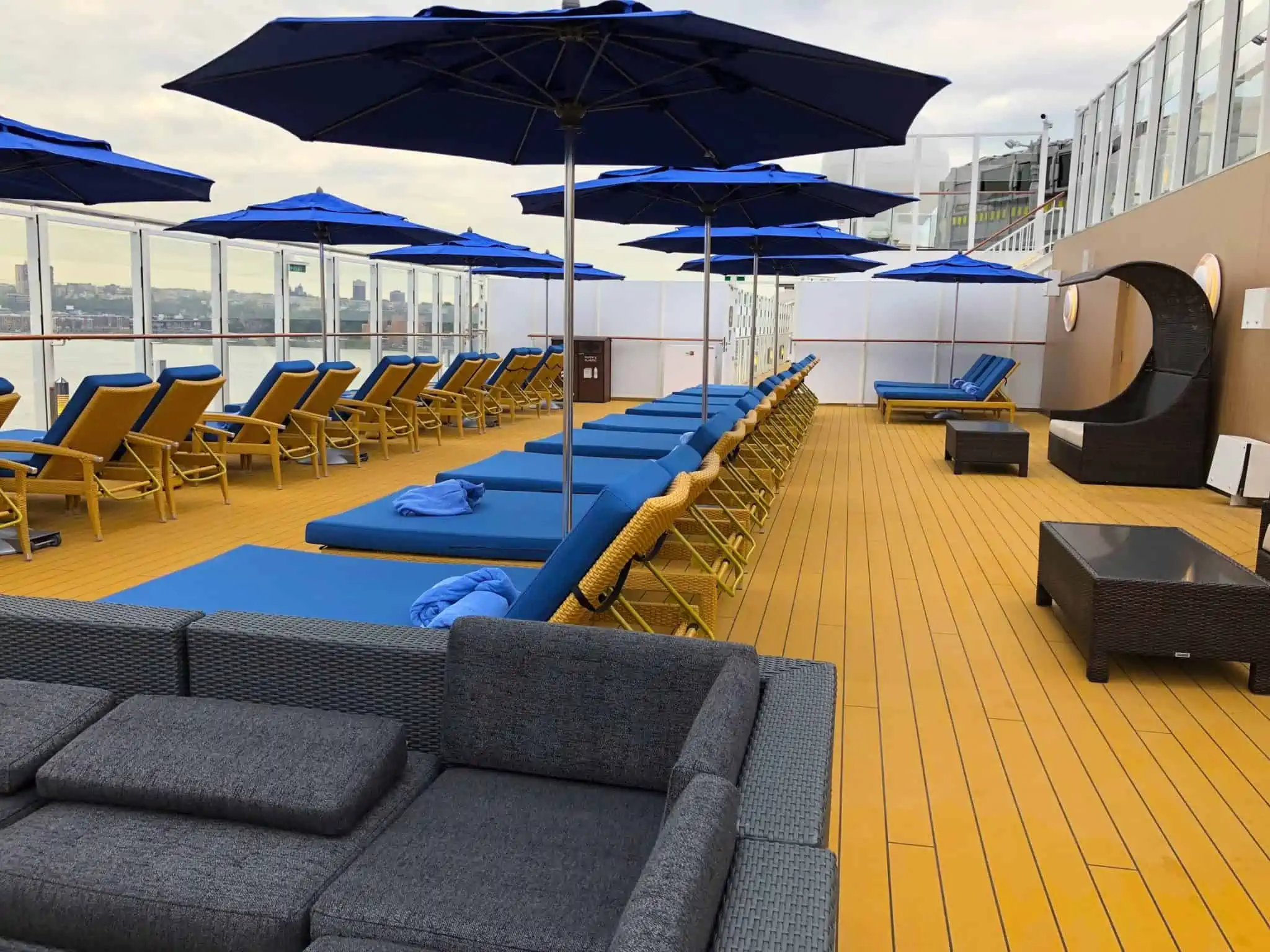 As on most other Carnival ships, Serenity is the place to go if you want to get away from the kids for a while during your cruise on the Horizon. It's a nice, sprawling space with lots of comfy places to relax. We're also big fans of the fact that on sea days, Serenity rolls out the complimentary Fresh Creations salad bar. Bliss has two kid-free zones: Spice H20, a big space on the back of the ship which is open to all; and the Vibe Beach Club, a more exclusive area which only a limited number of guests per sailing are allowed to buy access to. The views from Spice H20 are pretty incredible (especially since on this particular ship, Norwegian did away with the giant screen which on previous ships served as a blockade), and the personalized service at the Vibe Beach Club is top notch.
Winner: Bliss
CASINOS
Both offer a wide variety of table games and slots, but only Bliss offers an enclosed smoke-free section. On the other hand, Horizon's gaming center is anchored by a smaller (but no less stunning) version of the Dreamscape funnel found in the atrium, and the staff here seems to constantly be offering up games and entertainment to draw gamblers in. Both have watering holes (of course), but Norwegian's Skyline steps up the game with giant screens featuring digital landscapes and games built directly into the top of the bar, similar to what you'd find in Atlantic City or Las Vegas. (Skyline needs to stop showing sporting events on its screens, however; that takes away from one of the very things which makes the space special.)
Winner: Bliss
AND THE FINAL WINNER IS…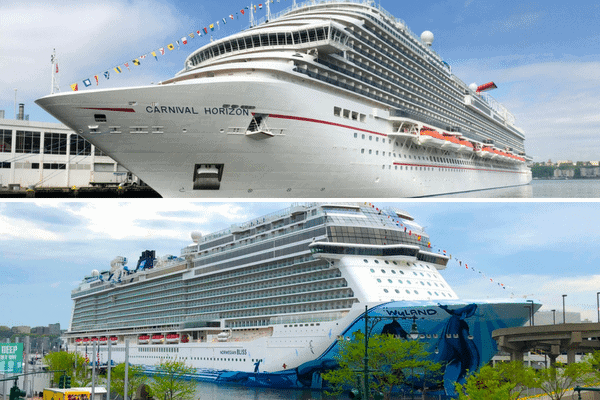 … going to depend largely on which of the above categories matter the most to you. There's a reason that Carnival ferries more families than any other cruise line, and the Horizon continues to emphasize the things that appeals to the demographic that is their sweet spot. Likewise, the Norwegian Bliss is a ship which feels somehow quieter and even, thanks in large part to those amazing observation lounges, a bit more upscale.
STARTING PRICES 
Norwegian Bliss – 7 night – Eastern Caribbean cruise starts at $899 per guest.
Carnival Horizon – 7 night- Eastern Caribbean cruise starts at $664 per guest.
Which ship has the bigger appeal to you… and why?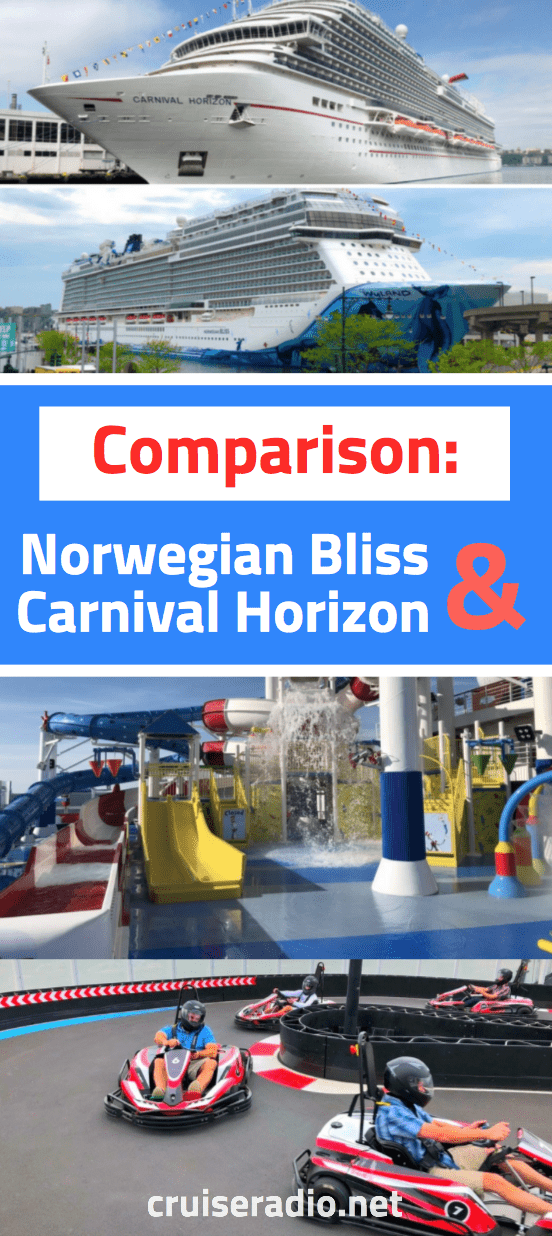 SaveSave
SaveSave
SaveSave
SaveSave