"Your jet lag is going to have jet lag," said a friend of mine upon hearing that I was getting ready to fly over to Rome to sail on Costa Cruises' new ship, Costa Toscana.
And it's true, I've been doing a lot of traveling as of late… even more than usual. But I really felt like I couldn't pass up this particular sailing.
Why? Because even though Costa is a division of Carnival Corporation, I'm not terribly familiar with their ships. And since Costa Toscana is essentially a sister to Mardi Gras, I thought this would be a cool opportunity to compare the line I know to one I'm less familiar with.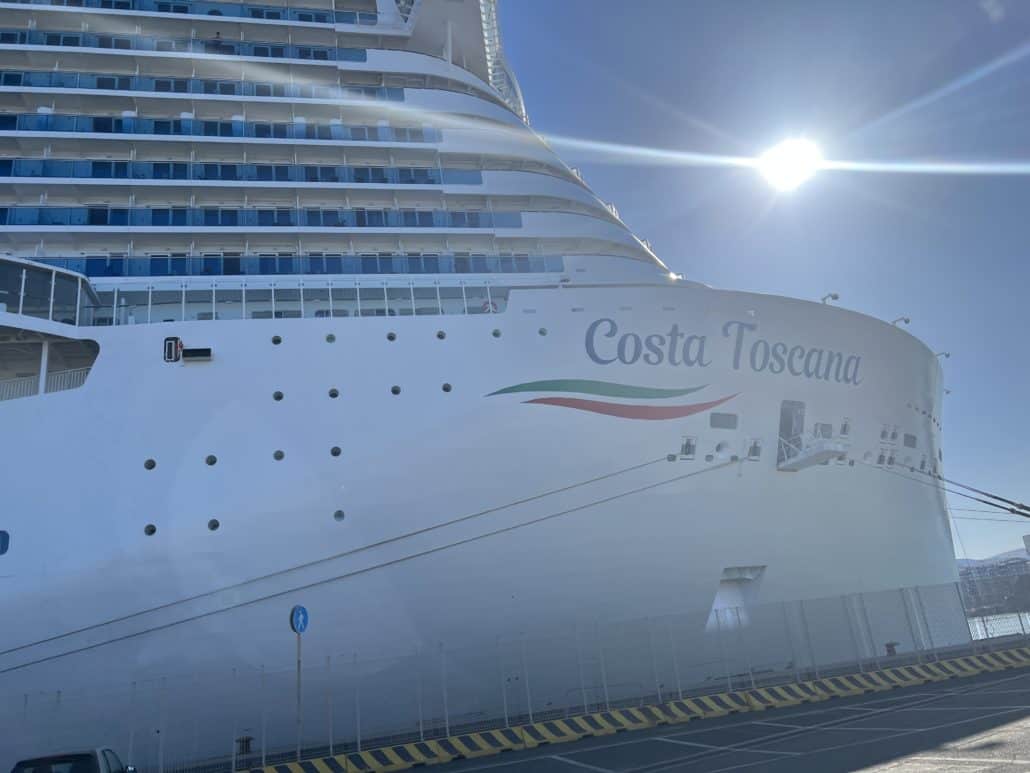 Getting Started
I was embarking the ship in Civitavecchia (the port of entry for Rome), which meant flying from Jacksonville to Boston, then an eight-hour flight from there to Rome. Notice I said that I was embarking in Civitavecchia, not that the ship was sailing from there. That's because many European lines handle their itineraries differently than we do in America, operating on what's known as a "ferry schedule." This means that you can book your round-trip passage from several ports the ship will be visiting. I happen to be going round-trip from Rome, but others will be boarding (and disembarking) in Naples.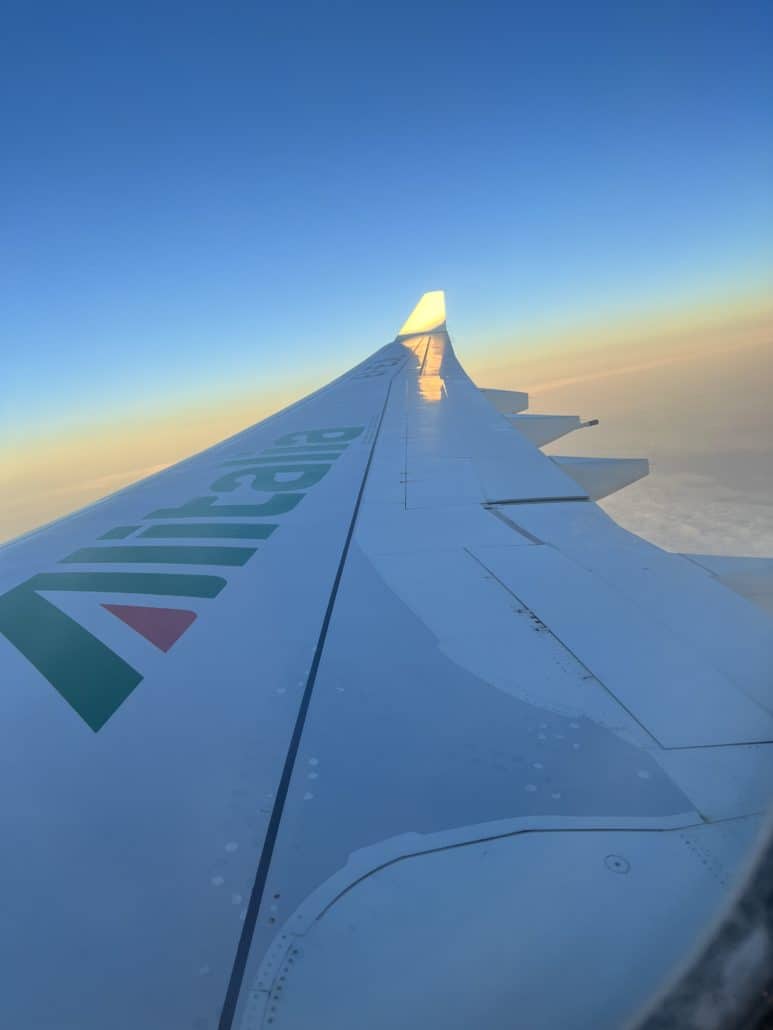 I kind of love this idea. Earlier this year, I flew from Jacksonville up to New York City to sail the Norwegian Getaway. What was our first port of call, two days later? Florida! And of course, once I arrived back in New York City, I had to jump a flight back down to Florida. It would have been so much easier were the ship operating on a ferry schedule!
My check-in had all been done ahead of time, and my boarding passes were printed out. They started taking our photos and giving us keycards around 9:30, and I was in my stateroom by 9:45.
Welcome Aboard
As I mentioned at the start, Toscana is the same class of ship as Carnival's Mardi Gras. But this is a great example of that old saying, "Don't judge a book by its cover." Because while externally they have the same hull design, things are much, much different once you're on board. We actually boarded on a lower deck, so things didn't really get visually interesting until I got up to deck six. There is where you'll find the atrium, a three story space with a huge LED screen which displays different scenes throughout the day.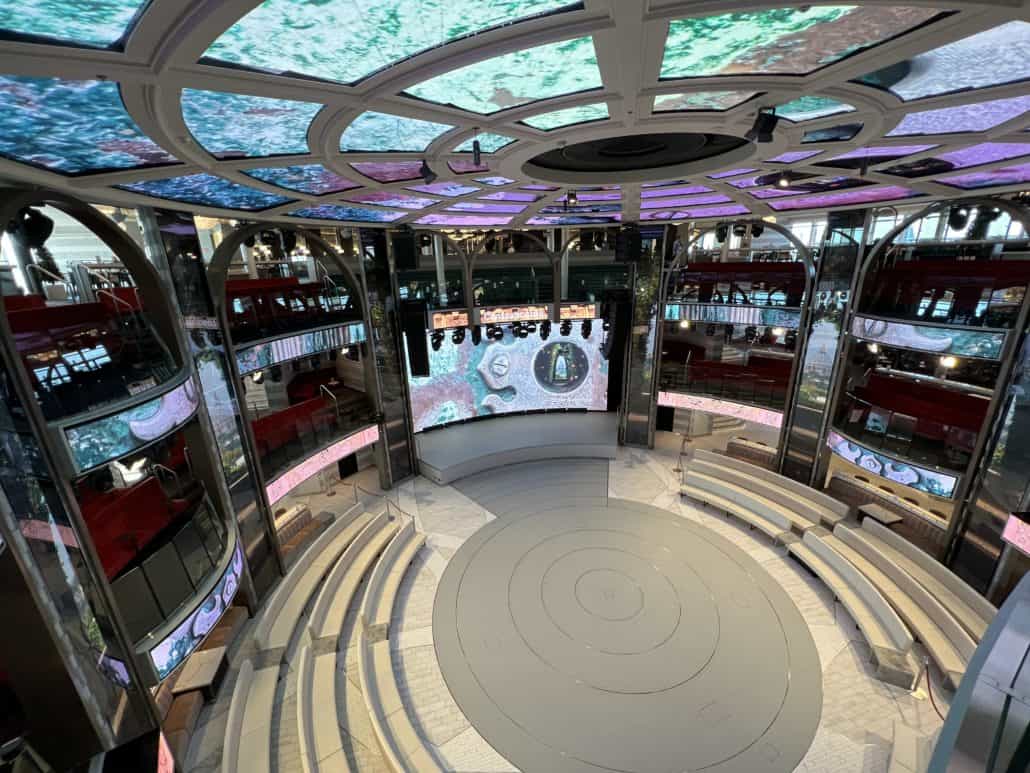 First impression-wise, the ship is beautiful. This is one of those situations where try as I might, the words and pictures I'm going to share with you won't really do it justice. The first word that comes to mind is avant-garde. It's like going to see an art exhibit by someone who works in mixed mediums. Look to the left, you'll see marble columns like those you find throughout Europe. Look to the right, there are lower-key areas done in soothing Caribbean colors. The visual geek in me loves seeing how they use lighting to complement different venues.
Obviously, we'll talk a lot more about the restaurants, shops, casino, and other venues in the coming days. This is a big ship, and it's gonna take us a while to cover it all.
Wait, You Can Do What Where?
I'm in a balcony stateroom for the week, and you know that one of the first things I checked was the USB outlet situation. Like on Mardi Gras, there were plenty, so that was good. That said, if you're planning to plug in anything that isn't USB, you'll need to bring a European converter. While most U.S. ships offer both regular and European outlets, on this ship you'll only find European outlets. There are a few things that make it very obvious you're on a European ship as opposed to one sailing out of America.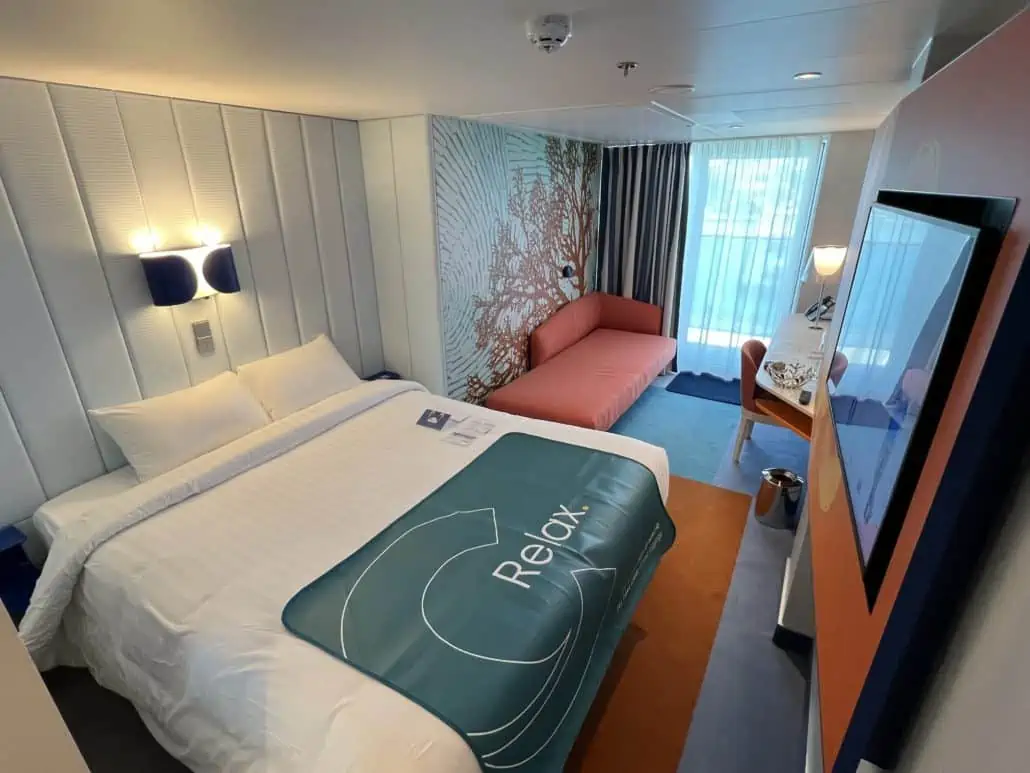 For one thing, there's a panel of frosted glass between the shower and the bedroom area. Over that piece of glass is a curtain, offering limited privacy between the bedroom and bathroom spaces. Apparently, this is pretty common in Europe. I've encountered the same setup in hotels I've booked in Barcelona and Amsterdam.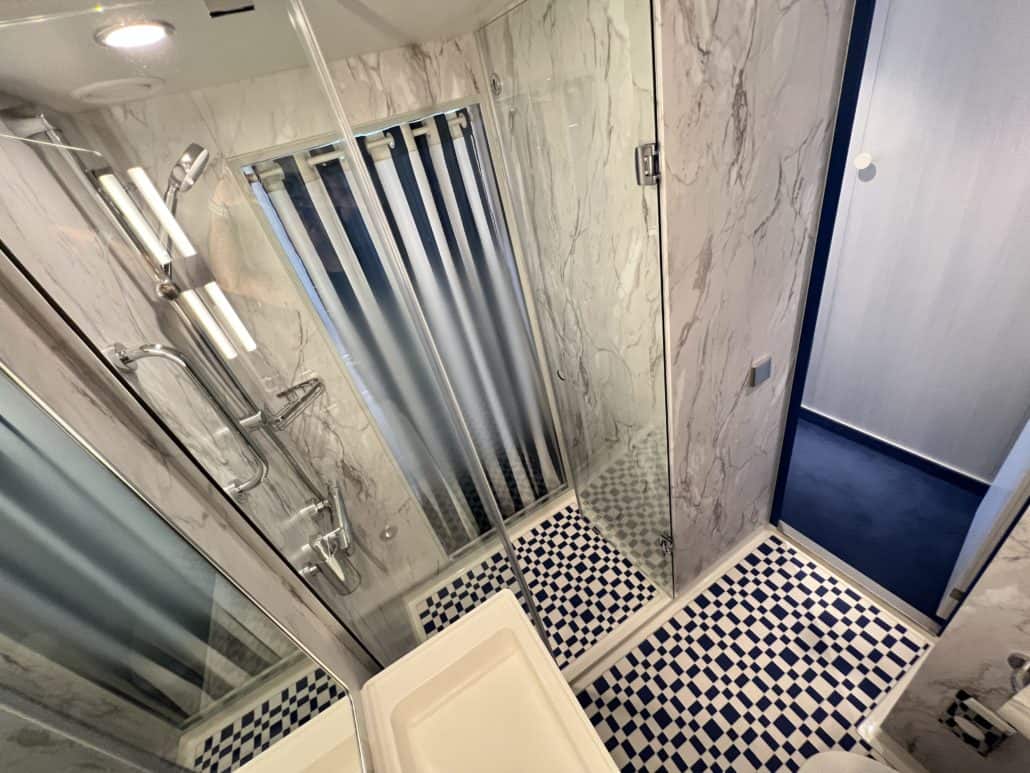 And then there's the balcony. Not only is it large enough to host a few guests if you wanted to, but you can actually smoke out there. Shocking, right? On American ships, they spend a whole lot of time warning us not only of how dangerous this practice is, but also the various ways in which we'll be punished if we do smoke on the balcony. Here, they actually have an ashtray out there as if to serve as encouragement.
As for the bed, either it was super comfy or I was completely wiped out, because I laid down for what was going to be a quick nap and wound up sleeping for hours.
MORE: 21 Things to Do on Carnival's Mardi Gras
And Away We Go
I headed to the very aft of the ship as we sailed out of Rome. Watching the captain spin the ship 180 degrees with just a few feet to spare on either side of the vessel is a sight to behold. It got really tight from where I was standing but it was a flawless maneuver. 30 minutes later the pilot boat picked up the river pilot and we were sailing south towards Naples, Italy.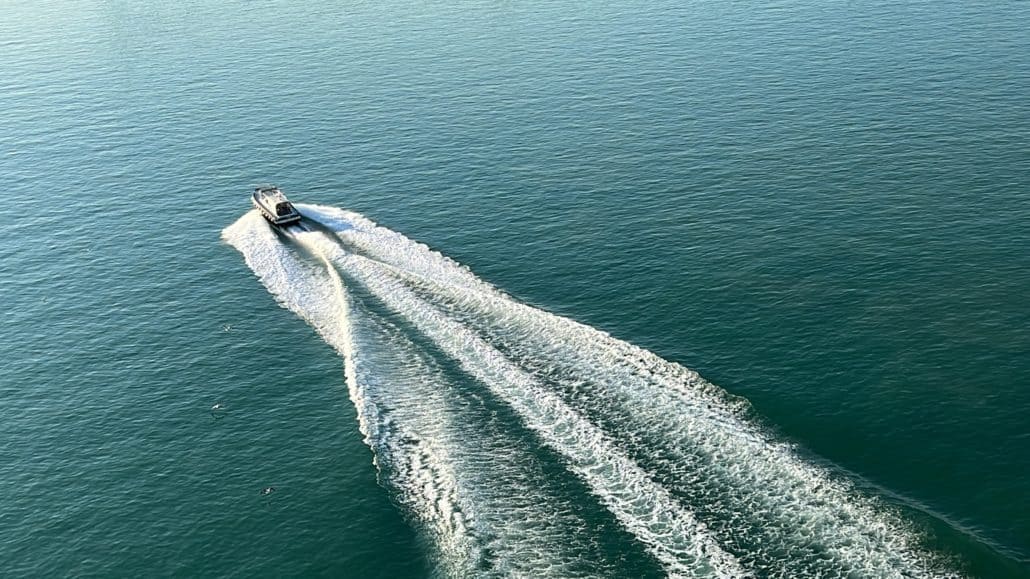 Remember that really long nap I mentioned earlier? Well, I slept right through lunch, so I was primed for dinner. We opted to hit the pizza place. Make no mistake, this isn't a quick-service pizza counter like you'll find on most American lines, but rather a for-fee venue. The margherita pizza cost 4.5 euros and was worth every penny. Of course, the comments rolled in telling me other lines have pizza for free. Yes, I'm aware of that. I've always been one willing to pay for quality. Plus, when you're thousands of miles from home, why not indulge. The pizza was cheaper than a gallon of gas right now back home.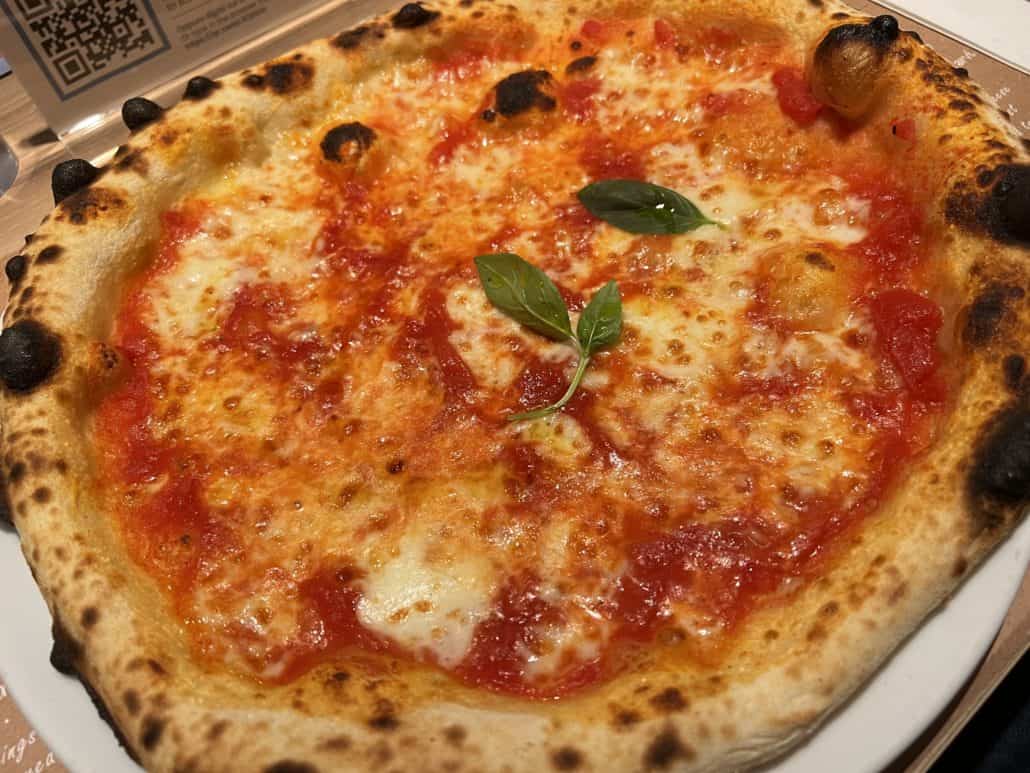 Entertainment Everywhere
As you might expect on a ship this big, there's a whole lot going on. When I first walked into the main theater, I was almost shocked at how small it is. It was probably half the size of what you'd find on a typical American cruise ship. But then I realized that the space was smaller because it didn't really need to accommodate as many people. Why? Because there were musical acts performing everywhere you went. The theater wasn't really the focal point of entertainment on Toscana.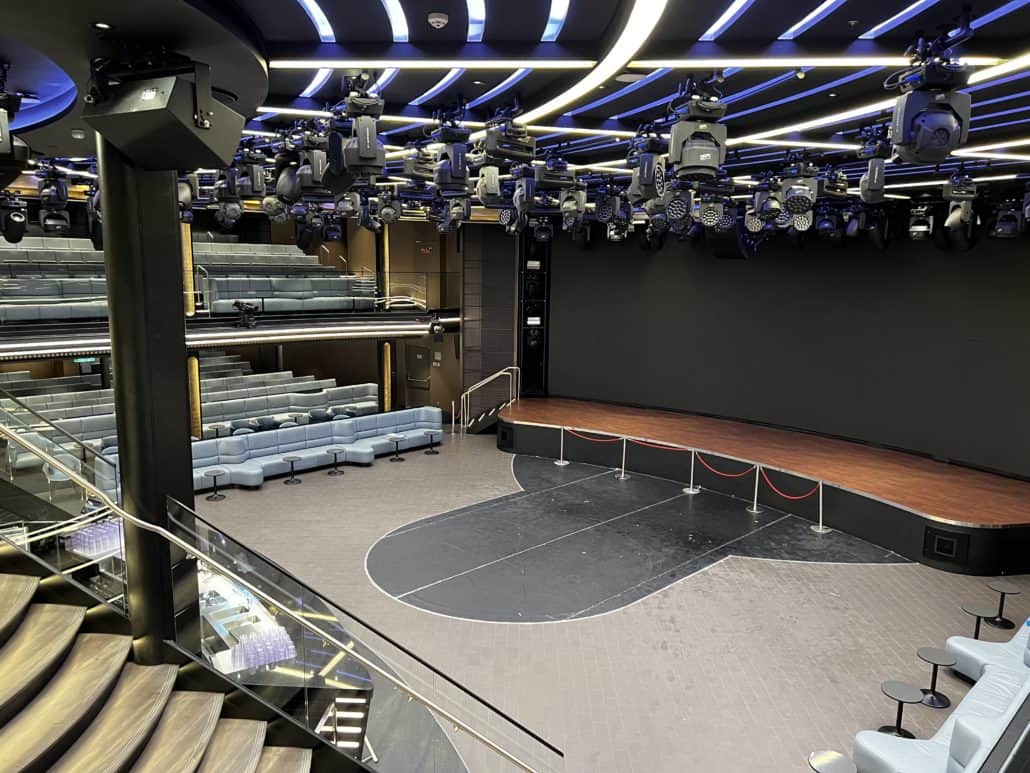 Given that I'm not really big on theater shows, I love this setup. It was amazing to just wander around from one venue to another, hearing classical music in one, rock in another. And that's not counting the main atrium — which here is called the Colosseo, after Rome's Colosseum — where you'll find an in-the-round-style stage offering a variety of performances each night. This space is comparable to the Grand Central area on Carnival's Mardi Gras. During the day it's a regular atrium that you can walk through. But when the sun goes down, a stage rises from beneath the floor and you'll find everything from broadway-style shows and acrobats to electric violinists.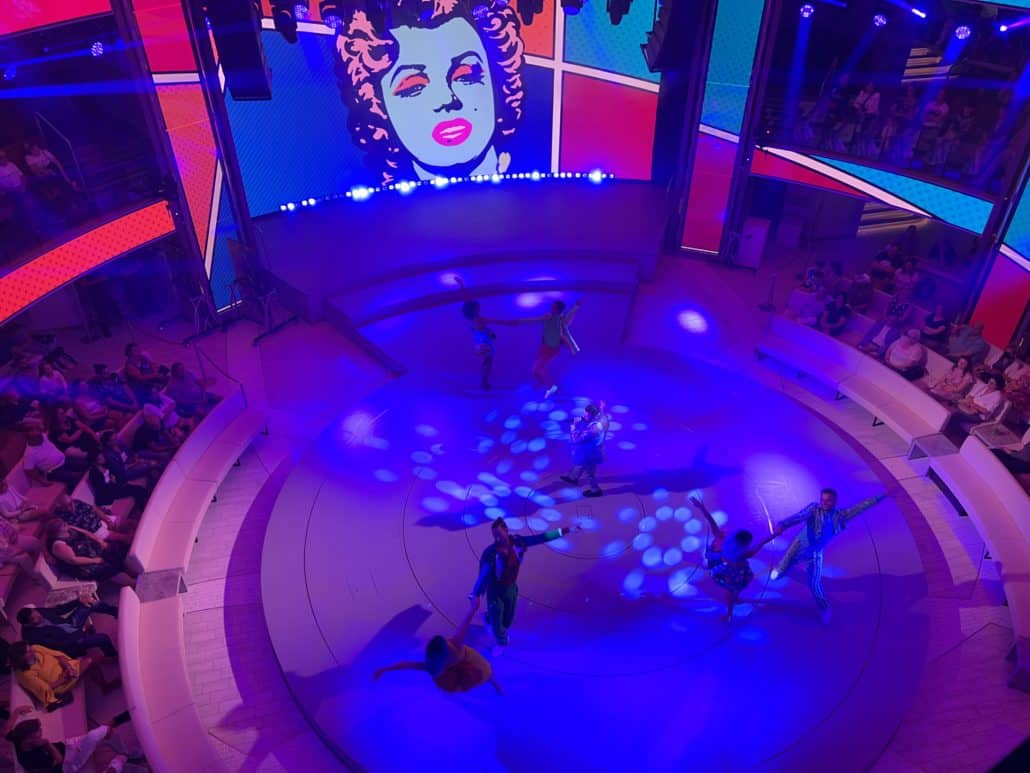 By the time midnight rolled around, it was time to call it quits. I was exhausted and ready to get a good night's sleep. There's still so much more to explore, but we'll have plenty of time. Tomorrow we stop in Naples, followed by a sea day. Until then…
Read my other Costa Toscana trip reports:
Pin it!