Typically, I try and do a separate trip report for each day of a cruise. But I've decided to take a different approach with this one for a few different reasons. One is that all of the travel I've been doing as of late has kicked my butt.
They're going to have to invent a new term, because "jet lag" doesn't begin to cover it. Plus, while most itineraries start off with a sea day and then throw another one or two into the mix along the way, this is a port-intensive trip with only one sea day.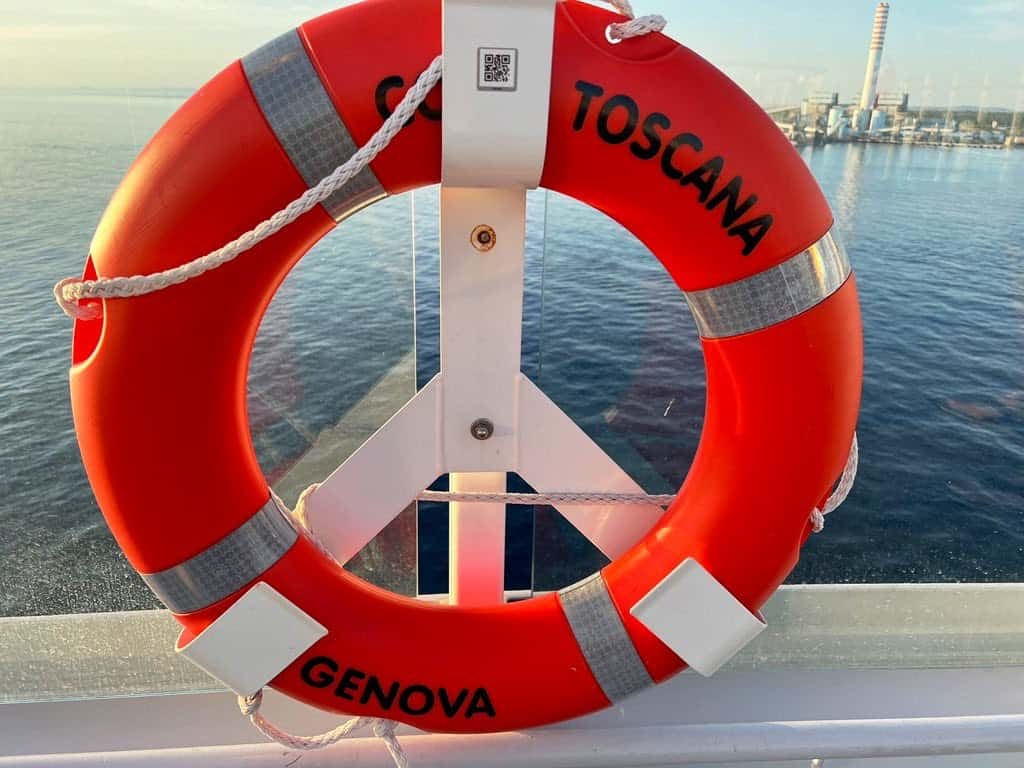 So instead of my usual daily report, this is going to be broken down into three sections. Part one, you've probably already read. (If not, you can catch up here.) This second report will cover the middle section of the trip, with a third coming later to wrap things up and, as always, give you my final thoughts on the trip as a whole and this ship in particular.
Did Someone Say Pizza?
Our first port of call was Naples, and the sunrise as we arrived set the perfect tone for the day ahead. I'm a morning person to begin with, but the promise of a sunrise at sea would definitely get me out of bed even if I wasn't. Like a lot of cruisers, I find that I can't ever get enough of sunrises or sunsets at sea. And yes, we have them on dry land, too, but it's just not the same!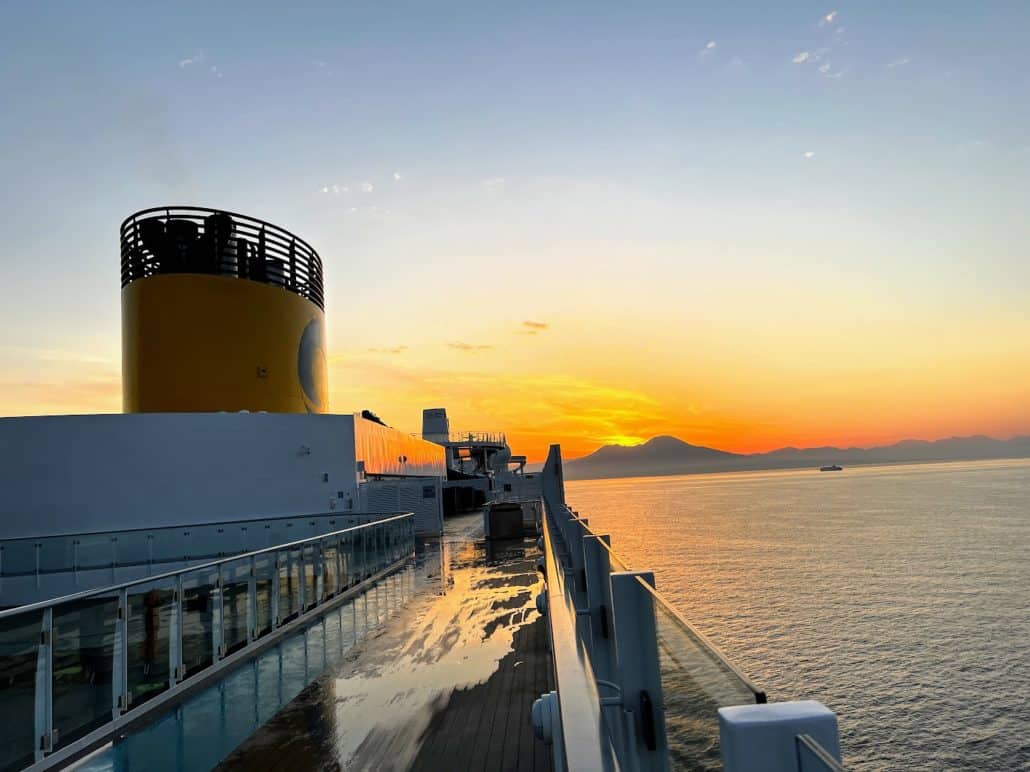 Now, because this we're doing this report a little differently, I'm not going to spend a lot of time talking about the ports we stopped and what we did there. But I want to make an exception here to talk about one of my favorite topics: pizza. I mean, you can't do a cruise on an Italian line to a city in Italy and not talk about pizza, right? Specifically, I want to compare what's served on the ship to what's available on land.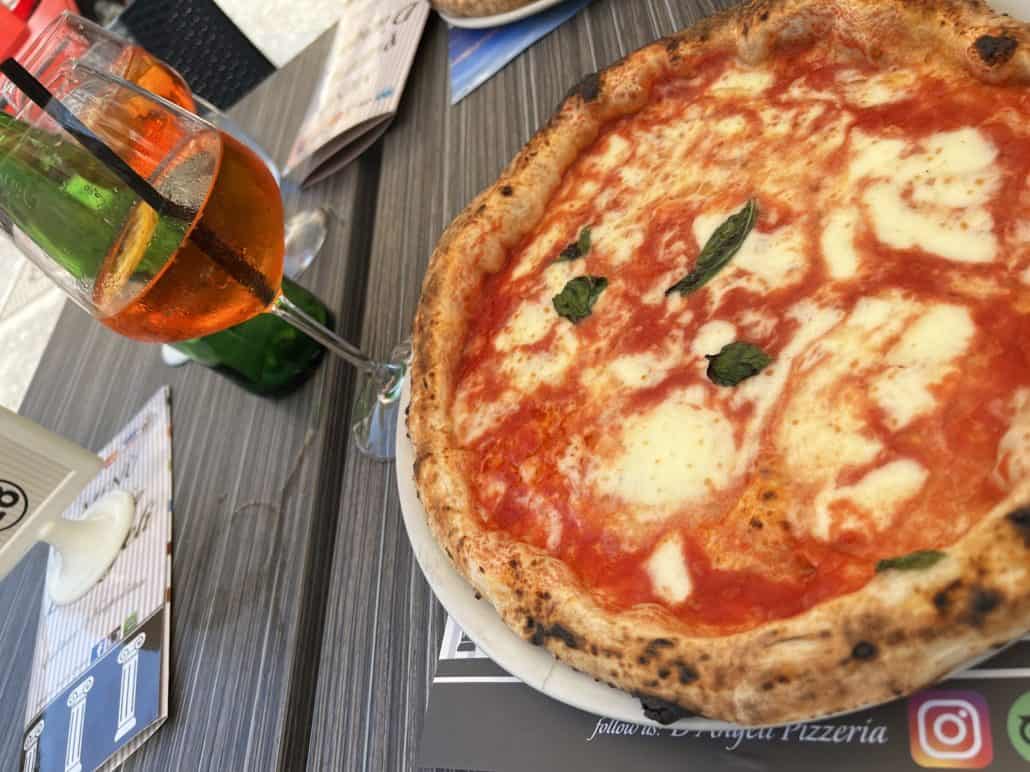 There's a really famous place in Naples called L'Antica Pizzeria de Michele. Already well known, it became even more famous thanks to the flick Eat, Pray, Love.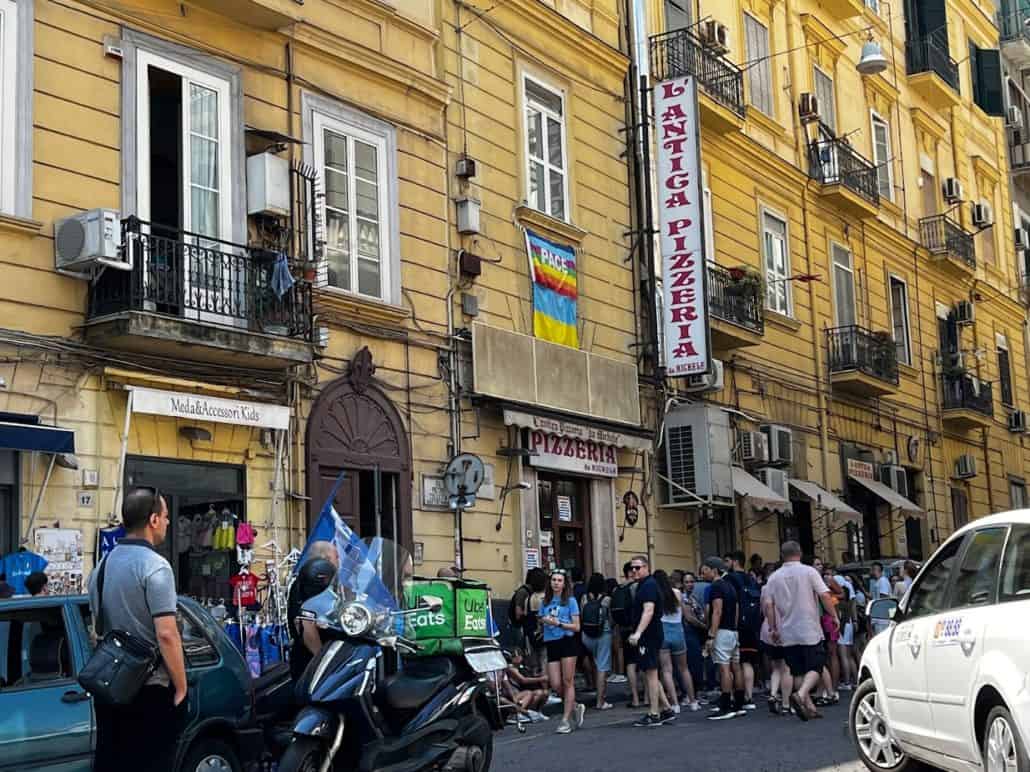 They claim to be the first restaurant to have served pizza, having opened back in 1870. I've been there a few times, and the pizza is definitely top-notch… but I wasn't in the mood to fight the crowds. So instead of waiting, we headed to a place in the same square that had great reviews and no waiting.
The pizza was exactly what you would hope for. I mean, it's not like I took this cruise just to eat pizza in Italy, but if I did, this was pretty wonderful. The real question, though, is how it compares to the pizza you can get on board. And the answer is…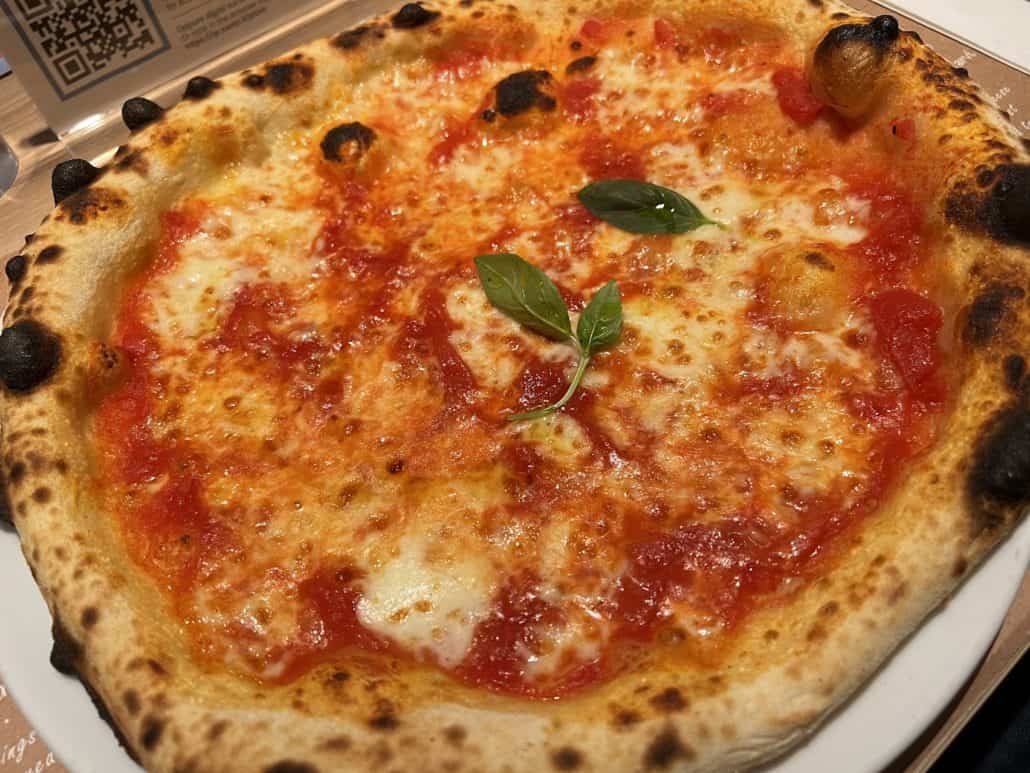 … that as you'd kind of hope on an Italian-based cruise ship, the onboard pizza was pretty great. Maybe not quite on par with what we had in Naples, but pretty darn close, and certainly some of the best I've ever had on a cruise ship.
One Less Dinner Option
I found out the hard way that the buffet is not open in the evenings… and no, it's not a staffing issue. Rather, it's about the importance Italian culture puts on food and family.
I remember when I first sailed on a Costa ship about a decade ago, one of the crew explained that it's customary for Italian families to gather around the table for dinner, sharing food and conversation… you know, the way our grandparents probably did before the invention of TV tray tables.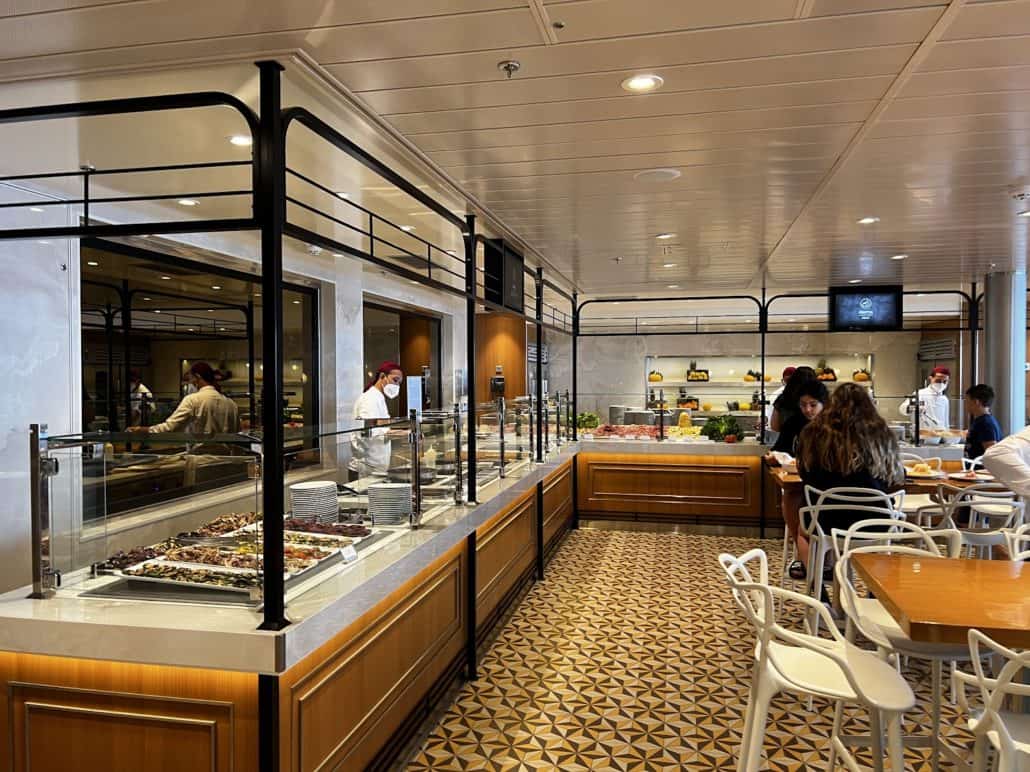 When the buffet is open — including for late afternoon snacks — they have adapted the policy of having the crew serve you. I'll admit that when ships first started doing this after the restart, I wasn't sure how I'd feel about it.
But having done several sailings where things are handled this way, I have to admit I've come to like it. For one thing, it helps curb my worst tendencies when it comes to overindulging. You can have as much as you want, but if you're like me, you might actually think twice before asking for a second helping of something you really only need one of.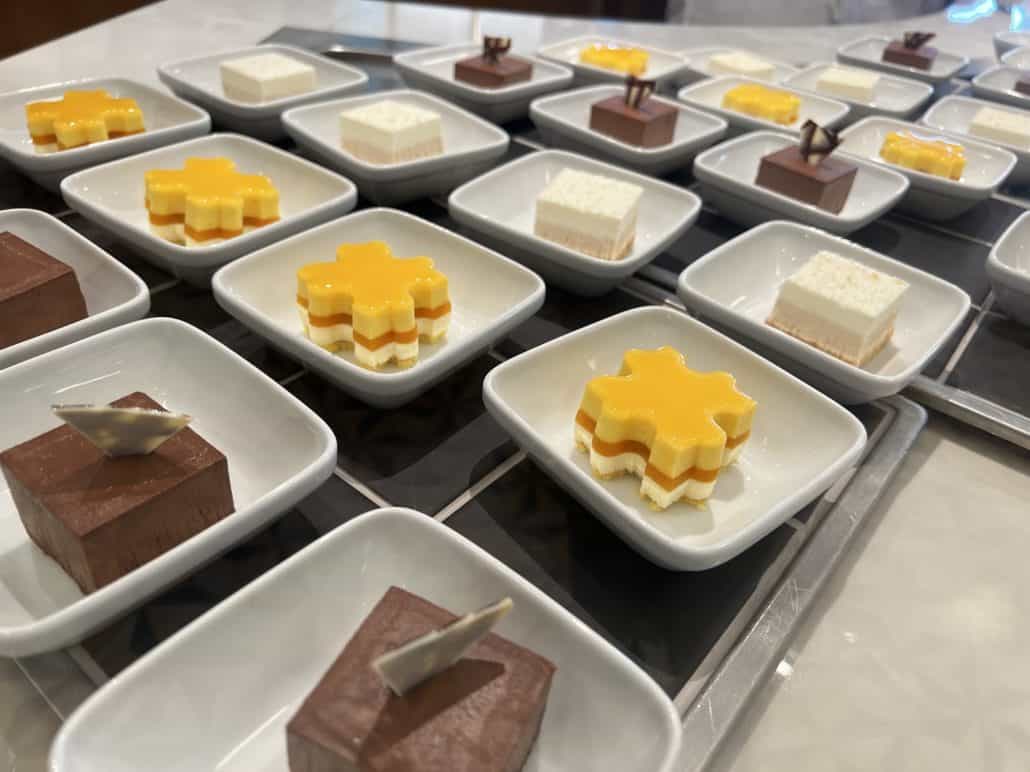 I've eaten in the buffet a few times on this trip, and the selection is pretty good. Salads, tons of proteins (chicken, steak and fish), and, of course, desserts.
It's also worth mentioning that the bakery on this ship, like other Costa ships I've sailed, is superb. I'd say they have the best baked goods I've ever had on a ship. One of my favorite things are the breakfast pastries, all baked fresh each morning. If I had one doughnut, I had a dozen throughout the week.
Let's Talk Food
There are specialty venues on board — a lot of them, actually — but if you want a meal that doesn't come with an upcharge, that'll be in the main dining room. I've been doing both so that I could compare the quality of the food that you pay for with what they're serving in the main dining room, especially with it being the only free option (aside from the buffet)… although I have to say that the prices in the for-fee venues are very reasonable.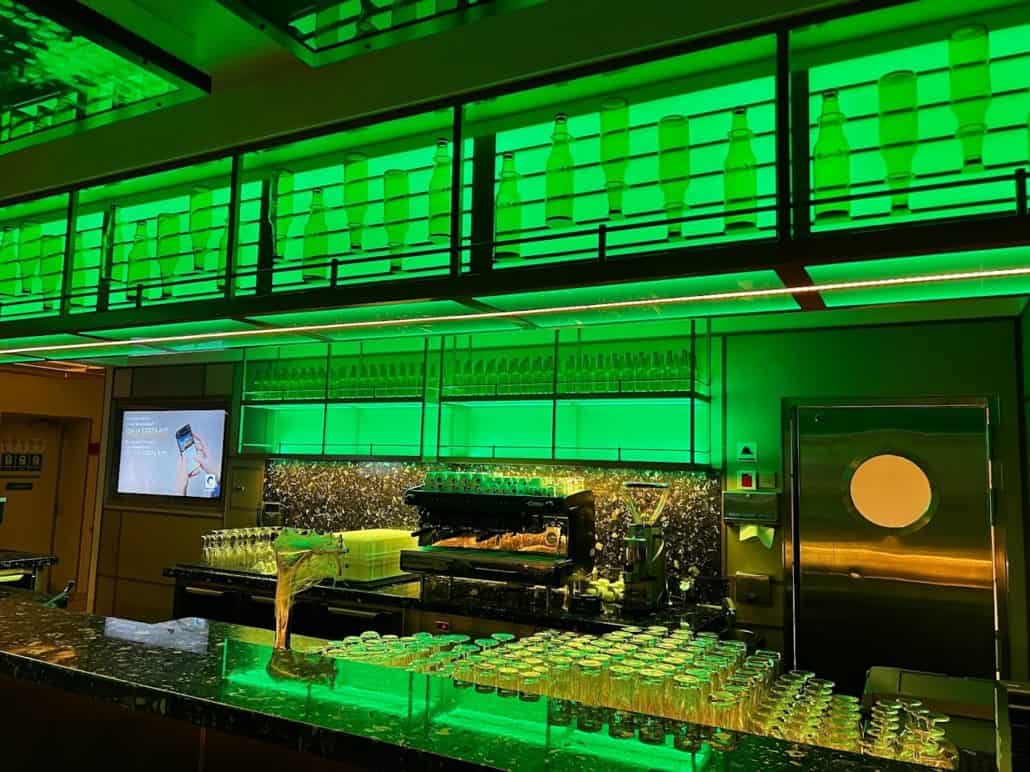 I've gone twice to an a la carte venue called the Heineken Rock Bar. As the name suggests, this is a great place to head if you're looking for live music. Food-wise, it's a little bit schizophrenic, featuring two completely different menus.
One is casual and the other is more of an upscale dining experience. Even the seating is of two minds. If you want something quieter, away from the music, you can sit by the main entrance of the L-shaped venue. Want to be up-close and personal with the live music? Dive deeper in and sit close to the stage.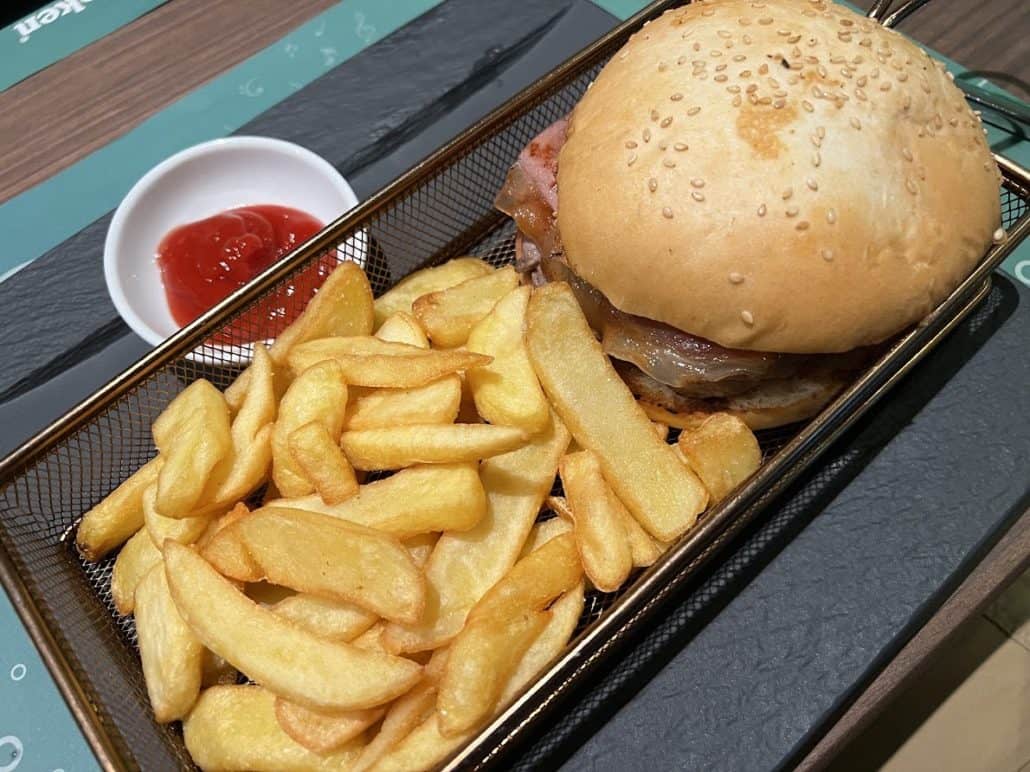 On our first visit, we did the casual menu — burgers and wings, both of which were decent. The wings were what you might expect from Playmakers on Royal Caribbean or room service on Carnival.
They weren't quite as good as the ones I've had in O'Sheehan's (or The Local, depending on the ship) when sailing NCL, but they weren't bad by any stretch. I maybe have five burgers a year, and this was great.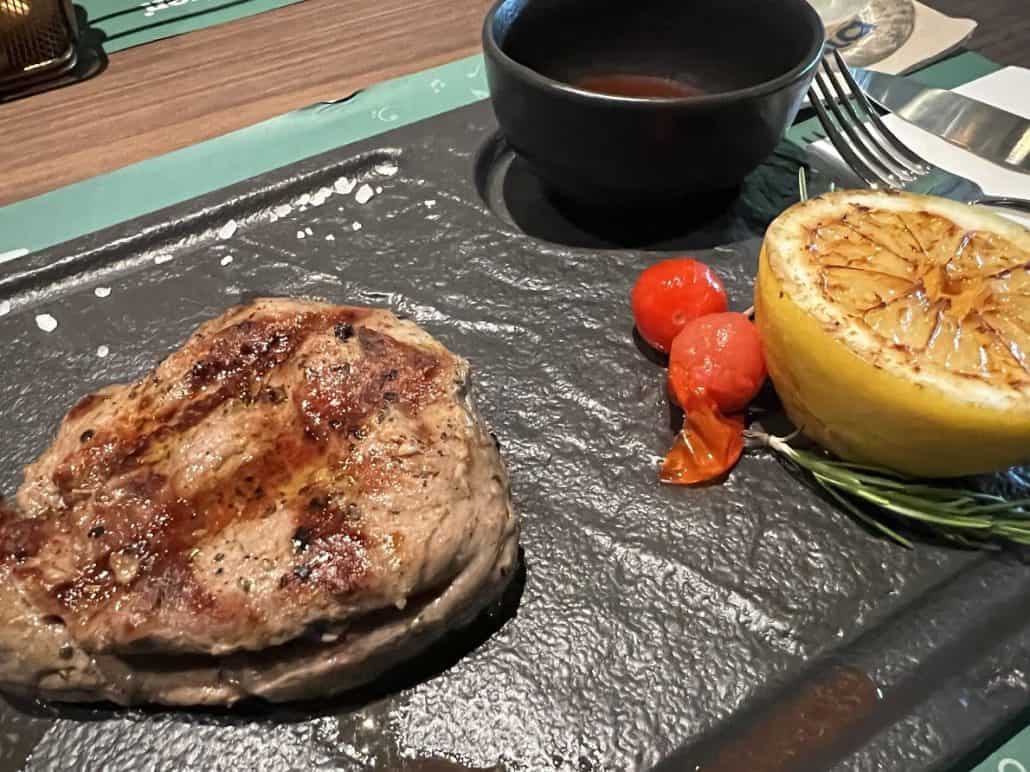 Later in the week, we came back to try the steakhouse side of things. Again, the food was very good, although I'll admit the atmosphere is not what you think of as that of a traditional cruise ship steakhouse.
They tend to be a little bit on the dark side, a bit more classy and elegant than other venues on a ship. This one, however, is a departure from that norm because of its dual-purpose nature. It's brighter, with windows and — of course — the live music. This is an a la carte option on board, where you pay per item instead of paying a flat rate for three or four courses.
Not being one for long, drawn-out meals, I found that if you tell the waitstaff you wanted to catch the show, they would expedite your food and you'll get it fairly quickly. The staff was already very efficient, though, so it might have worked out anyway.
Breathing Room
As I mentioned in my last report, there's a whole lot of open space on this ship. That makes sense, given that you have the same sense on Carnival Cruise Line's Mardi Gras, and these ships share a basic skeleton. It's interesting getting to see how the two differ.
Although they are the same class of ship and built at the same yard, the spaces are entirely different on Toscana.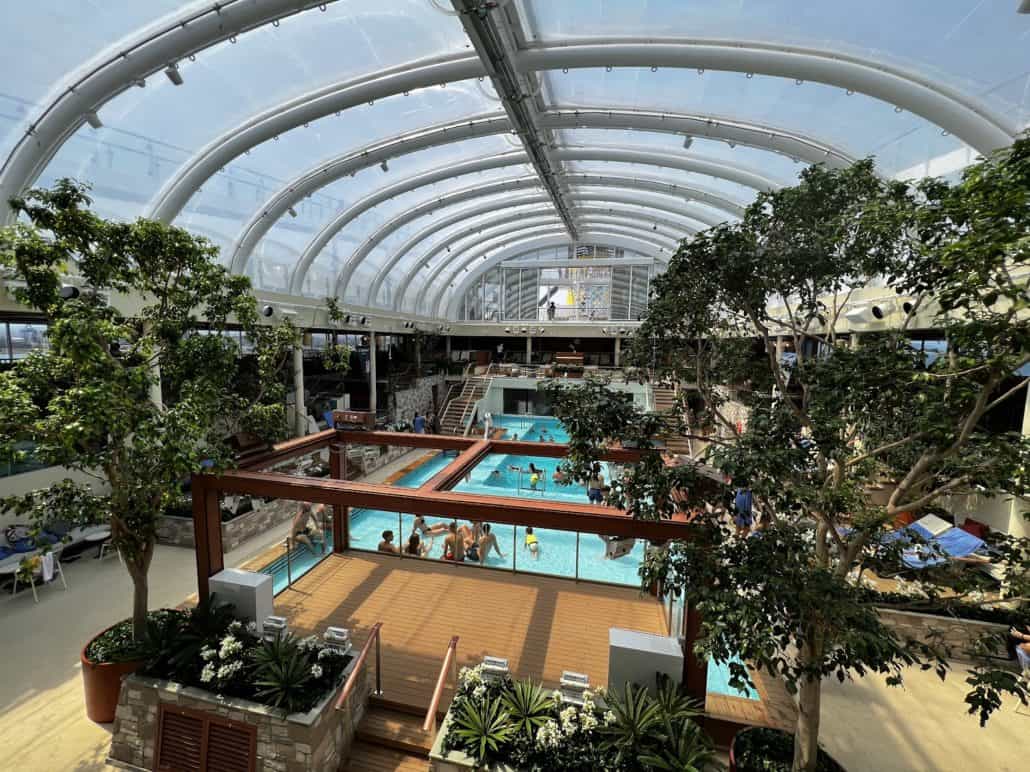 For example, the pool area here is more like a solarium thanks to the glass roof, which allows it to sail in the Mediterranean year-round. On the back of the ship, there isn't a roller coaster on the top decks, but an open-air deck space instead.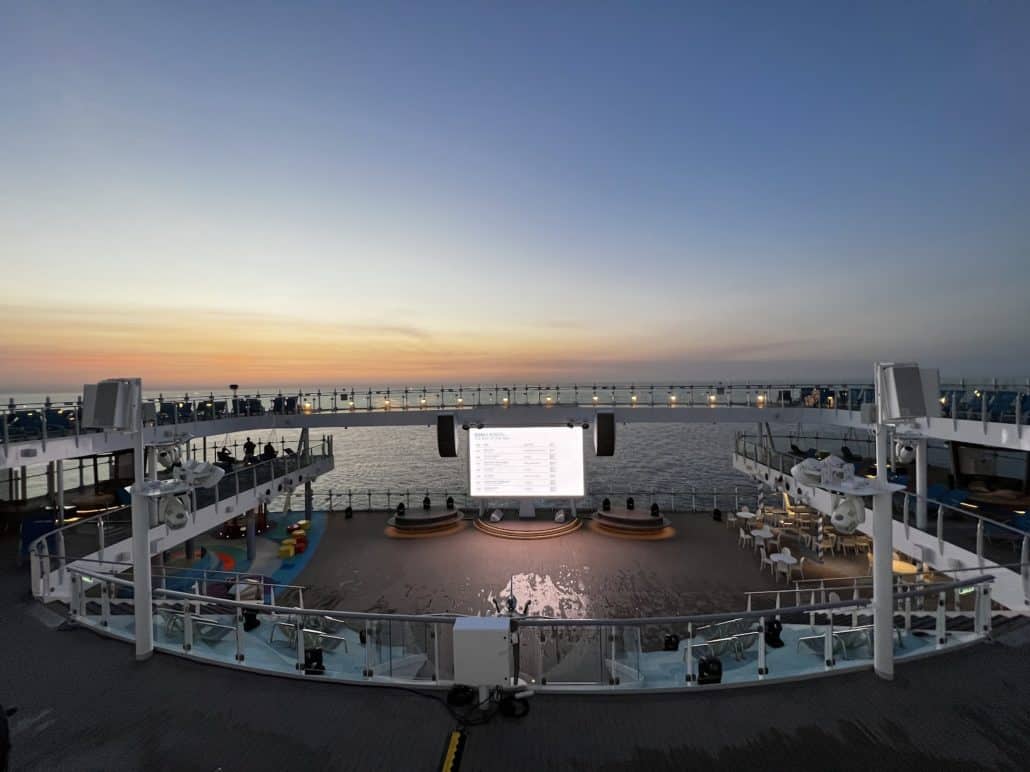 All the way forward is an outdoor space with a pool, comparable to Carnival Cruise Line's Serenity area, but this spot isn't adults-only on Costa Toscana. However, there is more shade in the area on this ship.
One of my favorite spots to hang out during the sailing was on deck 19 aft, it overlooks the back of the ship and has swings and chairs. It always seemed to be underutilized during our sailing which made it even better. This is also the perfect place to catch the sunrise in the morning. You can't get any higher on the ship unless you were standing on the mast!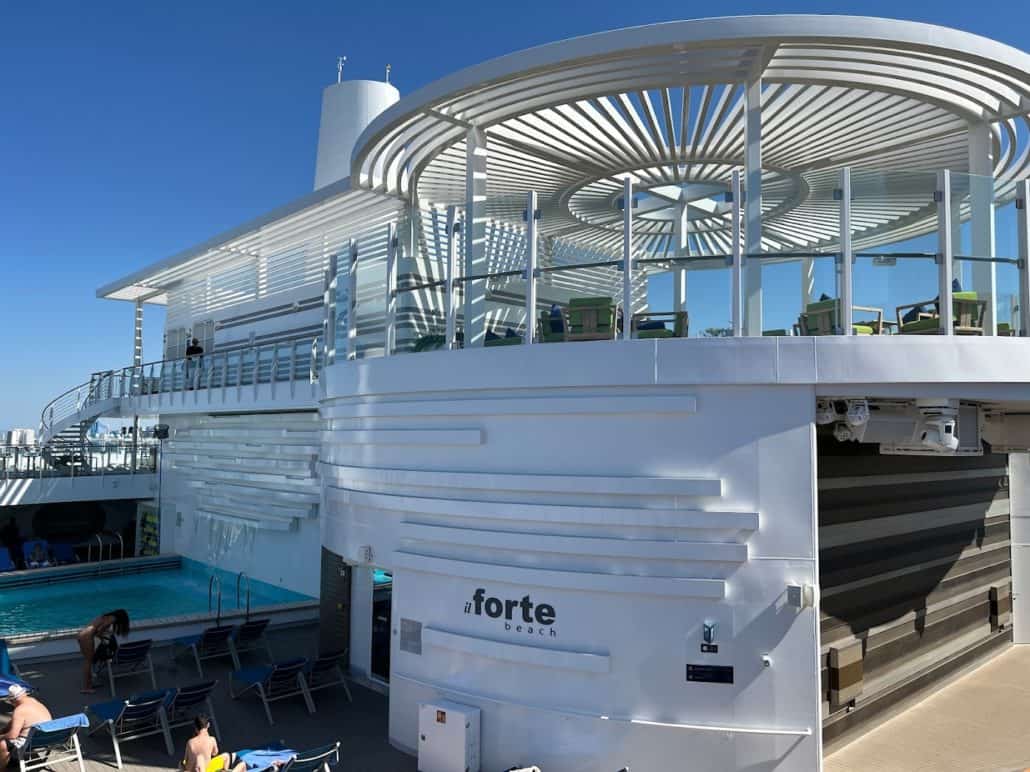 This was also the spot I recorded most of my Cruise News Today segments during the trip, unless it was too windy (then I did it in my cabin).
Throughout the week I've noticed tons of seating in different spots around the ship, both inside and outside. Some of the interior spaces are built into the wall. If you didn't know what you were looking for, you would walk right by them.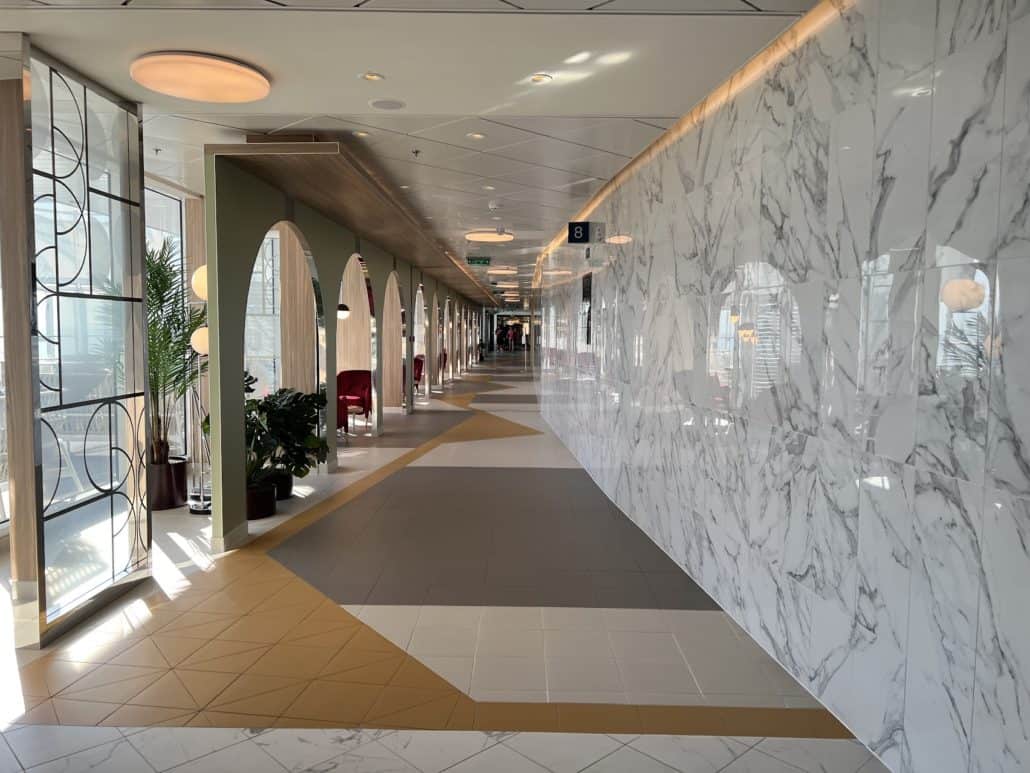 That's Entertainment!
One entertainment venue that really comes to life onboard is the main atrium, called the Colosseo (ancient amphitheater in Rome). This is where a majority of the shows are held and it has stadium-style seating on decks six, seven, and eight, so there isn't a bad seat in the house. You're also free to sit or stand here. You will find everything in here from live bands and cirque-like performances to the more cruise-standard song and dance shows.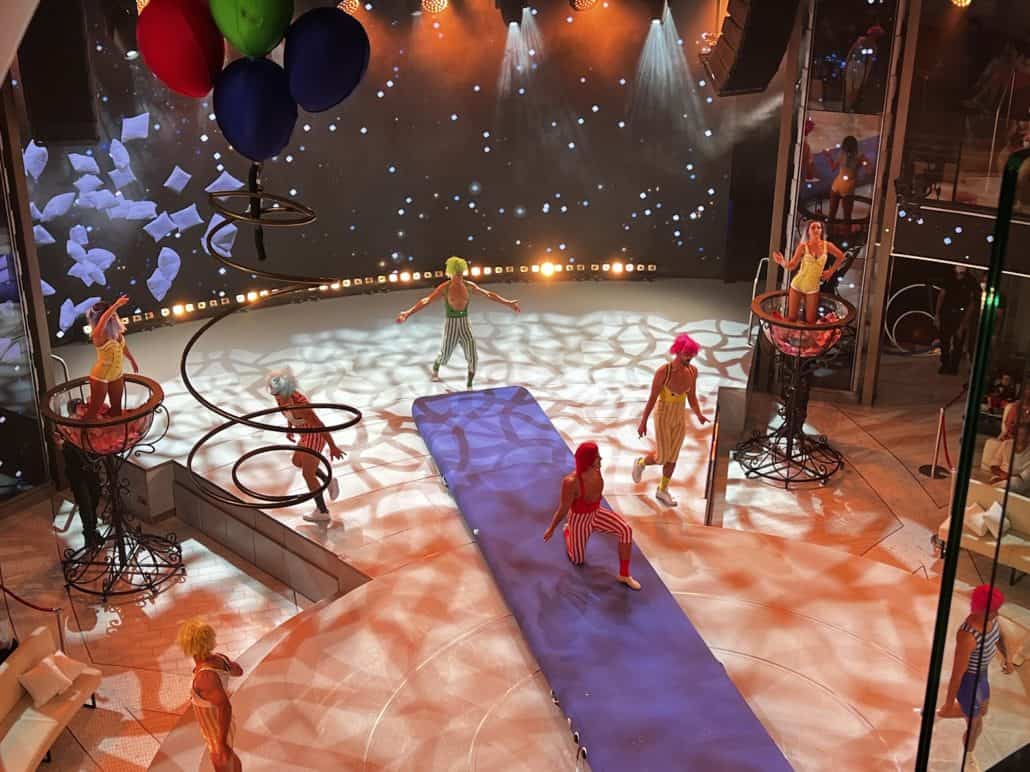 I was genuinely impressed with the entertainment in the atrium. Every night, there was a different show and each felt unique. The space is unique in that the floor rises and lowers, depending on what production element is happening. When it rises, it looks almost like a tiered wedding cake, and when it drops into the floor, it goes down about 20 feet, creating a pit from which the acrobats can start their performance.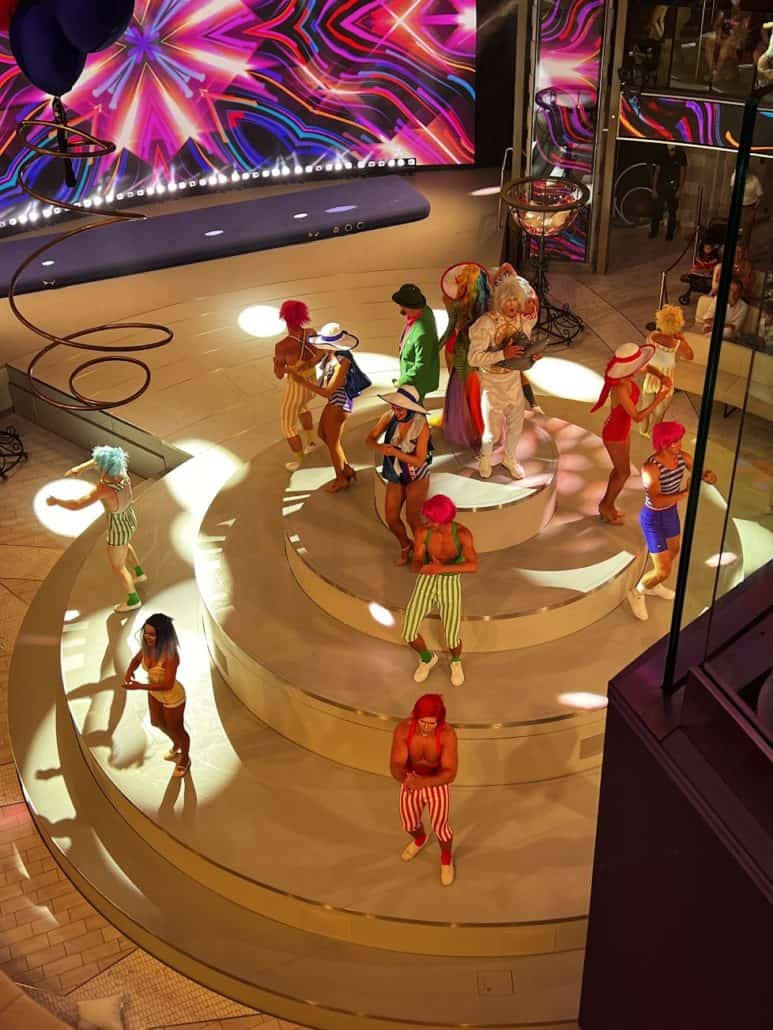 If a show can capture my attention for the entire 30 minutes, they are doing something right because typically I'm out the door 10 minutes into a production show.
Other spaces around the ship feature your more run-of-the-mill entertainment.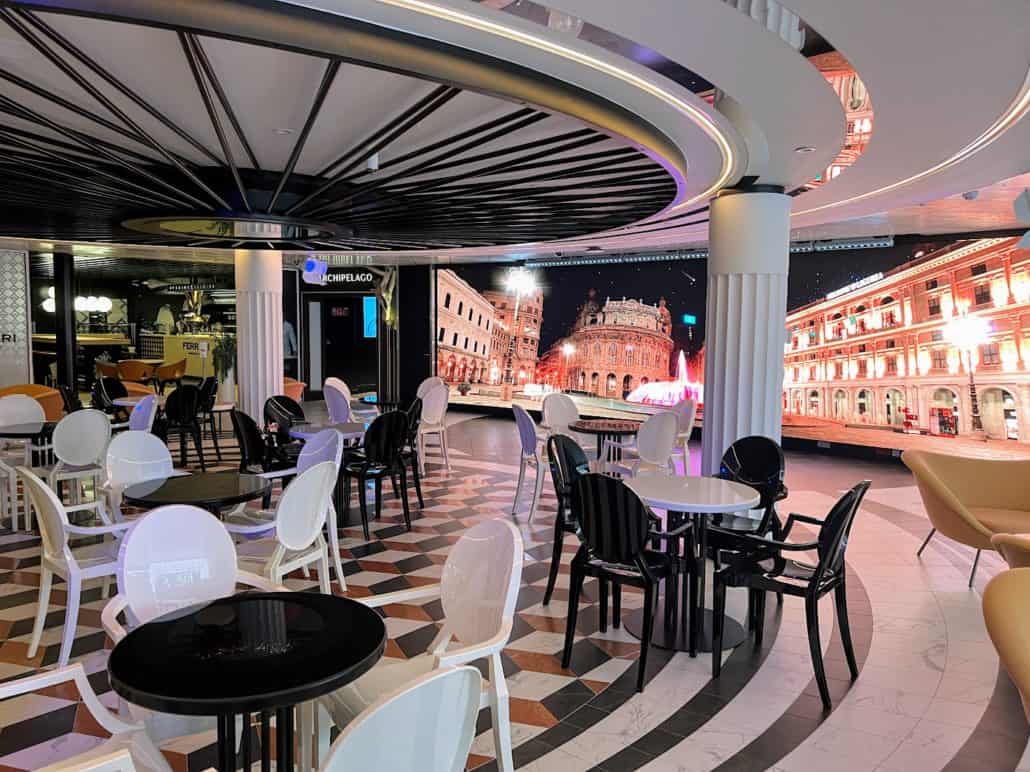 There are the pop-playing violinists which are currently all the rage in a space by the gelato bar, live rock bands in the Heinekin Bar, nighttime DJs spinning by the pool and on the aft deck, and a roving house band that plays at different venues around the ship throughout the evening. There's something for everyone, no matter your musical taste.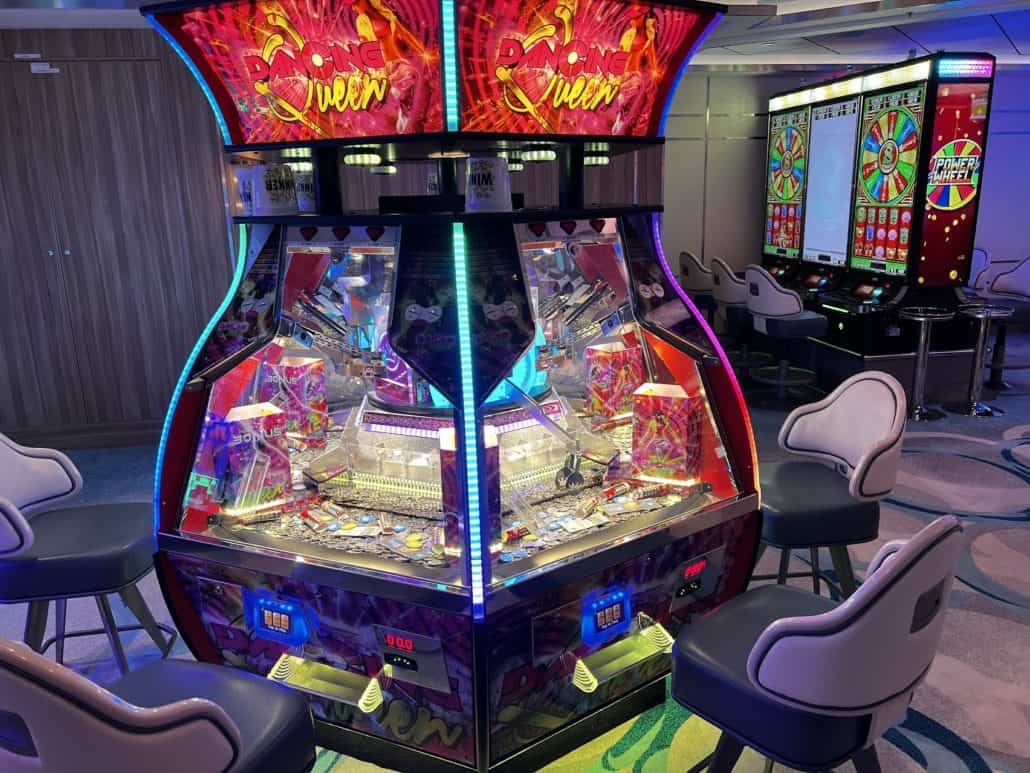 The casino onboard is a decent size, but nowhere near the size of the ones you'll find on many mass-market lines sailing in North America. You have the standard table games, slots, and of course the infamous coin pusher. For the kids (or kids at heart), the arcade is easily the largest one I've seen at sea.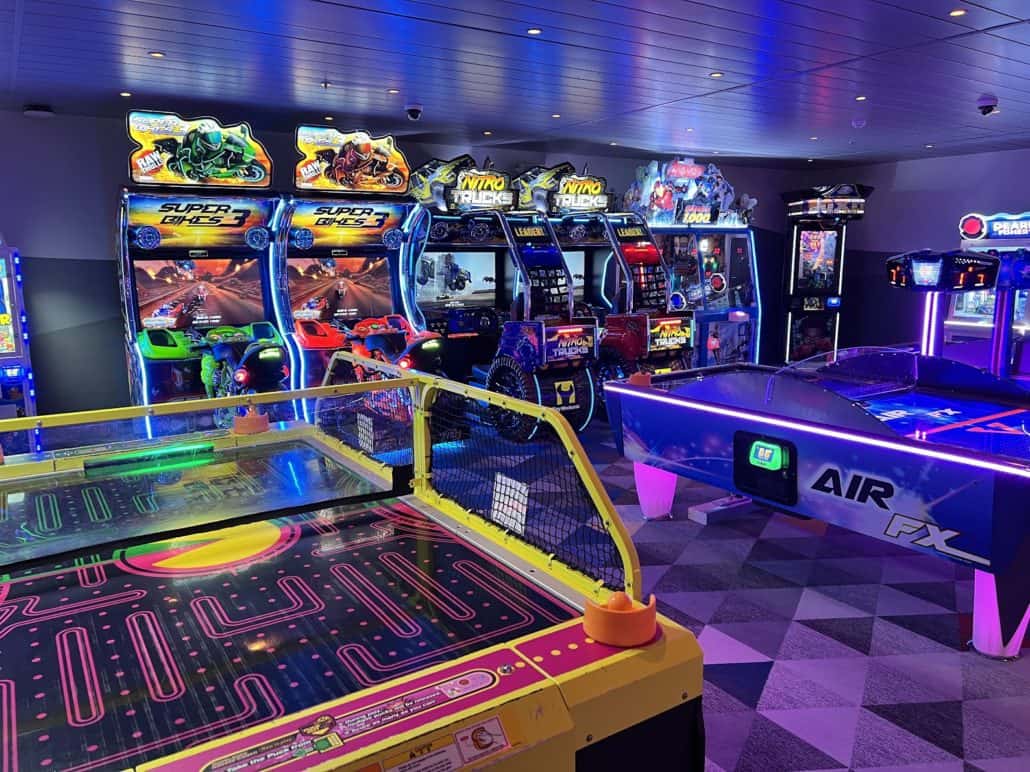 This is a good stopping point. For our next report, we'll talk about the cruise line excursion in Savona, a couple more outdoor areas, the thermal suite (which is amazing!), and some final thoughts about Costa Toscana.
Listener Question: Does Costa operate bubble excursions still, or can guests do what they like while in ports?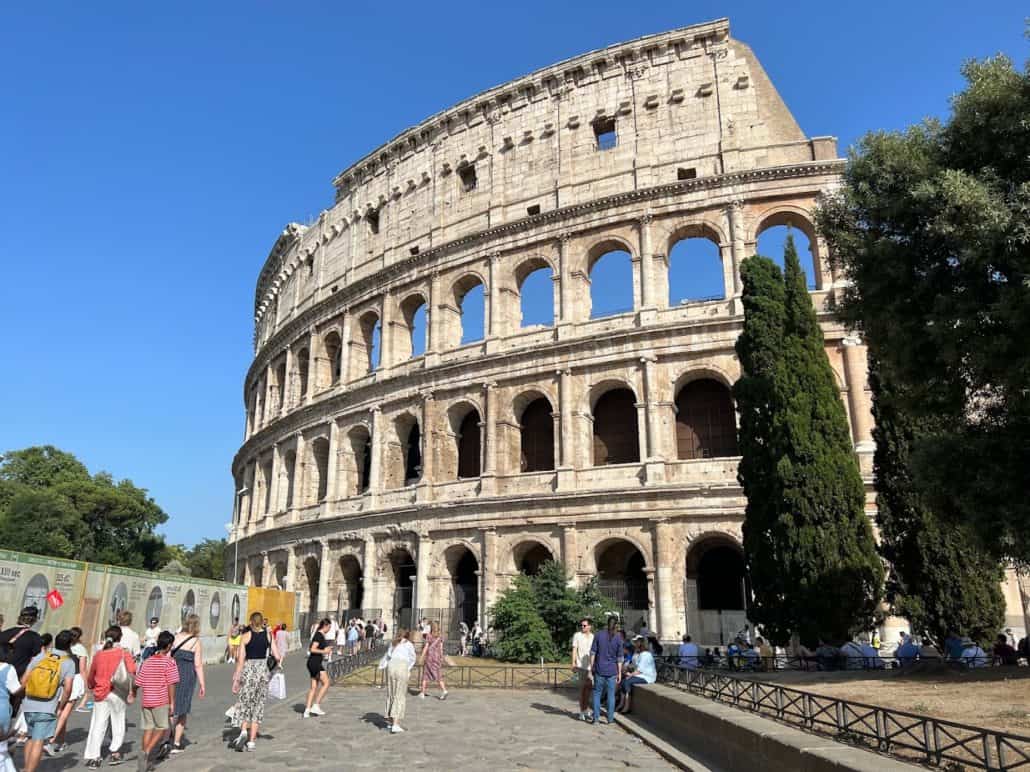 The term bubble excursion was one we heard at the restart where in order to disembark the ship in a port it was visiting, you had to book an excursion through the cruise line. The line picked tour operators that had high sanitation grades, followed health and safety protocols, and tested employees regularly. When society as a whole began to manage the virus, the bubble excursions were eventually dropped and guests could come and go as they pleased.
However, as of our cruise (June 2022), you were required to wear a mask on the shore excursion bus. They handed them out as we boarded.
Check out my other Costa Toscana trip reports: