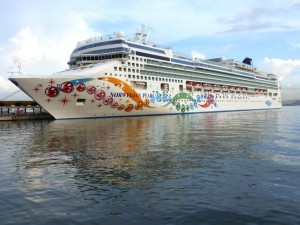 Music theme cruises are always a popular option with today's vacationers. Cruise guests have the opportunity to attend live concerts, late night parties and small jam sessions with their favorite stars while sailing to some of the most beautiful destinations in the world. Last year's Blake Shelton Cruise was a smash hit with its guests. Now, once again, some of country music's hottest names are giving their fans the opportunity to get up close and personal while Country Cruising in the Western Caribbean.
Country Cruising will be held January 12-19, 2014 on Norwegian Cruise Line's Norwegian Pearl. The entertainment lineup for this country music event is superb. Trace Adkins, one of America's top country music artists with over 20 Billboard country music hit singles to his name, will be returning again this year as one of this country cruise's key headliners. His songs include such perennial favorites as "You're Gonna Miss This," "Ladies Love Country Boys," "Hot Mama" and "Honky Tonk Badonkadonk." Last year's country cruise guests loved the opportunity to meet Trace and hear him perform his chart-topping songs. The winner of this year's NBC All-Star Celebrity Apprentice, Trace Adkins is always one very popular entertainer.
Montgomery Gentry is another of January's Country Cruising big stars. With fourteen Top 10 singles, the duo of Eddie Montgomery and Troy Gentry has sold millions of albums and won many awards. Montgomery Gentry currently has a new album, titled Rebels On The Run. They'll be performing their latest songs including "Where I Come From," and "My Town," plus other smash singles like "Something To Be Proud Of," "Lucky Man" and "Roll With Me.
Five-time GRAMMY winner Wynonna Judd will also be performing for guests aboard January's Country Cruising sailing. In addition to being a major platinum selling artist with multiple Number One songs and bestselling albums, Wynonna is also a New York Times bestselling author and popular television performer. Wynonna & The Big Noise will be entertaining audiences with her many hits including "I Will Stand By You," "Something You Can't Live Without," "Grandpa," and "Why Not Me."
Neal McCoy, another popular singer on last year's country cruise, will be returning as a special guest to Country Cruising's mega-concert at sea. This multi-platinum country artist has produced 11 albums and over 25 charted singles including "They're Playin' Our Song," "The Shake," "No Doubt About It," and "Wink."
Accompanying Trace, Montgomery Gentry, Wynonna and Neal McCoy on Country Cruising are over 20 other outstanding country music artists including Lonestar, Love and Theft, Craig Morgan, Maggie Rose, Frankie Ballard, McKenna Faith, HER & Kings County, Chris Cavanaugh, Brandon and Leah, JJ Lawhorn, James Wesley, JT Hodges, Ray Scott, Mantz Brothers, Clayton Anderson, Bryan Edwards, Clark Hill, Whiskey Row, Kate McRae, Steel Magnolia and Corey Cox.
Guests on Country Cruising will enjoy live country music each evening including a nightly show in the Stardust Theater and performances around the ship by country music special guest entertainers. Each main theater entertainer will perform two shows, early and late, to make sure that all guests have the opportunity to see their performances. Passengers will also enjoy late night dance parties with radio station DJs, Q&A sessions, songwriter workshops, and surprise unplugged performances and jam sessions by the great country music singers on this cruise. In addition, guests can participate in a great singing contest, billed as the "search for the best voice on the ship contest judged by the pros." Aspiring solo artists – this sounds like a great opportunity to show off what you've got.
Country Cruising is a complete charter of the Norwegian Pearl and features a custom itinerary including some of the Caribbean's hottest ports of call. The ship will sail from Miami, Florida on a 7-night cruise to Ocho Rios, Jamaica; George Town, Grand Cayman; and Cozumel, Mexico with three full days at sea. On sea days, guests can bask in the sun while listening to their favorite tunes and take time to explore all that the Norwegian Pearl has to offer. This popular Norwegian Cruise Line ship is packed with 16 dining options, 13 bars and nightclubs, two pools and waterslides, kids and teens programs in dedicated age-appropriate clubs, the Mandara Spa, Body Waves Fitness Center, a four-lane bowling alley, six hot tubs, and much more.  All meals in the ship's main restaurants are included in the price of the cruise, while meals in the ship's specialty restaurants have a small cover charge.
While in Caribbean ports, guests will have the opportunity to take part in a wide variety of captivating shore excursions. These include climbing Dunn's River Falls or swimming with dolphins in Jamaica; sunbathing on fabulous Seven Mile Beach, snorkeling and getting up close with stingrays in Grand Cayman; and visiting the picturesque Mayan ruins, enjoying a relaxing catamaran sail, or taking an exciting ATV tour in Cozumel. Guests can book these excursions and others to fully experience the Western Caribbean and get the most out of this country music cruise extravaganza.
For more information on Country Cruising, visit https://www.countrycruising.com. A number of stateroom categories are already sold out and many others have just one cabin left, so make your reservations for this cruise soon. Those with questions or seeking more information can contact the Country Cruising hosts, Flying Dutchmen Travel, by phone at 800-248-7471 or 707-546-1212 or by email at [email protected].
Subscribe to our Cruise Updates.
Related articles