Hard as it is to believe, we're already halfway through 2016! So far, this year has seen a wide array of incredible news come out of the cruising industry, including a whole slew of new builds! We thought that before plunging headlong into the rest of the year, we'd stop to reflect on some of our favorite — and least favorite — cruise-related developments. But more importantly, we want to hear what you think!
The Best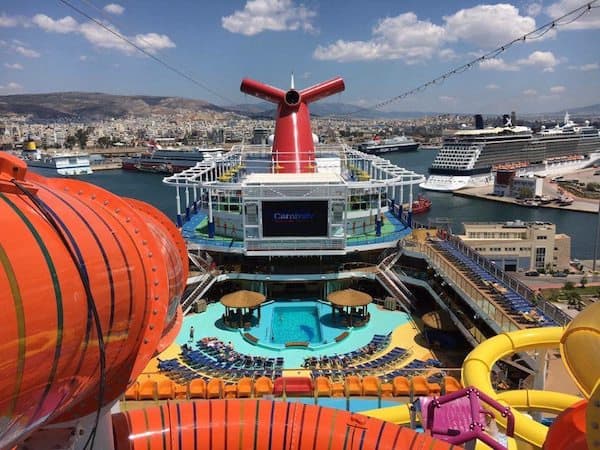 We were so excited about the arrival of Carnival Vista that we did an entire 20-day countdown! What came in as the No. 1 thing we were excited about where Vista was concerned? The skyride! You can read about that groundbreaking (or should we say, given its elevation, skybreaking?) attraction — and find links to all the other things about the ship we loved — by clicking here.
Royal Caribbean grabbed the honor of sailing the world's largest cruise ship with the spring launch of Harmony of the Seas, which just happened to feature one of our favorite new attractions: the 10-story high Ultimate Abyss slide!
Speaking of new builds that had everyone buzzing, Holland America's Koningsdam was a game changer for the line. Don't believe us? Take a look at some of the awesome pictures from our time onboard here.
After a few initial hiccups, Carnival's Fathom line became the first U.S.- based ship to sail to Cuba in five decades.
At long last, Disney Cruise line announced that they would be adding two new ships to their fleet, with the first expected to arrive in 2021.
Slowly but surely, cruise lines are rolling out quicker, cheaper internet to match the growing needs of the market.
The Worst
The New York Times ticked off a whole lot of cruisers by trying to use exclusive areas such as Norwegian's Haven as a symbol of "class warfare."
One after another, most major cruise lines raised the daily gratuity rates paid by passengers. And while the increases tended not to be large, it still gave the nickel-and-dimed crew plenty to complain about!
Thanks to acts of terrorism both at home and abroad, the tourism industry in general took a bit of a hit, with several lines reporting that their bottom line had felt the economic impact.
While strong sales almost across the board was fantastic news for the cruise lines, they definitely had a downside for consumers: bargains – including those great, drop-and-go last minute rates – became increasingly hard to find.
Those were our picks for the best and worst cruise-related news stories of 2016 (so far). Now it's your turn… what were your sea worthy highs and lows?