The search has been called off for a passenger who apparently jumped off Anthem of the Seas as the Royal Caribbean cruise ship was headed back to Bayonne, New Jersey. Meanwhile, new information about the woman who plunged from the Pacific Dawn off the coast of New Caldonia earlier this week have led police to say that her death "was not an accident."
Missing, Presumed Dead
NBC News reported Royal Caribbean manager Owen Torres as saying that the young man, identified only as a 24-year-old from somewhere in the United States, was seen "intentionally going overboard" as Anthem of the Seas was sailing off the coast of Virginia late Friday afternoon.
Torres went on to say, "The ship immediately began a search for the guest and notified the U.S. Coast Guard. After several hours of searching, the Coast Guard released Anthem to resume its scheduled itinerary while [the Coast Guard] search operations" continued.
Although the search went on throughout the night and into Saturday morning, no trace of the young man was found. Just after 11 a.m. Saturday morning, the search was called off. It is believed that — given the distance from shore, water temperature and time he was missing — there is no possibility that the man survived.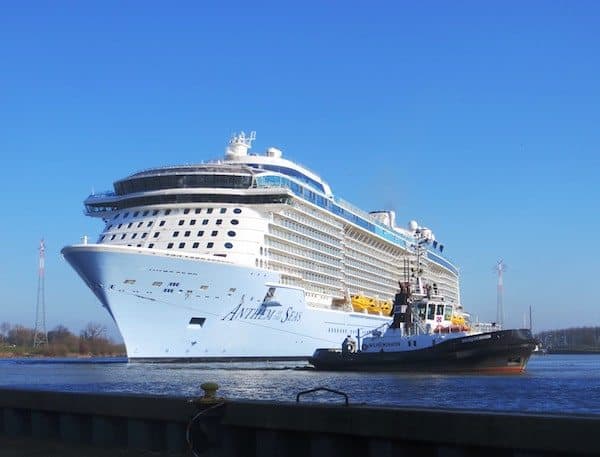 "A Tragic End"
Meanwhile, video and eyewitness testimony have shed new light on the death of 47-year-old Brisbane, Australia native Natasha Schofield, the Pacific Dawn passenger who went overboard earlier this week. Queensland Police Inspector Rob Graham told News.com.au that "this wasn't an accident," adding that it was "a tragic end to what should've been a lifetime holiday experience for a loving family."
Graham said that earlier reports indicating Schofield had been leaning over to vomit when a rogue wave hit the ship were entirely untrue. Instead, she "did make intentional actions and deliberately propelled herself overboard," he said.
Having viewed security footage which captured the tragedy, Graham told reporters that it showed "a couple of loving people on the top deck of a cruise ship. I saw them leaning on the rails and I saw the intentional actions of the missing person take two steps back and then propel herself over the railing."
The inspector says that Schofield's husband "tried in vain to grab her when she went over… grabbing onto her legs [but] she was too far gone and subsequently, she fell."