When it comes to specialty restaurants on ships, I very much enjoy them… but don't necessarily classify them as must-do. After all, I can eat at a steakhouse or an Italian restaurant back home. But there's an exception to every rule, and for me that would be Royal Caribbean's Wonderland. Because unlike the other specialty venues commonly found on cruise ships, Wonderland is so unique that it's unlikely you'll find a similar experience in a land-based restaurant in your hometown, or anywhere nearby.

In fact, Wonderland is so distinctive a dining experience that it calls for a review that is equally unique. So with that in mind, I'm going to offer you a brief, borderline generic description in the first section, and then issue a spoiler alert so that if you want to let Wonderland's mysteries and delights catch you off guard, you'll be able to.

Quick Facts
On Which Ships: Wonderland can currently be found on Anthem, Harmony, and Ovation of the Seas.
Type Of Food: Modern, eclectic with an emphasis on molecular gastronomy preparations.
Cost: Around $45 per person, although discounts can often be had if booking in advance.
READ MORE: 50 Anthem of the Seas Tips
Atmosphere
While each of the Wonderland eateries is slightly different, each pretty much defines the word "whimsical." High-backed chairs, magical menus, and velvet-clad waiters dashing about with smoking, bubbling, colorful culinary creations immediately signal to arriving guests that this won't be just another night in the main dining room. The menu is broken up into five "elements" – sun, ice, fire, water, earth, and dreams. Diners are given the option of choosing two from each category or allowing their waiter to put together a selection for them.

This is not a restaurant for those who are picky eaters or timid about trying new things. I would also say that, despite the decor and atmosphere, this is not a restaurant for children. More than any other restaurant on the ship – and perhaps even at sea – this is one that shouldn't be booked for the entire family without careful consideration. I watched as a woman at a nearby table huffed, puffed, and sighed her way through the meal, refusing to even consider tasting anything that did not look familiar even as the rest of her group gasped with delight and insisted, "Try this… I promise, you'll like it!"

Now, here's where I tell you that fortune favors the bold, and recommend that – in order to experience all that Wonderland has to offer – you stop reading. What follows will contain details about my experience. In other words, consider this a meal-related "spoiler alert."
A Culinary Journey

My playful and personable server Ivan walked me through the menu, although to be honest, it was Greek to me… even without his thick, Bolivian accent. So rather than figure out what a "bordelaise sauce" was or whether I'd like a "floral yuzu granite," I opted to put myself in Ivan's hands. He asked me a few questions about likes and dislikes, I admitted to being game for just about anything and a few minutes later, I was going down the rabbit hole thanks to a buffalo chicken egg and a crispy crab cone topped with an avocado mousse. As a sorta-kinda wanna-be foodie who only a few short years ago started exploring foods beyond those best classified as "fast," the meal was an incredible experience. And because I was letting someone else select the food for me, it felt rather like being at a Chef's Table with a pre-conceived menu, and I mean that in the best possible way.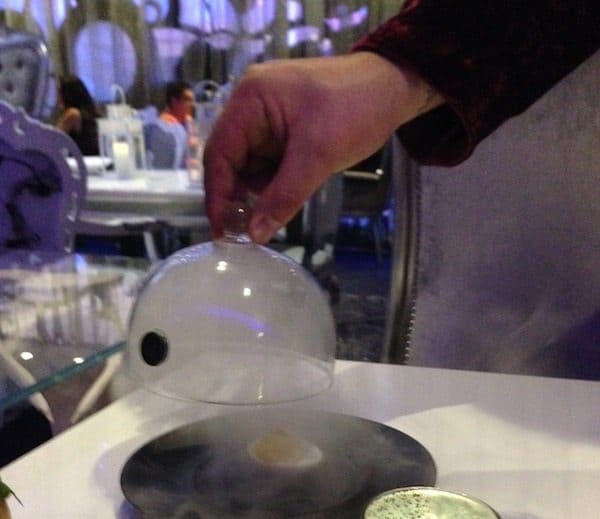 After several rounds of appetizers came perhaps the dish I found the most intimidating and, ultimately, incredible. Dubbed "baby vegetables in a garden," this gorgeously plated salad features various vegetables seeming to sprout from a patch of dirt (in reality, crumbled rye bread, if I'm not mistaken). Your server then covers the scenic vista with a white dressing, making it appear the garden is buried in snow. I'm about as far from being a salad person as it's possible to get, and yet I would have licked the plate were it not impolite to do so. (And, er, actually may have when nobody was looking.)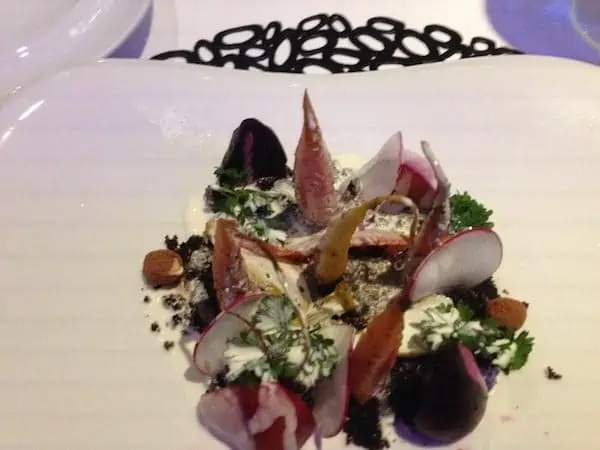 Next up were the main courses… and I say courses because there were two, one representing the sea and one representing earth. I was dining alone, and can't help suspecting that both the branzino in crispy bread and humungous slab of terroir beef were intended for two. I'd like to say that, mindful of the 10 pounds cruisers notoriously put on, I showed some restraint… but that would be a lie. The melt-in-your-mouth meat – deboned by your server – was every bit as I'd hoped, while the real surprise was the fish.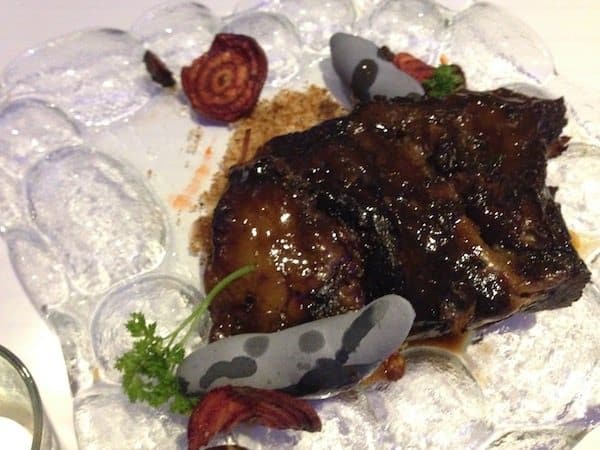 I'm not a huge fan of seafood, so when it arrived at the table I regretted not having been more vocal in my preference for meat. But any reservations I had melted away the moment I took a bite of the perfectly prepared branzino, served atop a tasty rice with a tamarind infusion. The fish was instead topped with a thin piece of baked bread which maintained its crunch much better than a traditional breading would have.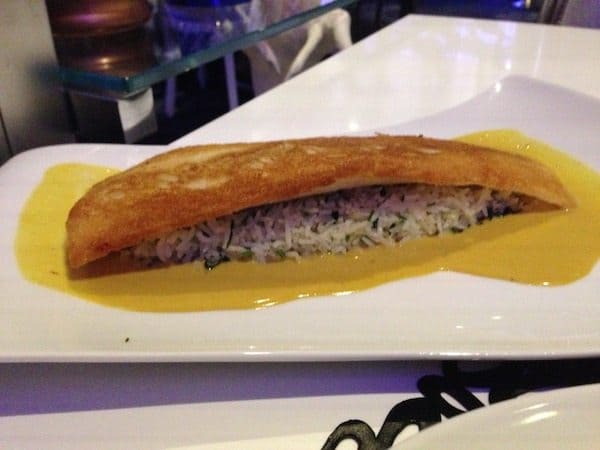 Full to bursting, there was simply no room for dessert. And yet, if there was one thing I knew, it was that at Wonderland, dessert was a must.
Savoring The World

While there are several desserts on the Wonderland menu, I went into this meal knowing that there was really only one true option: The World. Perhaps no other dish on the menu so perfectly reflects the restaurant's playfulness as this dish; as decadent as it is delightful. When presented by your server, it is a seemingly solid ball of chocolate atop a bed of rice krispie treats. Your server then pours warm caramel sauce over the globe, which dissolves to reveal peanut butter ganache and salted caramel ice cream. By the time I'd gorged myself on the tasty treat, I'd determined that its true name should be (The Best Dessert In) The World.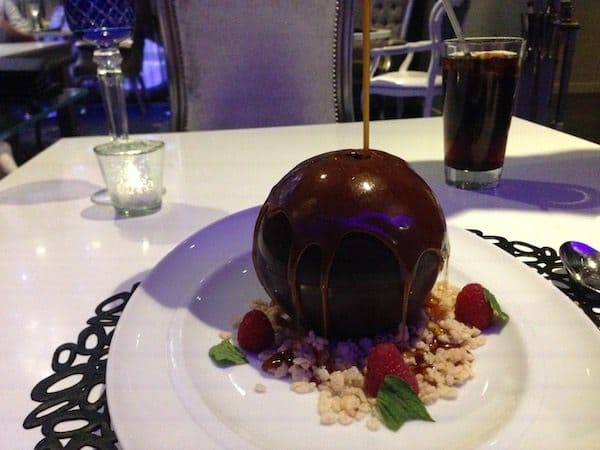 Final Thoughts
If you're a fan of shows like Top Chef and have marveled at Wylie Dufresne-inspired creations – heck, if you know who Wylie Dufresne is – you're going to want to book a table at Wonderland. The restaurant definitely is not going to be for everyone, but for those looking for something about as far from run-of-the-mill as it is possible to get, this will prove to be an unforgettable meal.