The 1987-built, 650-guest Astor has reached its final resting place at a Turkish scrapyard, joining three Carnival ships and two former Royal Caribbean vessels being dismantled there as the cruise industry continues to shed older, less-efficient hardware.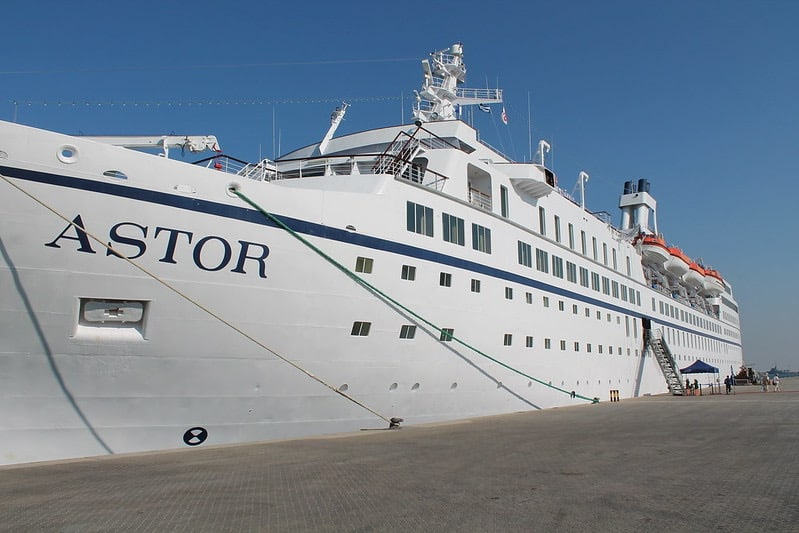 The 20,704-ton Astor was run ashore at the Aliaga Ship Recycling Facility after being sold at auction to a scrap broker in October for $1.7 million. The ship most recently sailed for Cruise & Maritime Voyages' (CMV) Transocean Tours subsidiary, operating cruises in Europe, South Africa, and Australia.
The Astor was originally built in Kiel, Germany. She was delivered to the Mauritius-based Marlan Corporation in early 1987. After a maiden voyage from Hamburg to Genoa and on to South America, the ship was used for cruising in the Caribbean and beyond.
PODCAST: Ship Scrapping Process With Peter Knego
The ship's design featured a sharply raked bow, a relatively low, terraced superstructure, and a large, square funnel. The Astor was furnished in traditional style using large amounts of dark wood, and with high ceilings in many of the public spaces.
After just a year in service for Marlan, the Astor was sold to the Soviet Union-based Black Sea Shipping Company and renamed as the Fedor Dostoevskiy. She then spent some years under charter to various West German cruise lines before being operated on a charter basis for TransOcean Tours from 1996-2020.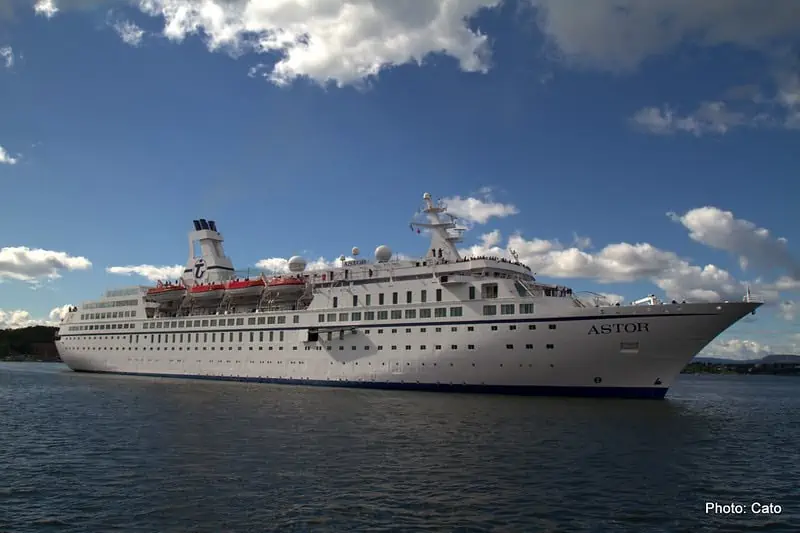 In February 2013, Astor was chartered for three years by Cruise and Maritime Voyages (CMV) in a bid to fill a gap in the Australian market after the exit of Classic International Cruises. 
PHOTOS: 21 Haunting Images From A Cruise Ship Scrapyard
The UK-based CMV later acquired TransOcean, and marketed the Astor to the German market. In 2021 she was scheduled to join CMV's French brand, where she would be refurbished and operate under the name Jules Verne. But after CMV entered bankruptcy administration earlier this year, the Astor was sold at auction.
During her long life, the ship had some memorable moments. In 2008 she was sailing in the Gulf of Oman en route from Sharm-al-Sheikh in Egypt to Dubai, when a German Navy frigate detected speedboats operated by Somalian pirates that were apparently preparing to attack the Astor. The frigate entered the path of the speedboats while they were still three miles from the cruise ship, and used warning bursts of machine-gun fire to ward off the threat. Guests on the Astor were not even aware of the close call they escaped.
At the Turkish scrapyard, anything and everything that can be sold will be removed from the ship. Once the vessel has been picked clean of items valuable for resale, the steel cutting will begin. The steel that's cut away from the ship piece by piece will be sold to scrap metal dealers. From there, it will be melted and made into rebar to strengthen concrete in roadways and construction projects.
Cruise Ship Beached at Scrapyard [VIDEO]