Norwegian Cruise Line has deployed a cruise ship to the Bahamas for relief efforts after Hurricane Dorian. Norwegian Breakaway will head to the Bahamas on Thursday, September 5 loaded with supplies and one million dollars.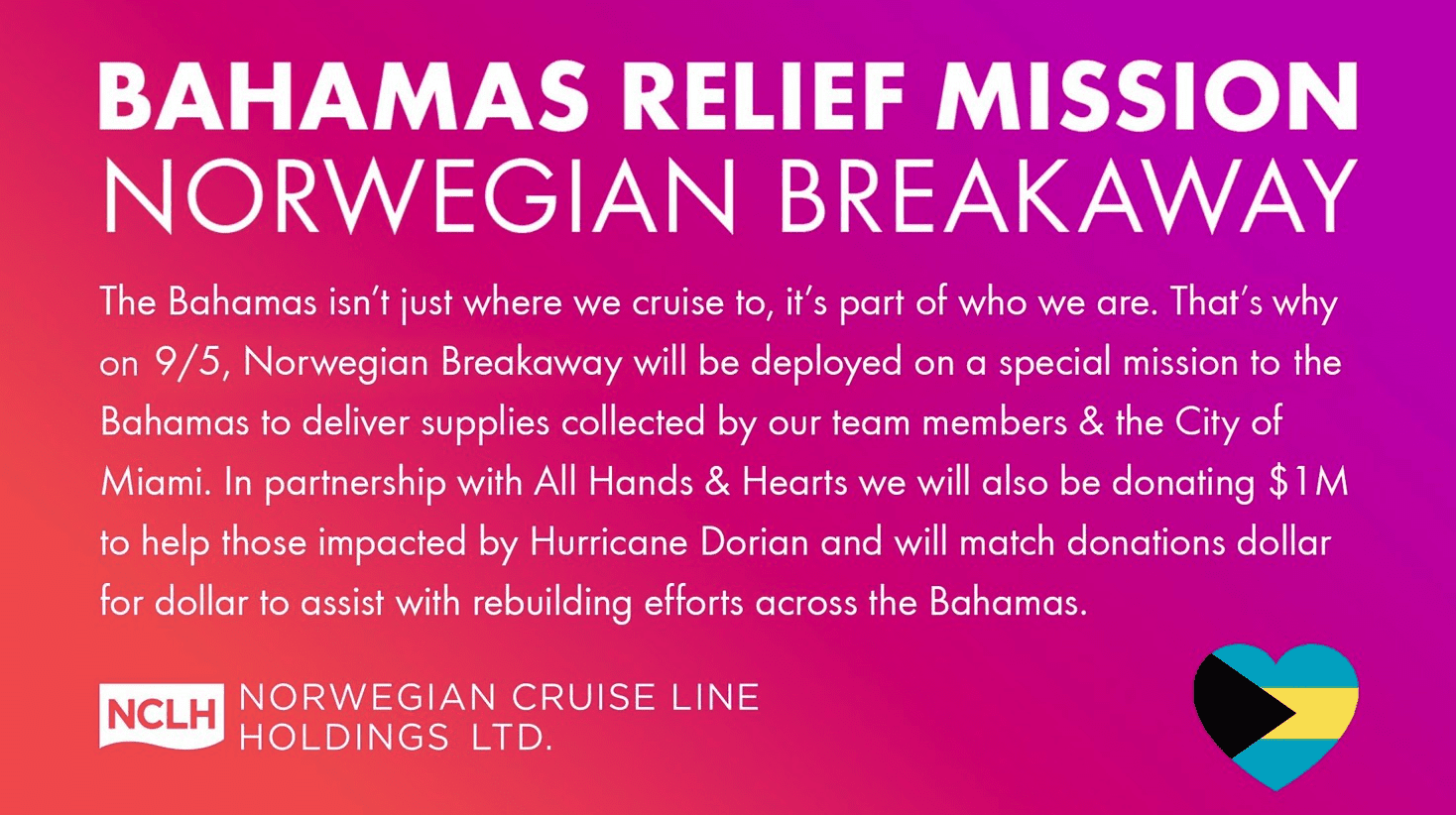 Like the other lines which call upon the Bahamas regularly, the folks at Norwegian Cruise Line have long had a symbiotic relationship with the area. After all, the region is extremely dependent on the tourism dollars brought in by the cruise industry. Likewise, the cruise lines have millions of passengers a year who want to visit the islands of the Caribbean.
READ MORE: How You Can Help Hurricane Dorian Victims 
In a message, Norwegian said, "The Bahamas isn't just where we cruise to, it's part of who we are. That's why on 9/5, Norwegian Breakaway will be deployed on a special mission to the Bahamas to deliver supplies collected by our team members and the City of Miami. In partnership with All Hands & Hearts, we will also be donating [one million dollars] to help those impacted by Hurricane Dorian and will match donations dollar for dollar to assist with rebuilding efforts across the Bahamas."
The ship will dock in Nassau, Bahamas with the supplies. With the help of the Federal Emergency Management Agency (FEMA), the supplies will distributed to the hardest-hit areas of Freeport, Marsh Harbour and Grand Bahama.
Ironically, the itinerary for Breakaway's most recent sailing was impacted by the hurricane. As a result of PortMiami being closed by the storm, the ship had to disembark passengers in New Orleans, Louisiana. After dropping off the collected supplies and donations, the Breakaway will return to Miami and, on September 8th, set sail on her regularly scheduled seven-day Eastern Caribbean cruise calling on San Juan, Puerto Rico; St. Thomas in the U.S. Virgin Islands; Tortola in the British Virgin Islands; and Nassau.
If you are considering donating to the Bahamas relief mission, they are in dire need of sanitary items, toilet paper, tents, baby diapers, first aid items, canned food and generators.