Cunard has announced new "Grand Escape Voyages," which begin in October 2021.
New sailings in the series range from two to 40 nights long, offering travelers the chance to enjoy over 40 new cruises that visit 49 destinations in 2021 and 2022.
All three of Cunard's ships will operate these cruises, with several overnight port calls along the way including Amsterdam, Lisbon, Hong Kong, Madeira, Dubai, and Barbados.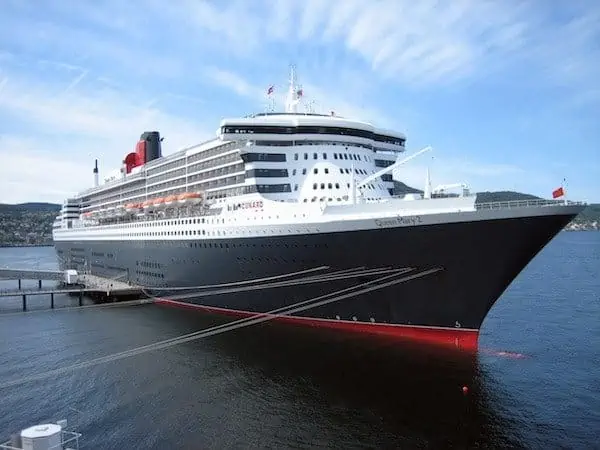 "We are thrilled to announce our new 'Grand Escape Voyages,' as we celebrate Cunard's full return to sailing," said Jamie Paiko, Vice President of Sales, Cunard North America.
"These new itineraries will not disappoint our dedicated guests who have eagerly been waiting for the opportunity to sail on their favorite ship. They will once again enjoy our distinctive ocean travel experience, hallmarked by new voyage options and our impeccable White Star Service."
Queen Mary 2
The fleet's flagship will operate Grand Escape Voyages on both sides of the Atlantic, calling at 15 ports in 14 countries.
Embarking on 29 new itineraries, Queen Mary 2 will complement a series of Transatlantic Crossings with brief sailings in western Europe as well the Caribbean, with departures from New York City, Fort Lauderdale, Hamburg, and Southampton.
The Caribbean cruises will call in St. Maarten, Dominica, St. Lucia, and St. Kitts, and feature an overnight stay in Bridgetown, Barbados.
READ MORE: Cunard Announces 2022 Themed Cruises
Queen Elizabeth
Fresh from a summer of sailing along Britain's coastline, Queen Elizabeth's Grand Escape Voyages season will include visits to 41 ports in 21 countries.
She will begin in western Europe before sailing to the Iberian Coast for a series of cruises exploring Spain and the Atlantic Islands. Overnight port stays will include Lisbon and Madeira, as well as late departures from Malaga.
After those cruises, Queen Elizabeth will undertake voyages between London, Singapore, Hong Kong, and Dubai, including a transit of the Suez Canal and calls to Sri Lanka and Malaysia.
Queen Victoria
Queen Victoria will begin her Grand Escape Voyages in April 2022, marking her official return to sailing with three new itineraries that couple two western Europe sailings with a 16-night Baltic exploration cruise.
Sailing roundtrip from Southampton, the ship will visit 11 countries, stopping in Copenhagen, Helsinki, Tallinn, and Gdynia along with overnight calls in Amsterdam, Lisbon, and St. Petersburg.
Cunard Double Upgrade
Travelers who book a Grand Escape Voyage by September 30, 2021 on sailings six to 52 nights will receive the Cunard Double Upgrade from Inside to Balcony, free onboard credit up to $600 per stateroom, included gratuities, and reduced deposits. Grill Suite guests will also enjoy free drinks and free internet access.
READ NEXT: Cunard Provides 2021 Cruise Vaccination Policy Update