Cunard will see their flagship Queen Mary 2 set sail for New York Fashion Week this September, joined by undergraduates from the University of Westminster. The students are set to become the first in the world to showcase their collection on the official London Fashion Week schedule.
Undergraduates from the university's Fashion Design BA Honors course will debut their Autumn Winter 2018/19 designs at London Fashion Week on Friday, February 16, 2018 before showing the collections onboard Queen Mary 2 from September 2-9, 2018. The University of Westminster is known for producing some of the most talented and creative fashion professionals in the business. Notable alumni include designer Vivienne Westwood; Michael Herz, Artistic Director at Diane von Fürstenberg; Stuart Vevers Creative Director at Coach; as well as Christopher Bailey, Burberry's chief creative officer and president.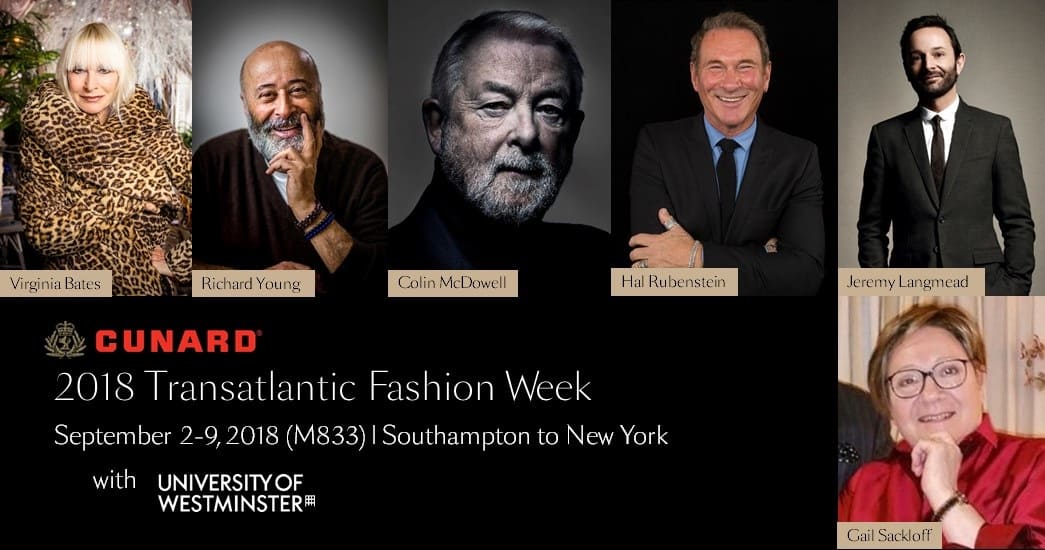 Cunard's Third Annual Transatlantic Fashion Week will play host to an impressive array of leading authorities during the annual voyage. Ensuring guests are taken on a journey through fashion history, Virginia Bates, fashion historian and friend to some of fashion's best known names will be presenting her vintage collection in the most spectacular setting. She is best known for London's "Virginia," an emporium of vintage clothing and accessories that became a mecca for designers looking for inspiration, including Ralph Lauren and John Galliano. She will present a collection to guests, taking them back to an era of glamour and sophistication.
Joining Virginia onboard the ship to New York City will be Richard Young, a renowned photographer to the stars. During Transatlantic Fashion Week he will give a presentation of his life and the famous people he's photographed, display a photography exhibition in the Clarendon Art Gallery, host a Q&A, and more. Completing the lineup is fashion historian Colin McDowell, Editor of InStyle magazine Hal Rubenstein, International Fashion Consultant Gail Sackloff, and Jeremy Langmead – Brand and Content Director of MPORTER.com.
For more information on Cunard's special Fashion Week voyage, visit cunard.com/m833. Learn about last year's Fashion Week cruise here.