Disney Cruise Line has announced new details on one of the restaurants aboard its upcoming ship, Disney Wish.
As previously announced, the vessel will include a brand-new rotational dining restaurant called Worlds of Marvel. Now, the line is detailing what it calls a "cinematic dining adventure" there called Avengers: Quantum Encounter. The experience will assemble some of earth's mightiest — and tiniest — super heroes in a larger-than-life showcase of technology and cuisine.
The line has also announced details on two of Disney Wish's quick-casual dining locations.
Avengers: Quantum Encounter
At Worlds of Marvel, guests will play an interactive role in an Avengers mission that unfolds around them, complete with a menu inspired by the Marvel Cinematic Universe.
"Avengers: Quantum Encounter" will follow Ant-Man and The Wasp as they embark on their first public speaking engagement on behalf of the Avengers. They're hosting a special presentation of the most powerful super hero technologies, including Captain America's shield, Iron Man's arc reactor, and Ant-Man's Pym Particles.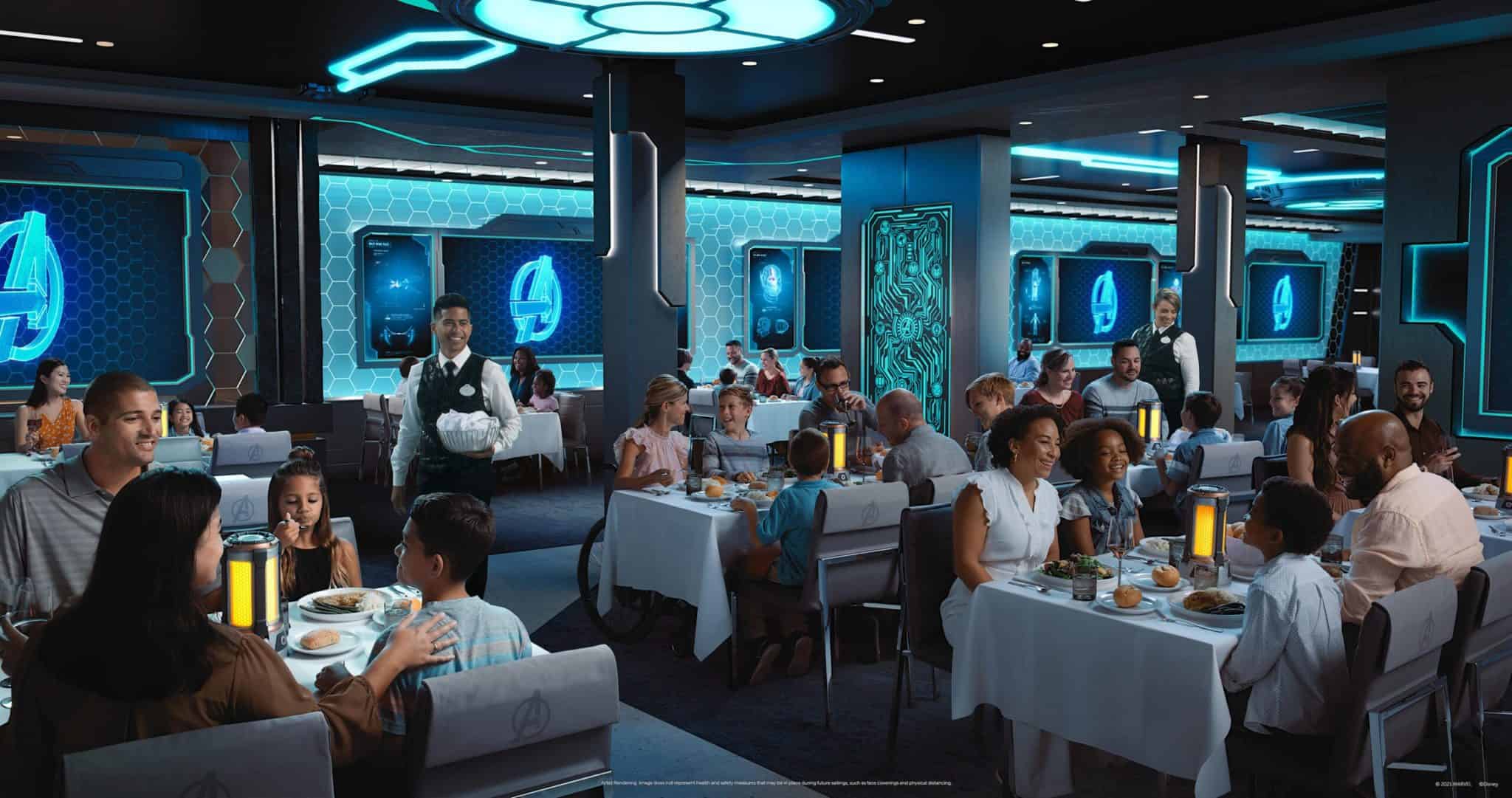 The highlight of the event is a hands-on demonstration of the latest Pym Tech — the Quantum Core — which uses cutting-edge (and highly unstable) technology to shrink and grow targets at the push of a button. A few "misfires" result in hilarious hijinks, but the real trouble begins when an unexpected villain shows up to get their hands on the tech.
Ant-Man and The Wasp will need help to save the day, calling on Captain America, Captain Marvel, and the diners in the restaurant for back-up.
"'Avengers: Quantum Encounter' is Disney Cruise Line's most ambitious dining experience ever," said Danny Handke, senior creative director, Walt Disney Imagineering.
"We're doing something that's never been done before in a restaurant, developing an exclusive Avengers adventure that will immerse our guests in the action through sophisticated technology and innovative storytelling. It's the perfect complement to the incredible menu of story-driven dining aboard the Disney Wish."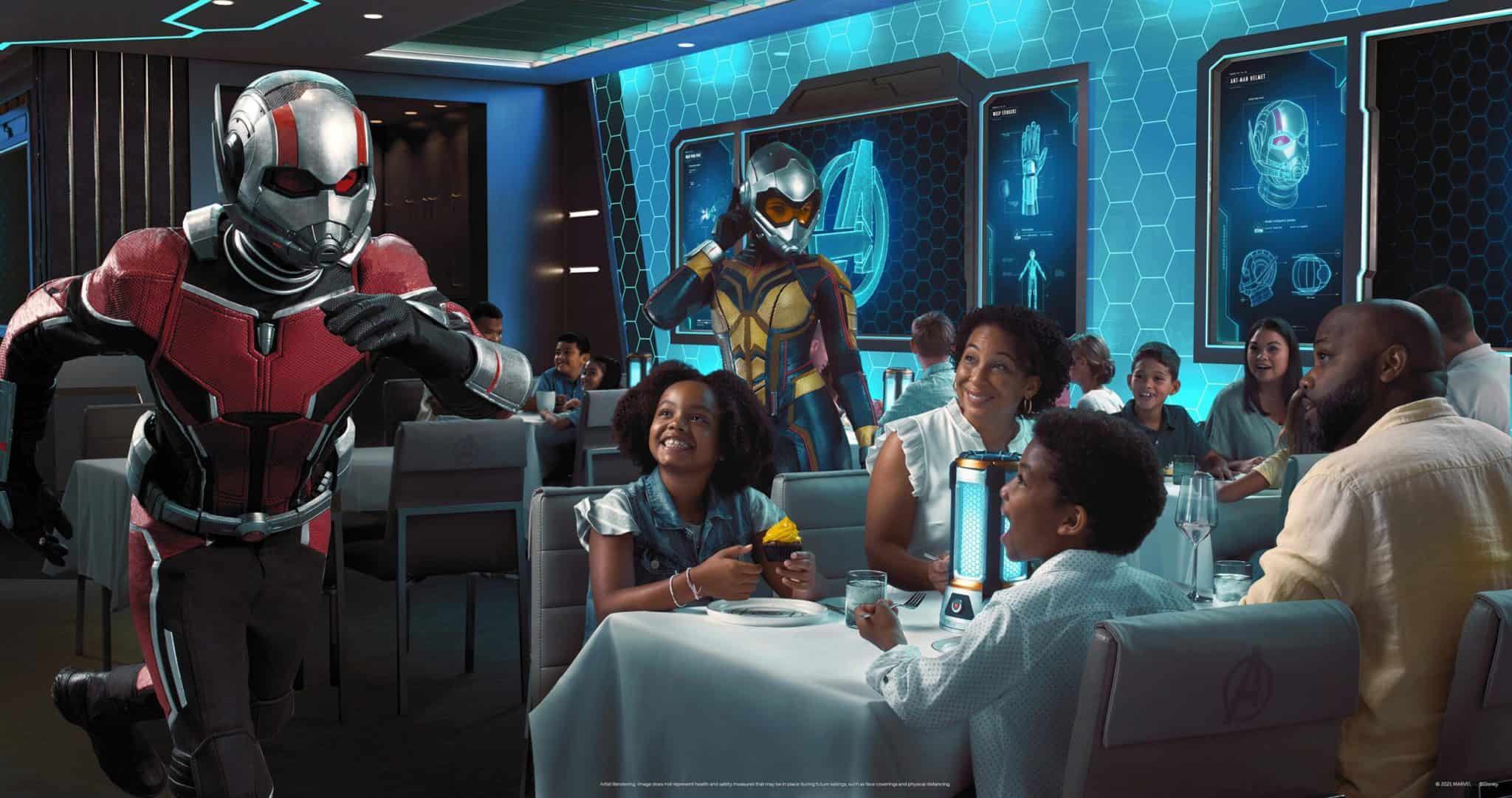 Every table at Worlds of Marvel will feature an interactive Quantum Core. Diners will assist Ant-Man and The Wasp as they attempt some small-scale trials. When enough of the cores are activated at the same time, the entire venue will become supercharged as energy pulses through the power channels in the walls and ceiling.
The design of the restaurant will offer surprises of all kinds, from a Marvel hexagonal motif to various "Easter eggs" and details embedded in the show.
The menu will take guests on a tour of the real and fictional settings of the Marvel Cinematic Universe, with dishes inspired by locales like African Wakanda, Eastern European Sokovia, and the Avengers' home base of New York City.
READ MORE: Disney Wish to Feature a Moana-Inspired Suite in the Funnel
Casual Dining Venues
Alongside the Avengers dining announcement, Disney Cruise Line has released new details on some casual options around Disney Wish. 
Marceline Market
Named for Walt Disney's childhood hometown in Missouri, Marceline Market is a stylish food hall inspired by marketplaces around the world, and is Disney Wish's version of a modern cruise ship buffet.
Featuring 10 food stalls and a café-style beverage bar, Marceline Market will be themed to an old industrial loft that has been converted into a bustling marketplace, but with a Disney twist. At this food hall, the proprietors are Disney characters; each station is themed to animated films such as "Tangled," "Ratatouille," "Alice in Wonderland," "Zootopia," and more.
These shopkeepers will curate a variety of cuisines including American classics, international specialties, comfort foods, seafood, soups and salads, vegetarian and plant-based fare, baked goods, and desserts.
Marceline Market will offer a casual, walk-around dining experience for breakfast and lunch, and become table-service at dinnertime with entrées cooked to order.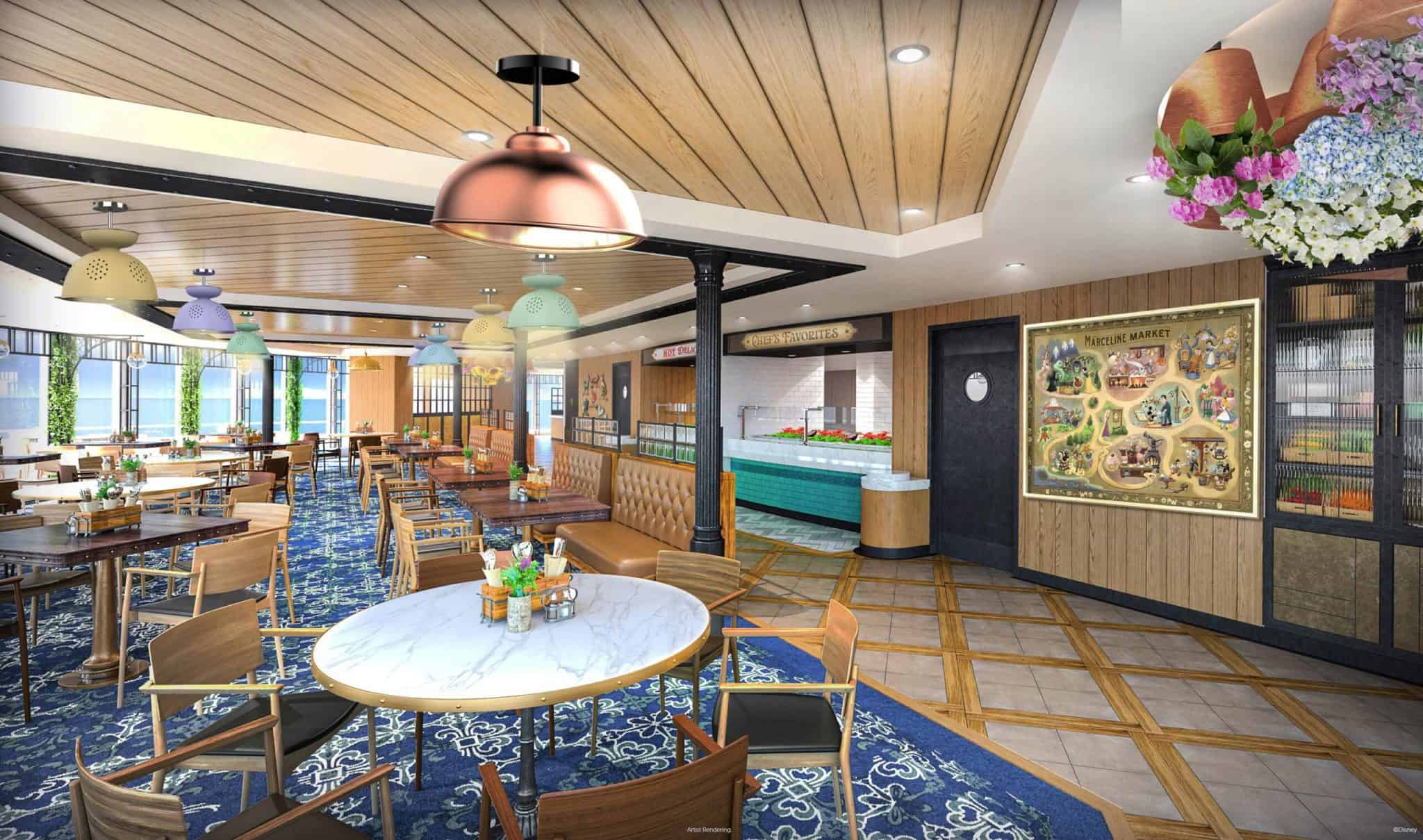 Mickey and Friends Festival of Foods
Located right in the middle of the action on the upper decks, Mickey and Friends Festival of Foods will be the go-to spot for a quick bite between the fun.
Disney Cruise Line's signature soft-serve ice cream will be available here, as well as two brand-new selections to Disney: dedicated quick-service venues for barbecue and Mexican-inspired food.
The open-air eatery will also offer American classics and other snacks, with five food stalls in total: Mickey's Smokestack Barbecue, Donald's Cantina, Daisy's Pizza Pies, Goofy's Grill, and Sweet Minnie's Ice Cream.
The design for this Festival of Foods venue is inspired by the seaside boardwalk setting featured in popular Mickey Mouse animated shorts. A shaded seating area will be available.
Disney Wish is scheduled to sail her inaugural voyage on June 9, 2022, followed by a season of three and four-night cruises to Nassau and Castaway Cay from Port Canaveral.
READ NEXT: Disney Wish to Feature New Restaurants, Reimagined Kid's Clubs