Disney Cruise Line has announced exciting new details about some of the venues and entertainment experiences that will be found aboard its upcoming ship, Disney Wish. 
The vessel is set to sail its five-night maiden voyage on June 9, 2022 from Port Canaveral to Nassau and private island Castaway Cay. After that, Wish's inaugural season will consist of three and four-night cruises to the same destinations.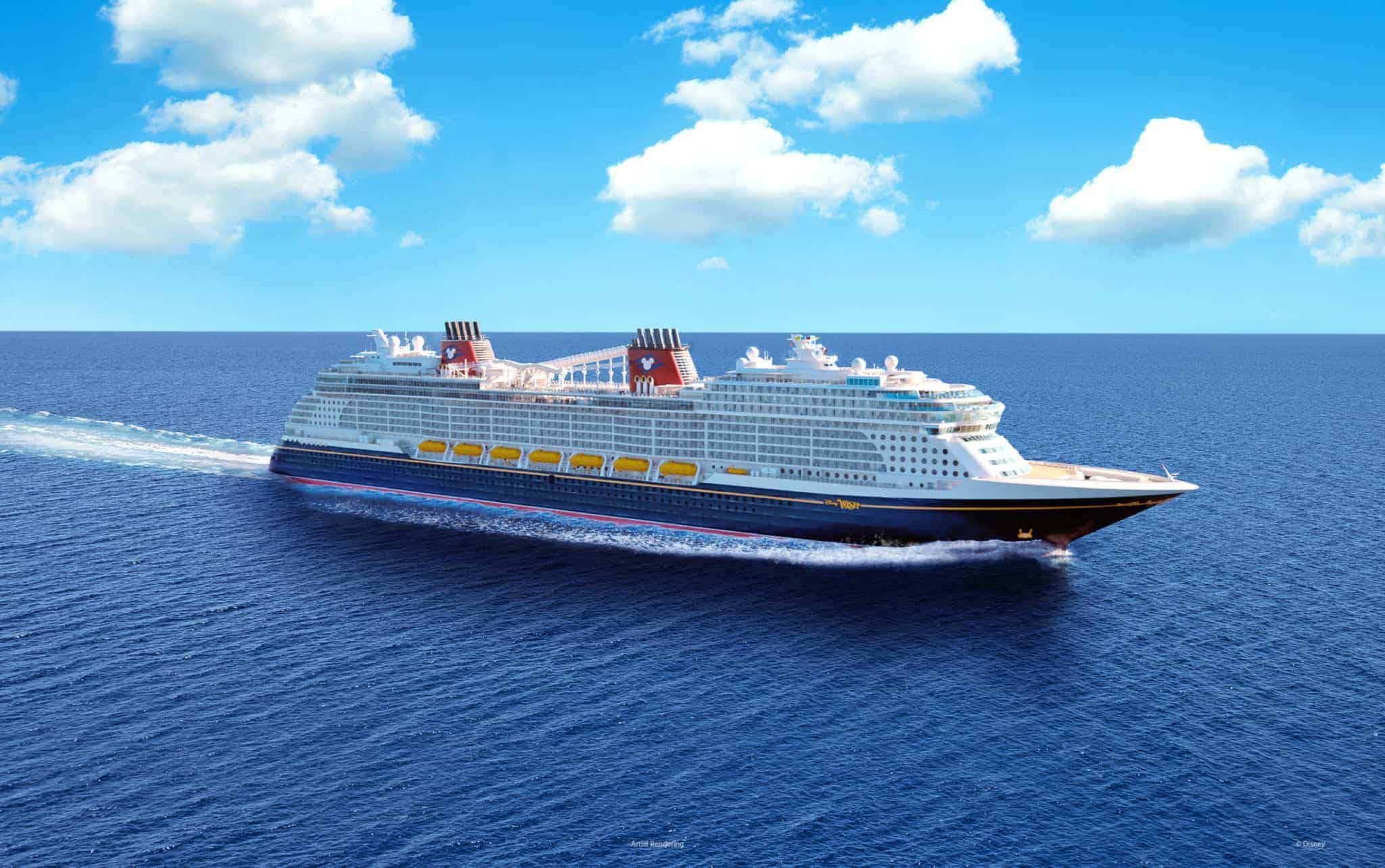 A Revamped Top-Deck Attraction
Disney will be debuting a new family water attraction on the top deck of the ship called AquaMouse, not to be confused with the similar AquaDuck water coaster on Disney Dream and Fantasy.
AquaMouse will immerse passengers in "The Wonderful World of Mickey Mouse" animated shorts, and will be a full ride experience complete with show scenes, lighting, and special effects. The entire ride time will be over two minutes long through 760 feet of winding tubes, almost double the length of ride time as the AquaDuck.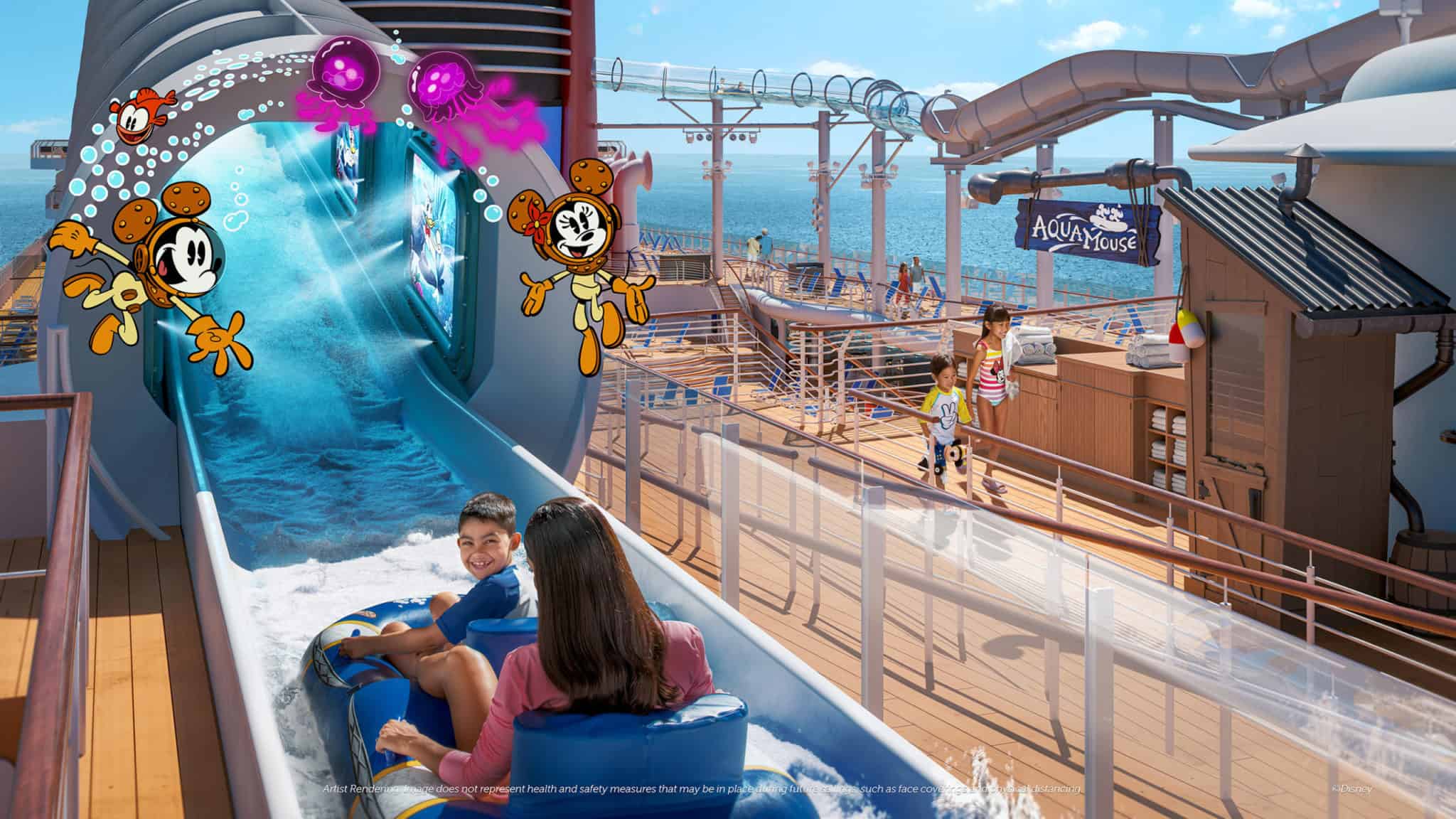 The upper pool deck area will also feature six pools staggered among tiered decks and surrounded by lounge chairs.
Kids will enjoy a redesigned water park area with a Toy Story theme, including a splash zone, wading pool, family waterslide, and "Wheezy's Freezies" smoothie bar.
A Culinary Cabaret
As with Disney Cruise Line's current four ships, rotational main dining will be featured aboard Disney Wish — in three all-new family restaurants.
Arendelle: A Frozen Dining Adventure is Disney's first "Frozen"-themed theatrical dining experience that will bring the world of Arendelle to life through immersive live entertainment on a 360 degree stage at the center of the room. It will feature favorite characters from Frozen, as well as world-class cuisine infused with Nordic influences.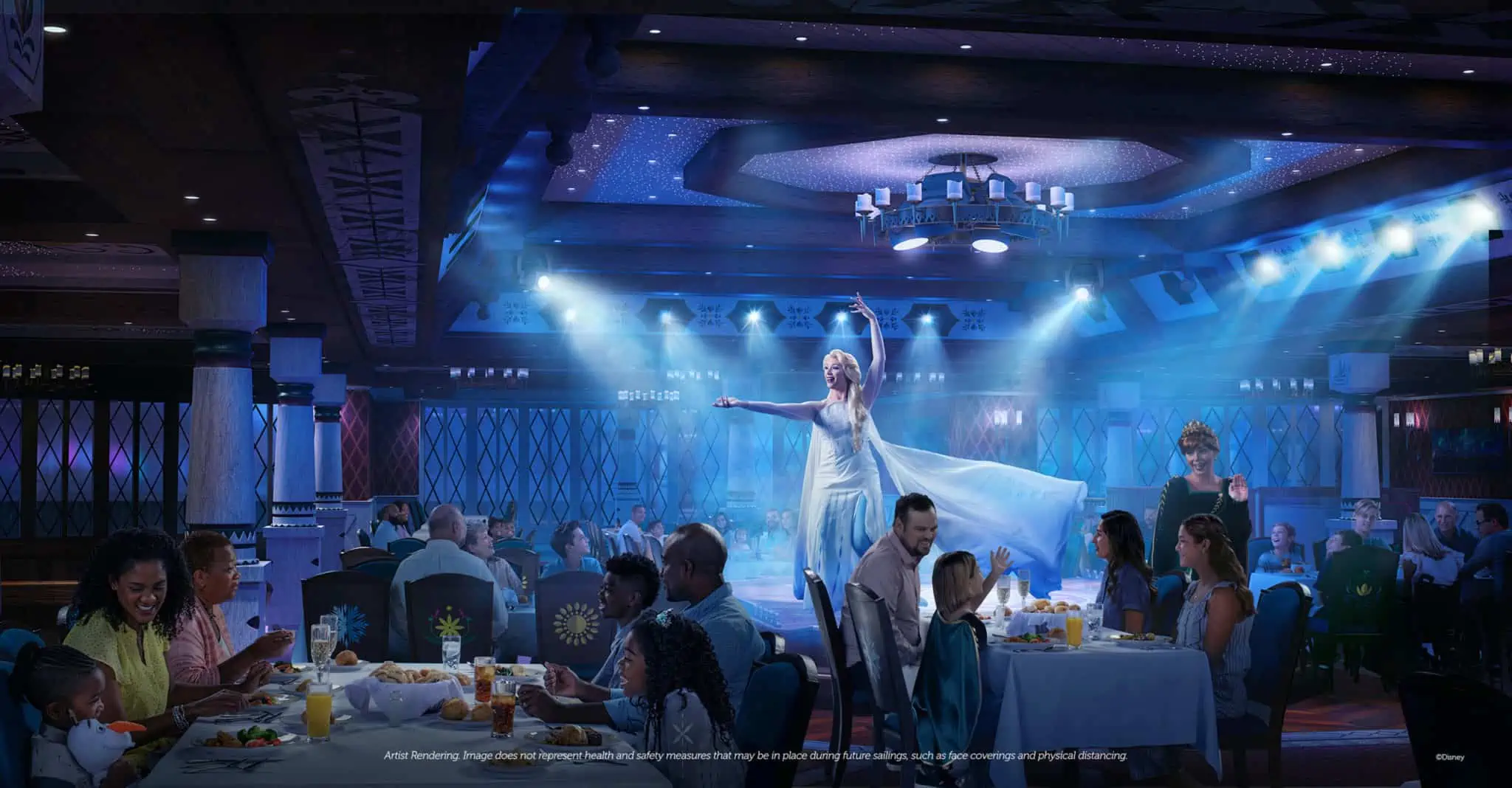 Worlds of Marvel is the first-ever Marvel cinematic dining adventure, where passengers will play an interactive role in an Avengers mission that unfolds around them. The menu will be inspired by the Marvel Cinematic Universe.
1923, named for the year The Walt Disney Company was founded, is an elegant celebration of the company's legacy, paying homage to the golden age of animation. The restaurant will offer a tasteful tribute to the company's Californian heritage with dishes inspired by the state's unique fusion of cultural flavors.
Disney Wish will also offer two adults-only specialty restaurants and a new lounge, all inspired by the classic film "Beauty and the Beast."
Palo Steakhouse is an evolution of the Palo restaurant that is a popular staple aboard all four of Disney's ships. The venue on Disney Wish will combine authentic Italian dining with the classic atmosphere of a modern steakhouse in a setting inspired by Cogsworth the clock.
Enchanté will offer the most luxurious dining experience on the ship, featuring a gourmet menu crafted by three-Michelin-starred Chef Arnaud Lallement. The romantic venue will evoke the spirit of the film's candelabra, Lumiere.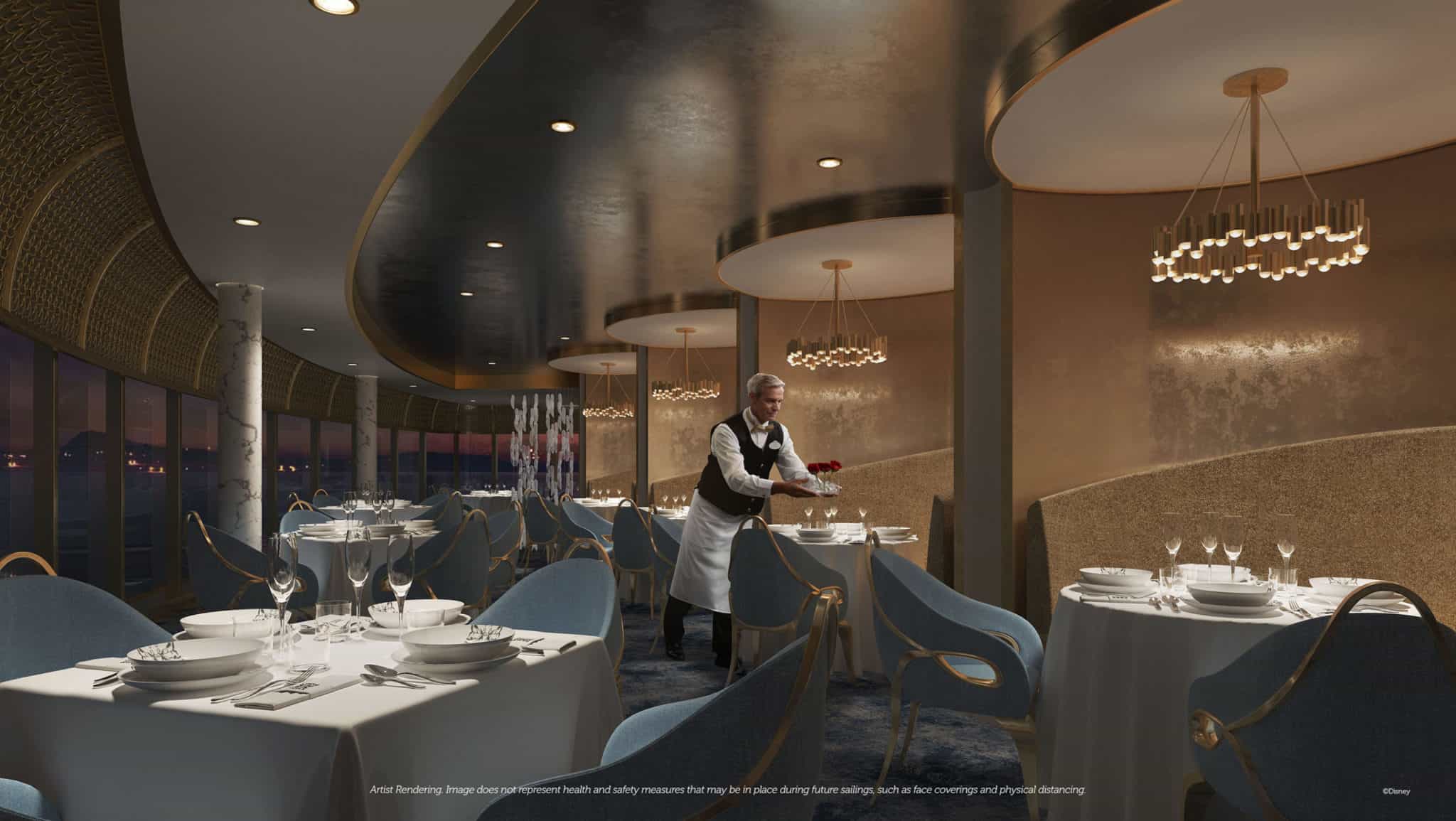 The Rose is a chic lounge at the entrance to Palo Steakhouse and Enchanté. Inspired by the flower at the heart of the story, The Rose will be the perfect setting for a pre-dinner aperitif or after-dinner cocktail.
READ MORE: Design Details Revealed For New Disney Cruise Ship
New Family Entertainment
The Grand Hall, or the ship's atrium, will feature built-in special effects and the first-ever atrium stage on a Disney ship. Dedicated shows and interactive entertainment will come to life all around the hall, putting guests front and center as they play a role in the magic. The best part? The Grand Hall will feature a secret door to a slide that takes kids straight down into the Oceaneer Club.
Luna is a brand-new entertainment hub that will transition from a daytime setting for family fun into an elegant evening venue for adults-only entertainment. It will offer live shows and interactive programming throughout the day.
Hero Zone is a futuristic sports arena where action-packed challenges and game show-style family competitions will be held.
The Walt Disney Theatre is an enchanted forest-themed show venue where Broadway-style stage productions will come alive.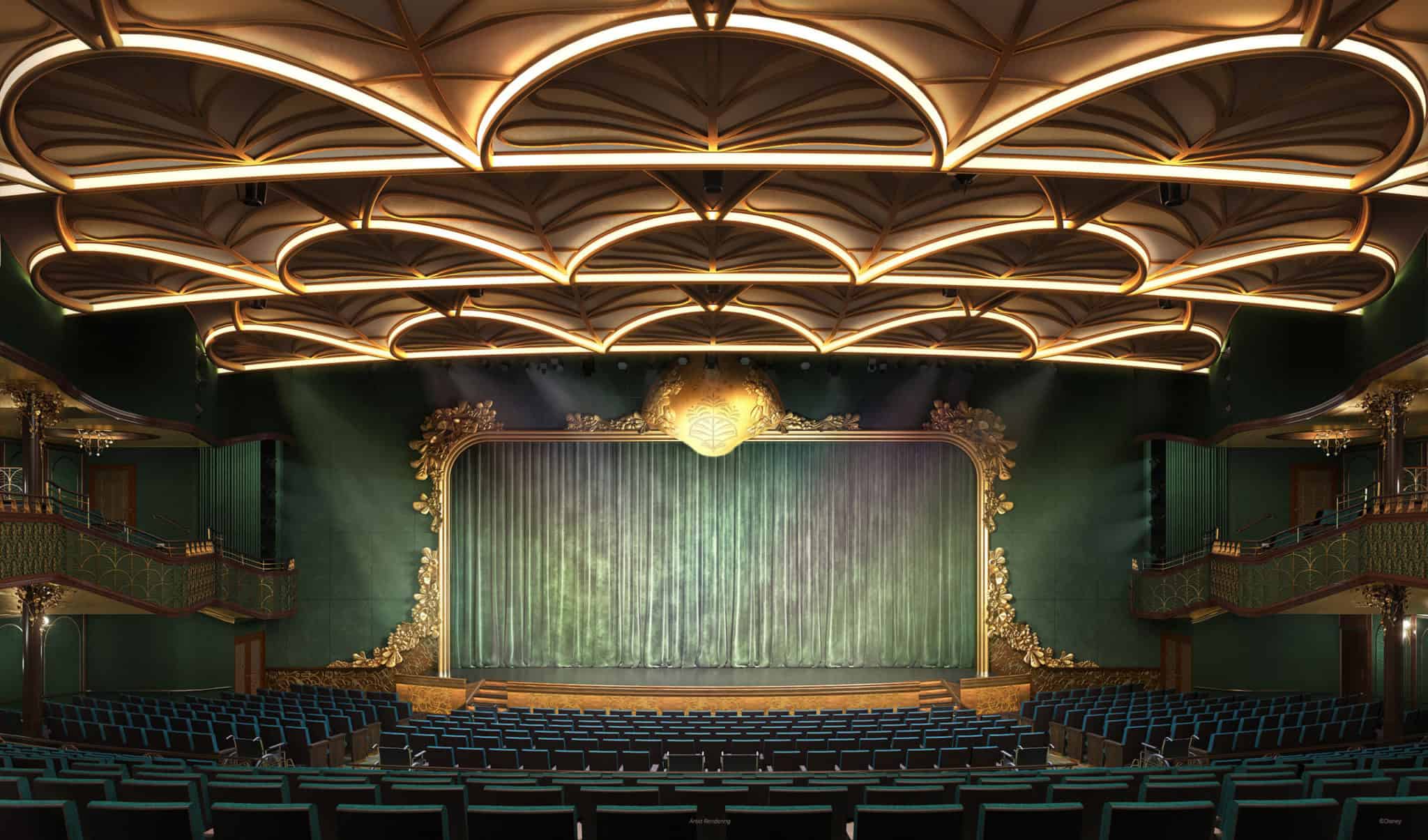 The Wonderland and Never Land Cinemas are intimate screening rooms where passengers can watch classic and first-run movies from Disney, Pixar, Marvel, Lucasfilm, and more.
Of course, the ship will also offer a lineup of energetic deck parties, character experiences, and fireworks at sea.
Cool Clubs For Kids
Kids ages 3 to 12 will enter the worlds of some of their favorite Disney stories in the reimagined Disney's Oceaneer Club.
Marvel Super Hero Academy is a high-tech Avengers headquarters where young "recruits" will train to be the next generation of superheroes with the help of heroes like Spider-Man, Black Panther, Ant-Man, and the Wasp.
Fairytale Hall is a royal trio of activity rooms where princesses and princes can let their creativity shine at Rapunzel's Art Studio, read and act out stories at Belle's Library, and test newfound icy powers at Anna and Elsa's Sommerhus.
Walt Disney Imagineering Lab is a first-of-its-kind opportunity for kids to discover the secrets of Disney Imagineers — the creative minds behind Disney theme parks, resorts, and cruise ships — with hands-on activities and experiments. The Imagineering Lab will even include the capability to create your own virtual rollercoaster.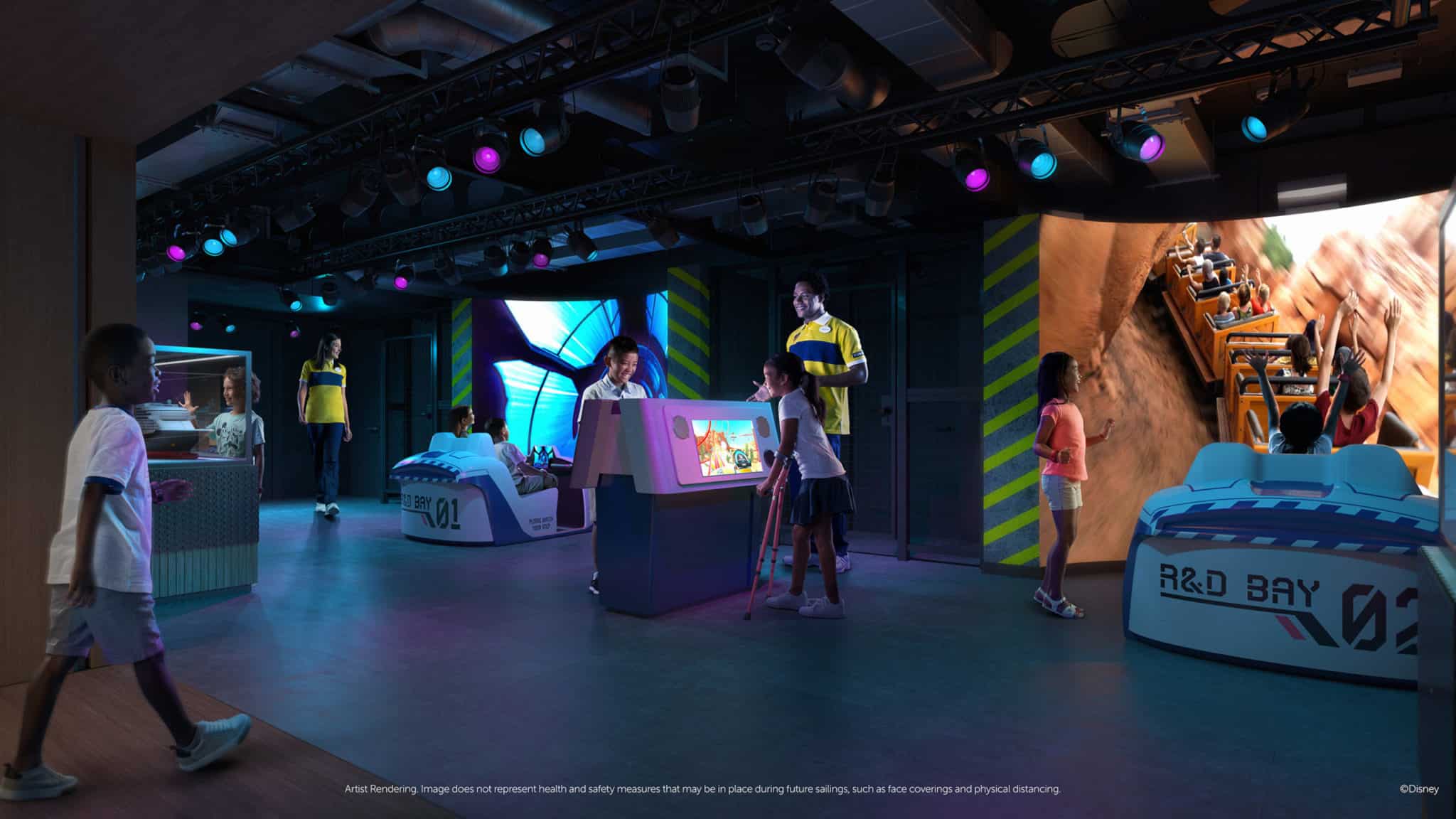 The littlest cruisers, ages 6 months to 3 years, can be dropped off for babysitting services at It's a Small World Nursery, which can already be found on other Disney ships.
Teens have not been forgotten, as they have their own spaces on Disney Wish as well. The popular Edge (ages 11 to 14) and Vibe (ages 14 to 17) clubs will be found onboard — places where tweens and teens can hang out, make new friends, and enjoy different activities.
A Trove of Treasures For Adults
We touched on some adults-exclusive amenities with the Beauty and the Beast-themed restaurants and lounge, but there's more that Disney Wish has to offer just for grown-ups.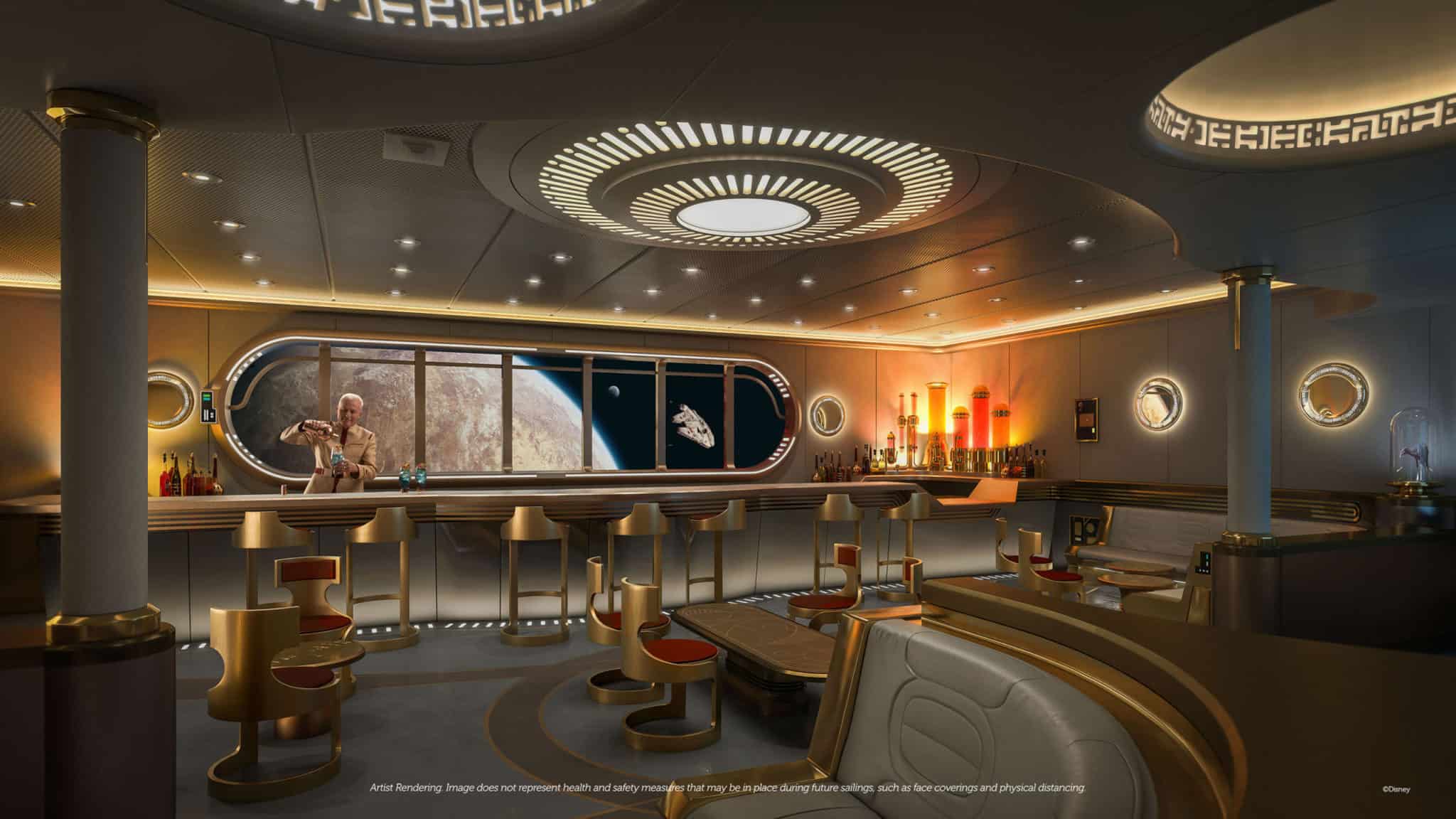 For the first time on a Disney ship, passengers can embark on a space-jumping tour of the Star Wars galaxy at Star Wars: Hyperspace Lounge — a high-end bar styled as a luxurious yacht-class spaceship. The immersive experience will be reserved for adults every evening, offering interactive tastings and Star Wars-themed beverages inspired by destinations such as Batuu, Tatooine, and Mustafar.
The adults-only Quiet Cove sundeck is back, but in a new location at the aft of the ship. It will include the poolside Cove Bar, Cove Café, and brand-new infinity pool. There will be other bars and lounges in the Quiet Cove adults-only district as well, to be announced at a later date.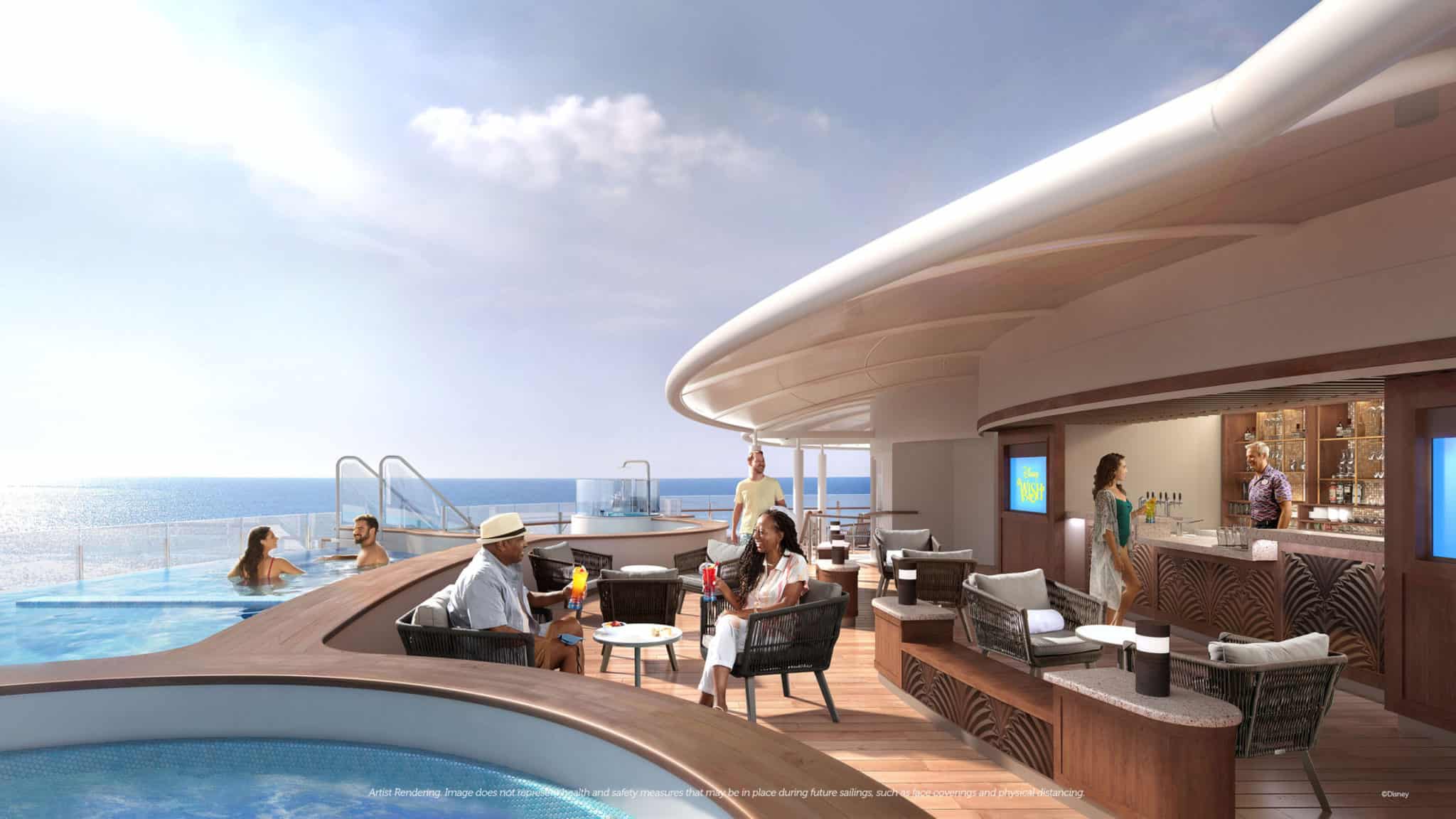 Artful Accommodations
Staterooms onboard Disney Wish will boast an all-new look and feel steeped in enchantment and inspired by some of Disney's most beloved stories, such as Cinderella and Tangled. Many cabins will feature Disney Cruise Line's signature split-bathroom concept, which has been incredibly popular among families.
Most of the ship's 1,254 staterooms will offer an ocean view, and 70 percent will include a balcony. There will be 451 connecting doors that adjoin rooms to accommodate larger families — around 900 connecting cabins in total.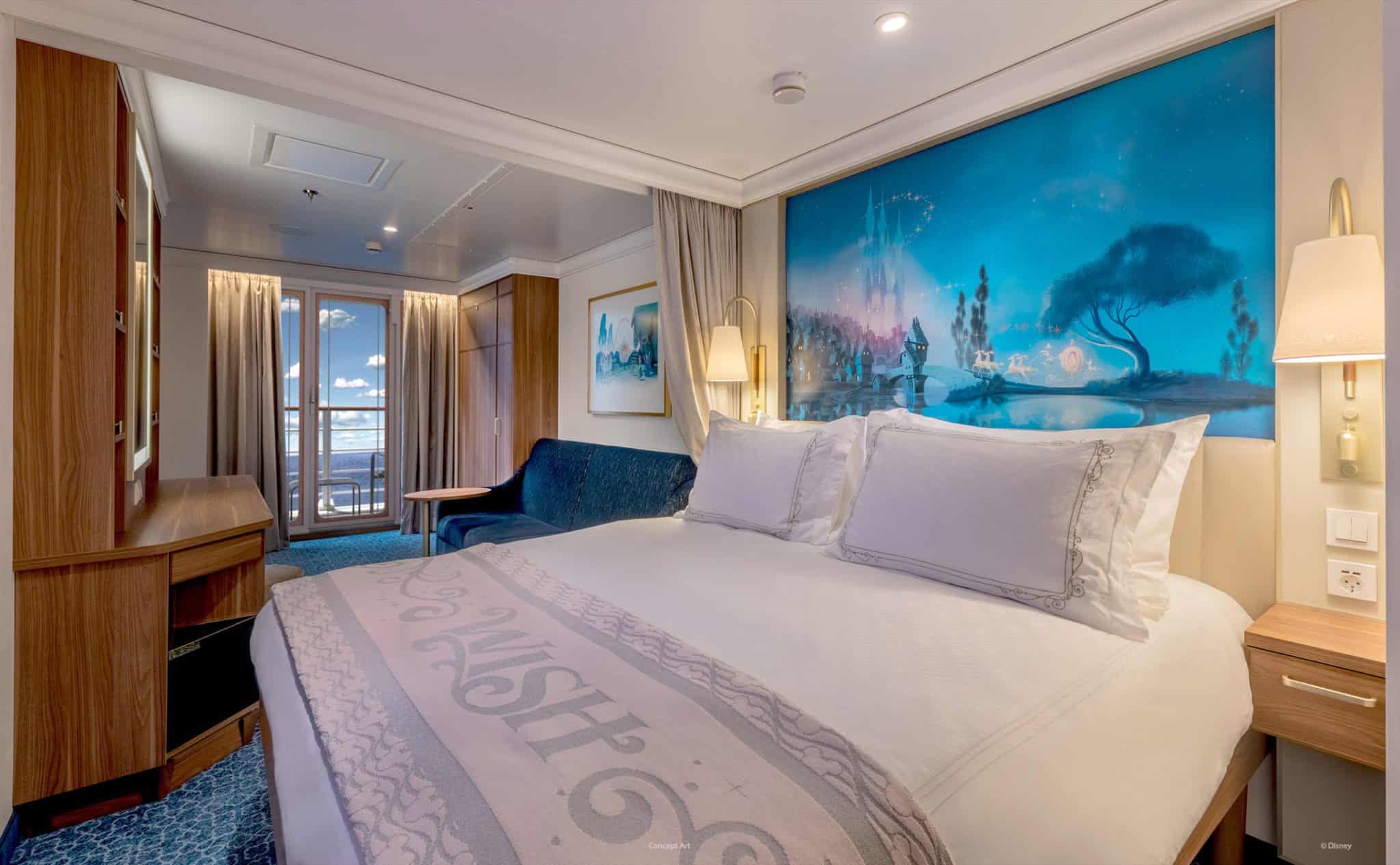 Disney Wish will feature over double the number of premium concierge cabins and suites, including Disney's first-ever staterooms located above the bridge. An exclusive lounge and private sundeck will be available to concierge guests.
The ship will also debut four Royal Suites, two of which are two stories tall with elegant spiral staircases.
Expanding The Disney Fleet
Disney Wish is the first of three new Disney Cruise Line ships to be built at the Meyer Werft shipyard in Germany through 2025. All three will be powered by liquefied natural gas and be slightly larger than Disney Dream and Fantasy. 
Bookings for Disney Wish open to the general public on May 27, 2021.
READ NEXT: Disney is Bringing Back Special 'Star Wars' and 'Marvel' Cruises
Pin it!