Going on a cruise for the first time might seem a bit daunting, but in essence it's not really different than any other vacation. There are things that are probably not so important to bring, but conversely, there are many things that you absolutely need to pack. So, if your first cruise is right around the corner, look through this list and be sure to take all of these. They will save the day.
1. Swimming Gear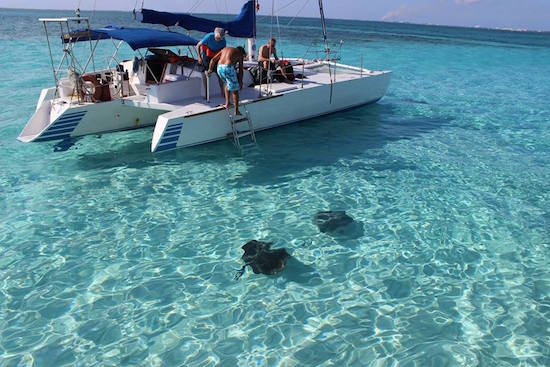 Whilst we're not talking wetsuits and scuba diving paraphernalia, you'll definitely need swimming gear in case you fancy a dip in the pool, or even if there's a chance for a little swim at a beach stop-off. A swimsuit for women and bathing trunks for men are essential, and be certain to bring many towels! A quick-drying towel will definitely be useful.
2. Sun Protection
This means you'll want sunblock (and after-sun lotion), a good wide-brimmed hat, lip protection, and a quality pair of sunglasses. The last one is perhaps the trickiest to get right, as many people are happy enough to buy a cheap pair at a gas station they found on the way to the harbor, but really, you should be thinking ahead. Eye protection is very important, as UV rays need to be blocked out with a pair of sunglasses that can handle it! Ray-Ban, Oakley, and Prada are all trusted brands when it comes to eyewear, but there's also something to be said about Michael Kors sunglasses. Look at the styles and see if there's something that matches your taste.
3. Chargers
It's quite easy to pack your phone, tablet, and maybe even laptop before you run out of the door, but wait! Don't forget to bring those chargers too. You won't have much fun if you planned on taking some photos on your phone, only to discover that your battery has died and you have no way of charging it until you're back. Erase any doubt by making sure your chargers are amongst the first things you pack.
4. Mix of Shoes
Sandals or flip-flops are likely to be the type of footwear you'll wear the most, but they shouldn't be the only pair! A good set of trainers will be handy if you just want to roam around the ship indoors, and if you plan on having a nice dinner, then a fancy pair of Brogues would also be fantastic. If the weather is bad or it's cold at night, then you'll be glad you're not just wearing your sandals.
5. Range of Jackets
Similarly, you should take a few jackets with you, perhaps a nice dinner jacket and a light sports coat for when you wish to be outside on a cloudy day but don't want to feel the chill. A good range of jackets is essential because it always happens that when you need one, it's not there.
6. Over-the-Counter Medication
Whilst the ship will have a doctor on board, there might be times when you simply want a bit of relief from low to medium pain. Things like paracetamol or ibuprofen will be useful for headaches, and stomach relief pills like Pepto Bismol can help when things get a bit choppy on the sea. However, if you suffer from bad seasickness, then we'd recommend reading these tips.
7. Earplugs
Although many find the sound of the ocean to be very relaxing, it's not for everyone! There might be random sounds made by the ship or the occasional seagull, too. Therefore, it's best that you find some earplugs if you think that there will be too many noises that will keep you awake at night. If you're sharing a room with someone who snores, then you'll definitely need a pair.
8. Books and Magazines
There may come times on the cruise when you don't feel like swimming, or even looking at your phone, so when these moments happen, a good book or magazine will be perfect. It's nice to take a break from technology now and then, and reading a book in the sun while the ship breaks through the waves is a perfect idea.
What are some items that you don't cruise without?
SaveSave