Over the past few days, we discussed the fact that whether you want free eats or specialty dining, you won't go hungry on the Carnival Horizon. Now it's time to talk about what you'll be doing after the show and all we can say is… don't plan to make it an early night. Why? Because there's a whole lot going on around the ship, and it'd be a shame to miss out on the action.
There's Music Everywhere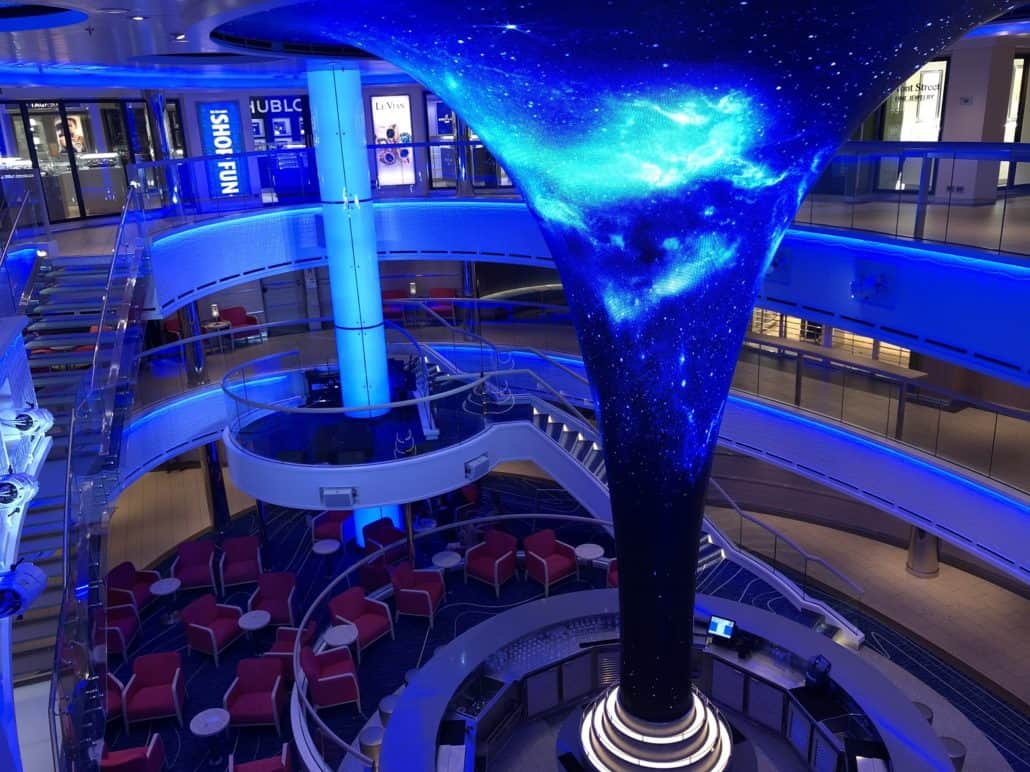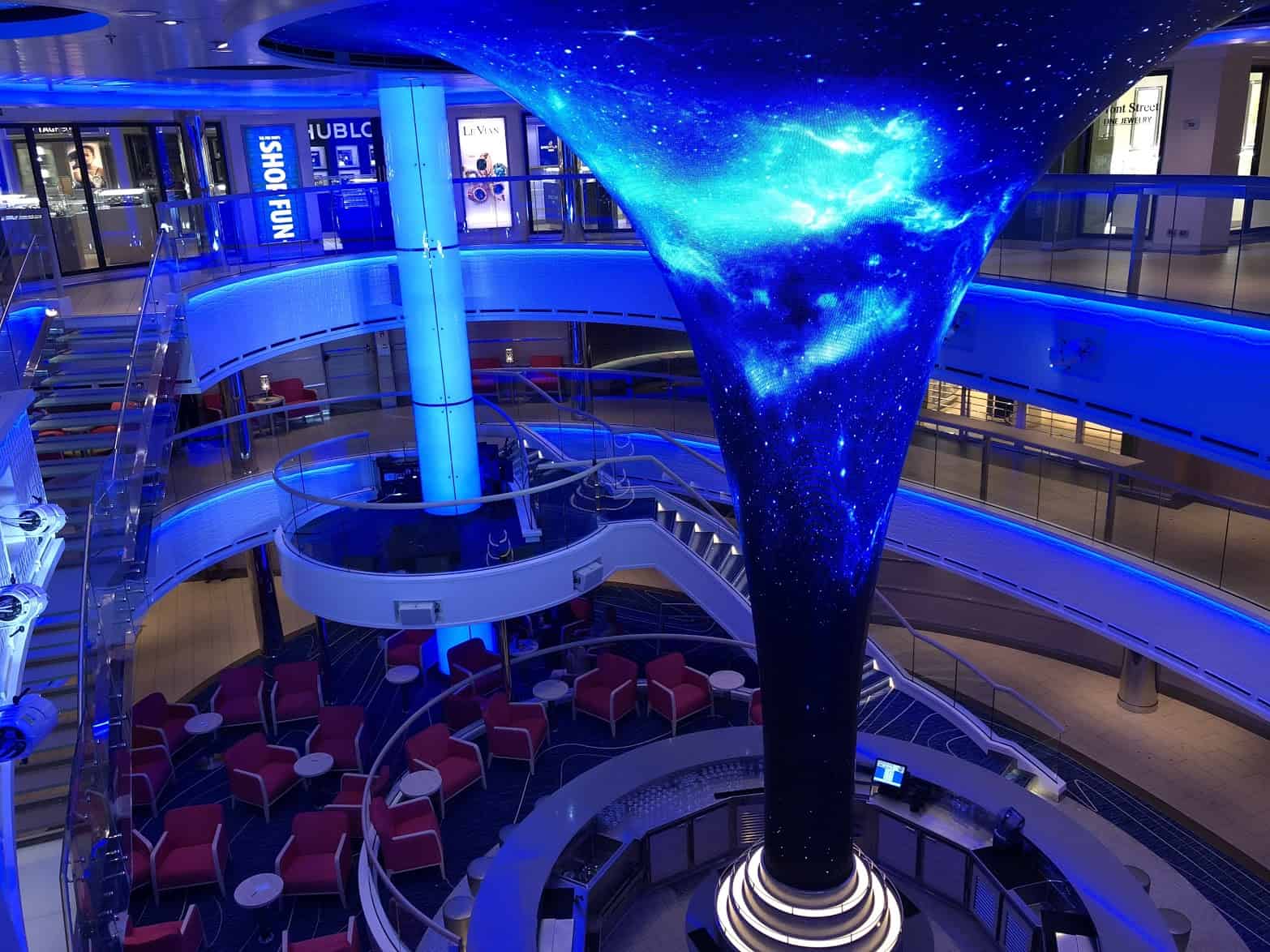 While there are several full-scale productions available for your evening's entertainment, just walking around the ship will inevitably lead you to live music. One recent event, we found a great duo crooning country tunes in the Pig & Anchor, a singer-backed band (or a late-night DJ) keeping people grooving in the Havana bar, a violin trio playing on the elevated platform just above the atrium bar, and yet another band playing in Ocean Plaza… there's no shortage of options on the Horizon. Don't like the type of music being featured in one venue? Grab your cocktail and wander someplace else. And don't forget to swing by the piano bar for a rollicking sing-along, or the Limelight Lounge if you want to get your boogie on.
The Shows You'll Want To Catch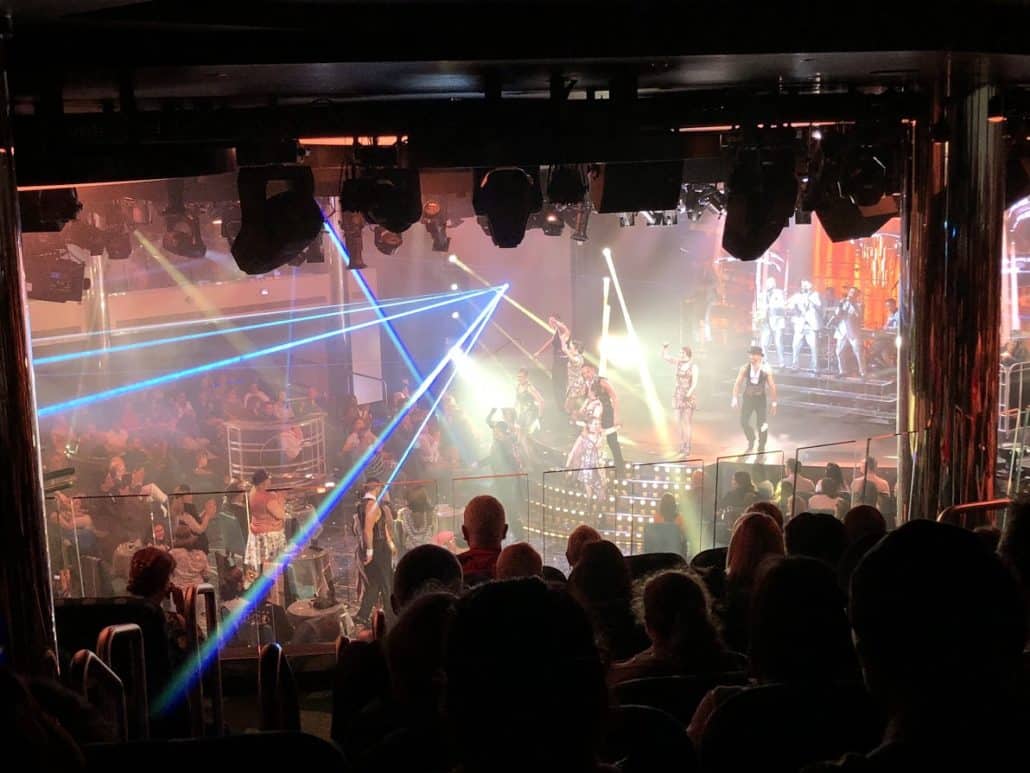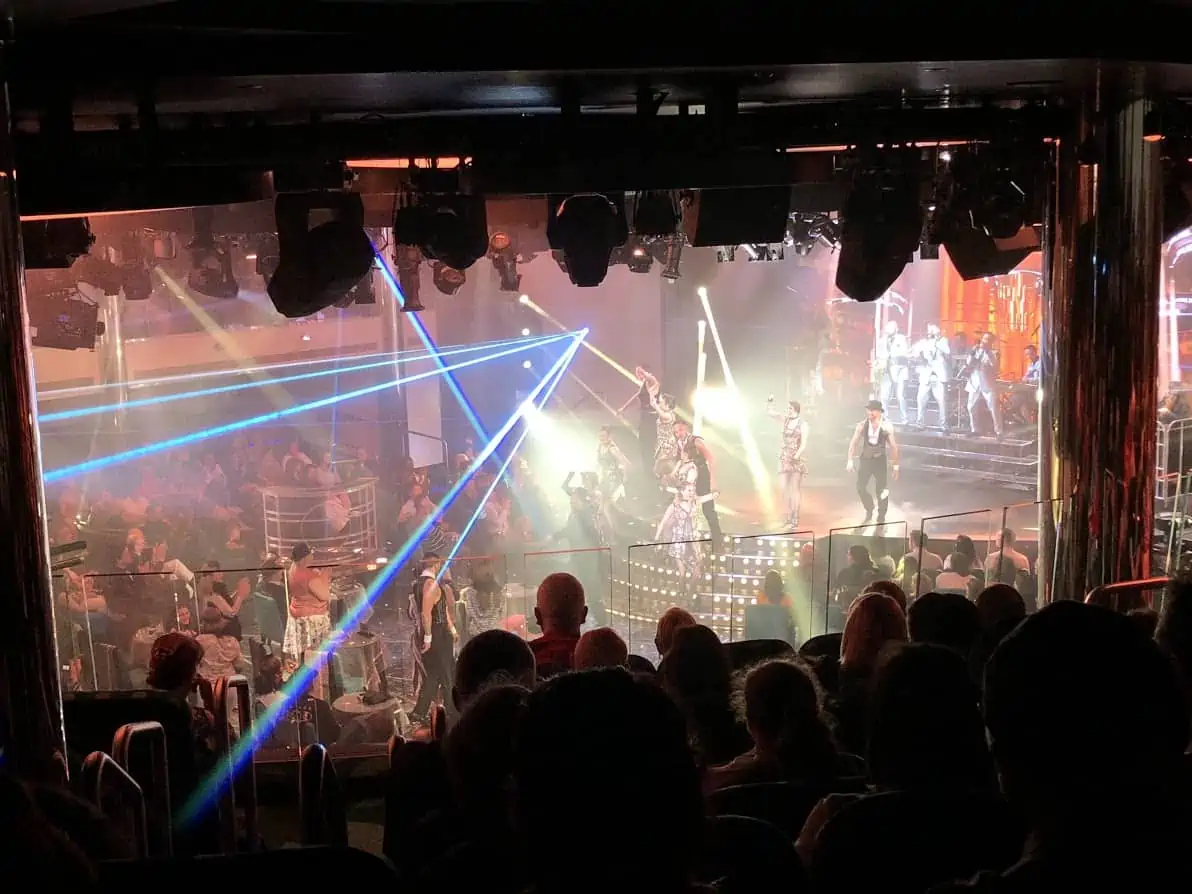 Production-wise, Carnival Horizon offers several Playlist Production shows… all of which are designed to immerse the audience more than ever before. "We're using [video-game] technology to create immersive environments," says Media Producer Robb Wagner. "It's going to make the audience feel more like they're stepping into a world versus sitting down to watch a show."
So what worlds do they take you to? With Soulbound, it's the supernatural-tinged underbelly of New Orleans. While the cast is singing tunes like Superstitious, Soul Man, and Born Under A Bad Sign, the staging transports the audience to a haunted riverboat, a cemetery and an apothecary… the latter of which would make Alchemy Bar a perfect spot for pre- or post-show cocktails.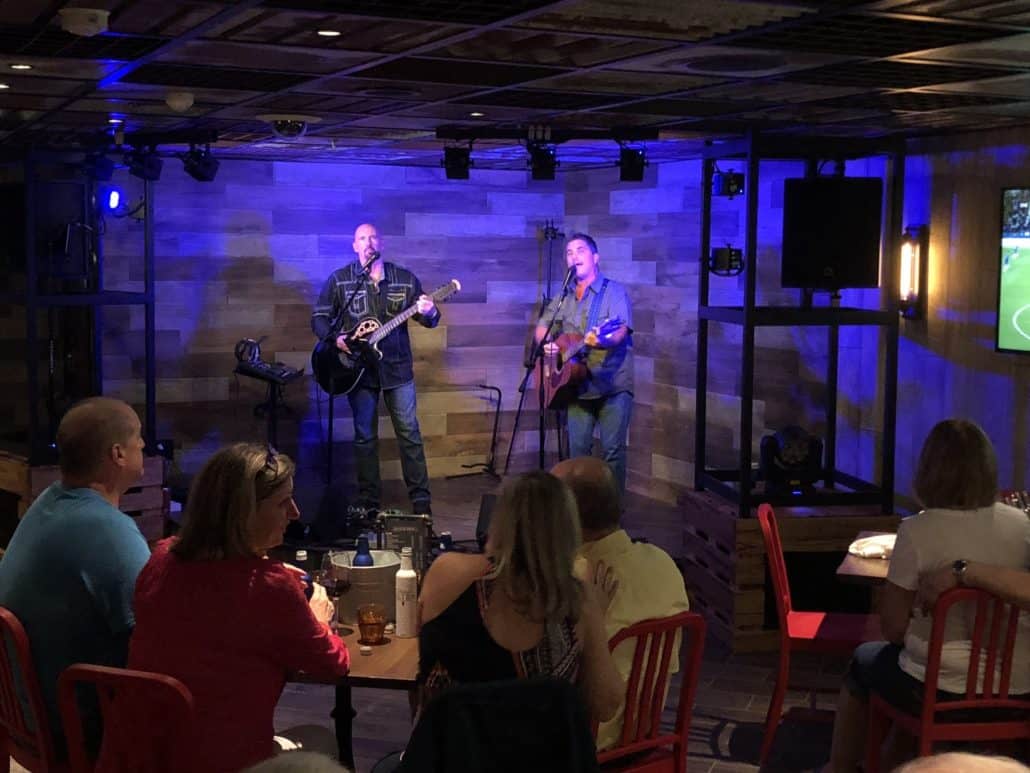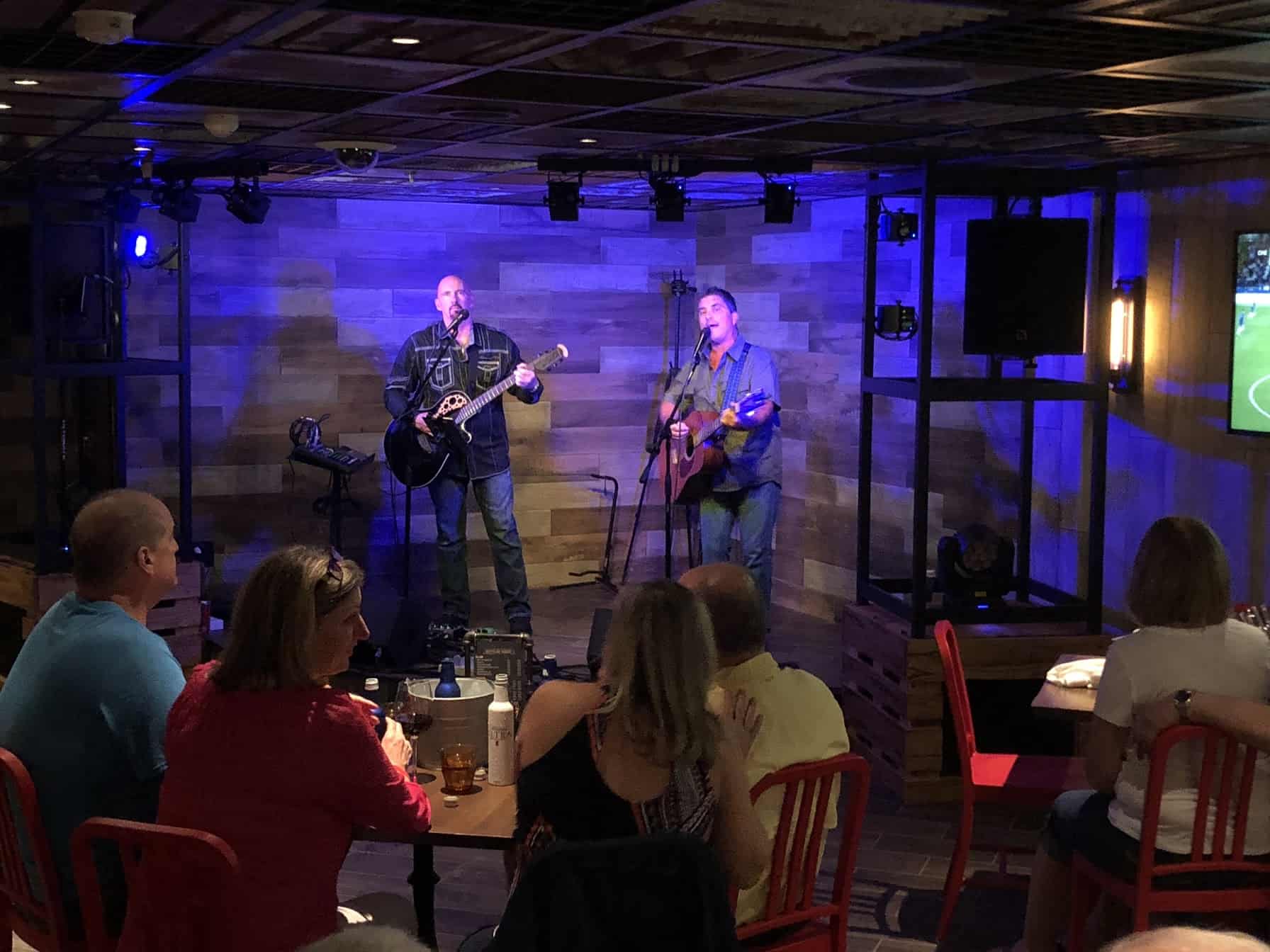 Vintage Pop is a little closer to the standard Playlist Production show Carnival passengers are familiar with, featuring a Cotton Club era vibe. The twist here? Modern tunes rearranged in a jazzy style by a six-piece live band… and a party which then moves to the atrium so everyone can join the fun.
Interestingly, the "world" passengers are transported to with Amor Cubano is the ship's own Havana Club, which is partially recreated on the stage for this production. Again, the highlight here is live music as a seven-piece band performs Cuban-tinged hits from the likes of Gloria Estefan and Celia Cruz.
But perhaps the most original of the shows is Celestial Strings. For quite some time now, the string trio who has played in the atrium have been a favorite among cruisers, so it makes sense that Carnival would build an entire show around them. The idea here is to merge classical music and pop beats, then set the whole thing in a virtual "garden" that changes with the seasons and uses multi-sensory techniques to bring it to life. (Translation: You'll not only hear the music, but see and even smell it!)
But Wait… There's More!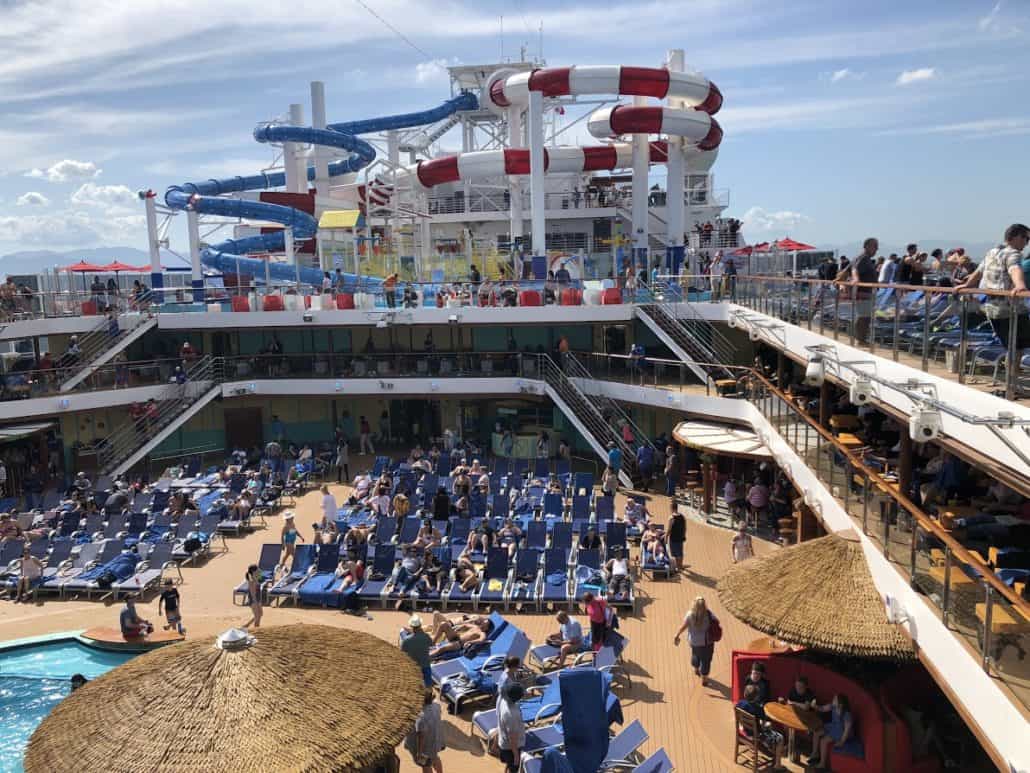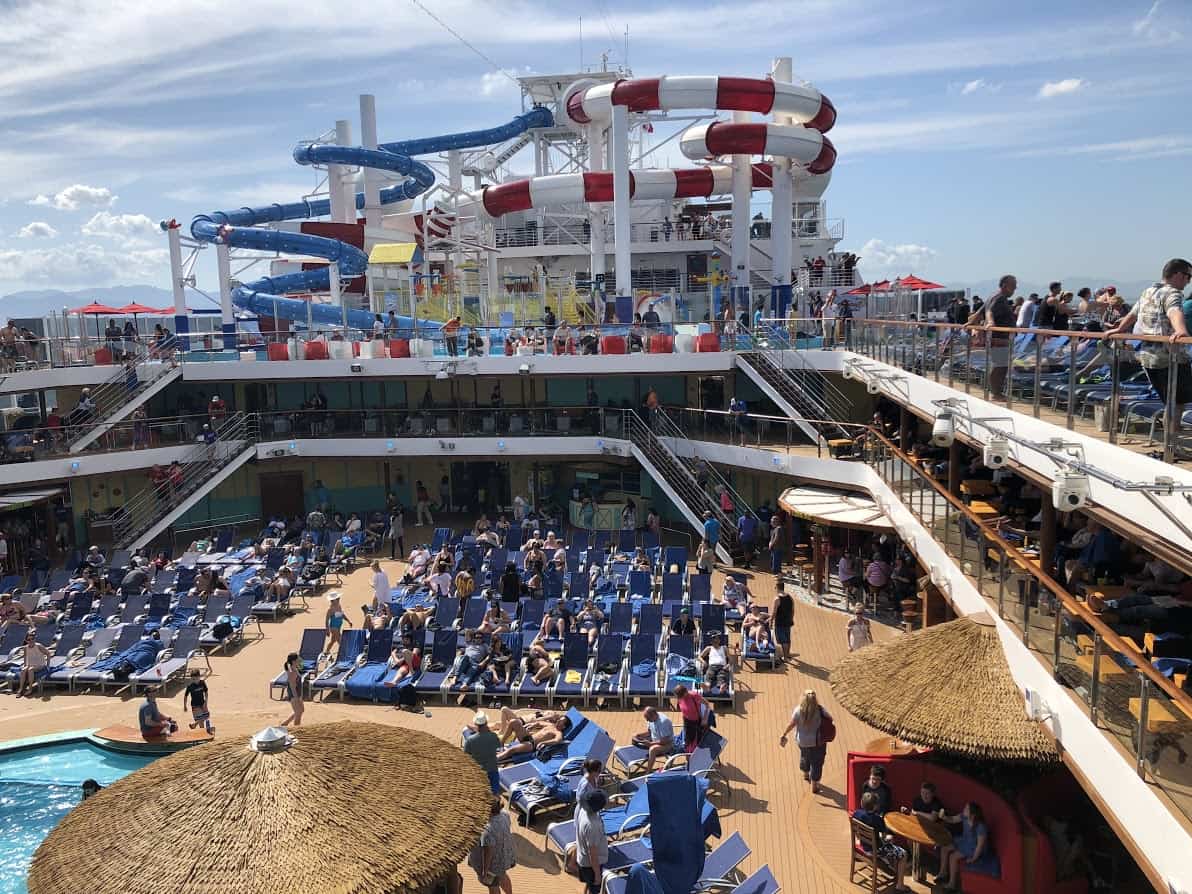 While we've focused here largely on the nighttime entertainment to be found, it's worth noting that you don't have to wait until the sun sets to find a good time… and this is especially true on sea days. This being a Carnival ship, you can count on a lot of music and activities (including crowd-pleasers like the Hairy Chest competition) around the pool.
One of the not-to-be-missed activities usually held by the pool, weather-permitting, is the Lip Sync Battle Open Auditions. (Be advised, you shouldn't get the kids too excited about this one… participants have to be 18 years or older!) Look for the exact time of the auditions in your Fun Times newsletter, it's usually on sea days.
And if you're looking for one of our favorite family-friendly activities, keep an eye on the Fun Times newsletter for Hasbro, The Game Show. Want to be part of the action? Make sure to get to the theater early, grab a good seat, and make lots of noise when the hosts are looking for volunteers. (On the other hand, if you want to make sure you're not among those chosen, sit in the upper levels… and maybe slouch down in your seat during the selection process!) Watching people of all ages compete in ginormously-sized versions of games like Simon or Connect Four is pretty much a guaranteed good time… especially when the kids prove far better at the games than do the adults!
Looking to prove you're a total know-it-all? Of course, you'll find trivia competitions covering everything from Geography (we'll take a hard pass on that one!) to 80s Music (that's more like it!) And while many dance parties are held in the atrium, keep your eyes on the Fun Times for a special, adults-only party held — where else? — on the Serenity deck.
And yes, of course, there's Bingo galore… but you probably already assumed that, right?
Next up as we continue our Carnival Horizonpalooza? Make sure to eat a little something so you're not drinking on an empty stomach, because we're going on a bar crawl.
Read our past entries: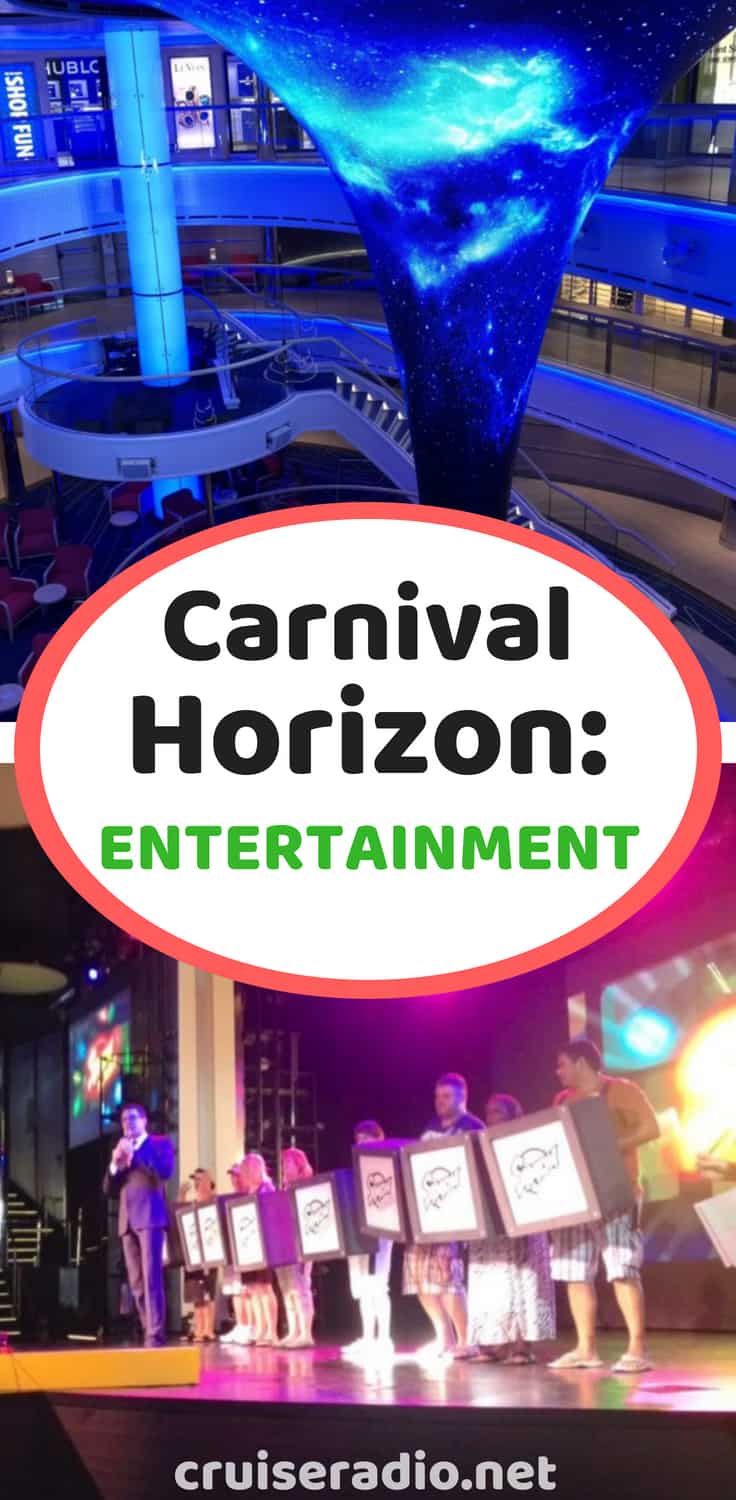 SaveSave