Since we figured out ways to keep the kids entertained in our last entry, it seems as if we've earned a little adults-only relaxation, right? So let's wander around the Carnival Horizon and take in some of the various venues that offer grown-ups an opportunity to rest, relax, and have some fun of their own.
A Little Piece of Heaven
In our minds, there's really only one place to start when it comes to adults-only areas, and that's the Serenity Deck. Step away from the madness and chaos of the pool area and head up to this ship-topping oasis where no one under the age of 21 is allowed, and that rule is pretty well enforced.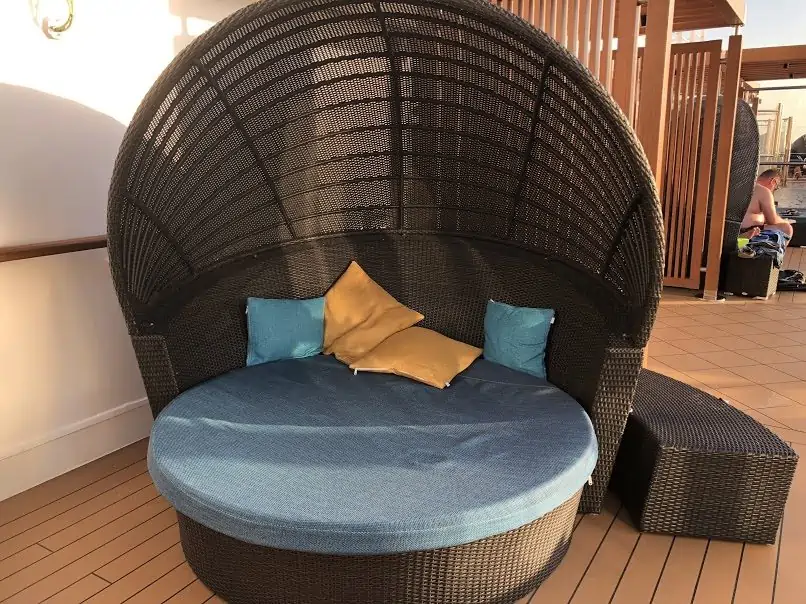 As a result, the Serenity area is exactly what you both want and expect it to be, complete with a bar, tons of comfy seating (including hammocks and daybeds perfect for cuddling) and, on sea days, a salad bar. There's also, of course, a full bar of the non-salad variety which offers a variety of specialty cocktails, wines, and other adult libations.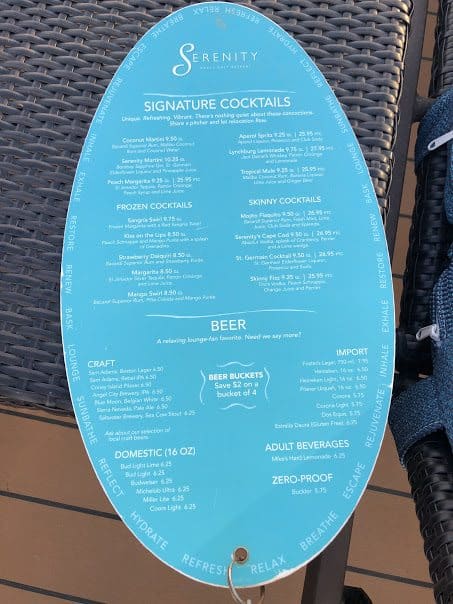 Another spot that pretty much screams "relaxation" is, of course, the Cloud 9 Spa. Be sure to swing by on the first day and take the tour, because it usually involves a raffle for some type of spa package. Yes, as on every cruise ship, you'll probably wind up getting a hard-sell at some point, but we've found that if you're up front with a polite but firm "Not interested," they respectfully dial it back. Planning to spend a fair amount of time at the spa? Consider booking one of the Cloud 9 Spa staterooms, which give you access to the thermal suites, priority booking of treatments and a host of other perks.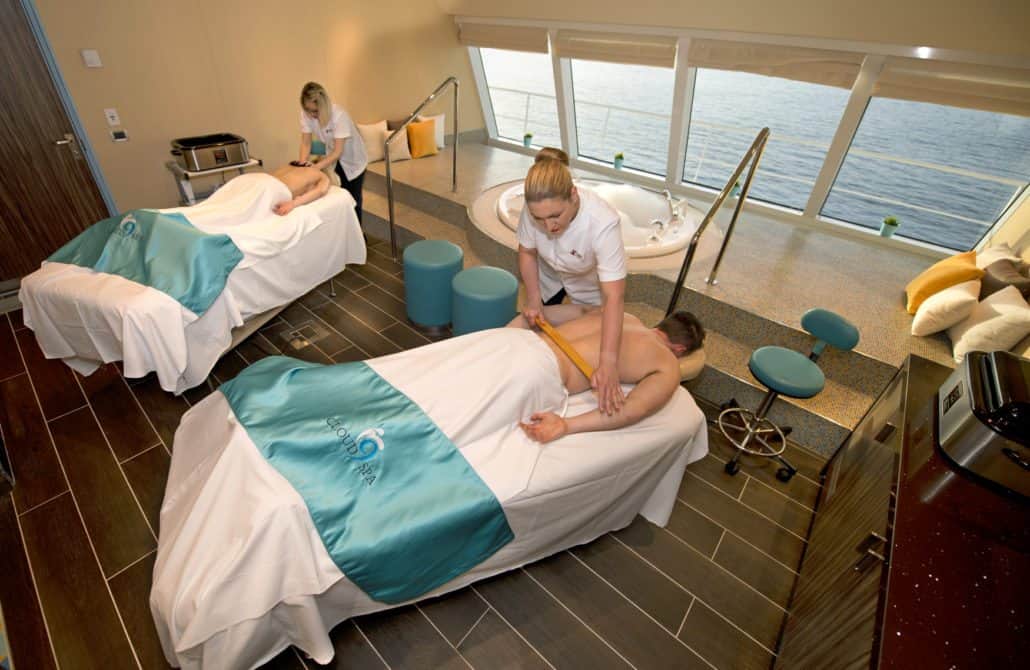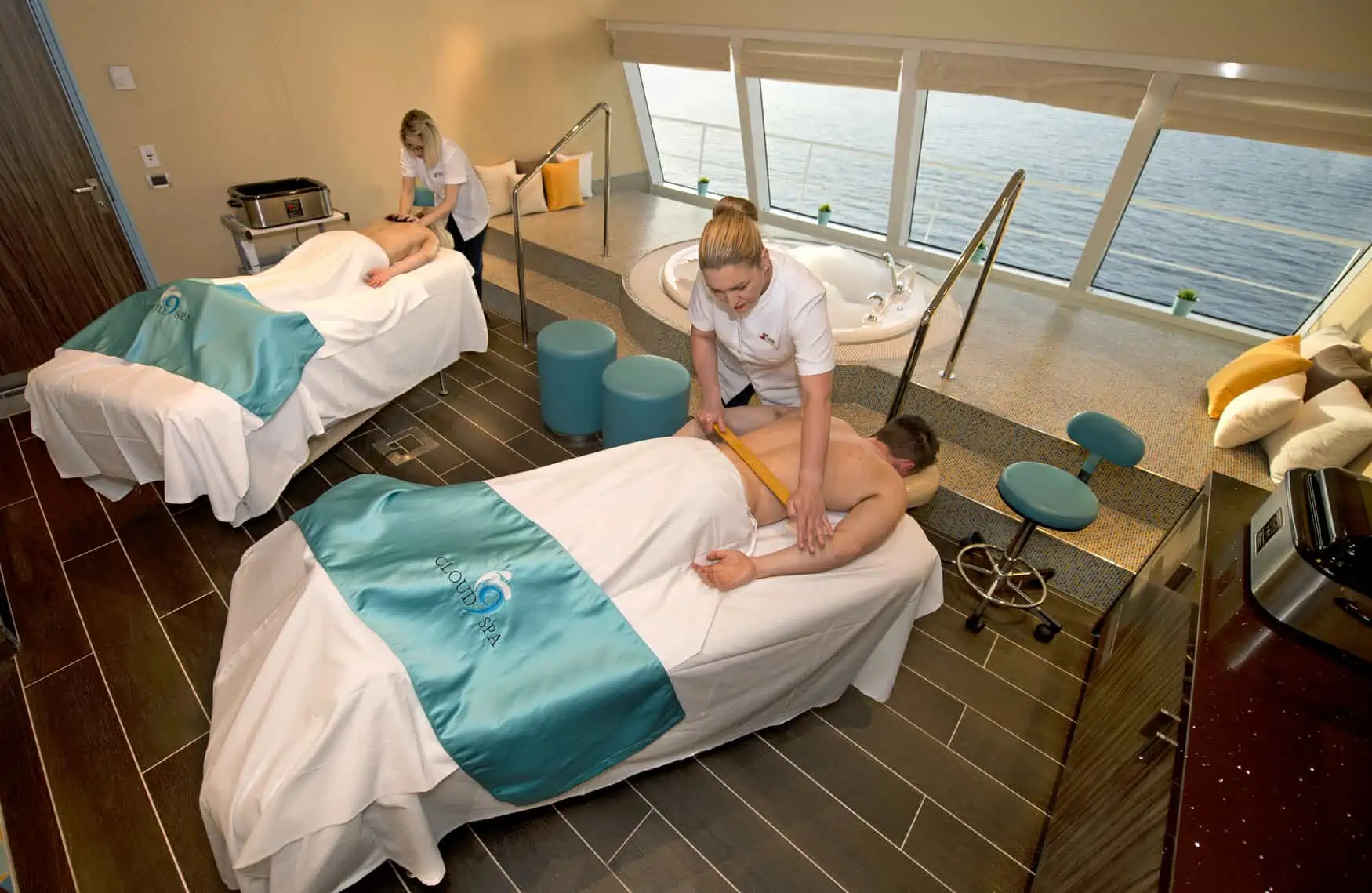 You can also purchase a week-long pass to the thermal spa, which includes dry heat chambers, a variety of steam chambers (including one called an "aromatic grotto"), a large whirlpool and two "experience showers" which help sooth you by combining the soothing waters with special aromas. And remember to check Carnival's website under My Cruise Manager before you sail to see if by booking treatments in advance, you can save a little money!
After Dark, the Real Fun Starts!
There are all kinds of fun activities scheduled throughout the day that are perfect for families… but it's after dark, when the kiddies are tucked away and (hopefully) asleep, that the Carnival Horizon really comes alive. We spoke about some of our favorite bars and hot spots earlier, so you already know to grab pre- or post-dinner cocktails at the Alchemy Bar, and that you can dance the night away at the Havana club.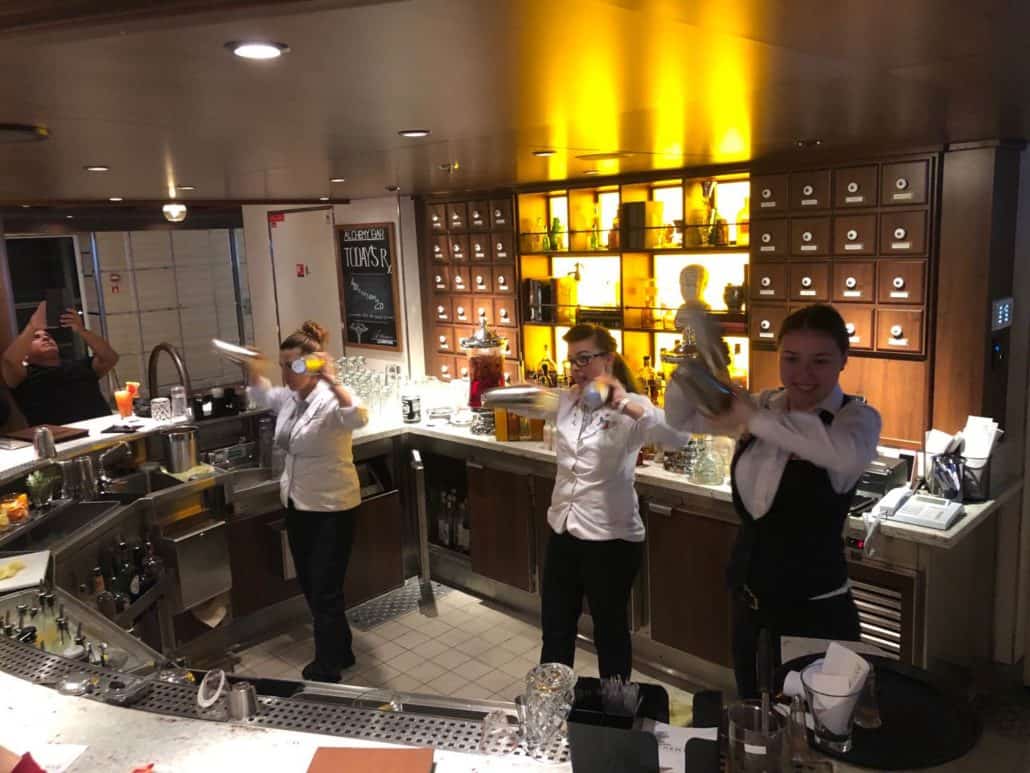 But if you wanna just kick back and relax for a while before things rev into high gear, why not head to the Punchliner Comedy Club, which on most nights offers an 18-and-over show later in the evening. Don't bring the kids, and leave your prudish Aunt Gertrude in the stateroom because things can get a little raunchy during these shows!
Speaking of activities Aunt Gertrude probably isn't going to want to take part in (unless you think maybe it'll help her loosen up), there's the infamous Quest Game Show. Think of it as a very, very adult scavenger hunt… and more fun than should probably be legal. Heck, maybe that's why it only takes place at sea… because international maritime laws are looser! Keep your eyes on the Fun Times, because this is one game you definitely do not want to miss!
Shop 'Til You Drop
As you know, your Sign & Sail card basically acts like a credit card while you're on the ship… and as fate would have it, there happen to be some pretty nice shops on board! (It's as if someone at Carnival thought, "You know, we've got them here… and they've had a few drinks… ") Maybe after having some luck in the casino (which we'll talk about soon!), you want to buy something a little special, making Front Street Jewelers a great place to stop. And maybe in order to get lucky in a completely different way, you want to pick up something from Victoria's Secret! Of course, the Carnival Store sells… you guessed it, lots of Carnival branded items (including those awesome miniature ships which would look so good somewhere in your house, right?)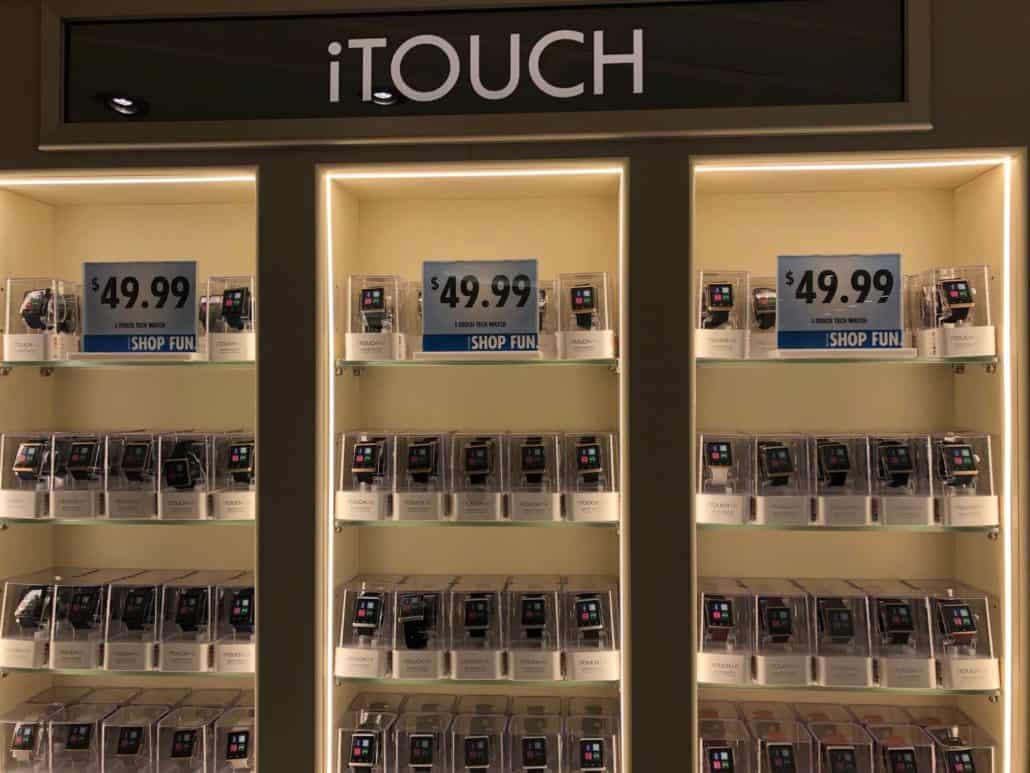 Of all the shops on board — and there's some great, high-end stuff available — perhaps our favorite is the Wearable Tech store, specializing in a variety of fitness-tracking watches (and a staff who knows how to help you get started), perfect for those who need a little help making sure that they take enough steps each day to work off at least some of what they're eating at the endless restaurants!
Smile For The Camera!
While people love posing with their families for the photographers found around the ship, why not book a special Dreams Studio photo shoot? Whether for you and your significant other or a group of friends traveling together, this is a fun way to commemorate the trip. And what the heck, after getting some pics snapped of just the adults, let the kids in for some shots. It is their vacation too, after all. At the end of the day, could there be a more perfect souvenir of your vacation than gorgeous photographs that will capture it forever?
Finally, how's this for an amazing way to cap off your vacation: A vow-renewal ceremony with the captain himself presiding. Check the Fun Times newsletter for more on whether this is available on your sailing, and how to set it up, or contact Carnival in advance to make preparations for a day neither of you will ever forget!
Next up? If baby needs a new pair of shoes, we're heading for the right place… the casino!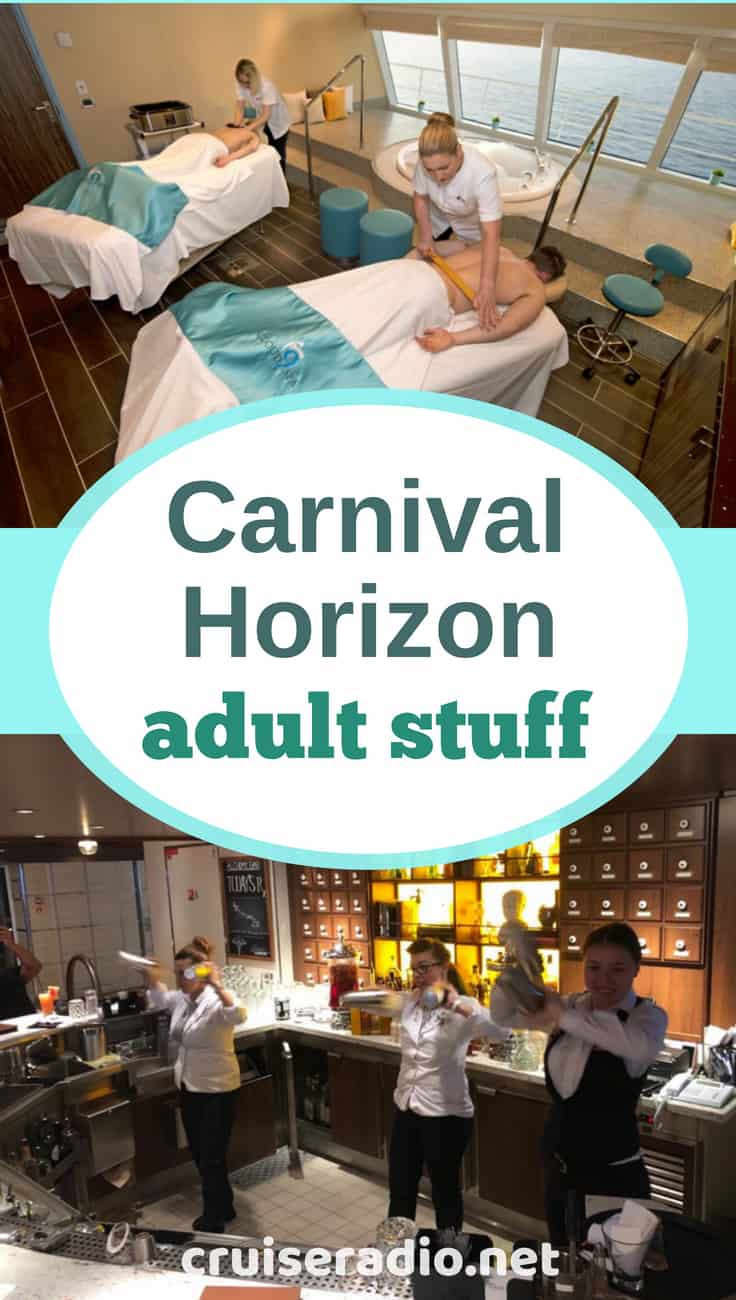 SaveSave