Carnival Cruise Line has recently rolled out a number of exciting new family-friendly programs. "We're committed to maintaining our position as the number one cruise line for families by adding a broad range of amenities," says Carnival's Chief Marketing Officer Jim Berra, "from the new Seuss at Sea and Camp Ocean programs to the most spectacular water parks at sea, family-friendly comedy shows at Punchliner Comedy Clubs and the all-ages Hasbro, The Game Show." Many of these new attractions are showcased on the Carnival Freedom, which just emerged from an extensive $70 million makeover.
Here's a quick look at some of the distinctive features that make the Carnival Freedom a great choice for families and multigenerational groups:
Family-Oriented Seuss At Sea Program
As part of an exclusive partnership with Dr. Seuss Enterprises, Carnival Cruise Lines has launched Seuss At Sea – a series of shipboard family focused dining and entertainment experiences. Families will enjoy participating in the Seuss-a-palooza Character Parade and Seuss-a-palooza Story Time. Another feature of Seuss At Sea is the Green Eggs and Ham Breakfast with the Cat in the Hat and Friends. The nominal $5 per person charge for this colorful character breakfast is an excellent value and a good fit with the average family's vacation budget. Dr. Seuss movies and themed photo opportunities are also available during the cruise.
Colorful Bookville Reading Area
Parents love to encourage their children to read.Bookville, currently available solely on the Carnival Freedom, is the perfect place for parents to read with their children and play together. "Kids' imaginations will be very actively engaged in this space," says Lania Rittenhouse, Carnival's VP of Product Development. A wide array of Dr. Seuss books, toys and related games are available for use here.
Free Camp Ocean for Kids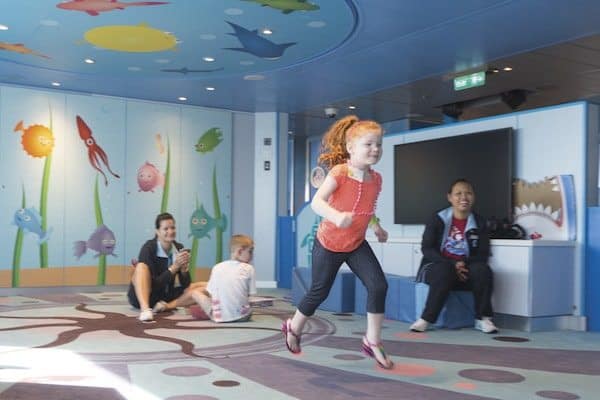 Carnival's new Camp Ocean program features over 200 innovative marine-focused activities to keep kids entertained. Camp Ocean is focused on children ages 2 to 11 and it's divided into three groups: Penguins for ages 2-5; Stingrays for kids 6-8; and Sharks for ages 9-11. Each has its own branded area within Camp Ocean. Camp Ocean's hours generally last from 9 a.m. to 10 p.m. daily. On port days when shore excursions leave early, Camp Ocean opens in advance to accommodate parents who want to let their children stay onboard while they go exploring. Kids can also have dinner with the Camp Ocean youth staff in the evening – free of charge, of course.
When Camp Ocean programs end at about 10 p.m., Carnival's late night fee-based children's programming gets underway. Camp Ocean's Night Owls group babysitting program is available from 10 p.m. to 3 a.m. nightly. Different children's late night parties are held as well. Unlike many other cruise lines, children don't have to be potty-trained to participate in Camp Ocean or Night Owls – a big Carnival plus for parents.
Cool Tween and Teen Clubs
Tweens and teens have their own areas on the Carnival Freedom, each completely outfitted with the latest technology. All events and activities in these spaces are free of charge and are supervised by directors and trained counselors who know how to make things fun, safe and appealing for these hard-to-please age groups. Club O2 caters to older teens ages 15-17 and has a hip nightclub feel. Tweens ages 12-14 congregate at Circle C, a dedicated club-type space devoted to this age group. As part of their club's activities, tweens and teens can hang out with friends and listen to music, play video games, watch a movie, enjoy dance and pool parties, participate in special events, and much more.
Options for Babies and Tots
Carnival sets aside specific hours when the Camp Ocean staff is available to take care of children ages 6 months to 2 years. On days at sea, parents can leave their children under 2 with the camp's Youth Staff from 8-10 a.m.for a nominal fee. The Camp Ocean facilities are also exclusively available to parents and children under 2 during those hours if they'd like to play together free of charge. During days when ships are in port, Camp Ocean's care for children under 2 starts 15 minutes before the first tour until 12 noon, or from 1-5 p.m. for ships arriving in port after noon. Parents can also let their tots participate in Carnival's fee-based Night Owls program, too. Pillows and blankets are available for sleeping and Pack & Plays are provided for young ones.
Entertaining Family Activities
Families that love game nights and winning prizes should make a beeline for Hasbro, The Game Show on the Carnival Freedom. Families can participate in TV-like adaptations of Hasbro's popular games in the ship's theater, complete with prizes and tons of audience participation. The ship's new Playlist Productions, shorter high-tech revue-type shows combining music with fashion and dance, are fun for families. They feature popular artists and themes like Heart of Soul, 80s Pop to the Max, Getaway Island, and 88 Keys: The Rock n' Roll Piano Show. The Carnival Freedom features a large water slide and a massive LED flat screen overlooking the pool for "Dive In Movies" and shows. The ship also offers G-rated Punchliner Comedy Club shows for families and Cherry on Top, a cute retail boutique featuring a wide variety of candies and sweets.
Bold Branded Spaces
Vacation fun isn't just for kids – it's for adults, too. The Carnival Freedom offers adults lots of branded experiences for nightlife, entertainment, and high-octane excitement. As a result of its Fun Ship 2.0 transformation, the Carnival Freedom now features the RedFrog Rum Bar, the BlueIguana Tequila Bar, EA SPORTS Bar, Alchemy Bar, and the ever-popular RedFrog Pub. The ship's free branded specialty dining options also get rave reviews. Developed in partnership with Food Network star Guy Fieri, Guy's Burger Joint serves up over 1200 delicious handcrafted burgers daily on the Carnival Freedom. On the other side of the pool deck, BlueIguana Cantina prepares complimentary tasty burritos and tacos along with a large fixings bar. The late night Punchliner Comedy Club Presented by George Lopez is another adult favorite on the Carnival Freedom. For the best in outdoor relaxation, adults find their vacation nirvana at Serenity. Located at the front of the ship, Serenity is a quiet area just for adults with cushy padded loungers and whirlpools. Admission to this area is free on Carnival ships.
For more information about Carnival Cruise Line and the Carnival Freedom, visithttps://www.carnival.com.
Nancy Schretter is Managing Editor of the Family Travel Network.