Located in the U.S. Virgin Islands, St. Thomas is a popular port of call for cruise passengers. Cruise ships dock in Charlotte Amalie, a bustling town filled with duty-free shops and restaurants. From there, guests can head out to explore this picturesque tropical island or travel by boat or ferry to nearby St. John.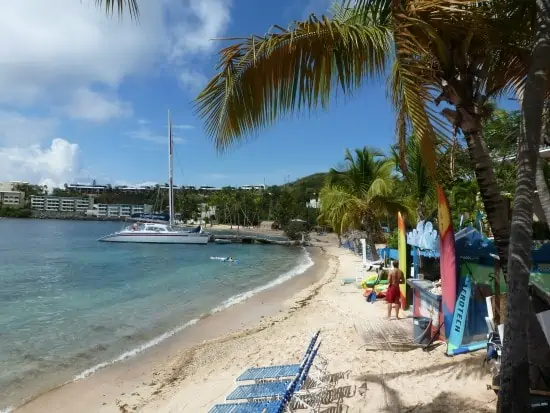 Both St. Thomas and St. John are filled with a wide variety of activities, attractions, and dining options. There's something for everyone here. The clear turquoise waters surrounding these islands are a water sports lover's delight, while those seeking an adrenaline rush can go for a ride on a 700-HP jet boat or pilot a submersible scooter. The beaches on these two islands are some of the world's best and the sightseeing here is exceptional as well.
Here are five things to do in St. Thomas:
1. Get Up Close to Marine Life
At Coral World Ocean Park in St. Thomas, it's possible for guests to experience the beauty of the Caribbean's underwater world – even if they prefer to stay dry. Cruise passengers can walk down to levels 15 feet under the sea and view marine life through clear glass in the observatory. Kids will enjoy the touch pool, the turtle pool, stingray lagoon, and the shark observation pool at this marine park. Those who don't mind getting wet can take an underwater Sea Trek along the ocean floor or experience what it's like to dive by taking a Snuba tour. Coral World also offers encounters and swims with South American sea lions. The white sand beach adjacent to Coral World is a nice spot to relax and take a swim after your visit. For more information, visit https://www.coralworldvi.com.
2. Relax on the Beach
Many cruise passengers prefer to spend their port days chilling on a white sand beach. At Bolongo Bay Beach Resort, visitors can rent a beach chair for $10 and enjoy the sand and surf. The resort's poolside restaurant, The Oasis, is also open to the public.
Those looking for more activities can take a ride on the resort's 53 foot catamaran, which offers half-day sailing trips to Turtle Cove at Buck Island where guests can swim with turtles. The trip is $85 per person and departs the resort at 12:15 pm on Mondays, Wednesdays, and Fridays.
3. See the Sights
Photo loving cruisers will want to take to take the Skyride up to the top of Paradise Point for a panoramic view of the ships and the harbor below. The Skyride is located near the cruise pier and it runs continuously. Scenic drive excursions around the island are available for all cruise ship passengers, including those with limited mobility or requiring wheelchair access. You'll want to view such highlights as palm-studded Magens Bay – named as one of the top 10 beaches in the world, St. Peter Great House and Botanic Gardens, Blackbeard's Castle, and St. Thomas's historic areas. Those seeking more nature-oriented sights may wish to take a kayaking tour through the St. Thomas Mangrove Wildlife Refuge & Marine Sanctuary. Here, participants will see the Red Point Blow Hole along with iguanas, pelicans and other wildlife.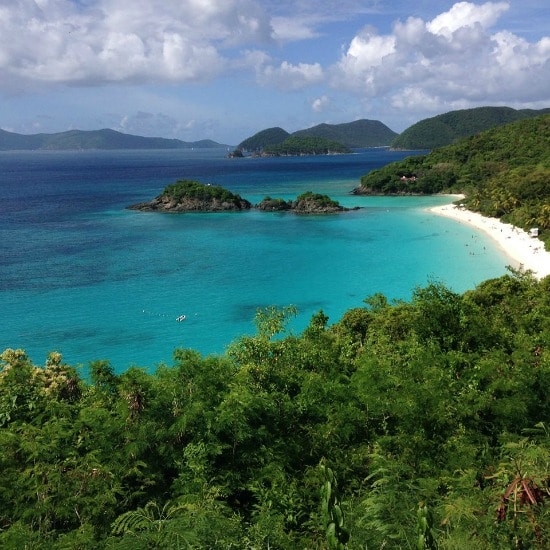 4. Go Island Hopping
Visiting the pristine island of St. John is a favorite activity for cruise passengers, particularly those who have visited St. Thomas before. St. John can be reached via ferry from Red Hook or Charlotte Amalie, or via a ship shore excursion. Upon arriving in Cruz Bay on St. John, guests typically board open-air safari vehicles for a short tour of the island and a stop at spectacular Trunk Bay, one of the world's most stunning beaches. At Trunk Bay, there is a marked underwater snorkeling trail with fifteen plaques for those who wish to see the coral and marine life found in this area. Some cruisers may want to spend their time on St. John hiking along the island's National Park trails, while others may wish to take a scenic tour of the island stopping to take pictures of some of the stunning beaches and historic spots such as Annaberg Plantation. Those heading to St. John on their own can rent a 4-wheel drive jeep for their own private tour of the island – it's lots of fun.
5. Sail Away and Explore
Catamaran cruises and other boating options are very popular in St. Thomas. Many of these excursions include opportunities for snorkeling or diving to explore the coral reefs and wrecks surrounding the islands. Some catamaran tours go to St. John and come complete with champagne, snacks and complimentary snorkeling equipment for passengers. Other excursions visit favorite snorkeling spots such as Turtle Cove, Shipwreck Cove or Christmas Cove where guests often have the chance to swim with turtles, stingrays, and beautiful tropical fish. Certified divers can also arrange for two-tank dives on tours to excellent area dive sites in the area.
Nancy Schretter is the Managing Editor of the Family Travel Network.
Subscribe to our Cruise News Updates.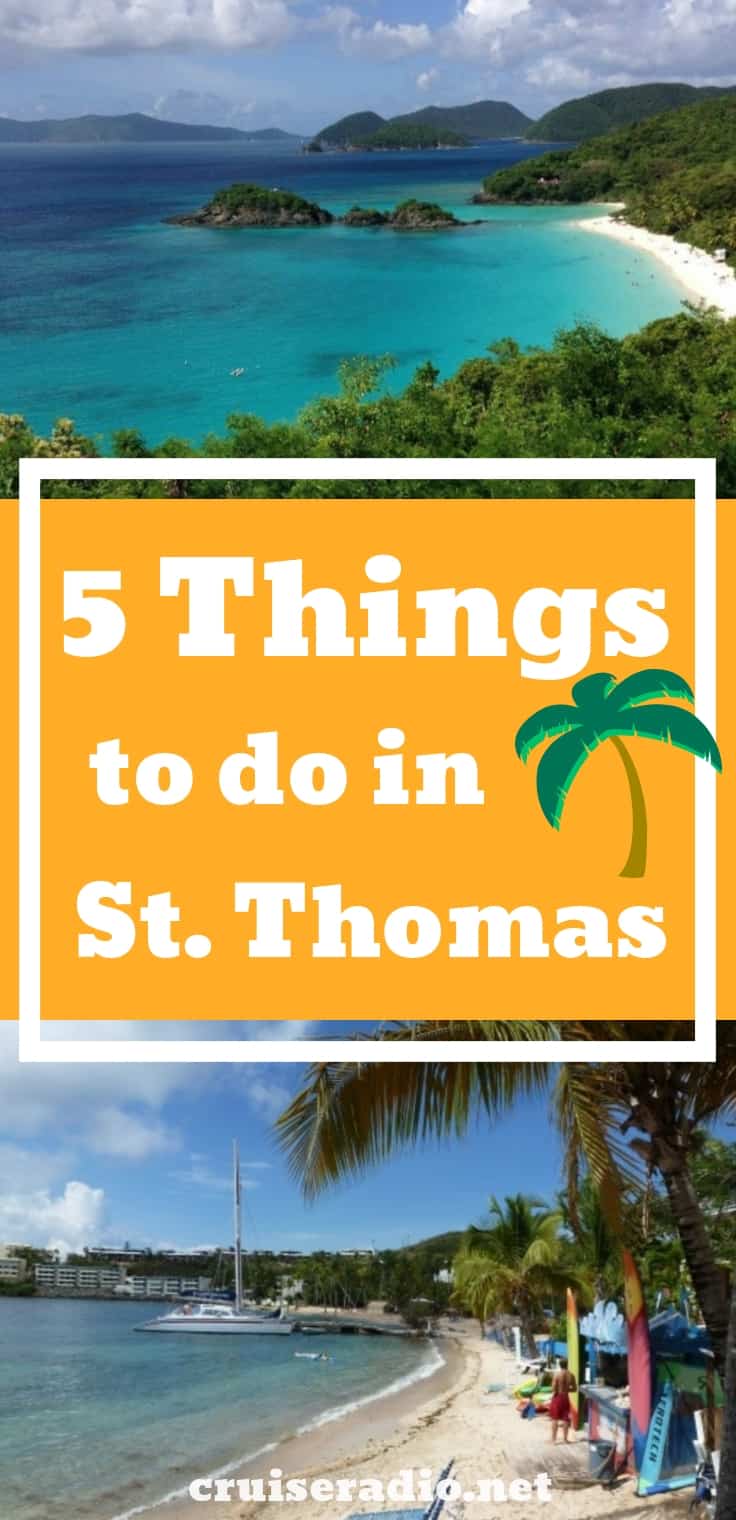 This article was updated in December 2022.