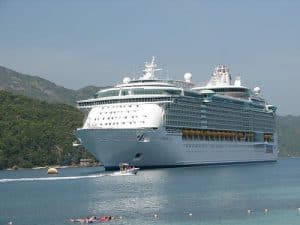 Passenger's aboard Royal Caribbean's Freedom of the Seas got rocked last night as the ship experienced rough weather from a nor'easter that's affecting ports along Florida's east coast.
According from a statement released by Royal Caribbean, "Sunday at approximately 7:30 p.m. after departing Port Canaveral, Florida, Royal Caribbean International's Freedom of the Seas experienced extreme wind and sea conditions, well beyond what was forecasted.  The ship experienced wind speeds more than three times what was forecast.  The combination of the wind and sea conditions caused severe ship movement.  At this time there have not been any serious injuries reported. The ship has sustained some damage to the public areas and guest staterooms, which in no way affect the sea-worthiness of the ship."
A passenger aboard Freedom told us "It was crazy. The ship was on it's side, everything broke all over ship, medical emergencies all over, and people ordered to their cabins. The elevators are off, scary." Reports are that seas exceeded 18 feet and some vessels stayed in port because of the nor'easter.
"Freedom of the Seas continues on its regularly scheduled seven-night itinerary, which includes port calls to CocoCay, Bahamas; Charlotte Amalie, St. Thomas; and Phillipburg, St. Maarten.  The ship and will be arriving in Coco Cay, Bahamas, Monday morning, as scheduled," says company spokesman.
Bad weather and rough seas continue to batter the east coast of Florida. Carnival Fascination is arriving into Jacksonville late today because of the same storm. "Carnival Sensation had to overnight at the dock in Port Canaveral due the adverse weather conditions, but departed this morning at 8 a.m.," a spokeswoman from Carnival told us.
Photo credit: adamj4282/flickr