Guy Fieri BBQ Prices on Carnival Horizon
Attention, foodies: Carnival Cruise Line has detailed the menu and the prices of Celebrity Chef Guy Fieri's Pig & Anchor Bar-B-Que Smokehouse and Brewhouse onboard Carnival Horizon. Located on deck five, the venue will be complimentary for guests during the day, with a la carte pricing in effect at night. The menu will include appetizers, real pit barbecue and desserts, with a selection of craft beers — brewed on board — available as well.
So What's On The Menu?
Appetizers (all $4 each)
Trash Can Nachos: Pulled pork on house-made tortilla chips, Bourbon Brown Sugar BBQ sauce, pico de gallo, jalapeno, black beans and super melty cheese
Ain't No Thing But a Chicken Wing: Slowly smoke and fried, dry rubbed and tossed in your choice of Spicy Sriracha BBQ, Honey BBQ, Bourbon Brown Sugar BBQ
Smoked Sausage and Cheese: house-made smoked pork belly and veal sausage, cheddar, pepper-jack cheese, pickles, pepperoncini, pickled onions, bread & butter pickles, crispy flatbread strips
Dragon Chili Cheese Fries: Smoked beef brisket, pork sausage, crispy hand-cut fries, cheddar, green onions, bacon and sour cream
From The Smokehouse (all items $8 each, served with coleslaw, sweet pickle, golden honey cornbread or Texas Toast)
Blue Ribbon Chicken: This exclusive dry-rub chicken with bourbon smoked paprika, chipotle habaneros, and muscovado sugar, smoked over hickory and grilled.
Championship Pulled Pork: Hickory smoked with brown sugar, paprika, garlic and cumin rub, Carolina style
18-Hour Beef Brisket: Cooked in a custom smoker for 18 hours
Cedar Plank Salmon: Cedar smoked with jalapeno and apricot glaze
The Whole Smoker ($16) 
This big-enough-for-two meal includes chicken, beef, brisket, pulled pork, house smoked sausage, and baby back ribs
The Pig and Anchor Melt ($6)
Pulled pork, sliced brisket, double pork belly bacon, smoked gouda, cheddar, homemade pickles, and donkey sauce
Flatbreads ($6)
BBQ Chicken Ranch: Pickled onions, roasted peppers, charred tomato, ranch dressing, and pulled smoked BBQ chicken
The Pig Pie: Pulled pork, caramelized onions, roasted peppers, cheddar, and jalapenos
From The Pit Master 
Baby Back Ribs: Memphis style, marinated for nine hours and slow smoked
Half Rack: $8
Full Rack: $12
Prime Time Prime Rib: Guy's blue ribbon rubbed prime rib
Half pound: $10
Full pound: $18
Side Dishes ($2 each)
Mac Daddy Mac and Cheese
Beer Braised Cowboy Beans
Sweet Potato Bourbon Mash
Buttermilk Broccoli Salad, Bacon, and Almonds
Mashed Potato, Red Eye Gravy and Burnt Ends
French Fries
Desserts ($3 each)
Pecan Pie with bourbon syrup and orange potpourri
Apple Cobbler topped with cinnamon sugar in an almond crust
Banana Cream Pie topped with chantilly cream
Parched Pig Brews ($5.75 each)
Parched Pig Smoked Porter: A full-flavor, robust beer. Brewed with roasted grain and malts smoked in our wood smokers onboard
Parched Pig Smokehouse Ale: Refreshing and fruity with mild spice character. The complex beer with a dry finish is perfect for a hot summer day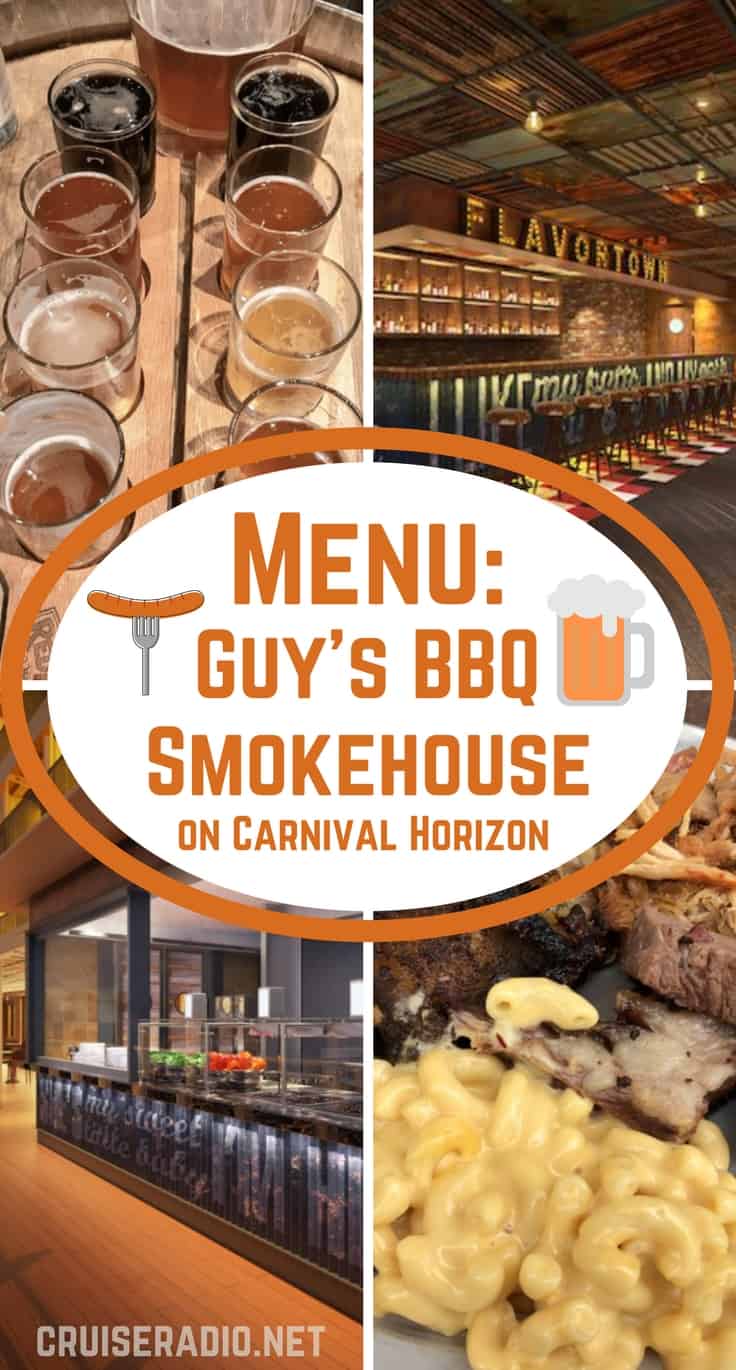 SaveSave
SaveSave