When Carnival Cruise Line teamed up with Celebrity Chef Guy Fieri in 2011, they no doubt hoped the resulting restaurant would be popular, but they probably couldn't have predicted just how much passengers would come to love Guy's Burger Joint. Go to any message board on which Carnival cruisers talk about their favorite onboard foods, and this place is going to get a lot of shout-outs. But does it live up to the hype? Here's my review of Guy's Burger Joint. 
Review of Guy's Burger Joint on Carnival Cruise Line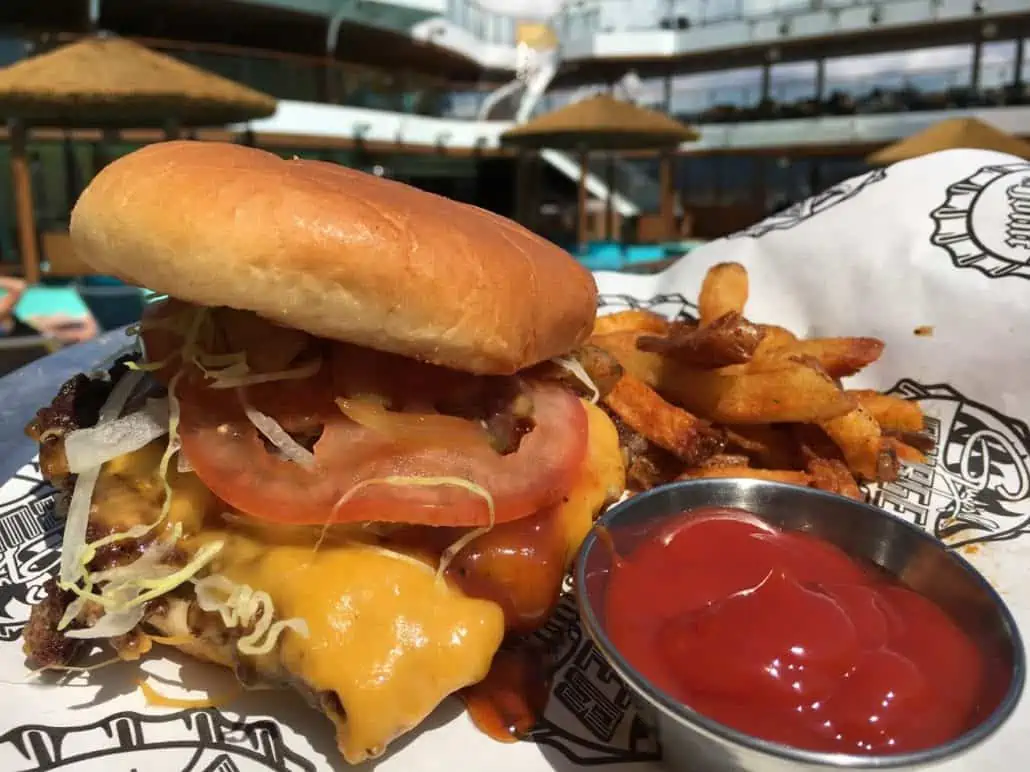 Quick Facts
Location: Poolside

Hours: Lunchtime, with hours varying by itinerary

Cost: Complimentary
The Vibe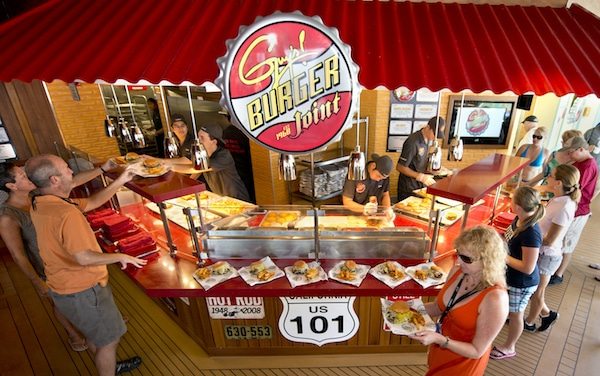 Found on many Carnival ships, Guy's Burger Joint is a quick-service venue that lets guests choose from five different types of hamburger-creations.  Inspired by a west coast roadside diner, Guy has decorated the place with maps, road signs, license plates, and other pieces of Americana — all in bright, eye-catching reds and yellows. You'll find some themed benches around the restaurant, but chances are they'll be taken. Fortunately, Guy's is conveniently located near both the pool (so you can take your food back to your lounger) and the buffet, where there's plenty of seating.
Despite the venue's popularity, the wait is never all that long — thanks to servers taking orders at both ends of the counter. You'll almost never wait more than five minutes for a burger, and that's largely due to the fact that this place is a well-oiled machine. Once you get to the counter, you just tell the server what type of burger you want and whether or not you want fries.
TIP: Take a quick look and make sure guests are using both lines. People tend to follow the leader, so one line could be a lot shorter than the other.
Because of their popularity, you'll never have to worry about a cold burger. The line cooks can't keep them coming off the grill fast enough. The fries served with the burgers are hand cut and perfectly seasoned. I don't know what they do with them, but they are somewhere between a steak fry and a regular French fry.
The Menu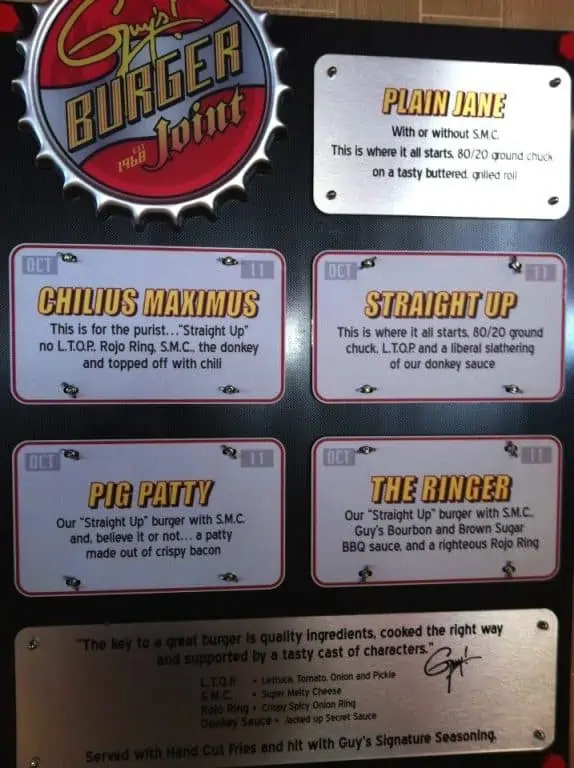 As previously mentioned, guests have a choice of five different types of burgers, all of which can be customized via a quick trip to the toppings bar. The burgers — and the descriptions posted at the restaurant — are:
The Plain Jane: With or without S.M.C. (Super Melty Cheese) This is where it all starts. 80/20 ground chuck on a tasty buttered, grilled roll

Straight Up: S.M.C. and L.T.O.P. (Lettuce, Tomato, Onion,, and Pickle) and a liberal slathering of our donkey (jacked up secret mayo) sauce

Pig Patty: Our "Straight Up" burger with S.M.C. and, believe it or not… a patty made out of crispy bacon

Chilius Maximus: This is for the purist… "Straight Up" no L.T.O.P., Rojo (Crispy, Spicy Onion) Ring, S.M.C, the donkey and topped off with chili

The Ringer: Our "Straight Up" burger with S.M.C., Guy's Bourbon & Brown Sugar BBQ sauce and a righteous Rojo Ring
Toppings Bar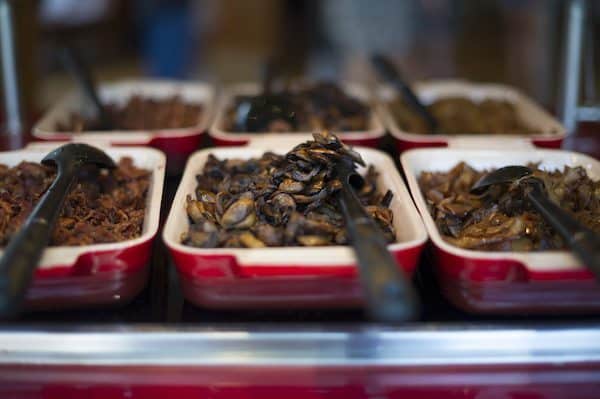 Now, you could easily take your burger and run. But then you'd be missing out on the toppings bar, which is basically a condiment station on steroids. Sure, you'll find the basics like lettuce, tomato, onions, and pickles. But you'll also find sautéed mushrooms and onion, chopped bacon, mayo and — best of all — about a dozen different sauces ranging from mild (BBQ) to wild (sriracha).
Guy's Burger Joint is a lunchtime venue, although if you'd like to grab a burger for an early dinner, you could. The hours vary by itinerary but don't expect it to be open too late. It normally closes by 6 p.m.
Final Thoughts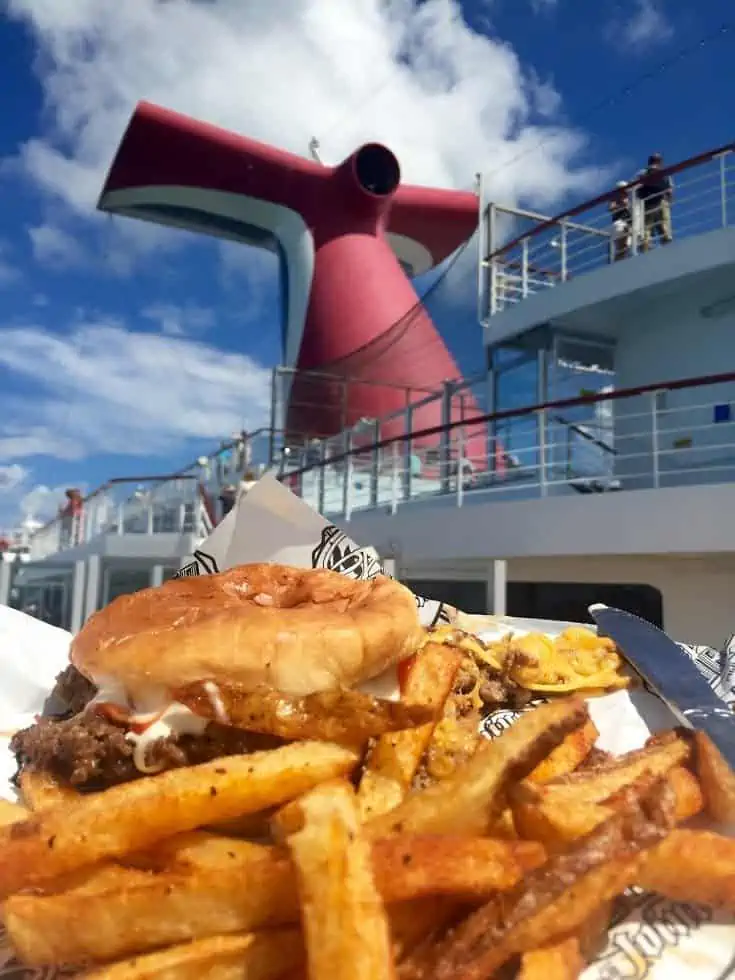 The burgers are great but should come with a warning about just how addictive they are. I'm not proud to admit it, but during a single seven-night sailing, I once downed 11 burgers. Given that my unofficial calorie count puts one of these burgers at around 1,300 calories each, it's not hard to see how I put on a few pounds during that trip.
My advice would be to get onboard the ship early and head straight to Guy's Burger Joint. If you don't want to get on the ship early, grab a burger on a port day when a majority of your fellow passengers are off the ship — meaning you'll have the place to yourself.
It can be found on: Breeze, Conquest, Dream, Ecstasy, Elation, Fantasy, Freedom, Glory, Imagination, Inspiration, Liberty, Magic, Pride, Sensation, Sunshine, Triumph, Valor, and Vista. And coming soon to Horizon.
Guy's Burger Joint is expected to roll out fleetwide by the end of 2019.
What's your take on Guy's Burger Joint? Do you have a favorite burger or topping?
Guy's Burger Joint Review [VIDEO]