Twenty years ago, a family set out on a dream vacation which turned into a nightmare. And to this day, the disappearance of Amy Lynn Bradley from a Royal Caribbean cruise ship remains one of the greatest mysteries to ever hit the high seas. To this day, the search continues, with the FBI hoping that someone – perhaps a cruiser who doesn't even realize that they saw something on that fateful trip – can help locate her.
How She Went Missing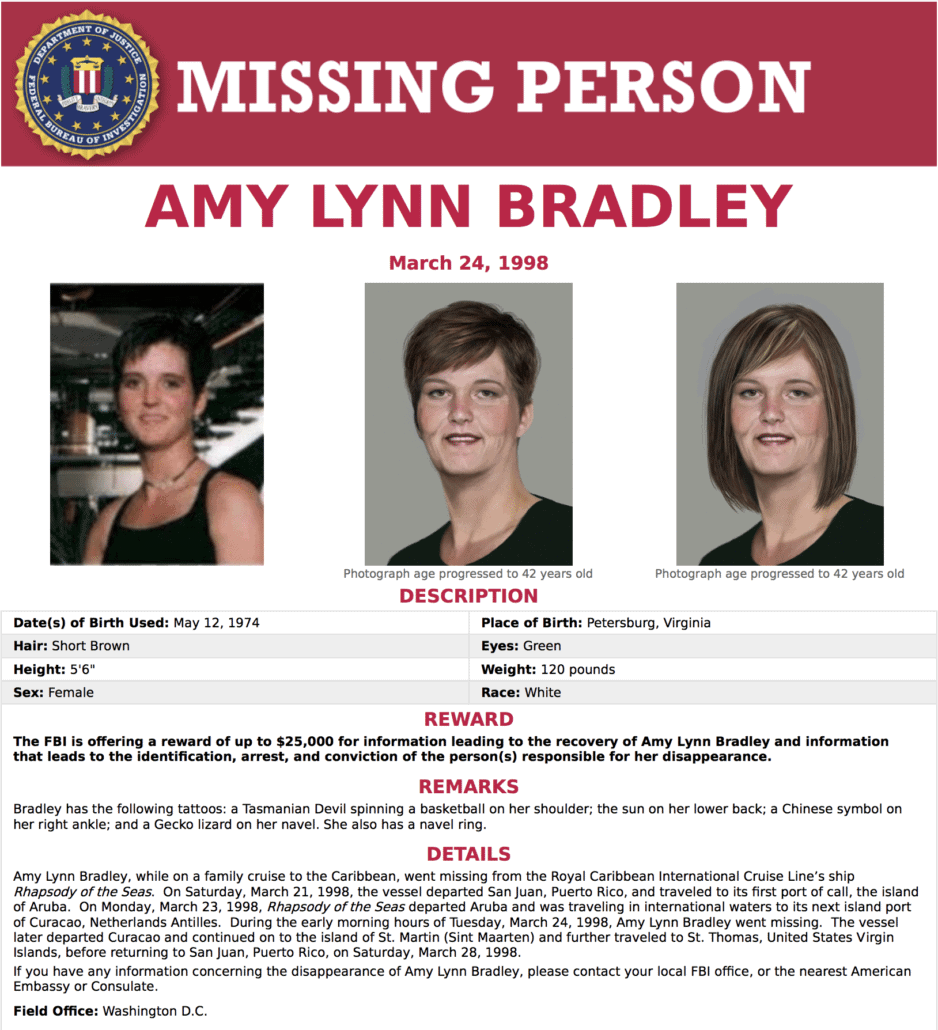 According to the FBI, Bradley went missing while on a family vacation aboard Royal Caribbean's Rhapsody of the Seas. "On Saturday, March 21, 1998, the vessel departed San Juan, Puerto Roco, and traveled to its first port of call, the island of Aruba," reads their report. The ship then departed Aruba on Monday, March 23, and headed toward Curaçao.
During the early morning hours of Tuesday, March 24, 1998, the 23-year-old young woman went missing. According to FBI Special Agent Erin Sheridan, "That evening, Amy was out at the disco with her brother, other passengers and crew, socializing and having a great time. In the morning, when her parents and her brothers woke, Amy was gone."
The ship later departed Curaçao and continued on to the island of St. Martin (Sint Maarten) and further traveled to St. Thomas" before returning to San Juan on Saturday, March 28. But the truth about Bradley's disappearance has remained a mystery to this day.
A Brother's Final Words
Upon leaving the ship's nightclub, brother Brad was the last person to see Amy. "My parents and myself have had to endure a lot of sadness," he admits in a video put together by the FBI, "but the last thing I ever said to Amy was 'I love you' before I went to sleep that night. Knowing that was the last thing I said to her has always been very comforting to me."
"We get up every single day," says Amy and Brad's mother, Iva, "with the thought that maybe today, we'll find Amy."
Even two decades later, the FBI continues to hope that someone who may have been on board that fateful sailing of Rhapsody of the Seas will remember something which might help crack the case. "If you have any information," Sheridan implores, "whether it be that you were a passenger or crew member, we ask that you come forward. The smallest detail could assist us in finding Amy."
The missing young woman — born in Petersburg, Virginia — had short brown hair at the time of her disappearance, and weighed 120 pounds. She stood 5′ 6" and had green eyes and a belly ring. She also had several tattoos, including one on her shoulder of a Tasmanian Devil spinning a basketball; a tattoo of the sun on her lower back; a Chinese symbol on her right ankle; and a Gecko lizard on her navel.
There is a reward of up to $25,000 being offered for information leading to the resolution of this still-open case, with the FBI asking that anyone who might help to speak to someone at their local FBI office or send an E-mail — which can be anonymous to tips.fbi.gov.
"We will never rest," vows Agent Sheridan. "We will do our best to give closure to her family. I feel it is my mission."
SaveSave