Those looking to explore Canada and New England's charming and historical ports will have 34 Holland America cruises to choose from between April and October 2019. Travelers can choose from among nine itineraries from 7 to 12 days aboard Zaandam, Veendam, and Zuiderdam. 
Zaandam
On April 24, 2019, Zaandam will kick off the spring season with a 10pday Atlantic Coast cruise, departing from Fort Lauderdale. Ports of call will include Boston, Bar Harbor, Halifax, Sydney, Charlottetown, Québec City before ending in Montréal.
From May to September, the ship will sail a series of 7-day Canada and New England Discovery cruises between Montréal and Boston, featuring calls at Boston, Bar Harbor, Halifax, Sydney, Charlottetown, and Québec City.
Zuiderdam
Zuiderdam will launch the fall season with a 12-day Colors of Canada and New England cruise on September 3, 2019. Sailing from Boston to Québec City, the ship will call at Sydney, Halifax, Charlottetown, Saint John, Newfoundland, Baie-Comeau, Saguenay, and Portland. Passengers will also enjoy cruising through the Gulf of St. Lawrence and scenic cruising in Saguenay Fjord.
Two similar itineraries will also be available on Zuiderdam on September 15 and 27. Those on the September 15 voyage will enjoy an overnight in Québec City before heading to Saguenay, Charlottetown, Sydney, Halifax, Saint John, Portland, Boston and finally Newport, Rhode Island, prior to disembarking in New York City. Those on the September 27 cruise will set sail from New York City, stopping in many of the same ports as well as additions including Portland and Gloucester, Massachusetts. The cruise concludes with an overnight stay in Québec City.
Veendam
In September, travelers can also choose from a range of 7-day cruises sailing between Montréal and Boston aboard Veendam. The itineraries call at Bar Harbor, Halifax, Sydney, Charlottetown, and Québec City. The cruises also include scenic cruising along the Saint Lawrence River.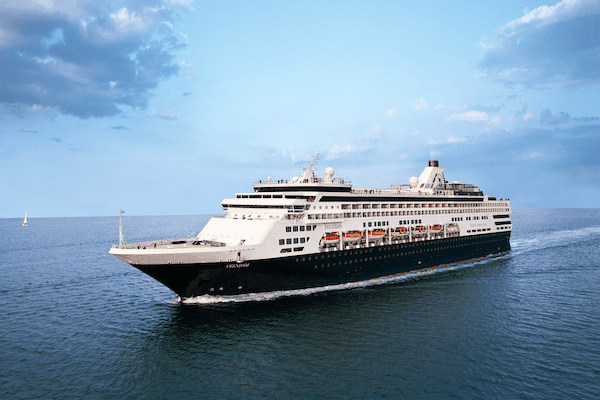 Atlantic Coast
Throughout October, Zaandam, Zuiderdam, and Veendam will each offer one 11-day Atlantic Coast cruise. Zaandam departs Montréal on October 5, Zuiderdam departs Québec City on October 9, and Veendam departs Montréal on October 12. They all end in Fort Lauderdale, Florida.
Cruise fares for Canada and New England cruises begin at $999 per person, based on double occupancy. Several dates are eligible for the Explore4 promotion, which includes the following: Guests booking any category cabin will receive a Signature Beverage Package, dinner at the Pinnacle Grill for two, 50 percent reduced deposits, and free or reduced cruise fares for third and fourth guests in the same stateroom. Guests receive all benefits when bookings are made by November 19, 2018.