Holland America Line is turning up the heat — literally — by expanding its popular lineup of America's Test Kitchen classes. The line added five new cooking shows to the program for 2019, offering lessons which will help cruisers learn how to prepare everything from takeout food to elegant dinners.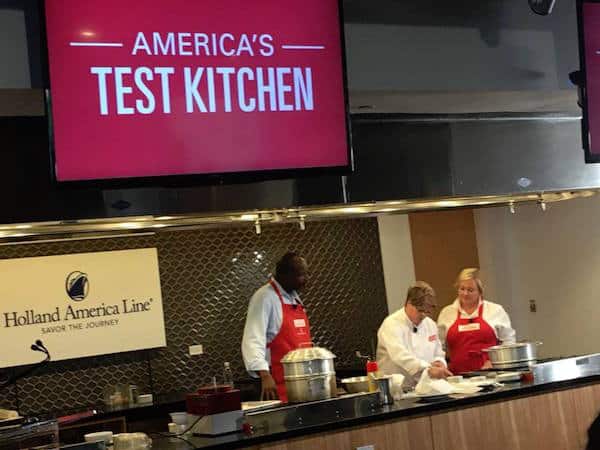 What to Expect From HAL's America's Test Kitchen
Each 45-minute cooking show is meant to combine in-depth recipe demonstrations with practical kitchen knowledge — like how to choose the correct knife or purchase the freshest produce — that passengers can take with them off of the ship and into their own kitchens. As of now, every Holland America ship offers the American Test Kitchen venue, with the exception of Maasdam. The concept is based on the television show by the same name, which originally aired on public television stations back in 2001.
"Holland America Line guests are knowledge seekers, foodies and learners, and our America's Test Kitchen shows really resonate with them — which is why they're wildly popular and draw standing-room-only crowds," said Orlando Ashford, Holland America Line's president. "We're excited to expand on the already exceptional menu of shows offered by America's Test Kitchen to include some fun topics that easily transition to the home kitchen."
This means that some of the new classes are aimed at the everyday cook as opposed to those who may be more adept in the kitchen than your average home chef. As a result, some of the classes wind up having a broader appeal thanks to their almost universal nature.
The five new live-demonstrations are:
Sweet and Fruity Desserts

Dinner Classics for Two

Mediterranean Medley

Serious Tacos

Make Your Own Takeout
These are in addition to the already-popular programs such as Meatless Monday Meals, Everything Salmon, Steakhouse Dinner, Italian Favorites, We Love Chocolate (who doesn't?) and more.
If the live shows sound a bit too crowded for your taste, or you are just simply too late and miss out on all the action, there is no need to fret. You can enjoy episodes of America's Test Kitchen from the comfort of your stateroom 24 hours a day. 
Which new show are you excited to try out on your next Holland America cruise?