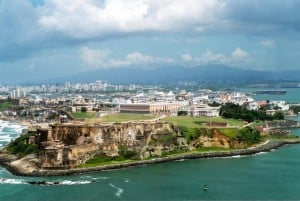 Hurricane Irene had a direct effect on some passengers boarding Royal Caribbean's Serenade of the Seas on Sunday when the ship was required by the San Juan port authority to leave port early. The ship was scheduled to leave at 8:30 pm and departed early to avoid tropical conditions, leaving over 100 cruise passengers who flew into San Juan behind.
A statement was issued by Royal Caribbean, "Since this decision was made by the Port of San Juan on Sunday while the ship was docked alongside, there was no way to notify our guests of this change in departure time.  Regrettably, 145 guests were not able to board the before the ship departed at 5:30 p.m. We apologize for any inconvenience this may have caused our guests, but this decision was made by the Port of San Juan to ensure the safe transit of all guests and crew through the port."
15 of those guests who booked their airfare with Royal Caribbean were put up in a hotel and flown to Aruba to join the ship on Tuesday. 130 of the guest were cruises-only and responsible for their own hotel and transportation since it was a 'weather related' event.
Serenade of the Seas is currently sailing a seven-night itinerary that departs San Juan, Puerto Rico, and makes port calls in Charlotte Amalie, St. Thomas; Basseterre, St. Kitts; Oranjestad, Aruba; and Willemstad, Curacao.  Due to Hurricane Irene, Serenade of the Seas' itinerary was modified, sailing all the same ports of call, but in a reverse order.
This brings a good reminder that you should always travel with a passport. It's not required to have a passport flying into San Juan from the United States but if you were trying to get to Aruba from San Juan, you would be turned away. Always check passport regulations before traveling out of the country.
Get caught up on all the current ship repositions from Hurricane Irene, here.