Back in November, I was on a transatlantic cruise from Barcelona to New Orleans, and one of the stops in between was in Grand Turk, Turks and Caicos – that's where I discovered Jack's Shack.
It's pretty much just what it sounds like, a shack, located just past the commercialized cruise pier and Margaritaville.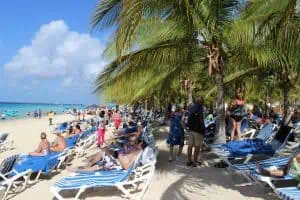 So here's what we found out about Jack's Shack, Grand Turk:
The story 
Jack (yes, he's a real person) was a contractor from New England when the cruise pier was being developed 10 years ago. He met a lady and loved the area so much that he decided to stay. As he told me in an interview, "the rest is history."
Jack set up tiki hut  just off the beach that serves up local Turk's Head Beer, shots, and even some great jerk BBQ and snacks.
How to get there 
When you come off the cruise ship and walk through the duty-free shops, head left along the coast. You'll see a Margaritaville and some local shops — find the beach and keep walking — away from the cruise ship.
You'll walk past a crew bar within five minutes and then about five more minutes you'll pass three pink houses and Jack's Shack is immediately past the little pink houses (if anyone knows if they are for sale, let me know!).
You'll know you've stumbled upon Jack's Shack Grand Turk because you'll smell the delicious beachside BBQ and see the folks crowding around the bar.
Free Rum
I noticed everyone getting free shots of liquor on my recent visit so I asked Jack what that was all about. He told me if I went to the website and printed out a coupon, I could bring it in for some free rum. You can print the coupon out here.
Beachin' It 
Not only is Jack's Shack a great chill bar, but also a place to soak up the sun. Right when we got there I asked a beach attendant if we could get four beach chairs and an umbrella. He did everything for us from setting up the chairs to digging a hole for the umbrella. We tipped him $20 and he seemed happy enough. To me, it was totally worth being far away from 3,000 other cruise passengers.
The water at the beach is crystal clear and makes for some great snorkeling, which is what I did. You won't find any reefs or sunken wrecks on the beach but you'll find crystal clear water and white sandy beaches.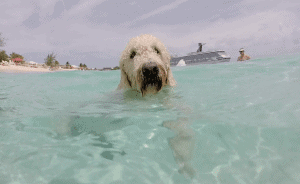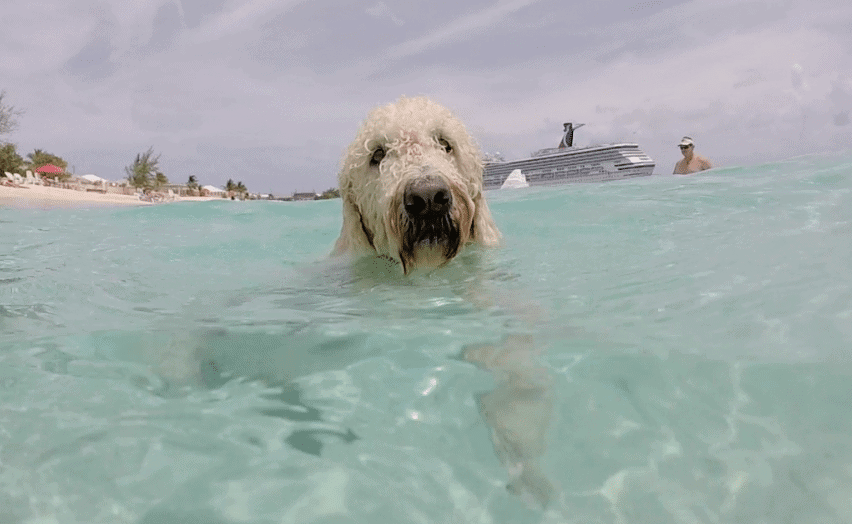 Been-there, done-that tips:
If you want to venture out of the commercialized cruise pier, Jack's Shack is a super chill place. As you can see in the above photo, the cruise pier is only a stone's throw away. When there are no cruise ships in port, Jack's Shack isn't open. So it's virtually impossible to miss your ship.
Order a local Turk's Head beer for $4.
The best wifi signal is found at the shack and not on the beach. You will have to get the password from the bartender.
If you go, mention you heard about Jack's Shack on Cruise Radio.
Pin this: