A review of La Cucina specialty dining on Norwegian Cruise Line. While cruising aboard the Norwegian Gem, I was able to get the dining package as a "Free-at-Sea" item.
My cruise was 11 days long which meant that the package was for four dinners. I wanted to try as many of the specialty restaurants as possible so I picked 4 different ones. This review focuses on one of those choices, La Cucina, a specialty restaurant aboard the Gem.
At La Cucina, you can order a la carte and pay for the menu prices, or you can get the Ultimate Dining Package and pay a flat fee. For the dining package, there is a minimum of 3 nights of dinners, but it's likely worth it if there are at least two specialty restaurants you're interested in.
With the dining package, I was able to pick 4 items:
Soup or salad

Pasta or risotto

Entree or pizza

Dessert
I dined at La Cucina with my husband, which means I'm able to tell you about twice as much food.
First Course
We got Mozzarella Caprese, Antipasti Di Salumi Misti, and Formaggi E Verdure.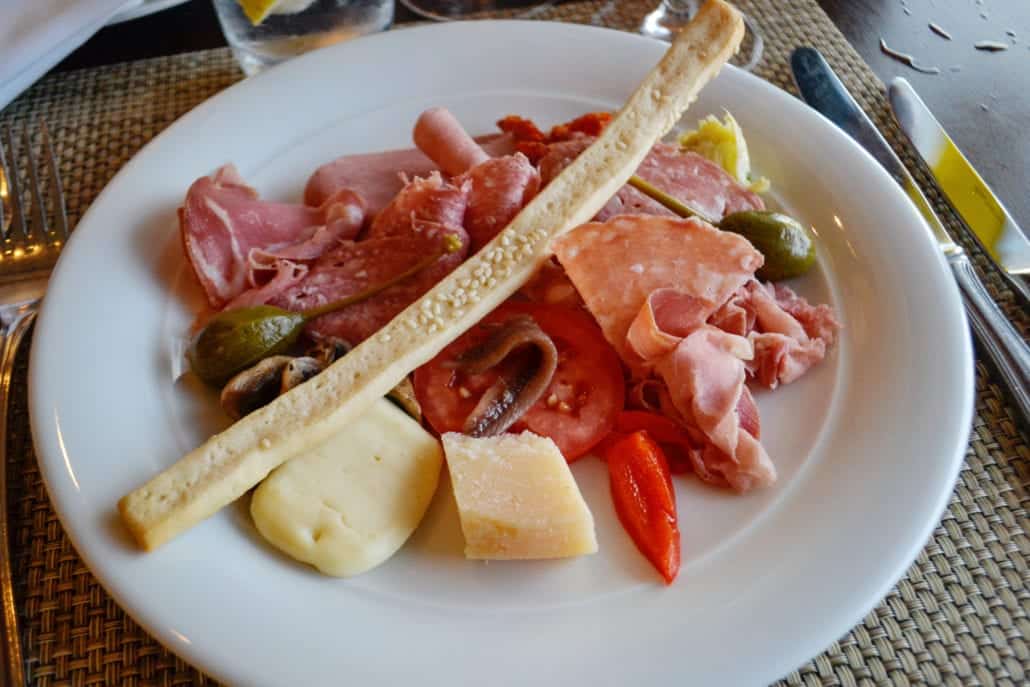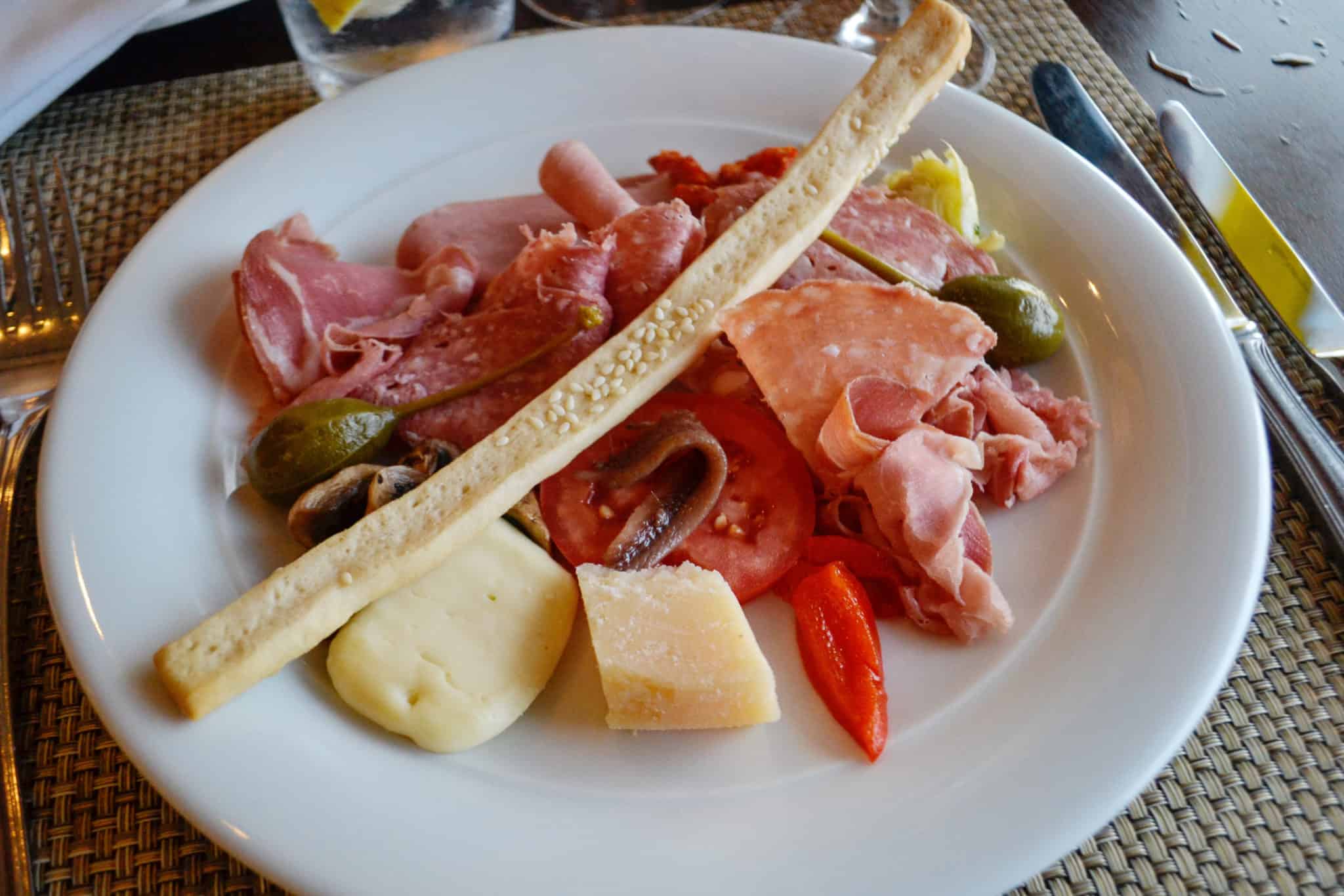 The caprese wasn't served the traditional way that we're used to. After having been to Naples, I think it's a more traditional Italian way to serve a tomato-and-fresh-mozzarella dish. 
I believe I had to ask for the balsamic vinegar, but to be fair, it wasn't listed on the menu. I really needed that balsamic!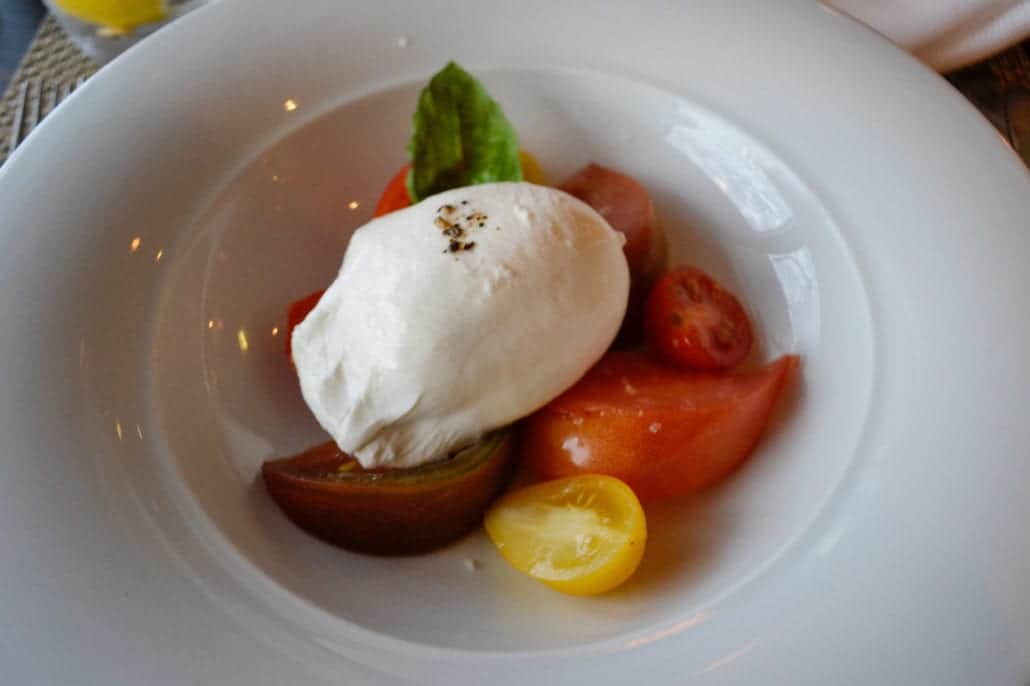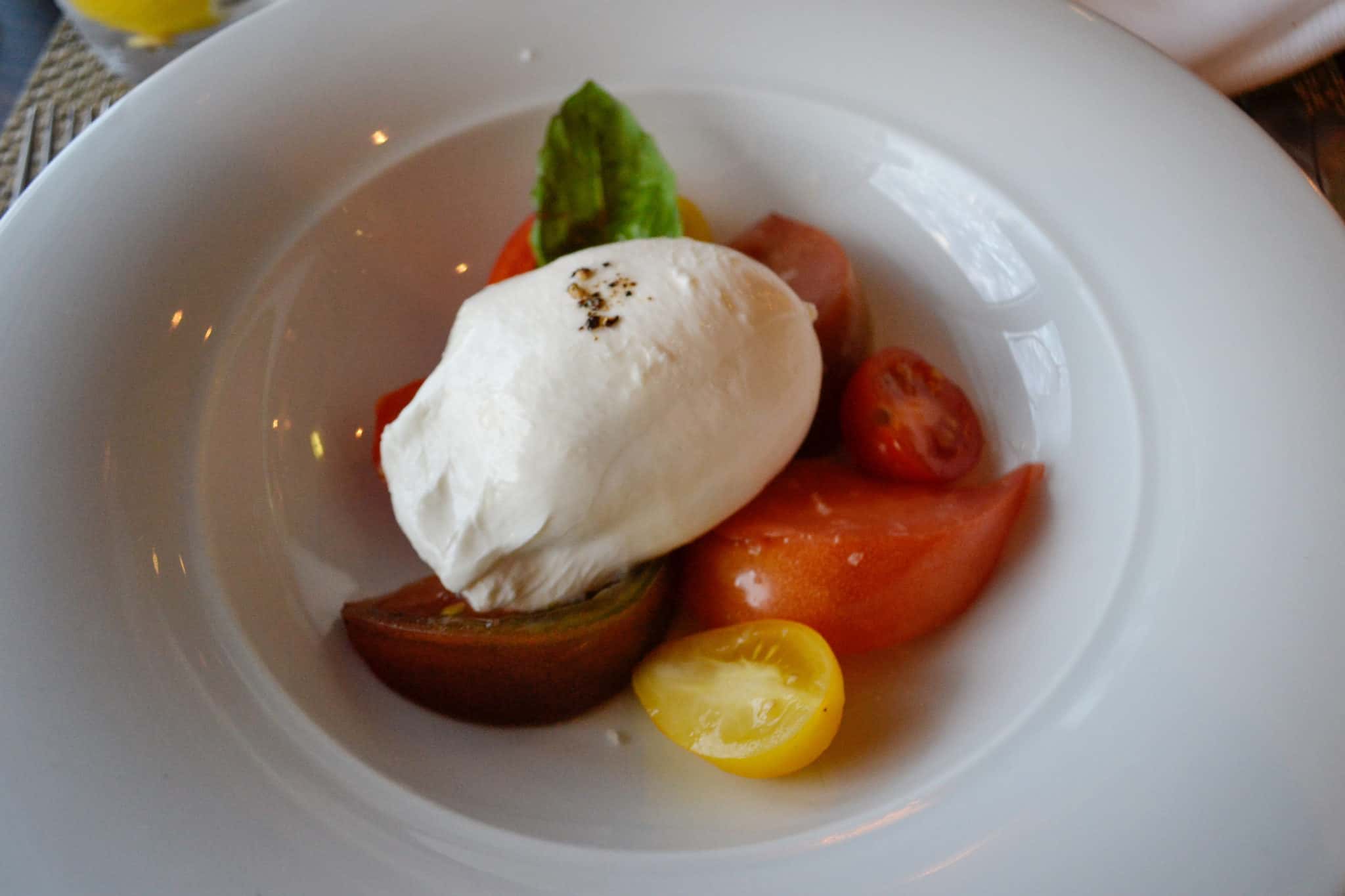 While I enjoyed it, I did slice the tomatoes and cheese a little more. That made it better resemble the Caprese salad I'm used to.
I don't know if there was a chef that didn't know what he was doing or if they were out of olives, but they put two giant capers on the plate instead of olives, as the menu listed. So diner beware(unless you enjoy huge capers)!
Second Course
We ordered Wild Mushroom Risotto and Gnocchi Di Patate Al Pesto. The Gnocchi was light on basil and heavy on pine nuts. The husband enjoyed it, but I prefer more basil.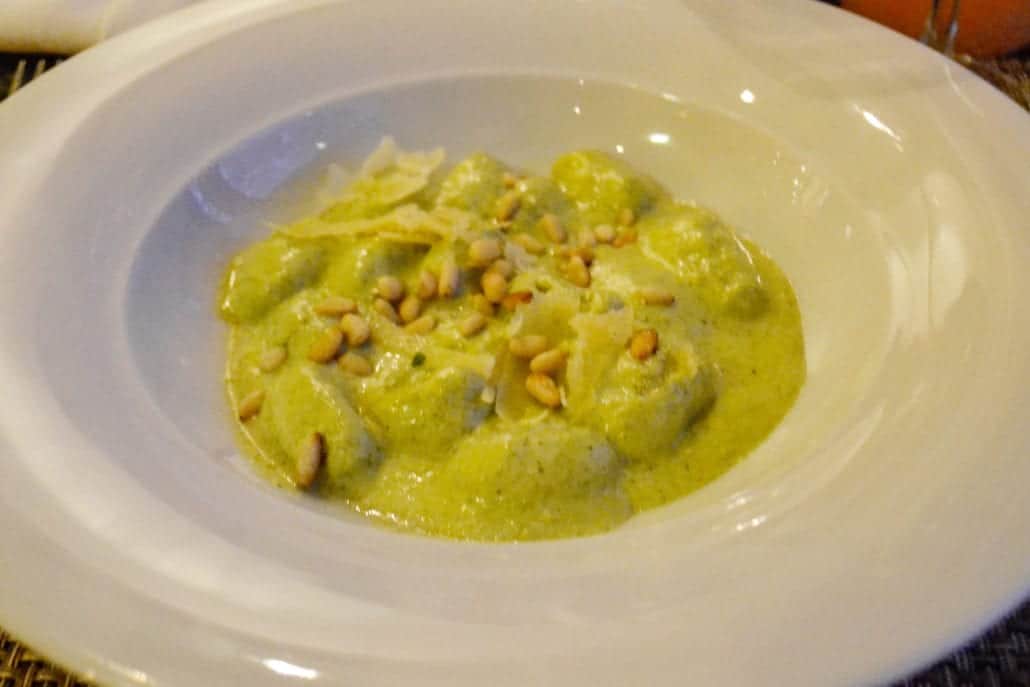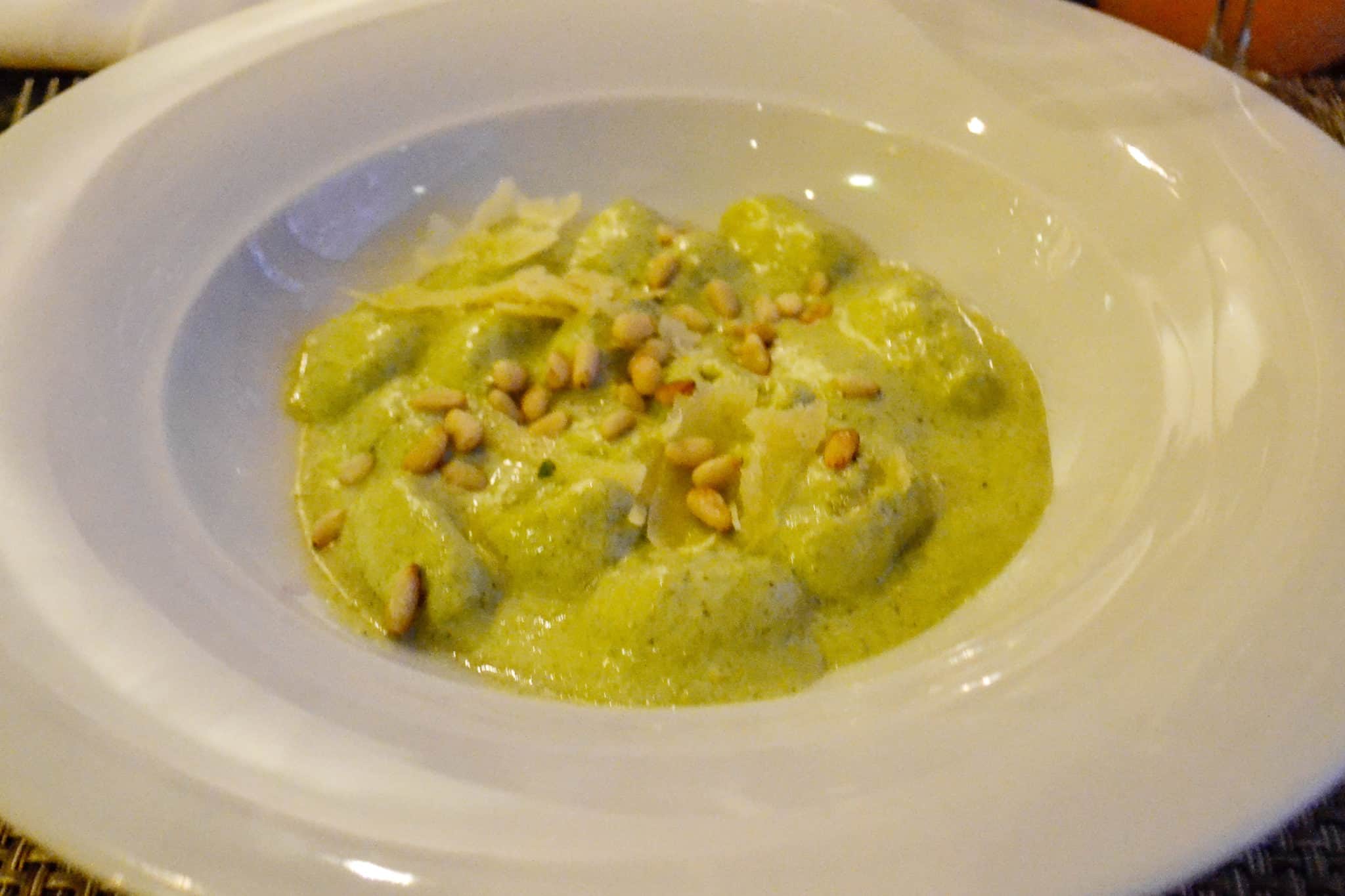 I got the mushroom risotto and I really liked it. However, my husband wasn't as impressed.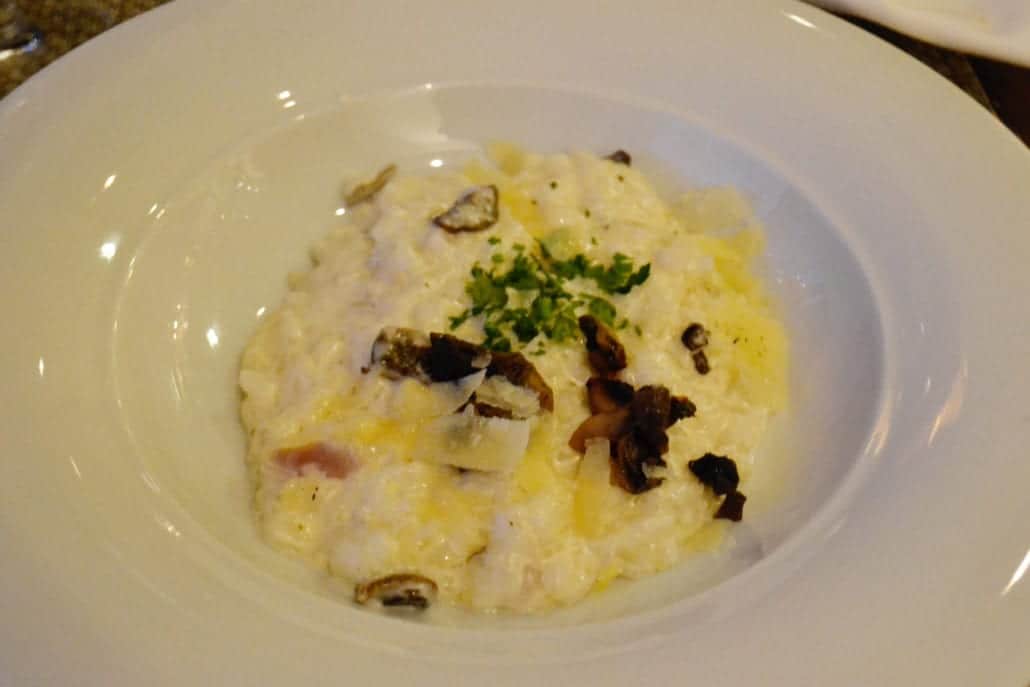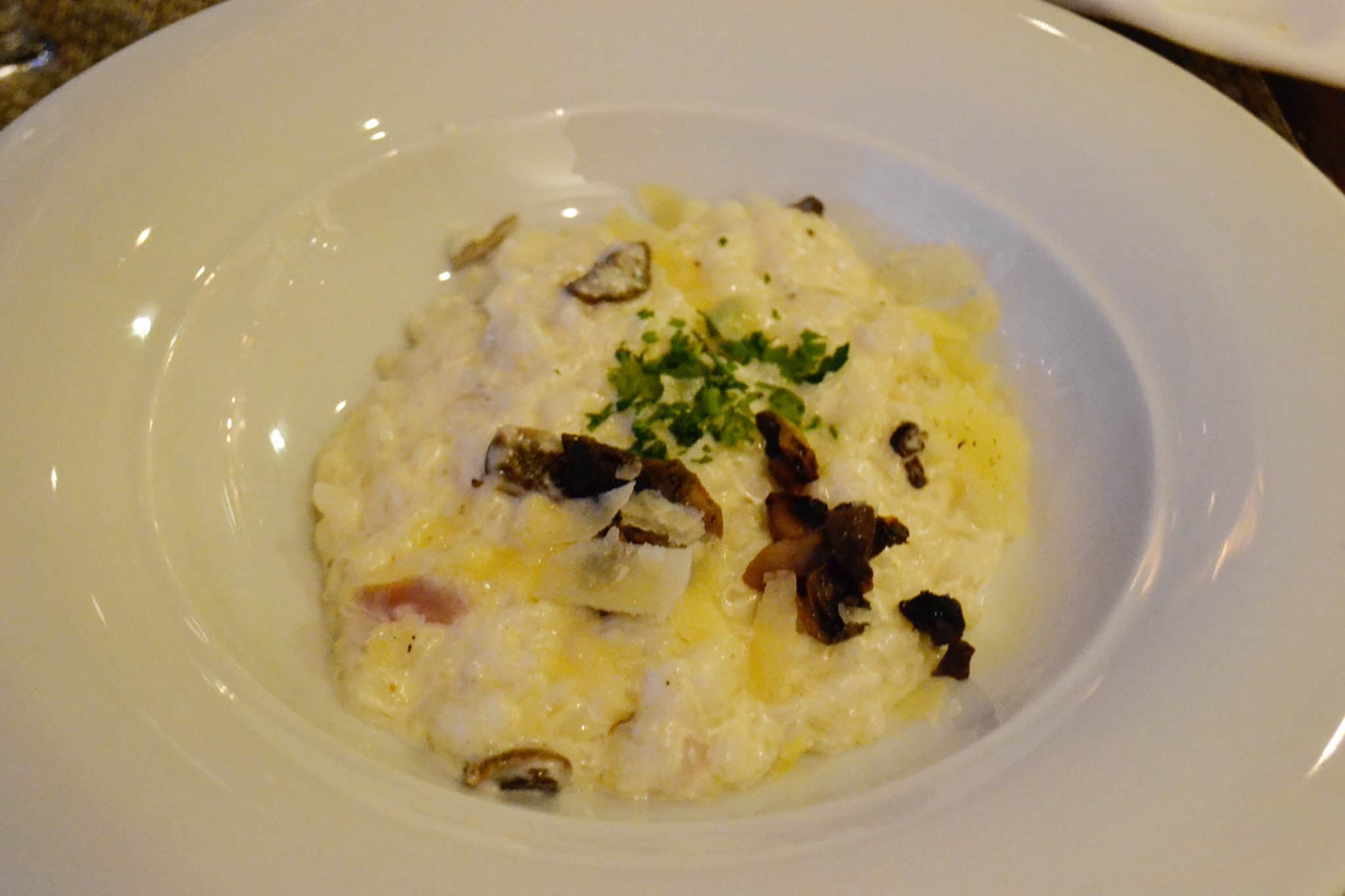 Main Course
For the main course we ordered the Ravioli Di Gamberi Con Salsa Di Aragosta Dragoncello (shrimp ravioli with lobster sauce) and the Osso Buco Alla Milanese (Braised Veal Shank).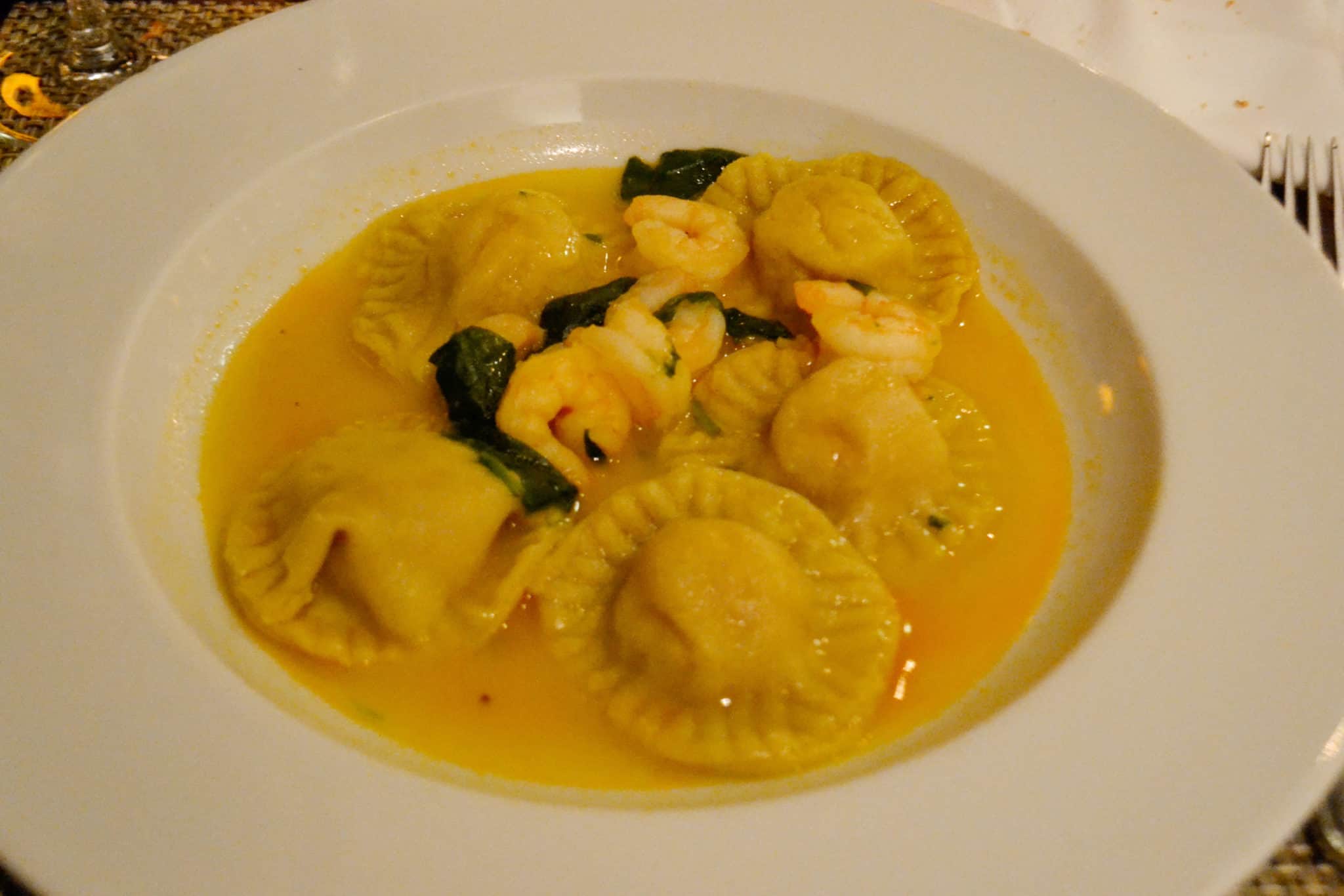 The ravioli is on the pasta/risotto section of the menu but you can pay $5 to get an entree portion of any item in that section or if you have the package, just ask for it as an entree.  I did not love the ravioli. They were a little bigger than I'd like, the pasta was kind of thick and the sauce was thin. In retrospect, it didn't say it was a cream sauce, and it's my fault for expecting it to be.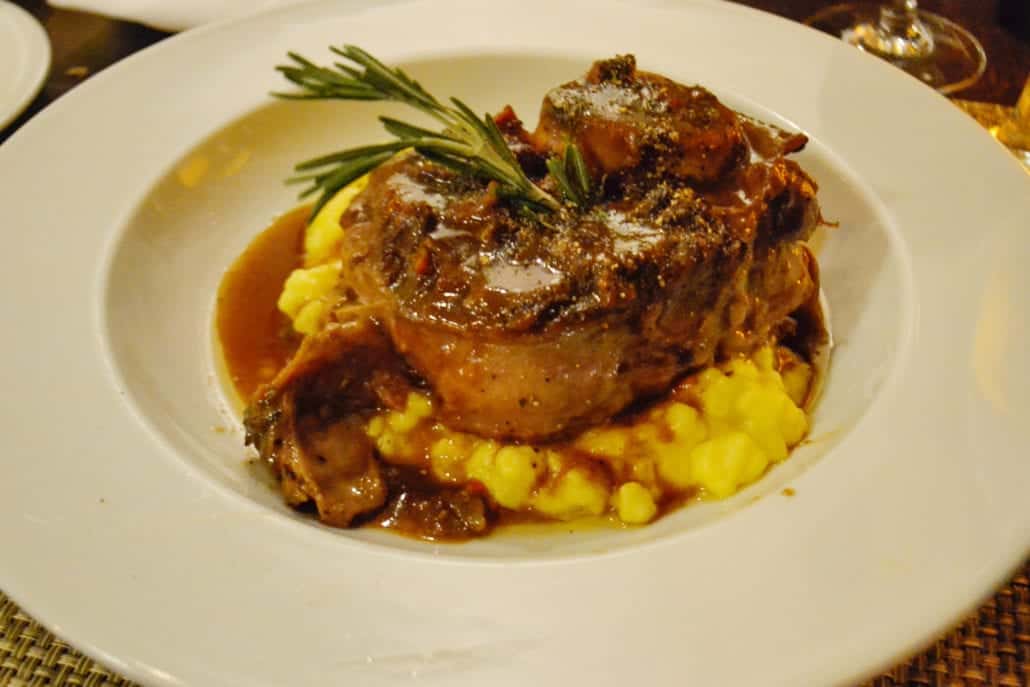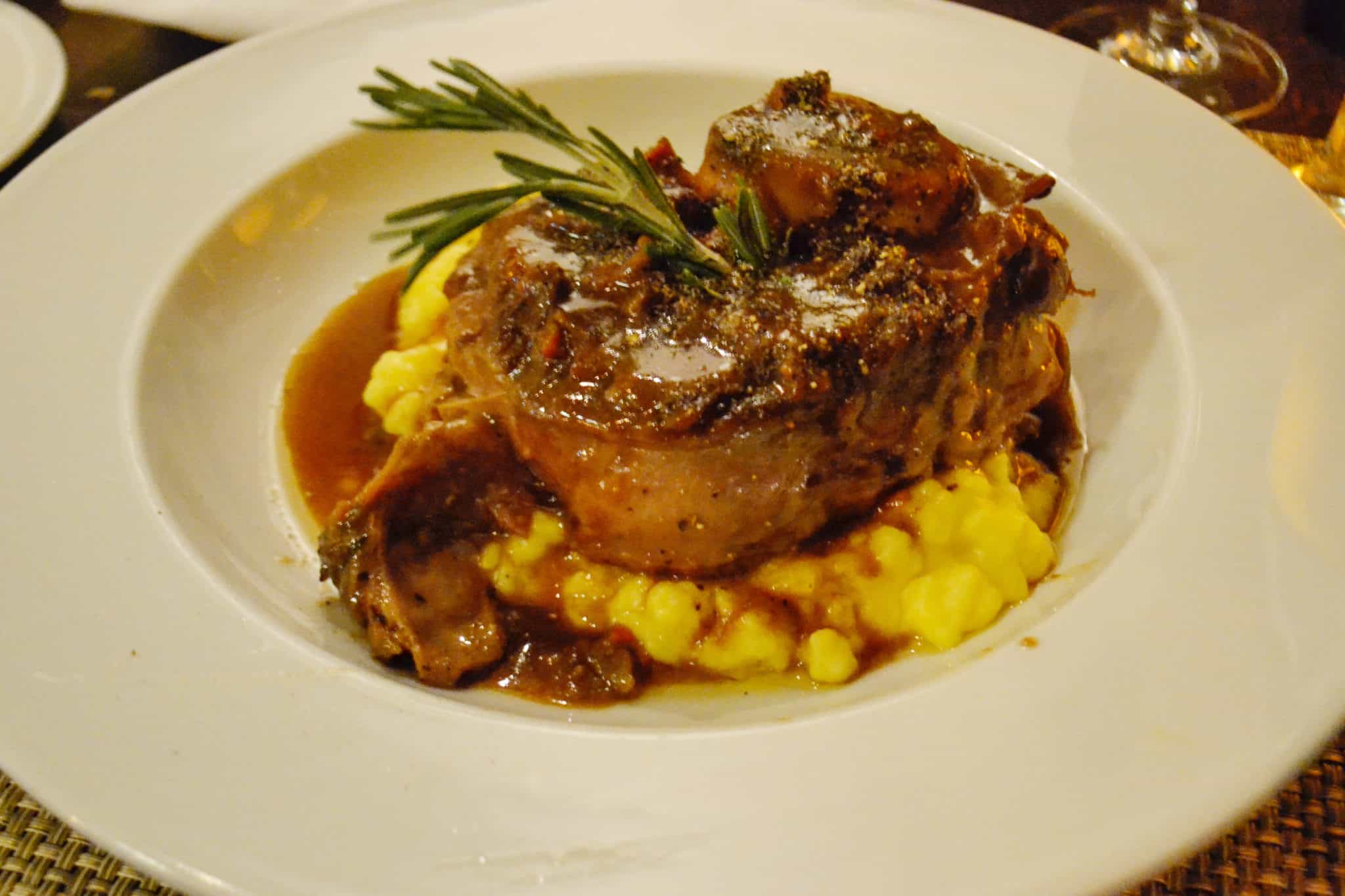 The Osso Buco was tender and amazing. It was perfectly cooked and seasoned. Even though we were pretty full at this point, we managed to make room. The polenta left much to be desired. It wasn't very flavorful, but the main reason we didn't eat it was because of its pasty texture.
Dessert
There were a number of Italian desserts, and we each chose our favorites: Cannoli and Tiramisu. The tiramisu was exactly what I wanted it to be; creamy mascarpone and tender lady fingers. I don't like when the bottom part is on the dryer side and this did not disappoint.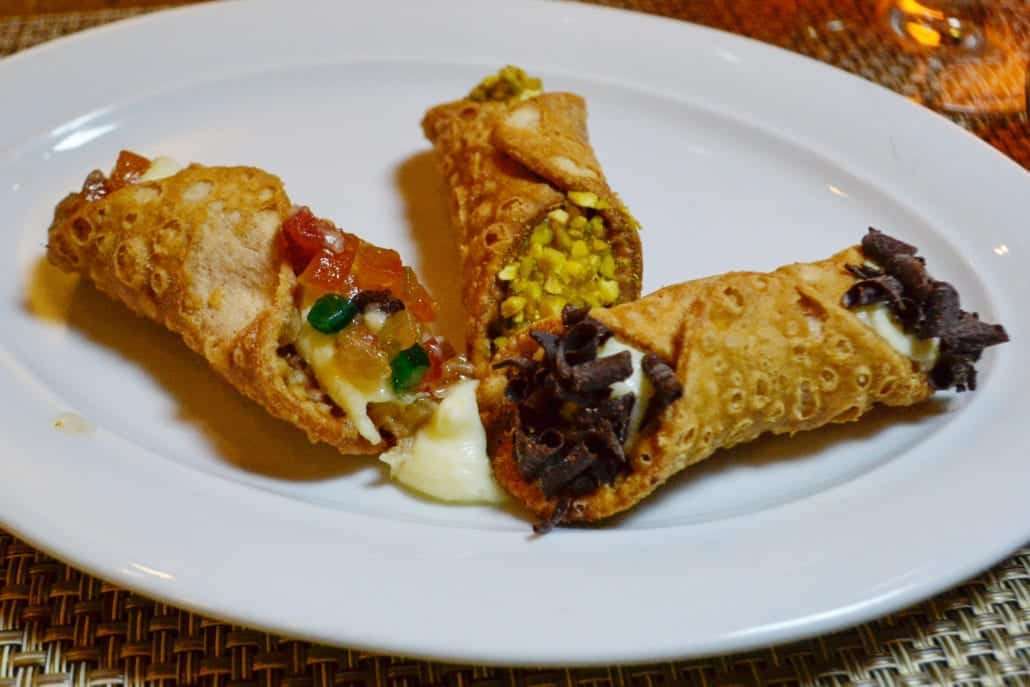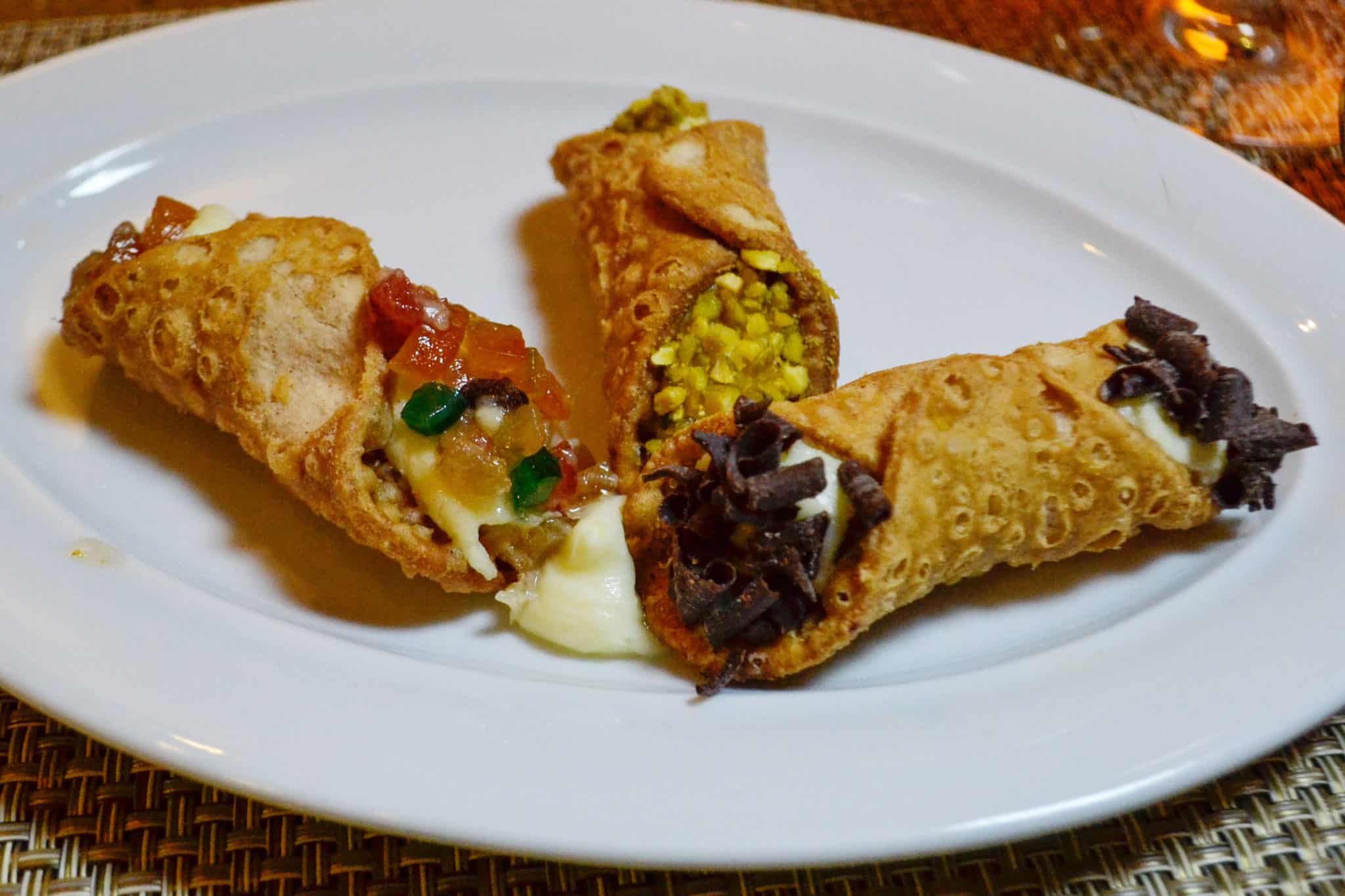 There were three miniature cannoli with different toppings. Personally, I'd prefer that there were only two; one plain, one chocolate – or if they would let you pick (maybe we could have, if we asked). But other people may prefer pistachios and jellied fruits. Another factor to consider, it's also a lot to eat after a big meal.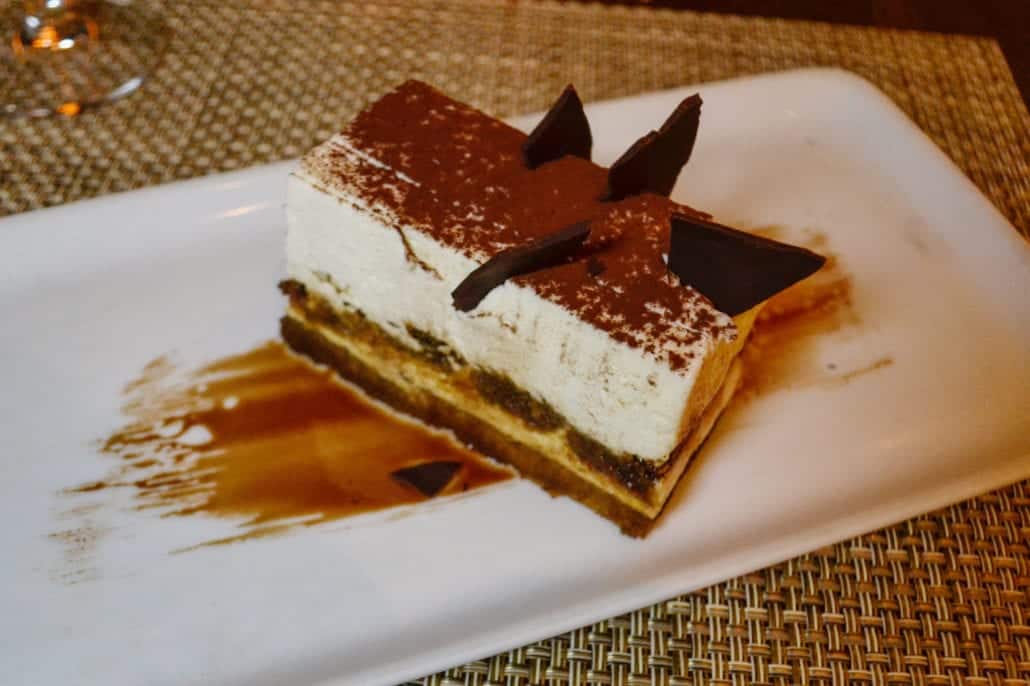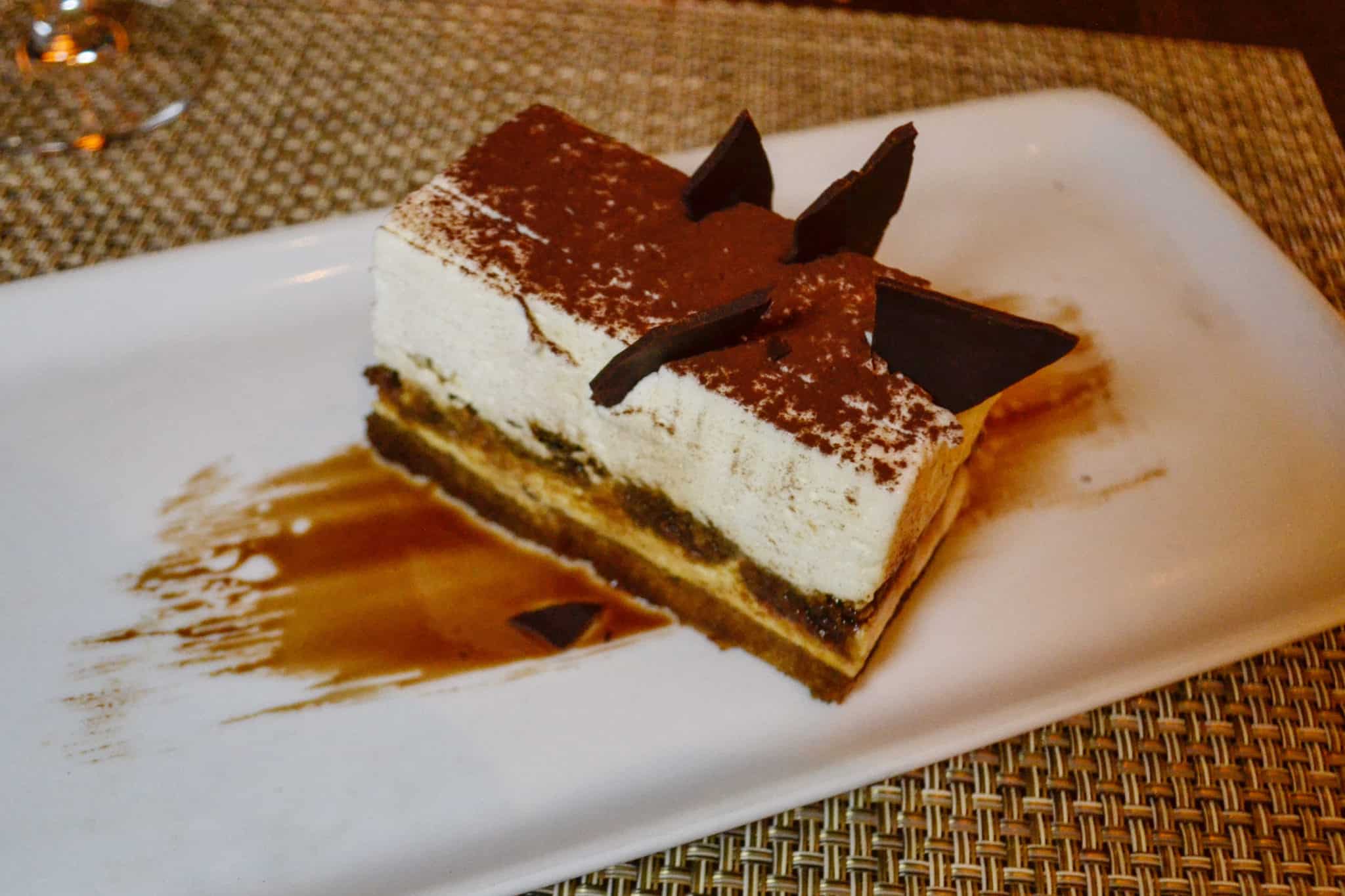 Overall they were pretty standard, but that's not necessarily a bad thing. As is common with miniature cannoli, the shell was the same thickness as a normal-size cannoli, resulting in the incorrect ratio of filling-to-shell. They should just serve a single full-size one.
Final Thoughts
I highly recommend La Cucina, especially if you have a dining package. I heard that the pizzas aren't good, so don't waste your time on those if you have the package. If you're paying a la carte, then go for it because they're less pricey than the other entrees and you may end up liking them after all!
READ MORE: Cagney's Steakhouse Review
The meal I had would have been really expensive since I got all four courses. Realistically, we probably would have gotten just one appetizer, two entrees and one dessert if we were paying a la carte. That would have been a reasonable price for a nice dinner out. Something to consider when weighing your options on purchasing a dining package or not.
La Cucina was my last pick for our dining package and just barely won out over Le Bistro, which I will probably try on another cruise. But after enjoying my meal there, I'm glad it made the cut.
Want to read more from our special guest columnist Lauren Rodgers? Visit her blog, Lauren of All Trades.