Carnival Cruise Line announced in early 2022 that it will bid farewell to Carnival Sensation, the third in the line's highly successful Fantasy-class which has been retired after nearly 30 years of service to the company.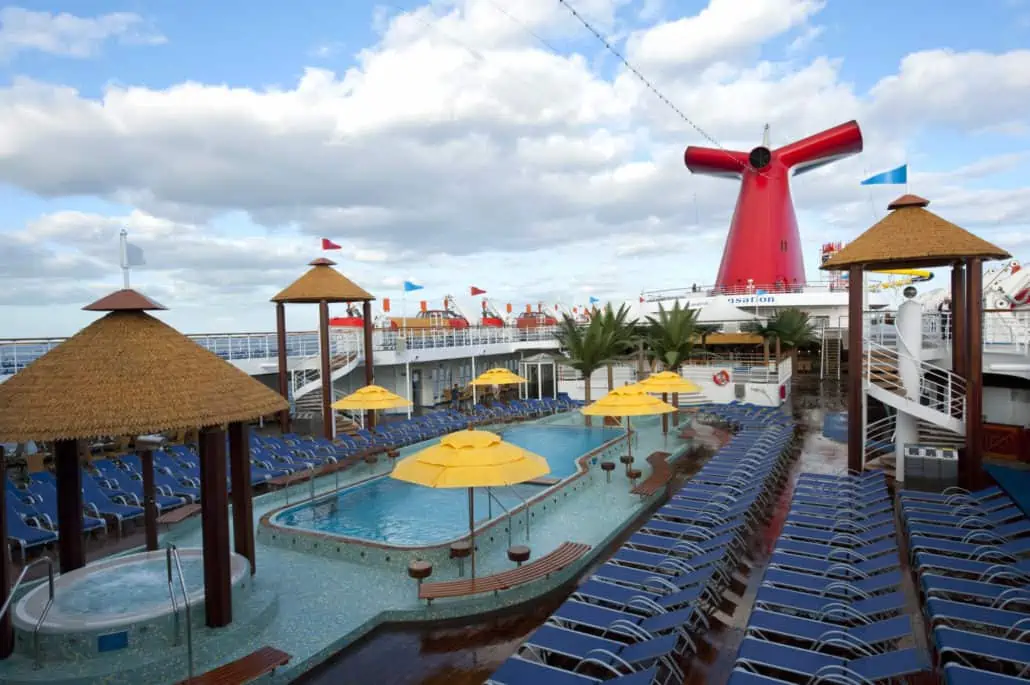 Carnival Sensation Specifications
Year built: 1993
Length: 855 feet
Beam: 103 feet
Gross Tonnage: 70,067
Double occupancy: 2,052
Maximum capacity: 2,675
Crew: 920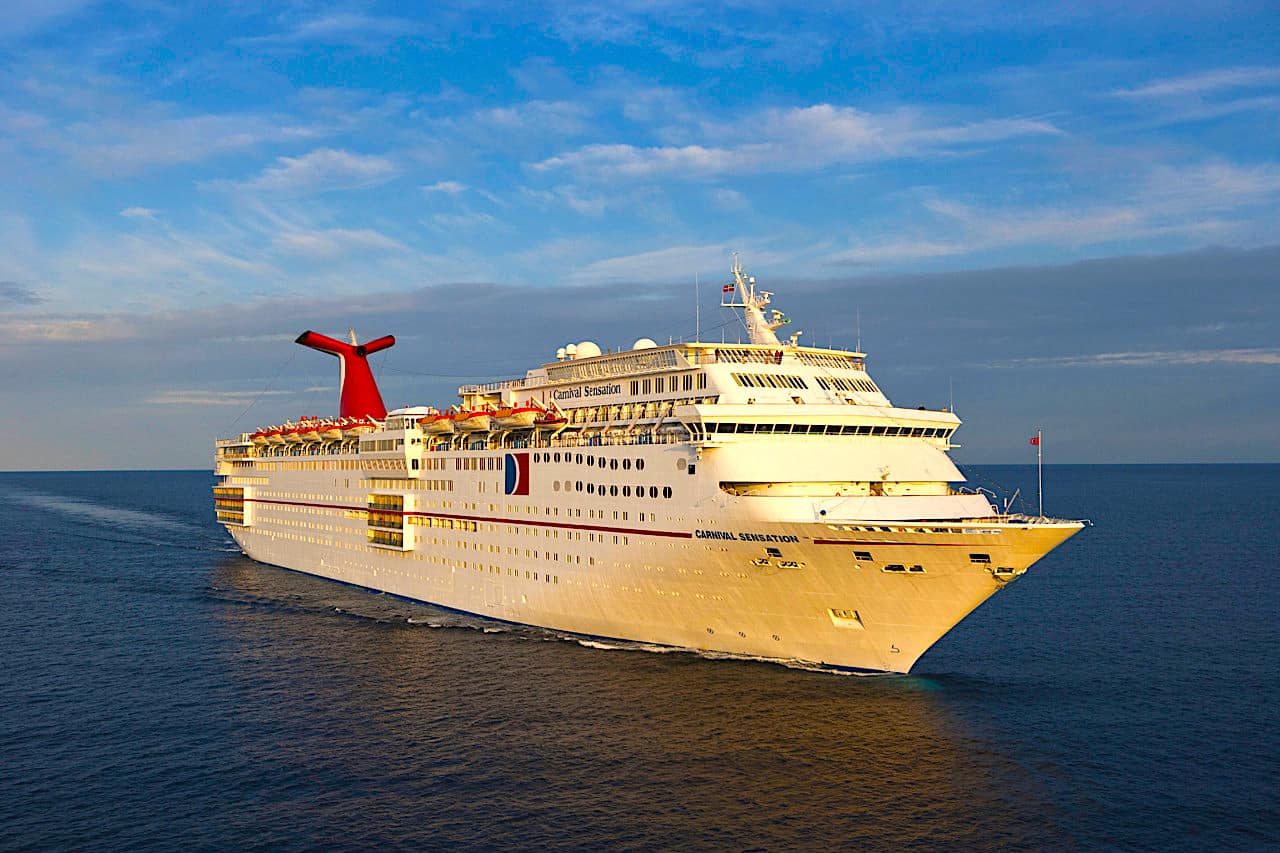 Saying Farewell to Carnival Sensation
Over the past three decades, millions of guests have sailed aboard Carnival Sensation, enjoying her one-of-a-kind ambiance created by some of the most talked-about interiors in cruising.
Carnival Sensation was originally scheduled to resume service from Mobile, Alabama in March, however those plans were scrapped when the company announced Carnival Sensation would be replaced by Carnival Ecstasy on that route. Eventually, both ships are leaving the Carnival fleet.
Carnival Sensation essentially has not hosted guests for the better part of two years, with its last official cruise for Carnival operating in March 2020 before the cruise industry paused operations for 16 months.
In February 2022, the vessel was sold to a scrapyard in Turkey for an estimated $11 million dollars and the following month met its fate on the beaches of the breaking yard. 
Playfully referred to as the "purple ship" by guests and crew for the prevalence of the color in the atrium and other public spaces, Carnival Sensation will be remembered for her versatility, operating a variety of short and longer length cruise durations and itineraries from numerous homeports across the U.S., including Miami, Port Canaveral, Mobile, New Orleans, and Tampa.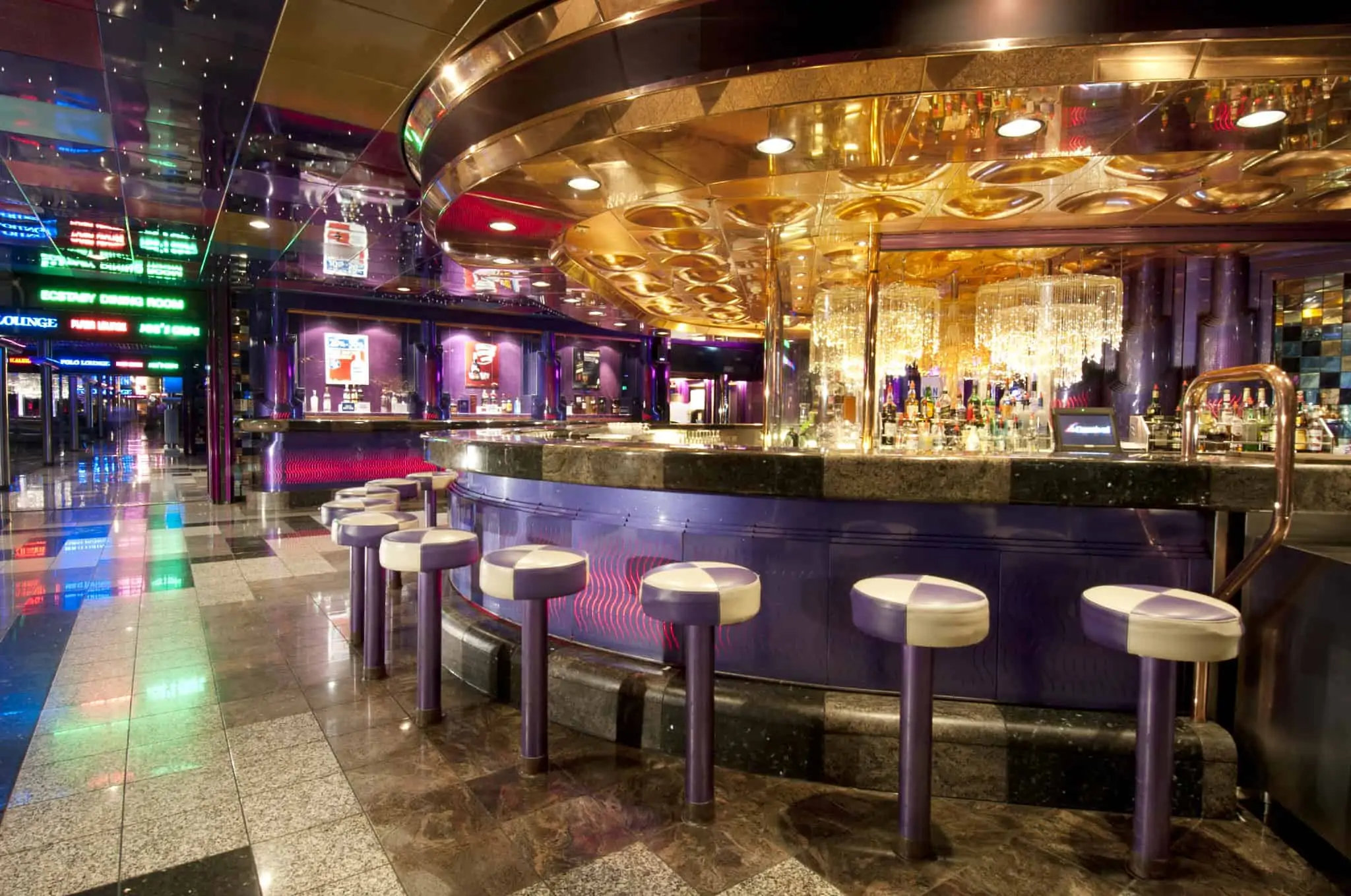 But what Carnival Sensation will be most remembered for is serving as one of the most creative examples of Joe Farcus' "entertainment architecture" that paved the way for even more over-the-top public rooms in his future ship designs.
Here's an overview of what made Carnival Sensation so special and memorable.
Carnival Sensation: Third Time's a Charm for Fantasy-Class
Carnival Sensation debuted in 1993 as the third in a series of 70,000-ton vessels, joining the Carnival Fantasy and Carnival Ecstasy and continuing the company's shipbuilding boom with six new ships introduced over a period of just eight years.
Following the introduction of Carnival Sensation, the pace for Carnival's newbuilds program would accelerate even further with an astonishing 21 ships launched between 1994 and 2012.
Carnival Sensation was one of the most popular of the Fantasy-class as Joe Farcus' creativity was on full display with an array of imaginative public rooms, including a seven-deck-high neon-splashed atrium that would make even Las Vegas blush.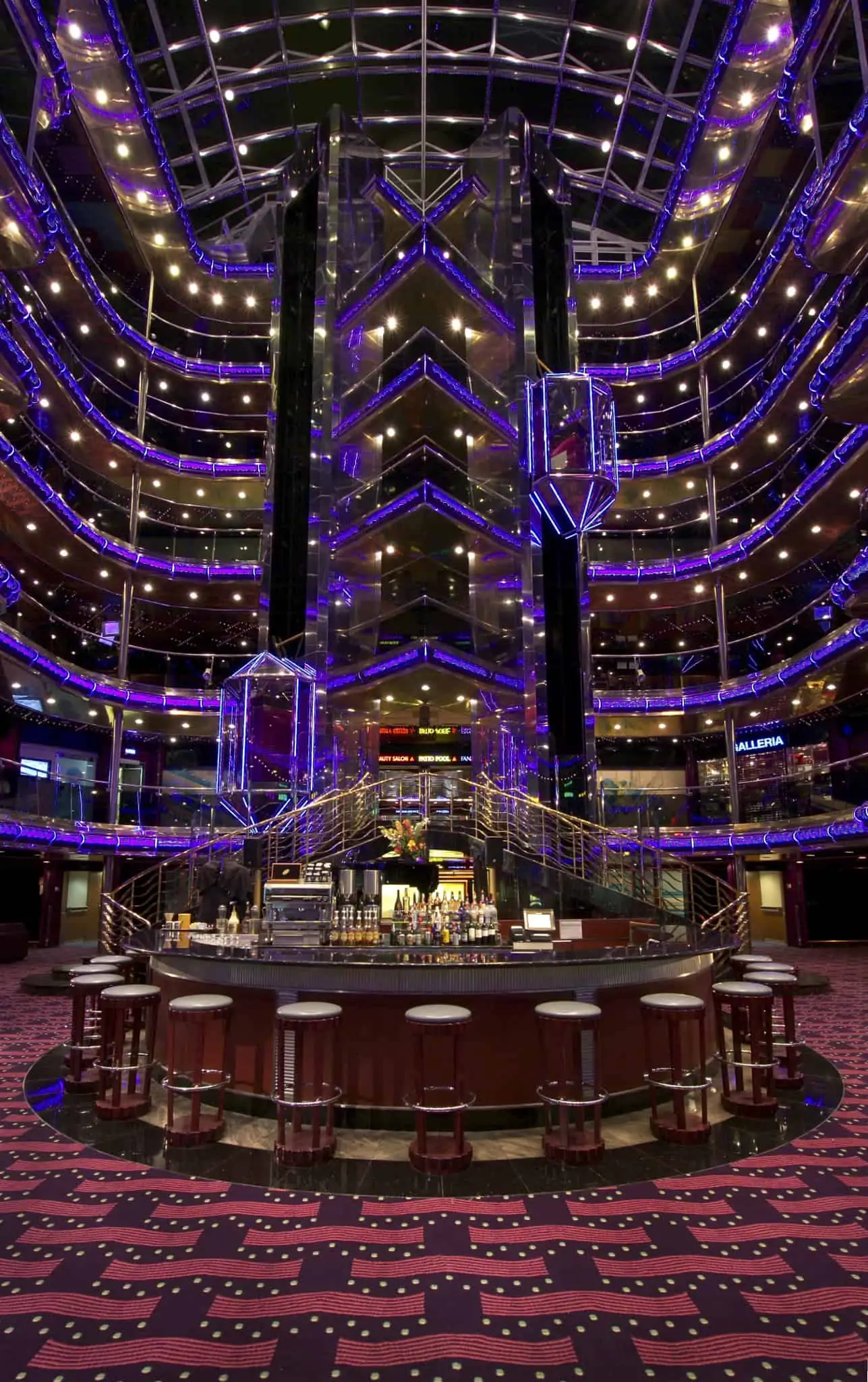 Easily the most "Farcus"-ian room on Carnival Sensation is the Touch of Class, a piano bar on Atlantic Deck distinguished by two oversized cupped hands flanking the doors that provided a memorable entrance.
The motif is carried out with handprints adorning the bulkheads and even more oversized hands throughout the room, making this venue easily one of his most talked-about and memorable designs. Love it or hate it, you definitely knew you were on a Carnival ship!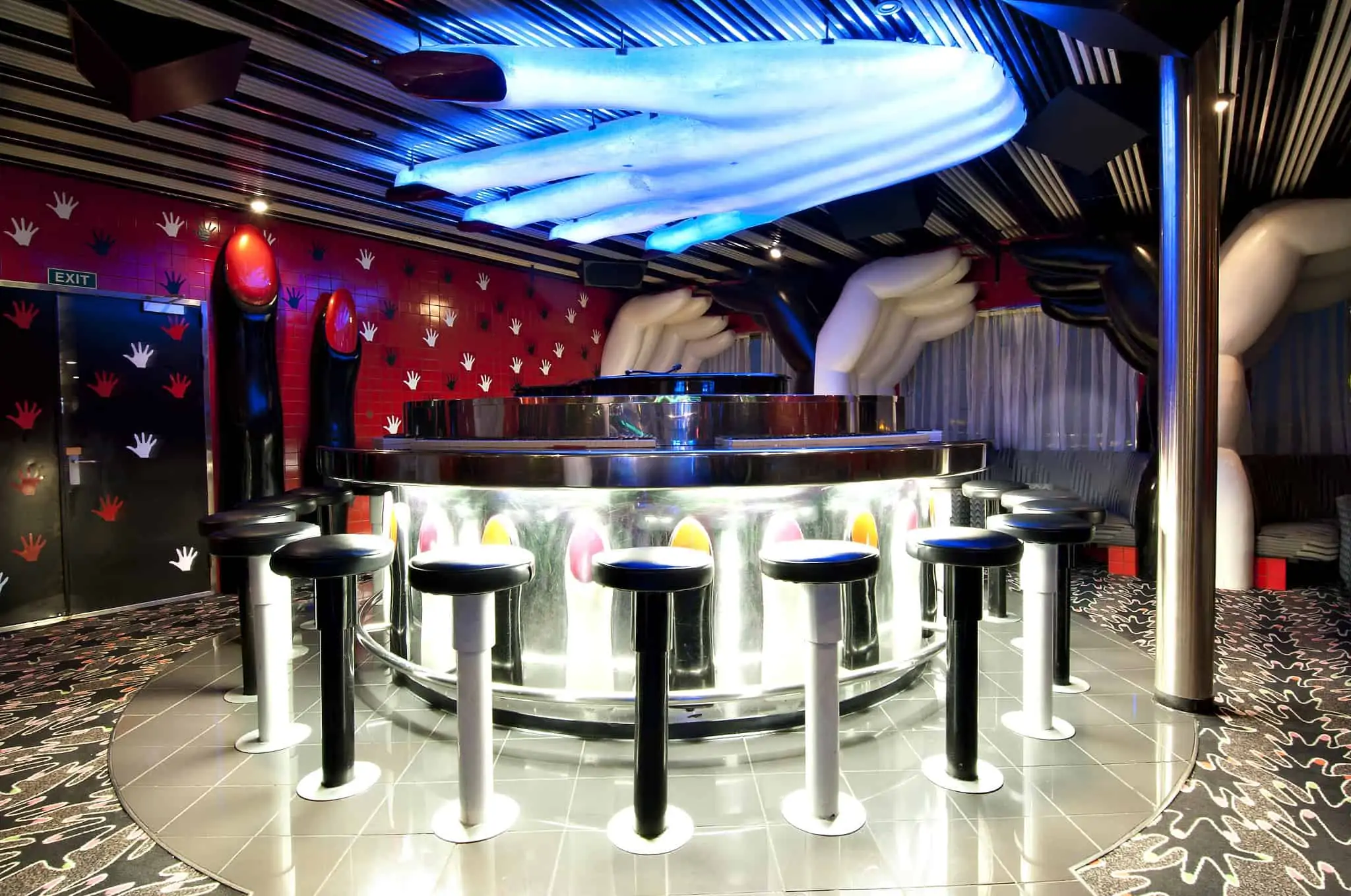 MORE: 21 Things to Do on Carnival's Mardi Gras
There was also the Michelangelo Lounge, a live music venue that served as a tribute to the artist with Roman statues and other Renaissance design elements, the Mirage casino bar with — yes — purple walls and brightly-lit chandeliers similar to those along the promenade, and the stately Oak Room offering a décor of understated elegance that provided a welcome respite from the hustle and bustle of other spaces on board.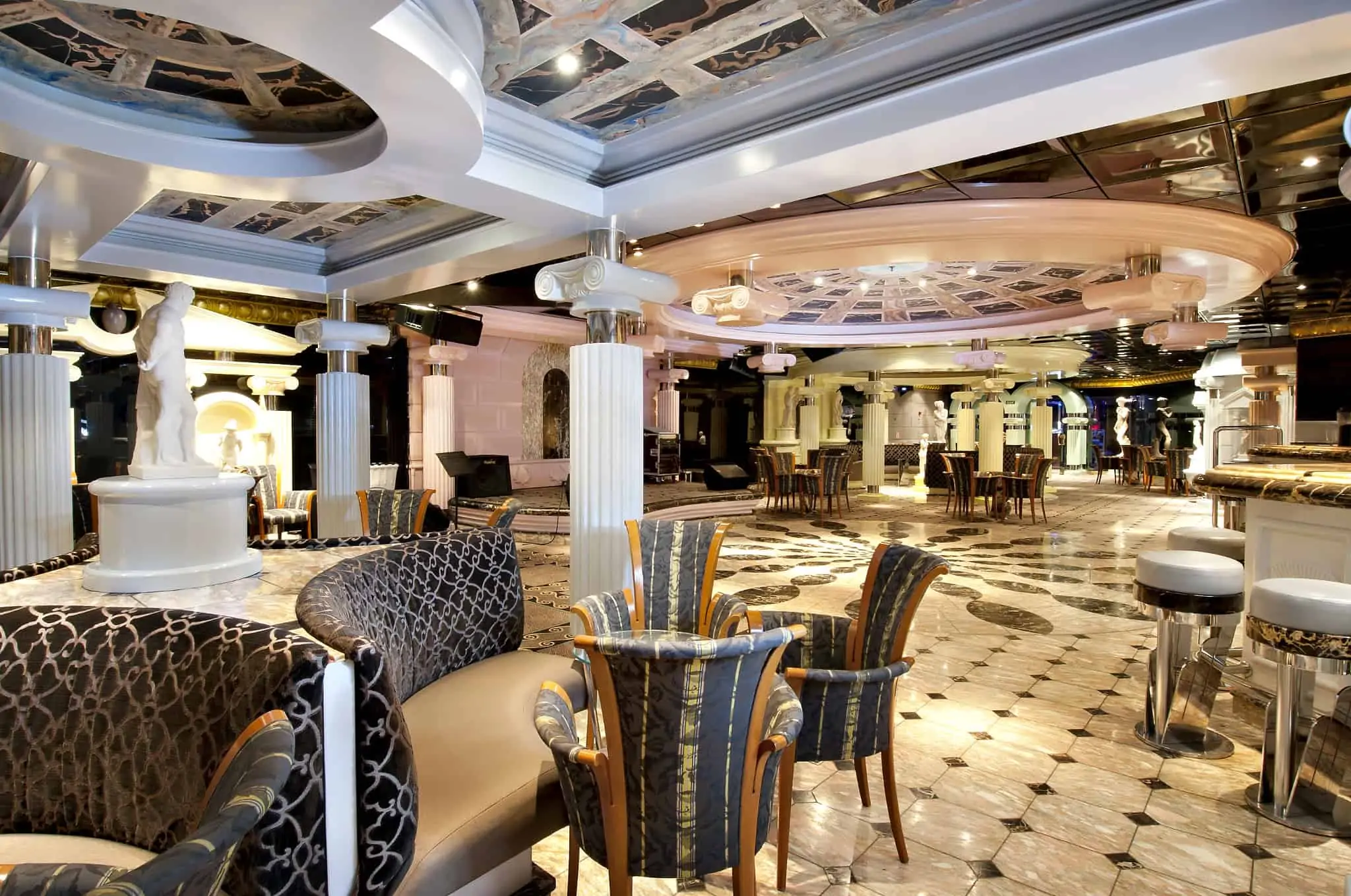 Of course, Carnival Sensation housed the signature amenities that made her sister ships Carnival Fantasy and Carnival Ecstasy so popular – acres of open deck space for sunning and relaxing, multiple swimming options, a 114-foot-long spiral water slide, a luxurious Nautica Spa, a multi-level showroom, and an easily manageable layout that made getting around the ship a breeze.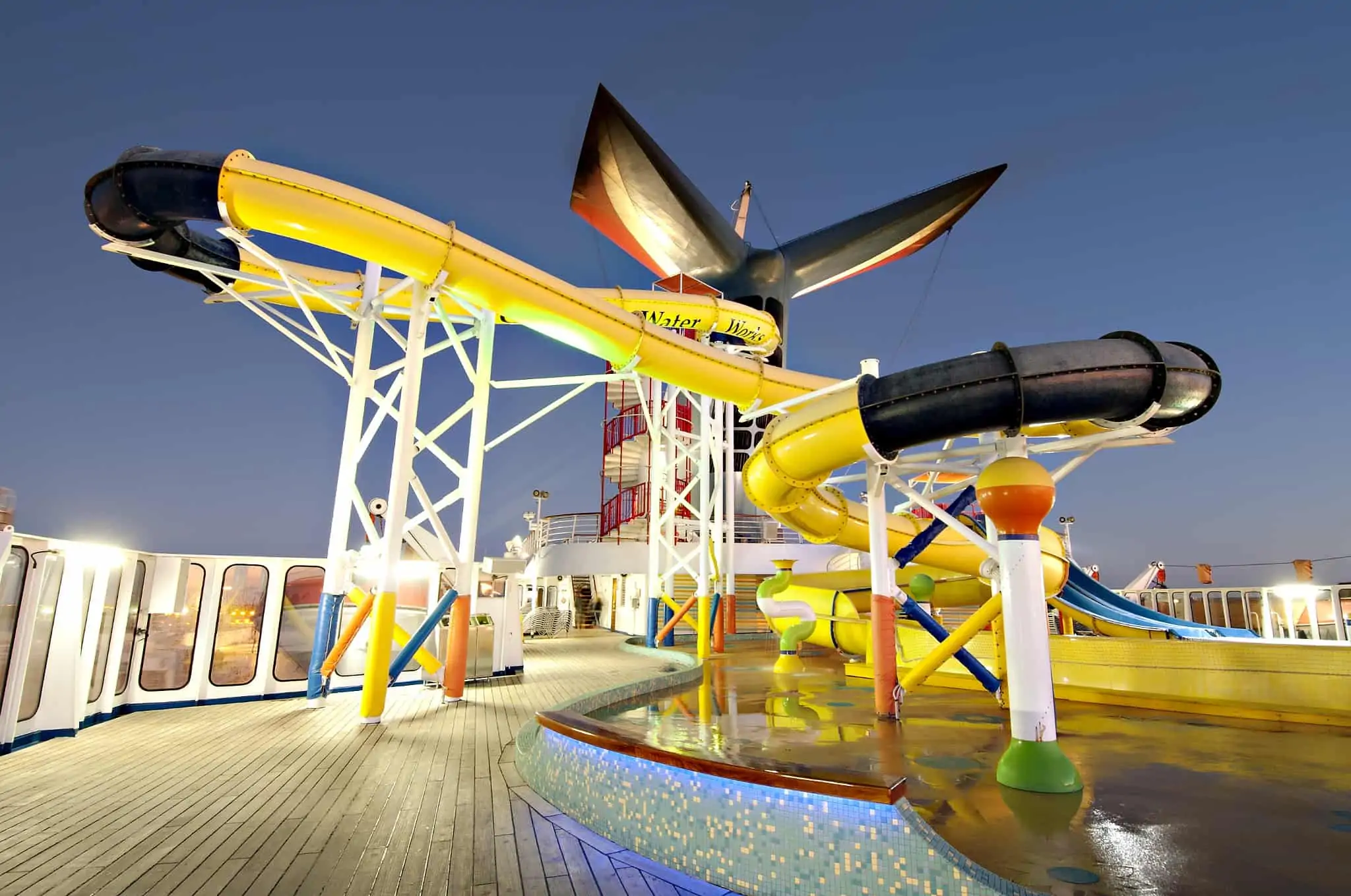 Eventually, five additional Fantasy-class ships would enter service – Carnival Fascination (1994), Carnival Imagination (1995), Carnival Inspiration (1996), and Carnival Elation and Carnival Paradise (1998) – bringing the total to eight and creating the largest number of ships introduced from a single platform.
Fun Facts about Carnival Sensation
The company enlisted a quartet of distinguished female Carnival executives – Vicki Freed, Cherie Weinstein, Roberta Jacoby, and Gerry Donnelly – to serve as co-godmothers for the ship's naming.
Roughly five feet of Carnival Sensation's funnel mast – located at the uppermost part of the ship – was removed to allow the vessel to go under Sunshine Skyway bridge when she began service from Tampa in 1998, making headlines across the country.
Carnival Sensation was one of three Carnival Cruise Line ships to be charted by FEMA to house evacuees and first responders following Hurricane Katrina in 2005.
Carnival Sensation was the second Carnival Cruise Line ship to visit Cuba, following a successful program that debuted on Carnival Paradise. Carnival Sensation was, in fact, en route to Havana when Cuba sailings were halted in 2019 and a new itinerary had to be created within hours.
Carnival Sensation was one of the most popular ships in Port Canaveral, with longtime guests Bernard and Janice Caffery of Lakeland, Florida recognized for sailing on the ship 100+ times!
Carnival Sensation's Most Recent Refurb Projects
In 2009, Carnival Sensation underwent an extensive 35-day dry dock that added the WaterWorks aqua park, a Serenity adults-only retreat, and a redesigned resort-style pool area, part of the line's multi-million-dollar Evolutions of Fun refurbishment program. Ninety-eight balconies were added to existing staterooms, as well.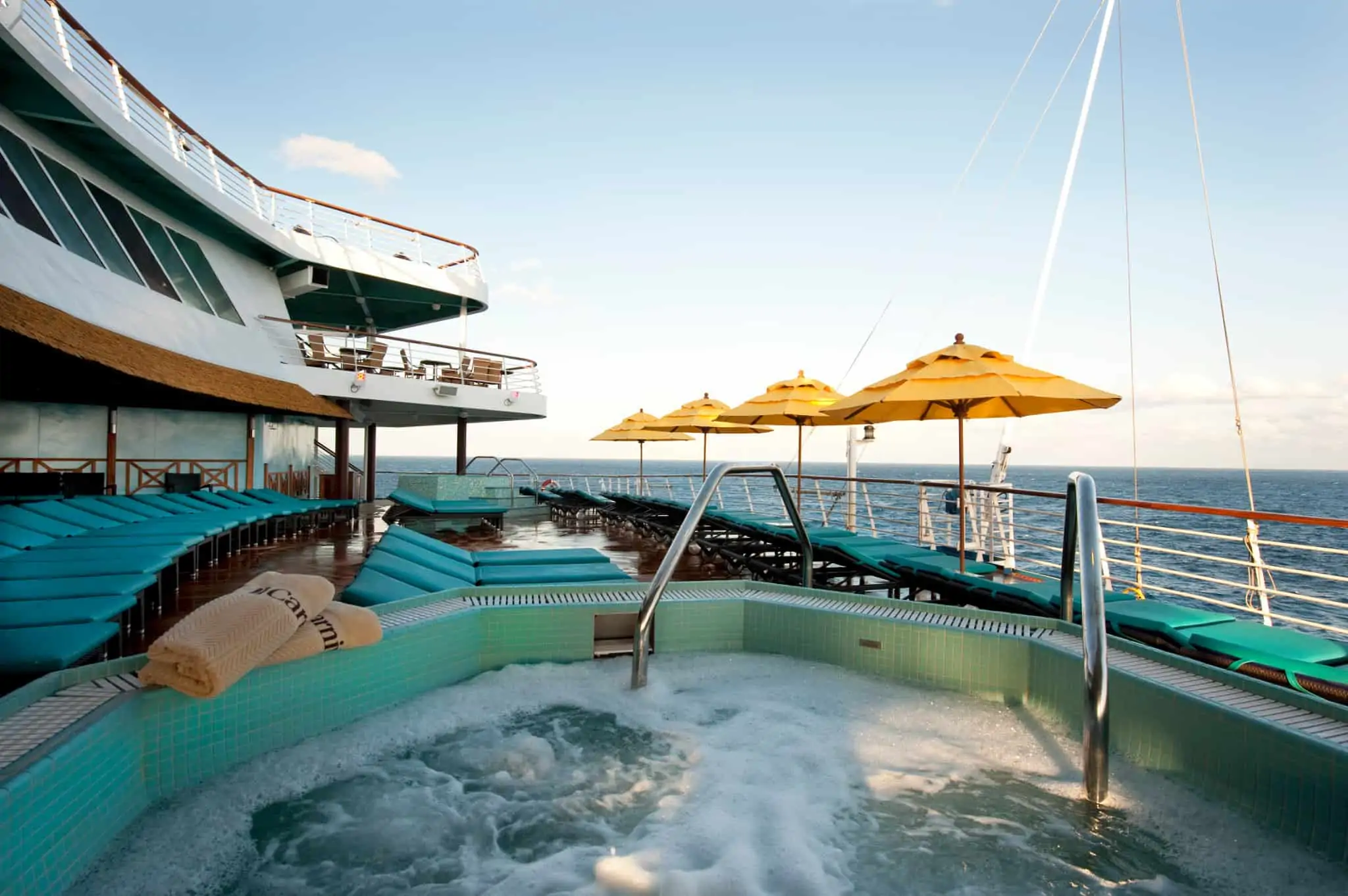 In 2017, Carnival Sensation underwent a two-week dry dock in Freeport that added the full Fun Ship 2.0 spaces, including Guy's Burger Joint, BlueIguana Cantina, the poolside RedFrog Rum Bar and BlueIguana Tequila Bar, Alchemy Bar, Cherry on Top sweets shop, and the Camp Ocean children's play area.
In January 2020, just a mere two months before the cruise industry paused operations, Carnival Sensation underwent a two-week dry dock, mainly for cosmetic enhancements and routine maintenance with Bonsai Sushi Express and a refurbished shopping area added as well.
Unfortunately, the dry dock was all for naught. Two months later, the Carnival Sensation joined other ships in the fleet and ceased operations, never returning to guest service again.
Other Fantasy-class Cruise Ships:
Carnival Fantasy, which joined the fleet in 1990
Carnival Ecstasy, which joined the fleet in 1991
Carnival Fascination, which joined the fleet in 1994
Carnival Imagination, which joined the fleet in 1995
Carnival Inspiration, which joined the fleet in 1996
Carnival Elation, which joined the fleet in 1998
Carnival Paradise, which also joined the fleet in 1998
An Inglorious Finish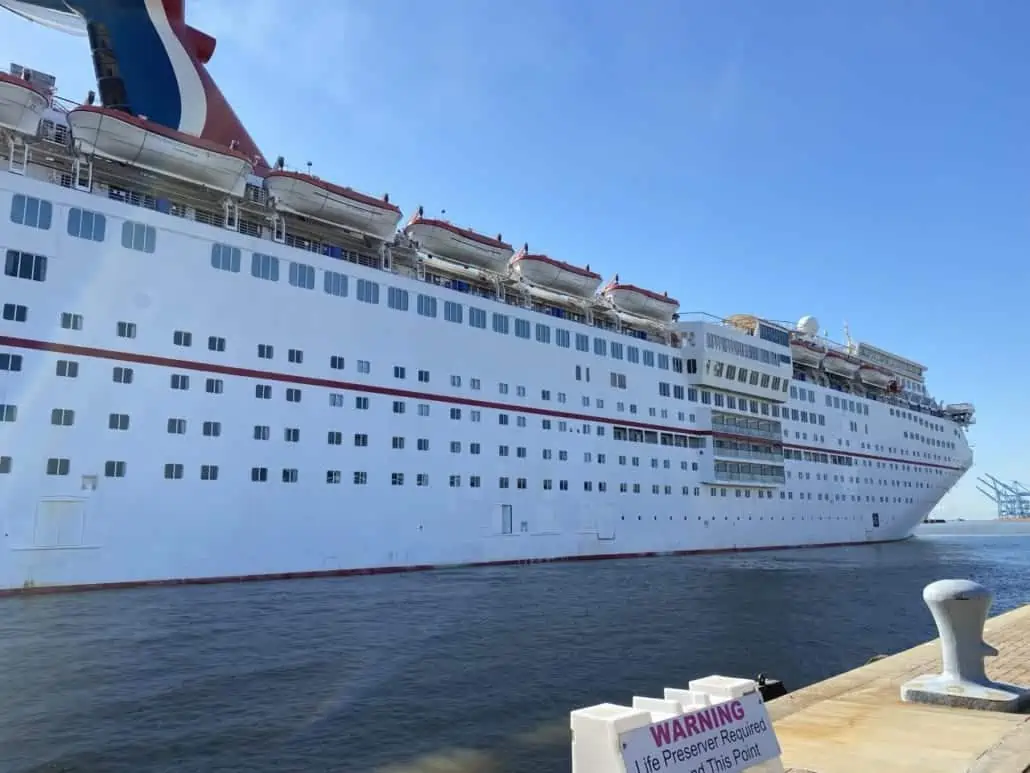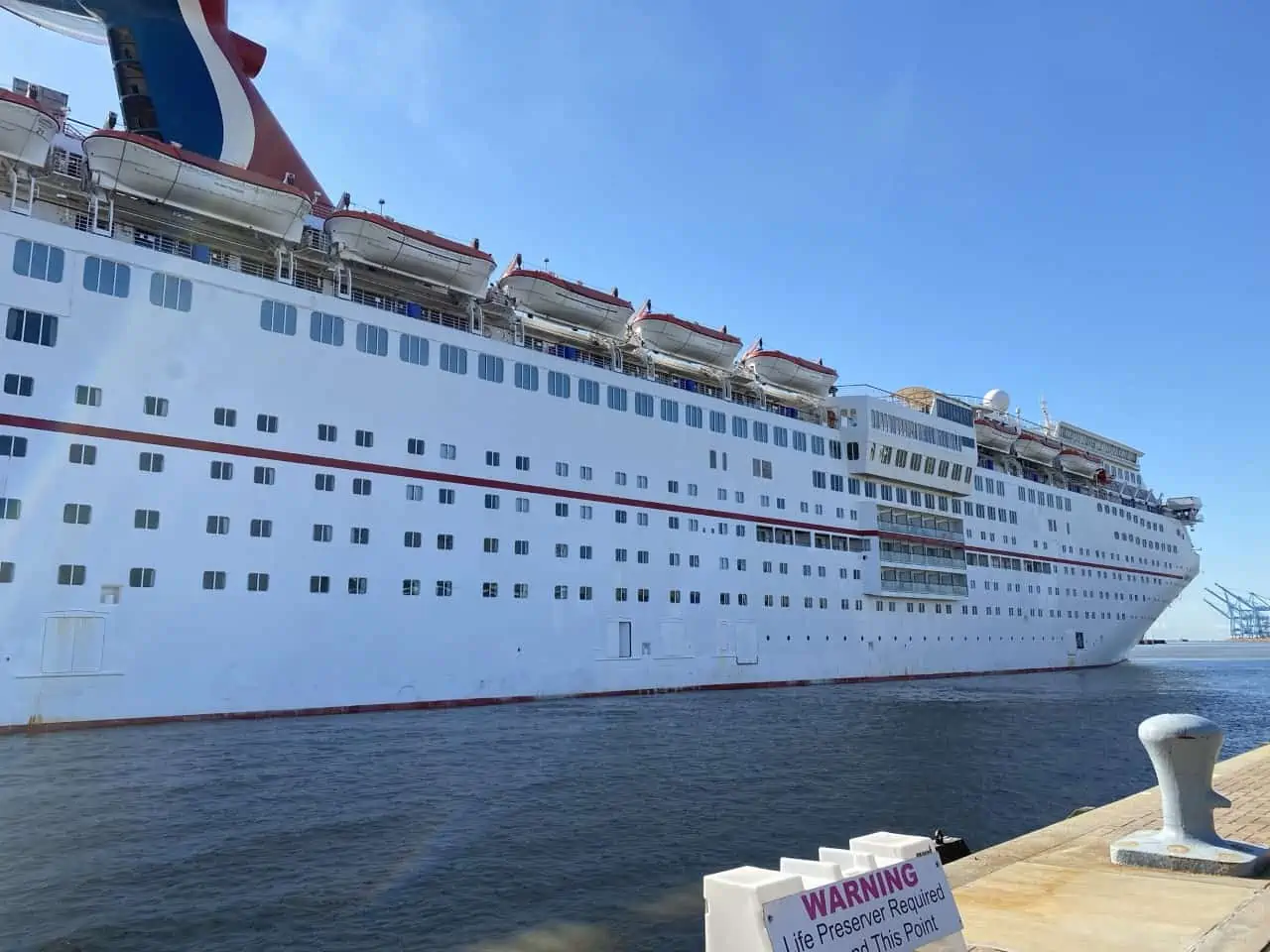 Saying goodbye to a nearly 30-year member of the Carnival Cruise Line fleet is never easy, but the farewell to Carnival Sensation was particularly emotional as the ship was never able to host guests again after the cruise industry paused operations during the pandemic.
As the Fantasy-class is seemingly disappearing before our eyes, ship by ship, it's important to remember pioneering ships such as Carnival Sensation that made today's cruise industry possible. 
These ships, paltry by today's standard in terms of size and amenities, are what laid the groundwork for the future of cruising, paving the way for Mardi Gras and other mega-ships that have captured guests' fancy and are ushering in a new style of seagoing vacations.
So let's raise a glass and toast Carnival Sensation – and all the retired or other soon-to-be-retired ships – and remember all of the memories they helped create for literally millions of guests over the years.
Rest assured, there will never be another ship like Carnival Sensation, and that's for sure!
Don't miss other Carnival Cruise Line installments in our Last Look series:
Carnival Sensation Cruise Ship Tour [VIDEO]