A class-action lawsuit was filed against Royal Caribbean and the organizers of a cruise event catering to nurses.
But according to the cruise company, the angry cruisers are taking aim at the wrong target.
Who Filed The Lawsuit And Why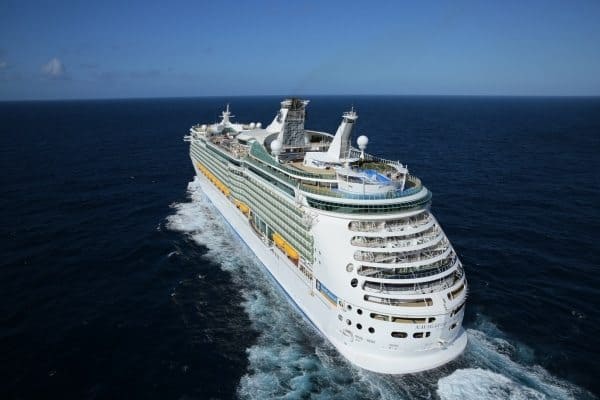 According to TMZ, the suit was filed by a woman named Jessica Mitchell on behalf of guests who were planning to attend an event called NURSECON at Sea. The five-day event was originally slated to take place aboard Navigator of the Seas, sailing out of Miami on April 27th.
But of course, the sold-out event had to be canceled due to the current crisis.
Mitchell's lawsuit claims that both the cruise line and the organizers of NURSECON are now refusing to give refunds to the 1,500 would-be attendees, instead offering only Future Cruise Credits. However, Royal Caribbean has said that the blame lies not with them, but squarely on the shoulder of the organizers.
"Royal Caribbean has been extremely flexible with NURSECON and has provided them with the option to offer their guests a refund on their cruise fare plus taxes and fees, or a 125 percent future cruise credit," the line said in a statement. "Royal Caribbean deeply appreciates the efforts of our nurses, doctors and health-care professionals working on the frontlines during this public health crisis, and we applaud their sacrifices to help protect our communities."
Nurses "Do Not Deserve This Kind Of Treatment"
Morgan Macedo was among those slated to attend the convention, and she has taken her complaints to social media. Referring to organizer Blake Lynch (who goes by Nurse Blake on various platforms), Macedo alleges on her Facebook page that he "and his team" are refusing to give refunds.
"Instead of a refund," she wrote on Facebook, "they are offering us a credit. SMDH. We did not pay for these tickets all year long to use on a different cruise to a different location on a different ship for 2021, 2022 or 2023!"
Indeed, Lynch has been promoting NURSECON 2021, set to sail April 15-19 of 2021 on Royal Caribbean's Independence of the Seas out of Fort Lauderdale. Unlike the canceled 2020 event, which Lynch says sold out in two minutes, the 2021 version is chartering the entire ship.
Macedo also points out that those who booked directly through Royal Caribbean had the option of receiving a full refund. "We need to band together," she wrote, "so we can get our money back and use that money during this time of need, as we are all struggling! Our nurses, especially, do not deserve this type of treatment when they are working tirelessly on the frontlines of this!"
Meanwhile, NURSECON did not seem to take the case particularly seriously. According to the TMZ report, an "advisor" to the event told the site, "Anybody with a few hundred dollar bills can file a lawsuit, that doesn't mean it has any merit."