A North Carolina vet who won $100,000 thanks to a scratch-off card plans to take his ailing wife on a Carnival cruise to celebrate their anniversary.
The Couple's Romantic Story
Michael Harlow of Stanley, North Carolina told the state's lottery blog that this win couldn't have come at a better time, not only because of the opportunity it presented but because the timing could not have been more perfect. "It's not just a chance to celebrate," he explained. "My wife is battling breast cancer right now, and having something to look forward to will help her get through the chemo treatments."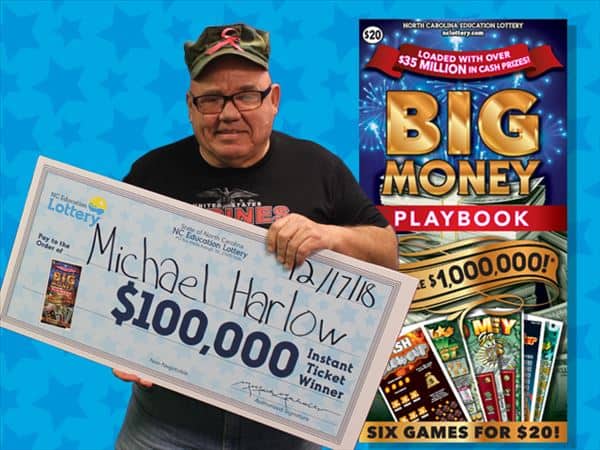 And what she'll be looking forward to is a trip to the Caribbean on a Carnival cruise ship. Better still, the kind of cruise all of us dream about! "I've already called the Carnival Cruise Line," he smiled, "and upgraded our rooms to the biggest we can get!"
The pair has a lot to celebrate, including the fact that they've outlasted the skeptics! "I think most people didn't think we'd last," he said of their admittedly whirlwind romance. "We met 33 years ago and have been together ever since!"
The Winning Ticket
While his initial win was for $100,000, anyone who plays the lottery or buys scratch-off cards will tell you that the government takes a nice chunk of change! That said, he'll still walk away with over $70,000 as a result of his decision to purchase a ticket when he stopped to buy gas on his way home from work.
"I couldn't believe it," he says of the moment he realized that the Big Money Playbook scratch-off ticket had resulted in so big a win. "I literally went up to one of our towers and let out the biggest, 'Yes!' I just yelled out, I was so happy!"
Those leaving comments on the lottery blog seemed genuinely happy for the former Marine's win. "My mother had breast cancer," wrote one. "The best thing to do is help decrease stress, so that cruise may do more good than you realize. Have fun!"
Another thanked Harlow for his "selfless act of bravery and service to our country" before wishing he and his wife a good cruise.