Shortly after 8:00 p.m. on Tuesday, a man overboard was reported on Royal Caribbean's Wonder of the Seas as it sailed for Mexico.
Cabana Girl posted on a Cruise Critic message board, "Heard an Oscar Oscar Oscar Port on Wonder [of the Seas] during dinner this evening. A crewmember told us it was a child. Don't know if this is true but there are spotlights and a boat down searching. Very sad if this true."
Passengers: Man Overboard on Royal Caribbean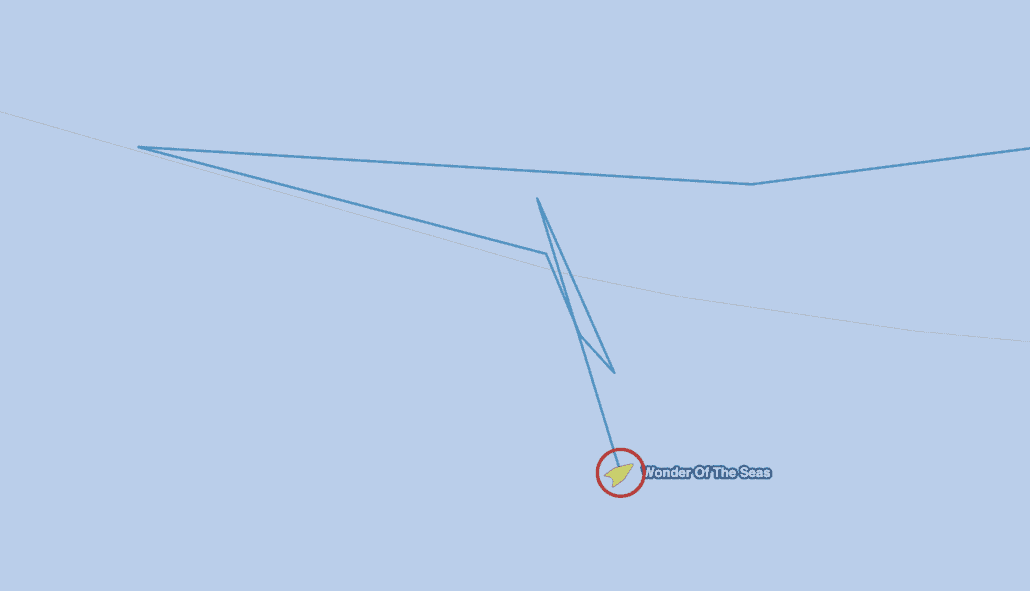 Passengers on the Wonder of the Seas reported that the captain announced a search operation following an Oscar call, indicating a man overboard situation for Royal Caribbean ships. The ship turned south and dispatched a rescue craft to search for the missing person. The guests were advised of the situation.
CruiseMapper website showed Wonder of the Seas diverting from its planned route and combing the water just south of Santigo, Cuba. The conditions in the area on Tuesday evening were three-foot swells and light winds.
The search yielded no results as the ship was rerouted from Cozumel to Grand Cayman due to a medical emergency on board at 11:30 p.m.
Royal Caribbean confirmed the incident with a statement, "On August 29, a guest sailing on Wonder of the Seas went overboard. The ship's crew immediately launched a search-and-rescue operation and is working closely with local authorities."
Diverted Over Hurricane Idalia
Due to Hurricane Idalia, Wonder of the Seas changed the original Western Caribbean voyage and is now sailing a modified itinerary.
Nearly a dozen other cruise ships have been impacted by two hurricanes in the Atlantic and Gulf of Mexico this week.
Fourth Man Overboard in Two Months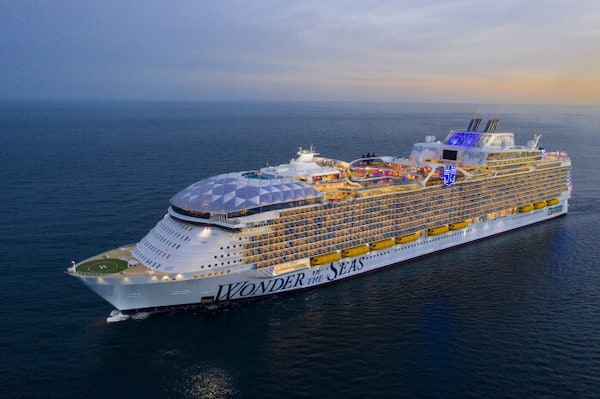 There have been over a dozen man-overboard situations on cruise ships since the start of the year.
Earlier this month, someone jumped off Emerald Princess when sailing on a Hawaii itinerary. In July, passengers from both Carnival Cruise Line and Royal Caribbean guests went overboard.
A Carnival Cruise Line guest intentionally jumped off Carnival Elation while the ship returned to Jacksonville, Florida. A week later, an Indian woman went over on Royal Caribbean's Spectrum of the Seas cruise ship while sailing in the Singapore Straits.
Since 2000, 60 passengers have gone overboard on Royal Caribbean ships, according to CruiseJunkie website.
Wonder of the Seas, the world's largest cruise ship, is sailing seven-night cruises from Port Canaveral, Florida, and is scheduled to return on Sunday morning.
This article was updated to include a statement from Royal Caribbean International.